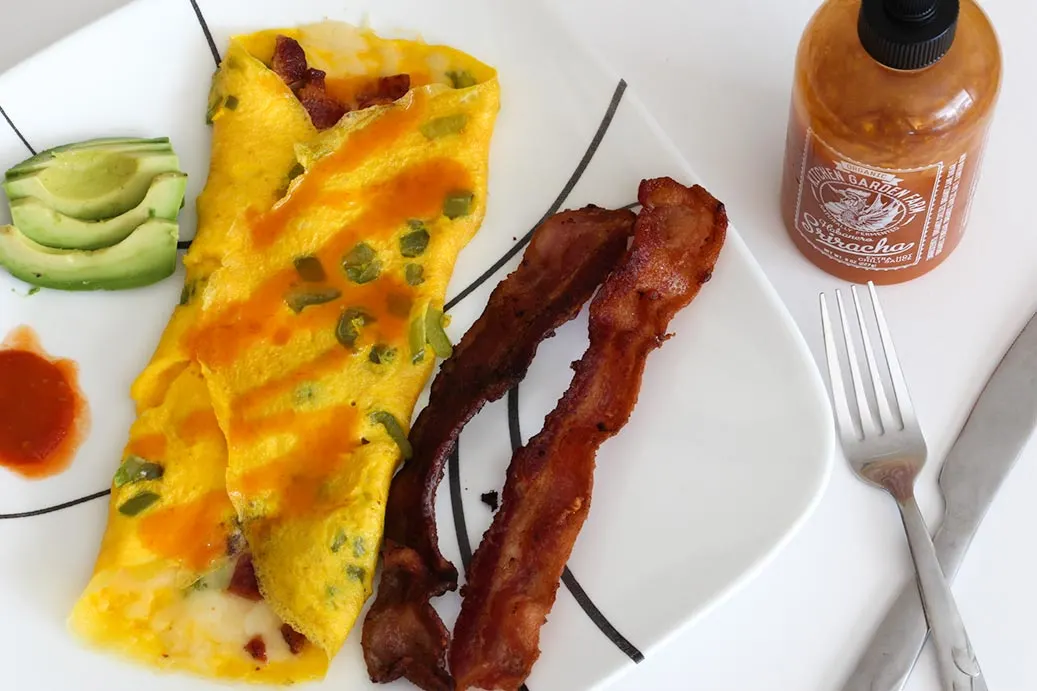 We've been eating a lot of eggs here at PepperGeek. It's a delicious, nutritious, protein-packed breakfast that has only one problem. They're so much better with hot sauce. So we've decided to find out what the best hot sauce for eggs is.
Assuming you're not making gourmet Eggs en Cocotte, hot sauce can do wonders for plain eggs. If you are trying to have a quick, tasty breakfast, fried eggs need nothing more than a few dashes of these hot sauces to spice up the morning.
We have tried many, many hot sauces in our day, and we usually try them all on eggs or omelettes at some point. Some of these sauces can be found at your local grocery store for under $5.
Note: These sauces are not ranked, but rather stand together at the top of our hot-sauce-for-eggs list. The best sauce for your eggs will depend on your mood and flavor preference!
---
1. Cholula Original
Common at Grocery Stores – Cheap ($) – Buy Online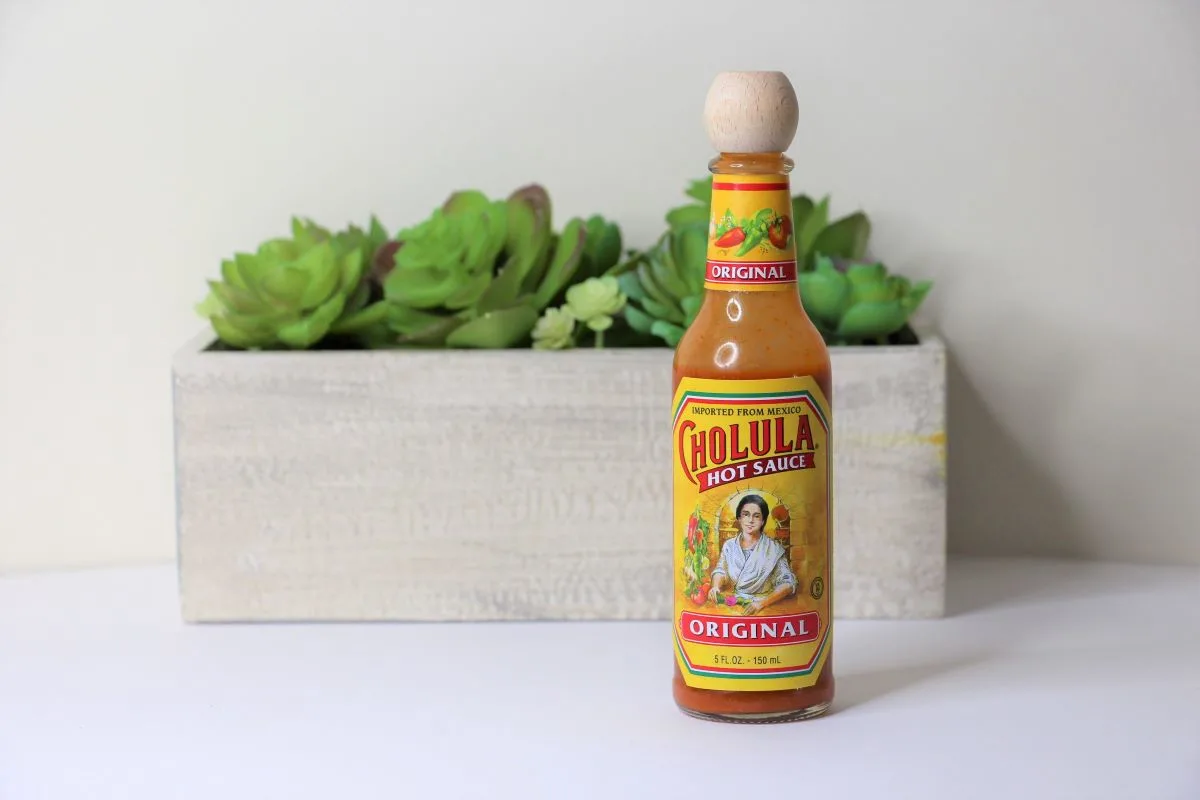 If you're choosing between common grocery store hot sauces, Cholula is our top pick for eggs. The higher salt level (110mg per tsp) means a ton of flavor in every dash. We love the flavor of Cholula Original for turning plain, boring eggs into a tangy, savory breakfast.
Taking all things into consideration, Cholula is likely the best all-around hot sauce for eggs. It is cheap, accessible and filled with a unique flavor that compliments a fried egg beautifully. The combination of arbol and piquin peppers gives the sauce plenty of heat and a flavor unlike any other hot sauce we have tried (and we've tried a lot!). Whether it's swirling and mixing with runny egg yolks, or dashed across a cheese omelet, Cholula will only improve your egg breakfast!
Read our review of Cholula and learn more about its interesting origins as a tequila chaser!
---
2. Hot Ones Los Calientes
Only Available Online – Mid-priced ($$) – Buy At Heatonist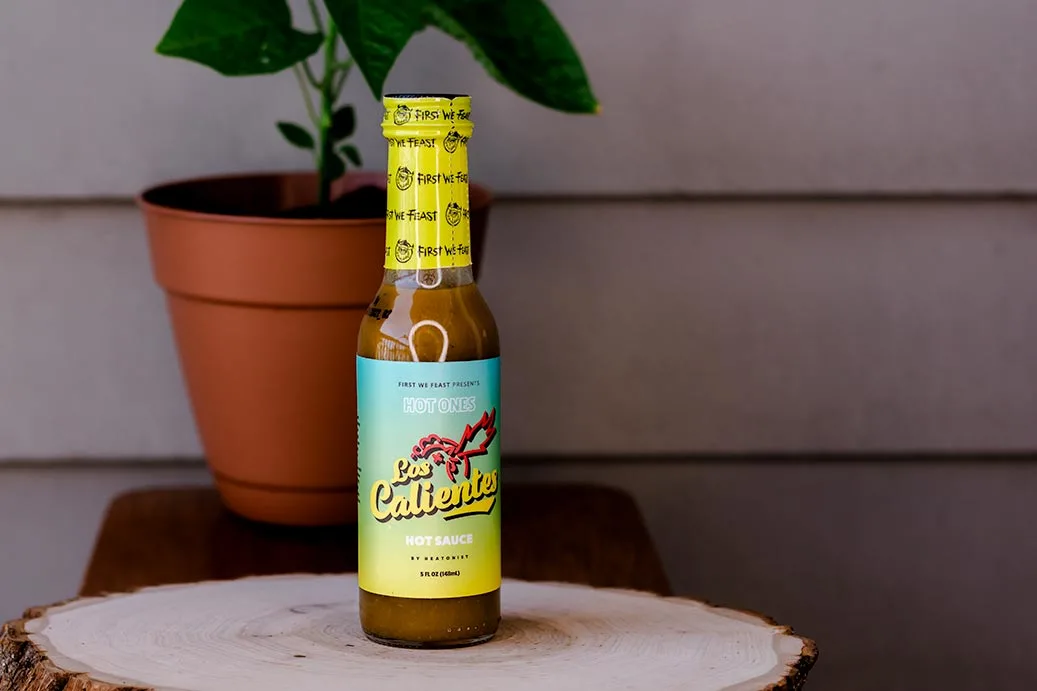 If you want to step it up a few levels and get into more high-end gourmet hot sauces, Hot Ones' Los Calientes is the perfect option. Hot sauce connoisseurs know the Hot Ones collection of sauces well, and Los Calientes falls right in the middle on the spiciness scale. A beautiful blending of tropical flavors and smokey peppers, this sauce compliments eggs well. It is also a great option for lunch or dinner options. We generally can't find one bad thing to say about Los Calientes.
One of the only potential drawbacks is the price, though we think it is worth it (especially if you love spicy food). You get what you pay for in the hot sauce world, and with Los Calientes, the first ingredients are smoked peppers, not water or vinegar.
Read our review of Los Calientes to learn more about the flavor profile and heat level.
---
3. Dawson's Original
Only Available Online – Spicy & Pricey ($$$) – Buy On Amazon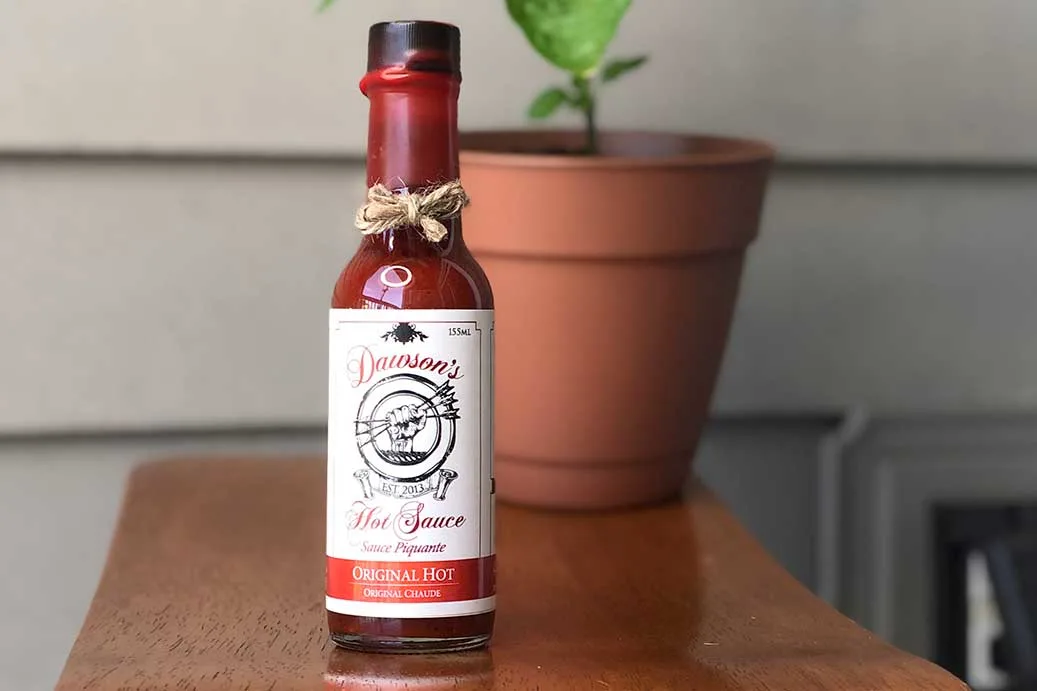 If you're looking for a more fancy and elegant sauce, Dawson's has a great lineup of options for sale on Heatonist. Hailing from Hamilton, Ontario, Canada, Dawson's hot sauce have a unique look, with the bottle cap covered in melted wax like a fancy bottle of bourbon. The ingredients are equally unique, with many of their hot sauce recipes containing olive oil for a rich, deep flavor.
We especially love Dawson's Original hot sauce for its higher heat level and raw Habanero flavor. Some claim that the flavor is overpowering, but with eggs, we like a lot of flavor. If you like it spicy, then this hot sauce will not disappoint. Our bottle of Dawson's didn't last very long as it was one of our go-to sauces for a quick flavor and heat fix.
Read our full review of Dawson's Original hot sauce and see what other foods we recommend using the sauce for.
---
4. Tabasco Hot Sauces
Common At Grocery Stores – Cheap ($) – Buy On Amazon
Tabasco is a staple in many people's pantry (that's right, you don't need to refrigerate this stuff). Known for an extra kick over common competitors, Tabasco is one of the best hot sauces for eggs. With lots of vinegar zing and a red pepper burn to boot, we love Tabasco Original for it's simple, cutting flavor. After being around for over 150 years, you have to respect the longevity of this classic hot sauce recipe.
They have also introduced new flavors, one of which is the higher-heat Habanero variety. If you like it extra spicy, a tiny bottle of Habanero Tabasco will be your new best friend. With new flavors like papaya and mango, this sauce gives a powerful Jamaican-style flavor to your eggs. Perhaps one of the most powerful sauces we use, the tiny 2oz bottle goes a very long way!
---
5. Frank's RedHot Sauce
Common At Grocery Stores – Cheap ($) – Buy On Amazon
Another historic sauce, Frank's RedHot is a great topper for a wide variety of foods. Well known for making Buffalo sauce possible in the 1960s, this sauce goes well on everything. The recipe is very simple with just 5 ingredients and a pepper-forward flavor profile. Dash a little Frank's on your eggs over-easy, or splash a bit on a cold hard-boiled egg for a tasty protein boost. Affordable and widely available, Frank's easily makes a spot on our list.
If you happen to live in the Virginia area, you may prefer Texas Pete. If you're from Southern California you might reach for the Tapatio. There are many takes on the simple vinegar-based, Louisana-style sauce. We like Frank's for its history and objectively pleasant flavor.
Read our in-depth review of Frank's here and learn more about its origins in America.
Honorable Mentions
If we're being honest, most hot sauces compliment the flavor of eggs very well. Here are some additional hot sauces we find ourselves reaching for during breakfast.
Queen Majesty Red Habanero and Black Coffee – The first ingredient is coffee-infused vinegar. If that doesn't spark your curiosity in the morning, we're not sure what will! This sauce is a fantastic compliment to any fried egg.
Kitchen Garden Farms Sriracha – Kitchen Garden Farms crafts several varieties of sriracha. Take it from us, they're all delicious.Our personal favorite for eggs is the habanero sriracha. It adds a pleasant amount of heat and flavor to spice up your day.
Torchbearer Habanero Evil – There is something about this sauce that compliments home fries and eggs incredibly well. If you're cooking up a complete breakfast with all the fixins, you might want to add a generous splash of this sauce to your plate.
---
Check out our favorite hot sauces of the year in our best hot sauce article here.
What other sauces do you like on your eggs? Share with us on Instagram or Twitter! We're always in the market for more hot sauces.