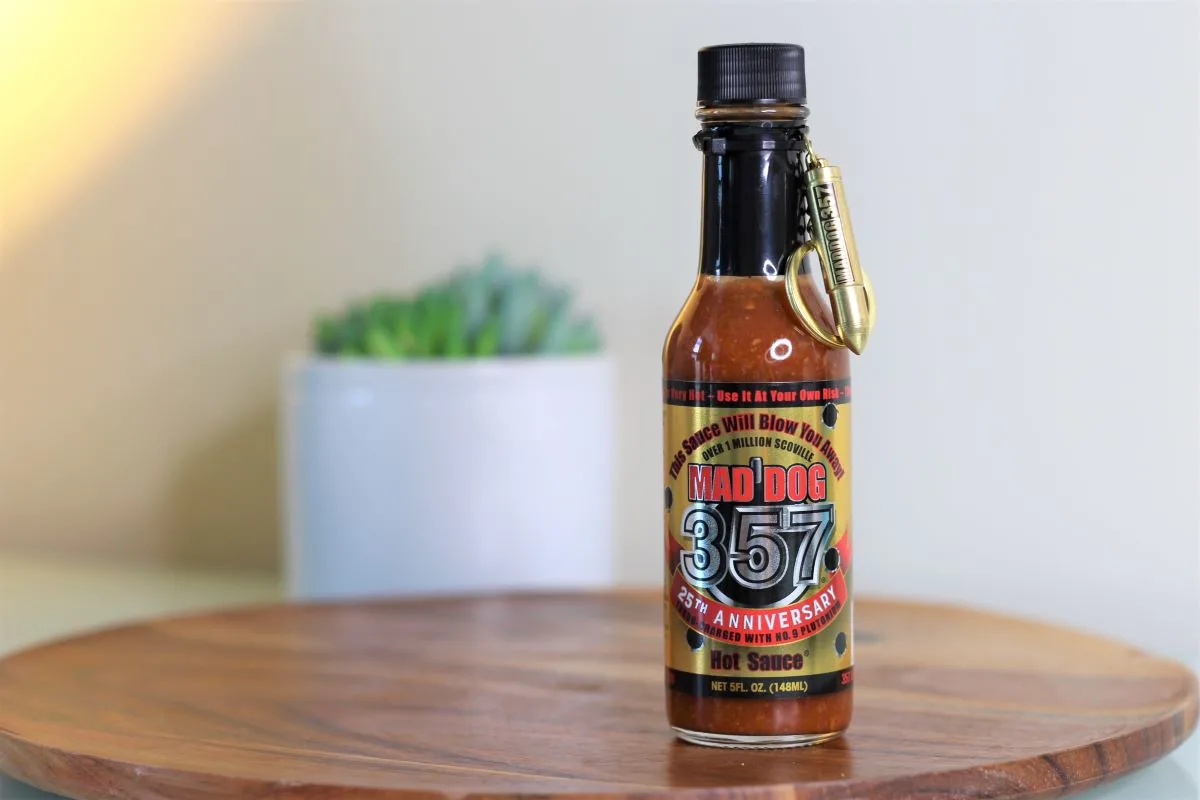 Mad Dog 357 is notorious in the hot sauce industry for making blazing hot sauces. In 2016, they celebrated 25 years of business with an all new anniversary sauce. Today, we had the privilege of trying Mad Dog 357 Gold edition hot sauce. Oh brother.
---
Watch Us Try It:
---
The 25th anniversary sauce is a take on the original super spicy sauce with an added kick. These sauces have a very specific audience. People who are looking to 'chase the heat' or maybe build up a capsaicin tolerance.
Mad Dog 357 was founded by David Ashley in 1991 in the Massachusetts area. Since then, dozens of products have been produced under the brand, all with a claimed emphasis on flavor and spice.
Mad Dog 357 hot sauce 'Gold' edition amps up the heat to unprecedented levels with the use of Mad Dog's own 'No. 9 Plutonium' pepper extract. Just a few drops of that stuff and you're in a world of trouble. Though we'll never know for sure because the extract alone costs around $100.
---
---
Mad Dog 357 Hot Sauce Review
Let's be honest. If you're buying Mad Dog 357, you like things extra spicy. You may enjoy eating fresh superhot peppers, or just can't stand food without a powerful kick. Though we do put hot sauce on almost everything, Mad Dog 357 draws a distinct line in the sand for our personal tolerance.
We were expecting an overwhelming heat without any flavor. However, this wasn't entirely the case as the ingredients are mostly natural. Reaper, scorpion and ghost peppers are the first ingredients, followed by vinegar, onions, garlic and some lime juice. The chile extract is the second to last ingredient, but that didn't fool us.
Flavor
Vinegar forward
Garlicky
Fresh pepper flavor comes through
One smell singes the nostril hairs
How to Use It…
Splash it into some chili
Do what you want, just be careful and read the warning…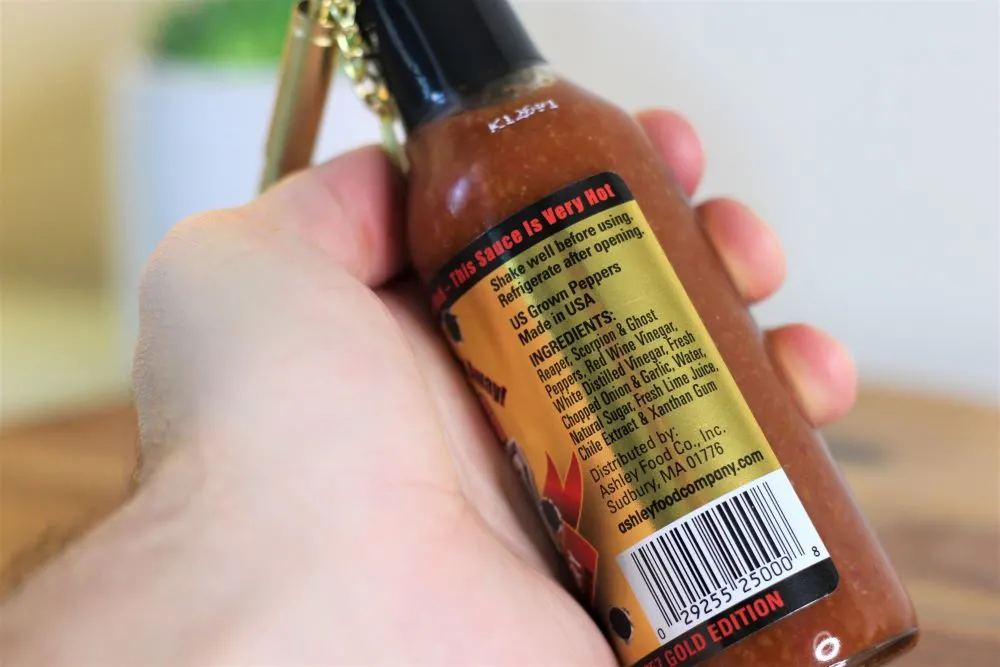 Strangely, the bottle does not have a nutrition label, and the label on their website conflicts with the ingredients list on the bottle. Perhaps an error, but we can certainly taste the garlic and the fresh peppers.
We can't say for sure what the best use for this sauce is other than for making anything super-spicy.
Unfortunately, the vinegar is still overpowering to the overall flavor profile. If the sauce weren't overly spicy, I could see us using it in place of a Frank's Redhot on occasion.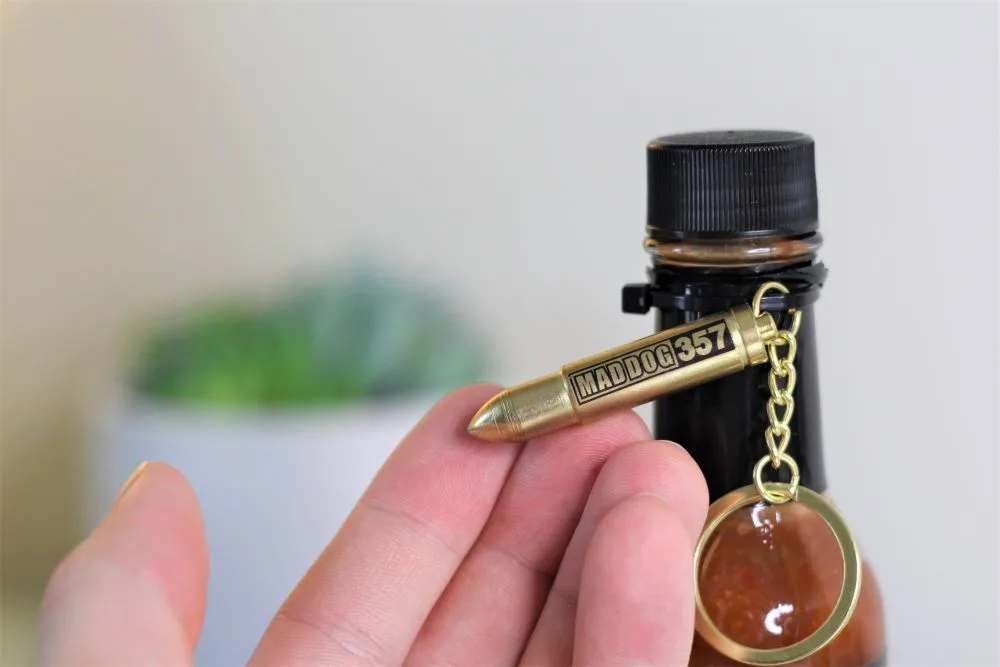 But hey, did we mention it comes with a mock 357 shell on a keychain? That kind of makes up for any flaws in the sauce itself. It is solid metal and heavy.
---
Mad Dog 357 Scoville & Spiciness
Now for the fun part. You don't have to look far to find out how high this hot sauce ranks on the Scoville scale. Mad Dog 357 has a brand name based on the scale, as the first edition of their sauce had a 357,000 SHU Scoville rating. So it is no wonder that the rating is proudly displayed right on the bottle.
Put simply, Mad Dog 357 hot sauce comes in at a whopping 1,000,000+ SHUs on the Scoville scale. This is a huge number for any sauce, and it definitely bites harder than any natural sauce we have tried.
No wonder there are repeated warnings dedicated to 1/3 of the label…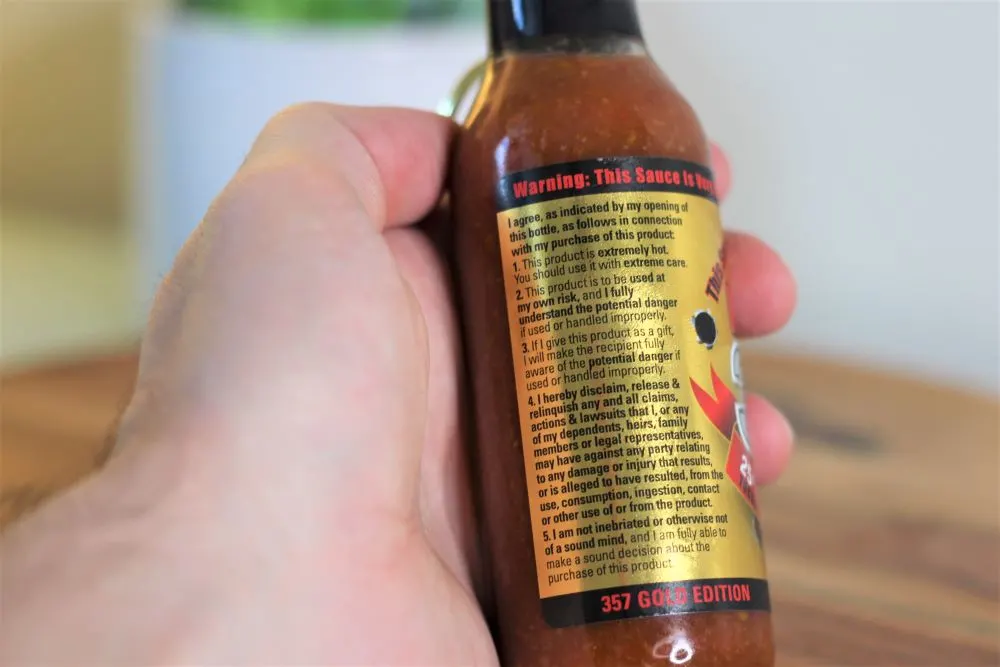 The heat level is what Mad Dog 357 is all about. If you want to have some of the hottest sauce on the market on tap for special occasions, this will fit the bill. In small quantities, it is tolerable. However, anything more than a few drops and you'll be feeling the burn, STRONG.
---
Mad Dog 357 Hot Sauce Consistency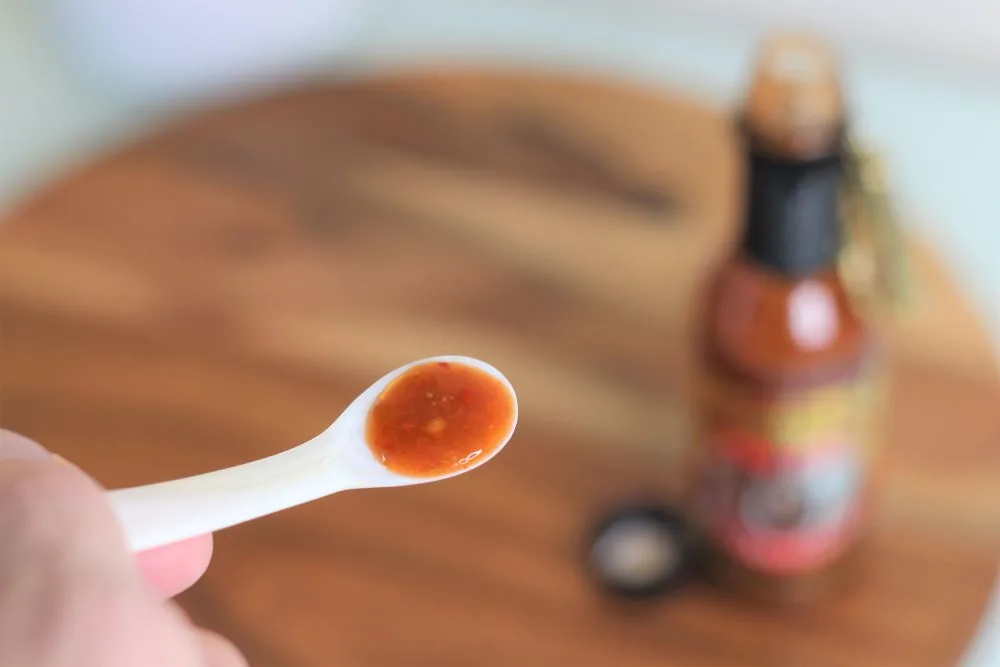 We found this to be a major drawback of Mad Dog 357 hot sauce. The sauce is extremely thin, pouring out like Niagara Falls. Despite the use of xanthan gum (a thickener), Mad Dog is still runny and thin.
This would be fine in a hot sauce meant to be used in larger amounts, but for the hottest sauce in our collection? We would prefer a thicker sauce that is easier to pour slowly. A sauce with more body and texture would better match this sauce's intensity.
---
Where To Buy Mad Dog 357 Hot Sauce
Mad Dog 357 Gold 25th Anniversary sauce is currently cheapest to buy on Amazon here with free Prime shipping. They also sell a few other varieties on Amazon with free shipping, so be sure to browse their store.
You can also buy directly from Mad Dog's website here if you prefer getting it straight from the source.
---
Though this sauce can't be considered a Pepper Geek favorite, it certainly was eye-opening to try. We love any sauce that gives us a memorable experience, and Mad Dog 357 sure did that!
Have you tried Mad Dog? Leave us your thoughts in the comments below.
---
---