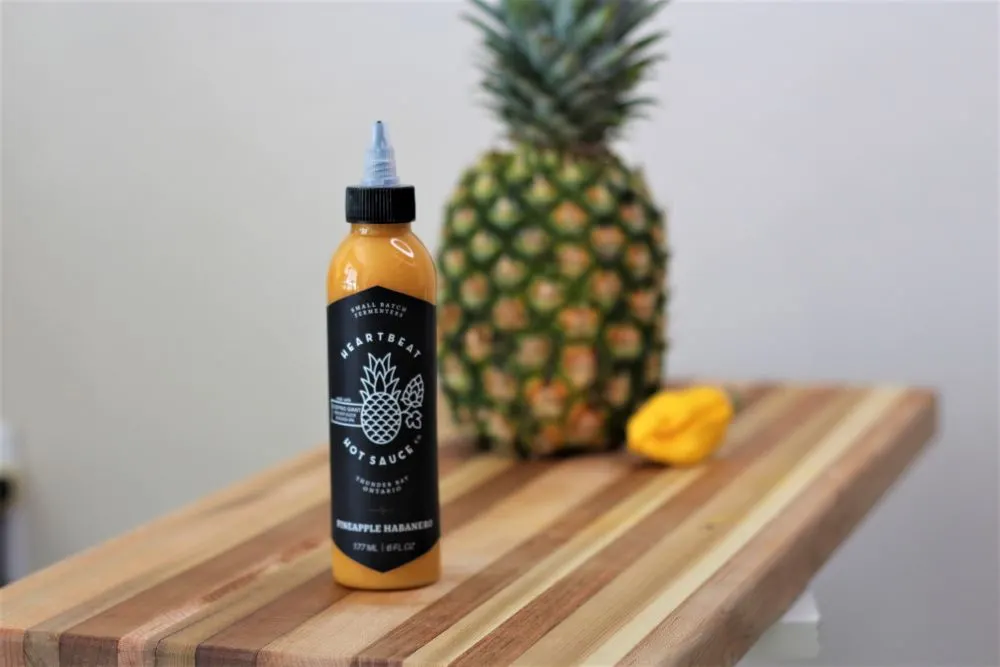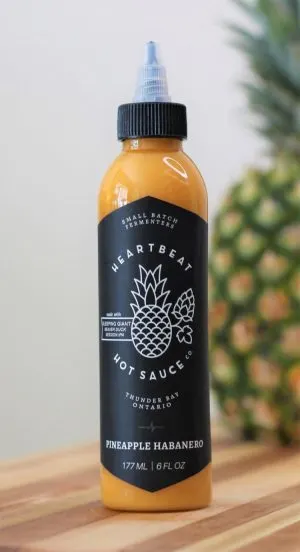 About Heartbeat Pineapple Habanero
Originating from Thunder Bay, Ontario, Heartbeat Hot Sauce Co has a lineup of sauces in tall, slender bottles. The Pineapple Habanero hot sauce is our first taste of what the company has to offer.
We've all see it on Hot Ones Season 10 in the number 3 spot, but it is worthy of the placement?
In this article, we'll give you our thoughts on Heartbeat's Pineapple Habanero hot sauce.
Or, use our unique referral link to save $10 off $40 or more at Heatonist.
---
---
Is Heartbeat Pineapple Habanero Any Good?
We have tried making pineapple hot sauces at home. It is a fun experiment to craft your own recipes at home. Sometimes you get lucky and make something truly great, and other times it goes right in the trash. Pineapple is such an appealing flavor, that it is hard to go wrong.
Flavor
Sweet pineapple and lime are nice and zesty
Savory onion & garlic flavors compliment the pineapple well
Pair It With…
Fish tacos
Chicken and rice
Stir fry
"This sauce is probably strained or perhaps power-blended with ungodly horsepower."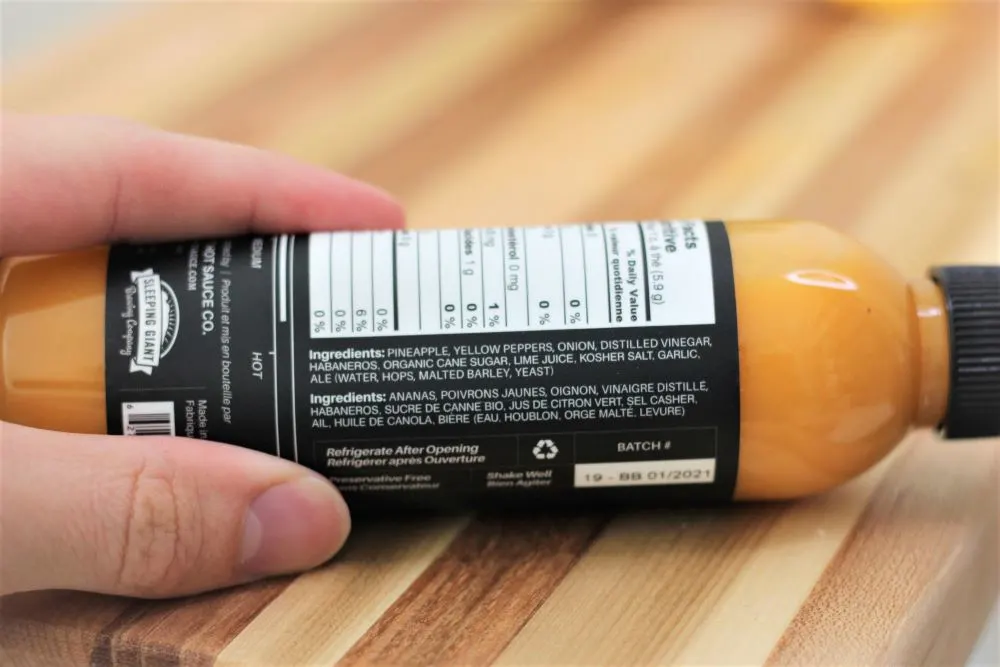 Heartbeat Hot Sauce Co. did a great job pairing the sweet, tangy flavors of pineapple and lime with savory onion, garlic and habaneros. The flavor is great when added to mildly flavored meals, like chicken or fish tacos. It is also a good addition to a plate of cheese and crackers.
However, the flavor of this sauce is not overpowering, and that can be a good thing. When used in the right application, this sauce is just what the doctor ordered. It isn't too spicy, hence the ketchup-style spout for squeezing out plenty of sauce.
---
Heartbeat Pineapple Habanero Scoville & Spiciness
Heartbeat Hot Sauce Pineapple Habanero is not going to knock your socks off. Believe it or not, some people don't just look for the hottest sauce they can find. Instead, you can use this every day without the need for a glass of milk and a cold towel.
The simple fact is that Heartbeat Pineapple Habanero hot sauce measures just 12,200 SHUs on the Scoville Scale. You'll notice the heat when eaten plain, but it won't overwhelm your meal with spiciness. This is on par with something like Frank's RedHot, and can similarly be used on a wide variety of foods to add a little kick.
Tip: Don't expect this sauce to add much heat to meals. It is best used on milder flavored meals to allow the pineapple zing to shine.
---
Where To Buy Heartbeat Hot Sauce
Heartbeat Hot Sauce Co. has a great website for buying their hot sauces. Being based in Canada means that shipping costs to the US can be relatively high, so check prices on Amazon or Heatonist to get the best deal. However, Heartbeat currently offers free shipping on orders over $99 (at the time of writing this article). If you like their sauces enough (yes, they have a few other hot sauces), maybe you can take advantage of this in the future.
---
Heartbeat Pineapple Habanero Consistency
What is most impressive about Heartbeat Pineapple Habanero is the consistency of the sauce. It has a lathery, smooth texture, unlike many other fine sauces that maintain the textures of the ingredients within. This sauce is probably strained or perhaps power-blended with ungodly horsepower.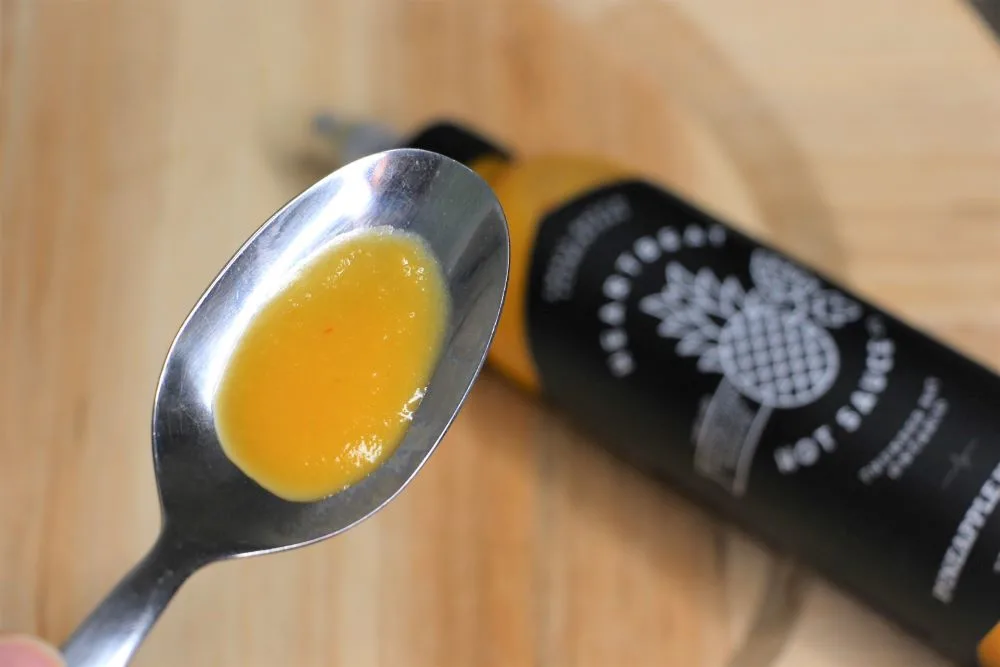 What is nice is that you do not get the sense that this sauce is cheaply produced. It tastes high quality, despite having a buttery smooth, processed texture. We love it.
---
Is Heartbeat Hot Sauce Worth It?
Heartbeat Hot Sauce is a nice, fresh and tangy sauce with enough spice for most. We love the packaging, the texture, flavor, and mild heat level. The only thing we were left wanting is a slightly more powerful flavor to really kick up a meal. But perhaps that was the point – to keep this sauce more complimentary rather than dominant.
If you're into tropical, sweet and savory flavors without too much heat, this is a great sauce for you.
Get your own bottle on Amazon
---