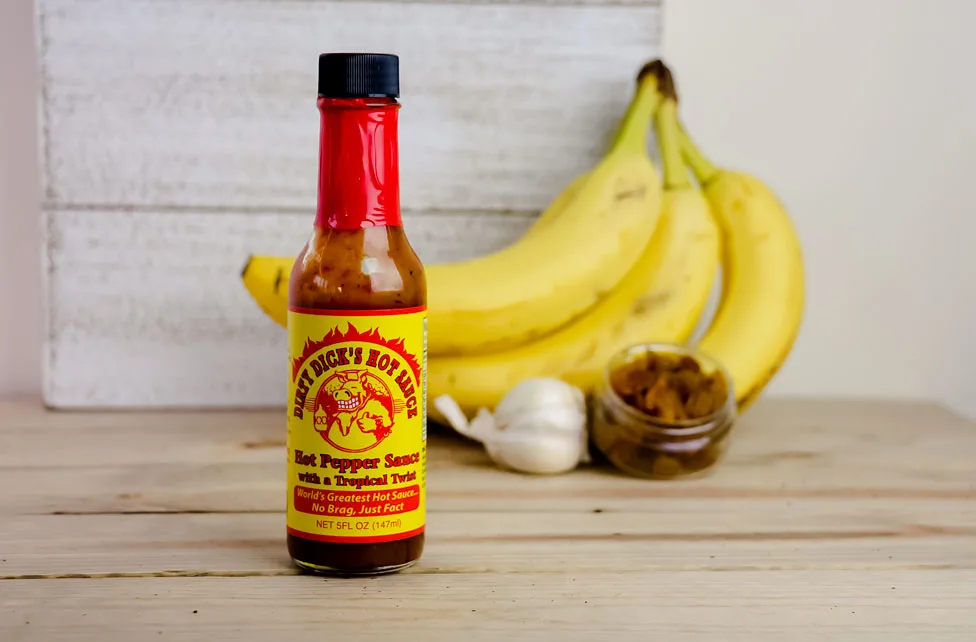 With a name like Dirty Dick's, we weren't sure what to expect from this hot sauce. The bottle claims that it is simply the "World's Greatest Hot Sauce…No Brag, Just Fact." With a claim this grandiose, along with many awards won, we couldn't help ourselves.
The ingredients are intriguing, with tropical fruits, habaneros, and freshly ground spices. So here at Pepper Geek, we've sampled and will share our full review of Dirty Dick's hot sauce.
Buy It:
Or, buy on Heatonist and get $10 off when you spend $40 using our unique link.
---
Dirty Dick's Hot Sauce Review
We love the combination of sweet and spicy food more than your average Joe. Dirty Dick's recipe includes some of our favorite fruits, including mangoes, pineapple, bananas, and raisins. When you add in freshly ground spices, which we suspect include cinnamon, the flavor is truly unique.
Try our homemade mango-habanero hot sauce recipe!
Flavor
Sweet and tropical, raisins add more flavor than you'd think
Caribbean jerk
Tomato undertones, habanero heat fills the palate
How To Use It
Put it on a pulled pork sandwich
Add to beans and rice
Spice up fried banana chips
Substitute ketchup or BBQ
Add to jerk chicken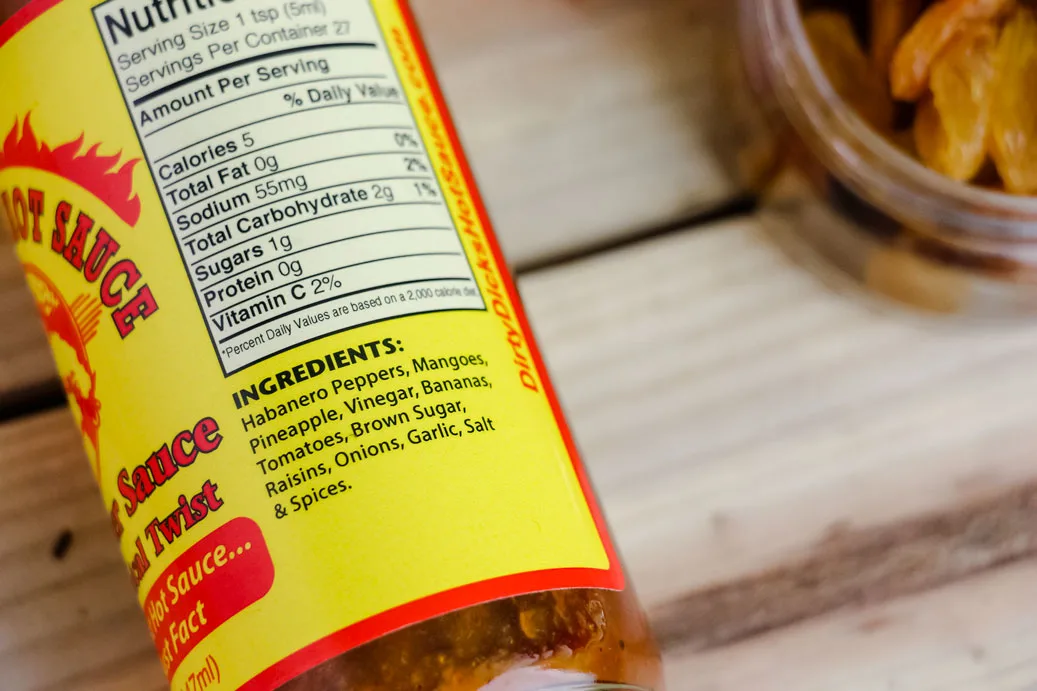 Tip: Smell before tasting – it has a wonderful, tropical and tomato-y aroma!
I come from a family that continues traditions from Puerto Rico, namely making fried pastelillos annually. The recipe includes a hefty portion of raisins, an ingredient some might consider odd. However, the addition of raisins adds a sweet complexity to the flavor, and the same is true for Dirty Dick's hot sauce. The overall flavor has a factor that is hard to put your finger on, but I think a lot can be attributed to the raisins (and perhaps the banana and mysterious 'spices').
---
Dirty Dick's Hot Sauce Scoville Rating
Heat isn't everything in a hot sauce. We find it is best when the heat compliments the flavor without overwhelming the palate. We don't like weak sauces that are too easy to consume quickly. We also aren't crazy about super spicy sauces that burn away the enjoyment. Dirty Dick's recipe falls happily between those two, with enough heat to satisfy our Pepper Geek nature.
To put it simply, Dirty Dick's hot sauce comes in at 21,000 SHUs on the Scoville scale. This puts it a bit below the popular Los Calientes from Hot Ones. Habanero peppers are what give Dirty Dick's hot sauce its kick.
These are serious peppers when eaten on their own, but the proportions in this sauce give it a 3/5 on our heat scale. It is certainly hotter than your typical Louisiana-style grocery store hot sauces, but not too much to handle.
The burn comes on gradually but eventually fills the entire palate. Habaneros have a great, slow, lasting burn that builds up the more you eat. I wouldn't go eating heaping spoonfuls of this sauce, but a few dabs at a time works perfectly.
---
Dirty Dick's Hot Sauce Consistency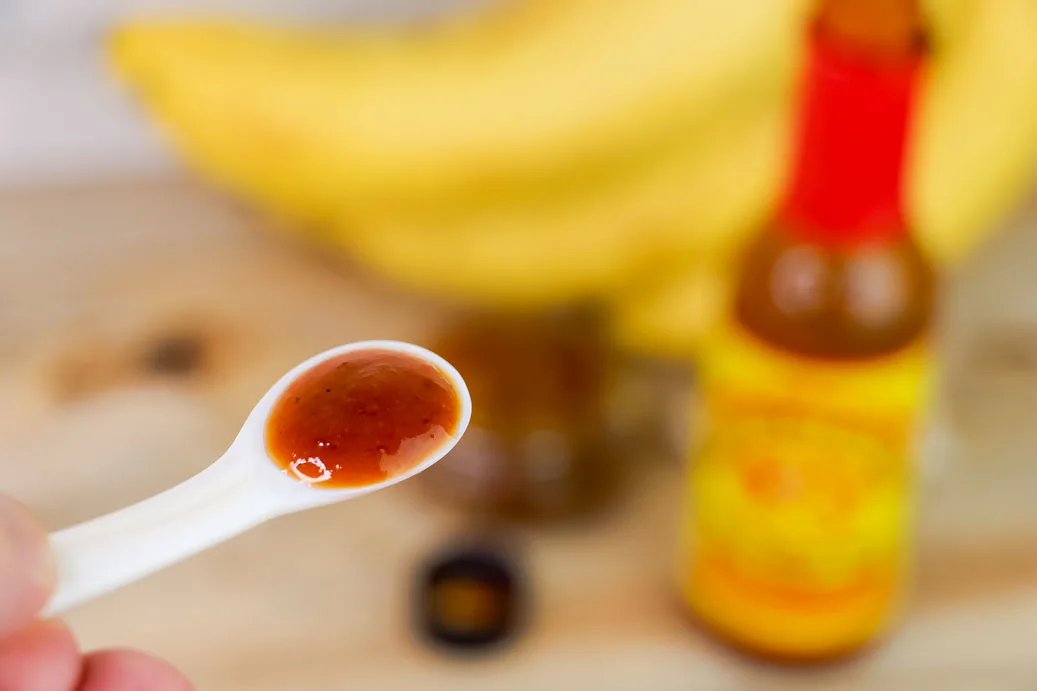 With finely blended chunks of tropical fruits and vinegar, Dirty Dicks has a perfect consistency. It is not too thin that it will come gushing out of the bottle, but not so thick that it gets stuck. It tastes fantastic directly off the spoon, having just enough texture that you feel compelled to chew a few times. I have a feeling that most of this hot sauce will end up simply being eaten all on its own…
---
Dirty Dick's Hot Sauce Price
With hot sauce prices steadily rising in the age of YouTube spicy challenges, it isn't uncommon to see prices over $15 for a single bottle of hot sauce. Not for Dirty Dick's. This sauce costs around $10 on Amazon with free Prime shipping.
If you end up loving the sauce as much as we do, you can get a 3-pack for a slight discount. If they sold this in a larger bottle, we'd probably size up. Great value for the heat level and excellent flavor!
---
Overall Thoughts Of Dirty Dick's
Though I can't say I'm a huge fan of the name, Dirty Dick's hot sauce has become one of my all-time favorite hot sauces. The flavor has a somewhat nostalgic twinkle that puts a smile on my face with each taste. If you're in the market for an affordable, totally unique new hot sauce, do yourself a favor and try this one for yourself!
Get your own bottle on Amazon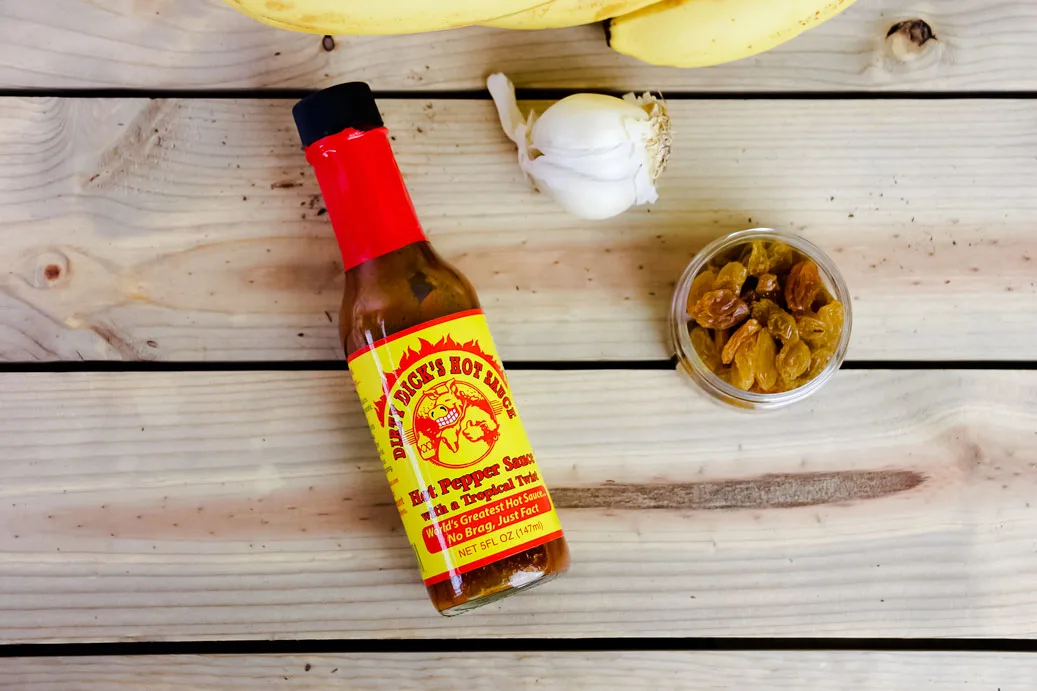 ---