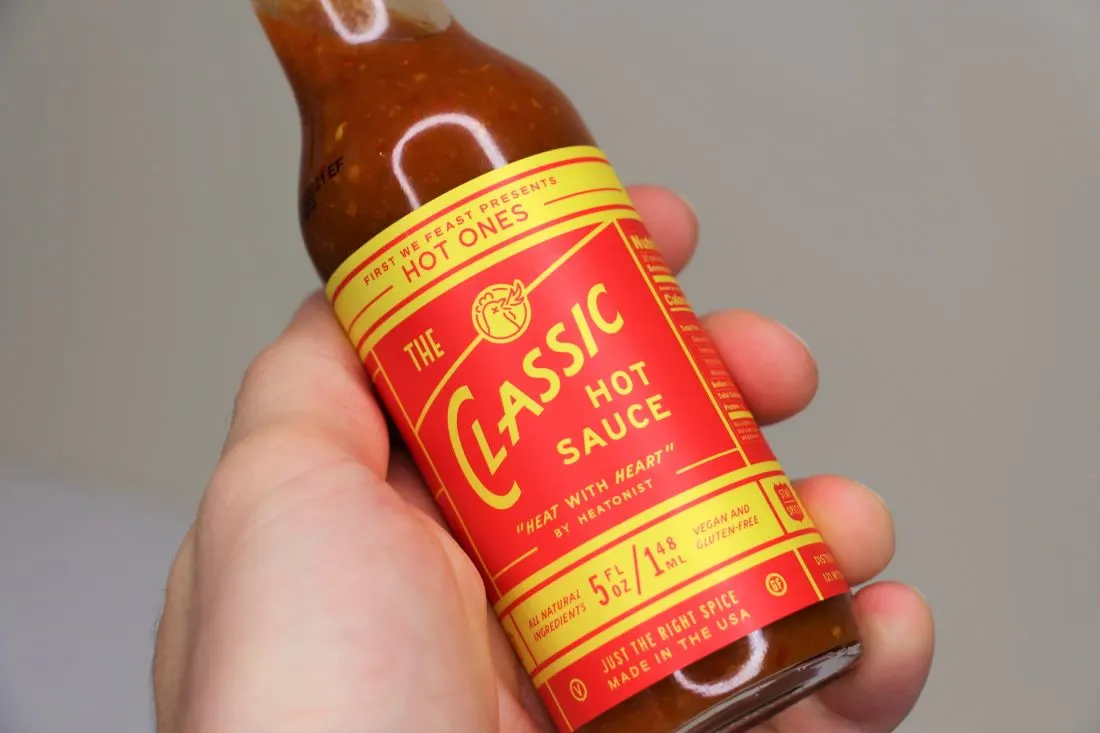 About Hot Ones Classic Hot Sauce
Hot Ones 'The Classic' Hot Sauce has held the first spot on Hot Ones for several seasons. It is claimed to be a great starter sauce for guests, with plenty of flavor and not too much heat. 'Heat With Heart' as the bottle self proclaims.
* Use our unique referral code to save $10 on your first purchase over $40 from Heatonist!
In this article, we'll give you our thoughts on Hot Ones Classic hot sauce. We'll explain our take on the flavor, heat level, texture and more. If you are interested in other Hot Ones sauce reviews, see our articles on Last Dab XXX here and Los Calientes here. Here we'll give a full breakdown of the Classic, and give it a PepperGeek score. Let's get started!
---
Is Hot Ones Classic Any Good?
If you're a fan of Hot Ones on YouTube, you've got to be curious about the flagship Classic hot sauce. Sitting in the number 1 spot on the show for many seasons now, this sauce is marketed as the go-to hot sauce for almost anything. Guests usually enjoy the Classic, but how is it really?
Flavor
Chile de árbol flavor comes through strong
Sweet maple notes (despite containing no sugar)
Garlic backs up the hot chiles nicely
The perfect heat level for most, great for adding a kick to bland foods!
Pair With…
The perfect pizza companion
Breakfast sandwiches & omelets
Tacos & wings
With a simple ingredients list, Hot Ones Classic does, in fact, have the potential to be a great all-around sauce for everyday use. As we said, it is the perfect pizza companion, but it's uses don't stop there. The Classic also pairs well with breakfast food thanks to the not-so-subtle maple notes from the Chile de árbol. These chile peppers have been cultivated for 500 years for their unique flavor and reasonable heat levels. It's one of those tastes that is difficult to describe but is addictively good.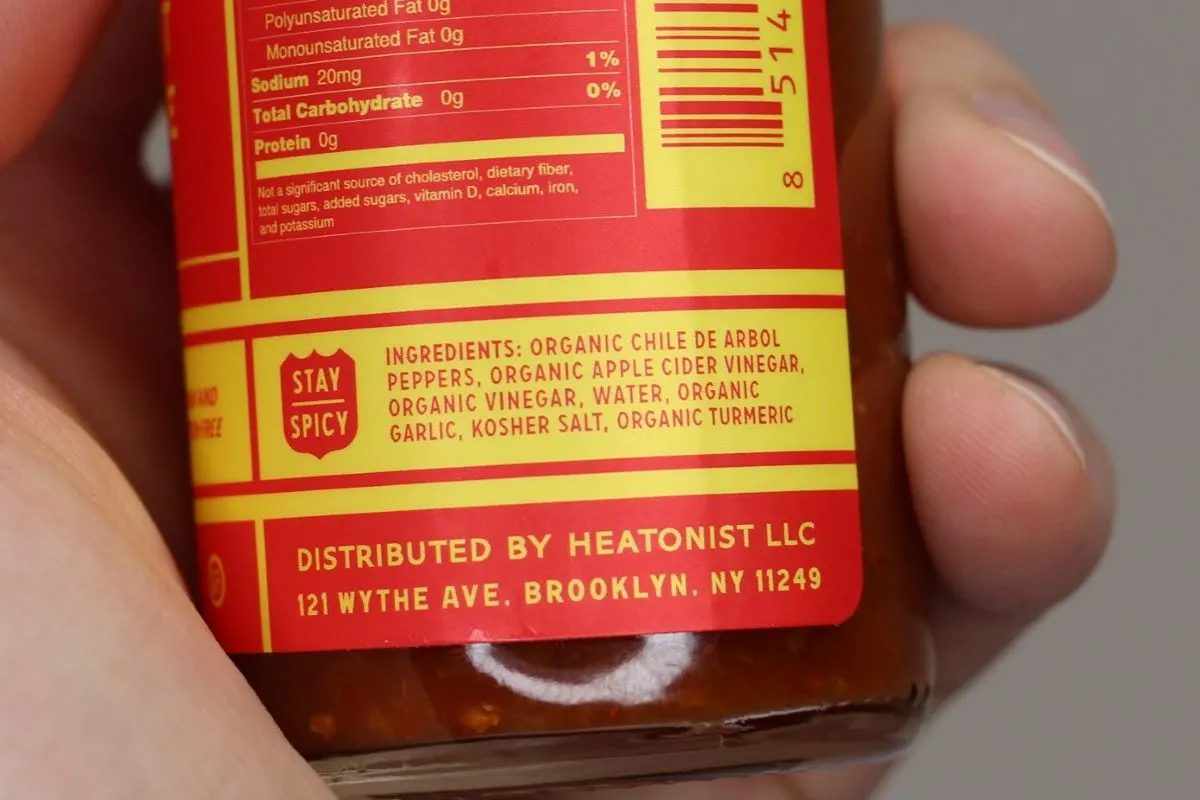 The only thing I would change about this sauce is the size of the bottle. It is so useable that it is easy to go through the 5oz bottle quickly. With a fridge full of hot sauces, we still find ourselves reaching for Hot Ones Classic more often than most. However, this is hardly a demerit. This is a fantastic, quality hot sauce recipe.
Hot Ones Classic Scoville & Spiciness
Hot Ones Classic is not overly spicy. It won't be any good to challenge your friends to taste a tiny dab of super spicy sauce (try the Last Dab for that). It lives in the first spot on Hot Ones for a reason: it isn't very spicy. That isn't to say it doesn't have any kick.
READ NEXT: The Classic PEPPER X EDITION – We've Tried It!
To put it simply, Hot Ones Classic hot sauce has a Scoville rating of 1,800 SHUs. This places it below the heat level of a typical Jalapeno pepper. This hot sauce is comparable in heat to Frank's Red Hot or Cholula.
Remember: Scoville ratings can be subjective! Depending on the exact peppers that went into each batch, heat levels can vary.
Where To Buy Hot Ones Classic Hot Sauce
The Classic is available on Heatonist for $10 plus shipping (price subject to change). This may sound expensive, but all ingredients are organic and of very high quality. However, I have to say that it would be nice to order a 10oz bottle for a slightly lower price per oz. Either way, First We Feast and Hot Ones sauces are exclusively for sale on Heatonist.
Hot Ones Classic Consistency
Hot Ones Classic hot sauce is on the thinner side in terms of consistency. There are bits of peppers, seeds, and garlic that give the sauce some texture, but it is still susceptible to the over-pour. Thankfully, Hot Ones thought of this and the bottles are now equipped with a dasher top. This is the little plastic top over the bottle's spout that allows less sauce to come out when pouring.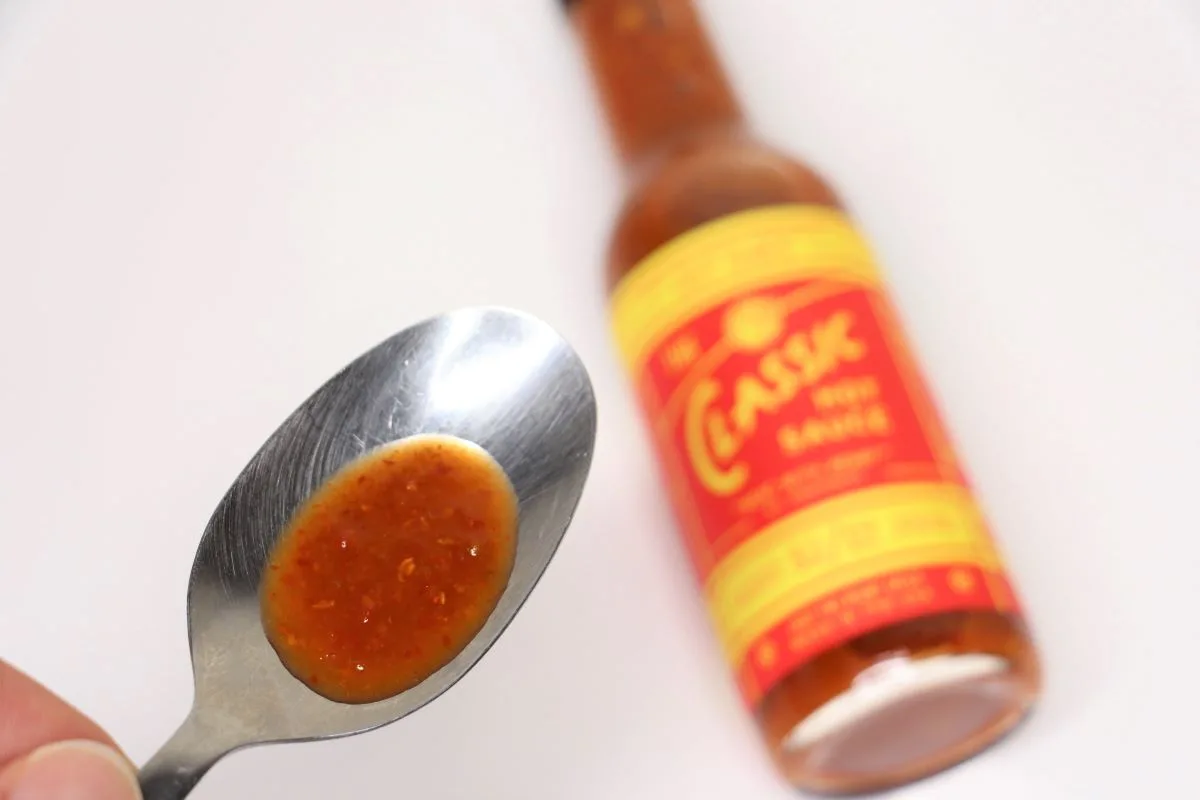 Is The Classic Hot Sauce Worth It?
If you haven't tried it and you are a hot sauce buff, then The Classic is worth at least one try. It is on the pricy side when compared to cheap grocery store alternatives, but the quality is much better than those options. Hot Ones have made some of our favorite sauces, and this is now among the top-rated.
Get your own bottle on Heatonist
---