What are Fish peppers? They seem to be growing in popularity in some American cultures, but they have a rocky and intriguing history. Fish peppers are a spicy pepper variety within the Capsicum annuum species.
They are slightly hotter than a Jalapeno pepper, but much less intense than a Habanero. Perhaps the most fascinating thing about Fish peppers is their origin and history in North America.
Basics About Fish Peppers
Scoville Heat Units (SHU): 5,000-30,000
Diameter: 0.5 – 1 inches
Length: 1.5 – 4 inches
Colors: White, Green, Orange, Brown, Red
Species: Capsicum annuum
Buy Seeds: Amazon or Burpee
The fact that the heirloom variety survived to this day is a small miracle! In this article, we will share everything you should know about the Fish Pepper.
Skip Ahead:
---
The Interesting History Of The Fish Pepper
The Fish Pepper is thought to have its origins in the Caribbean. It then made its way into North America and was first documented in the early 1800s along the East Coast. The pepper was named from the cuisine in which it was primarily used, namely seafood dishes.
The Fish pepper was passed down through generations and was likely cultivated by African-American slaves during the 19th century. The pepper became popular in the Mid-Atlantic region, especially in Baltimore. While the region became more urban, the Fish pepper began to lose popularity. It was nearly lost altogether but was saved by a painter named Horace Pippin, who traded rare seeds.
It is a small miracle that the Fish pepper is still available at all, but it is making a strong comeback across North America. The fact that it is now available to grow is a testament to the importance of saving seeds. The rich history of the Fish pepper can now be carried on through countless future generations.
---
Characteristics Of Fish Peppers
Aside from their amazing history, perhaps the most fascinating thing about Fish peppers is the plant's appearance. Unlike most pepper varieties, the Fish pepper plant has variegated leaves with stripes of white and green.
The pepper pods themselves go through a multitude of color variations during maturation. Colors start with a milky white, turning to striped green and white, then to green, orange, brown and finally red.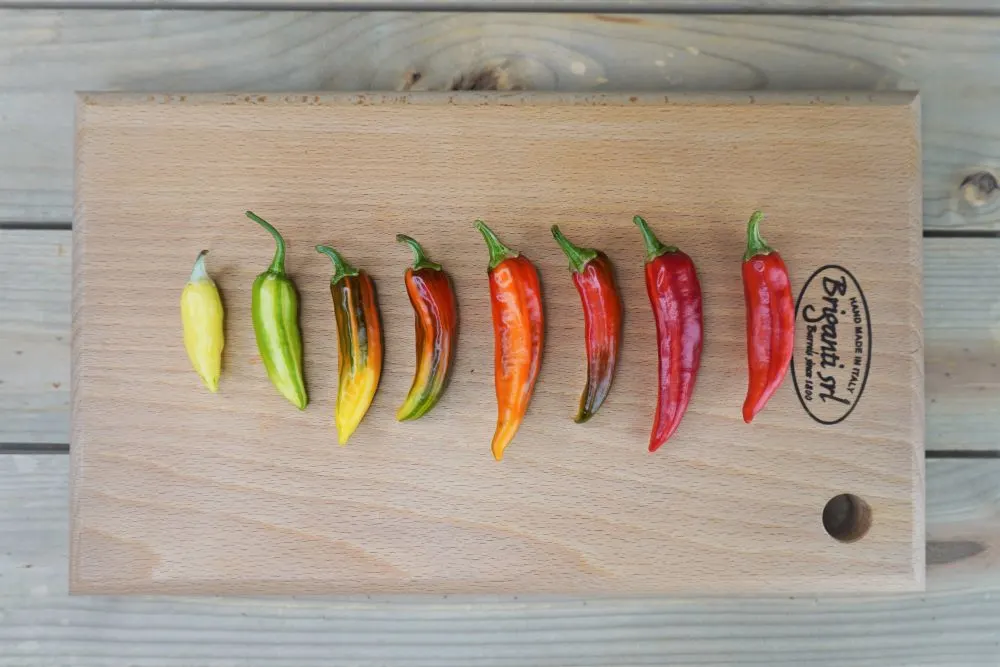 Since early peppers are white in color, Fish peppers were commonly used to spice up white sauces. Given that the dark red mature pods would ugly the sauce, the white peppers were highly valued in quality white cream sauces.
---
Fish Pepper Scoville Scale Rating
The Fish pepper was derived from a typical Serrano pepper and has a similar heat level. If you are familiar with jalapenos, then consider this a step up in heat level, but not by too much.
To put it simply, Fish Peppers range from 5,000-30,000 SHUs on the Scoville scale. This places the pepper between the jalapeno and the serrano pepper for heat. This makes sense given that the Fish pepper derived from the common serrano pepper.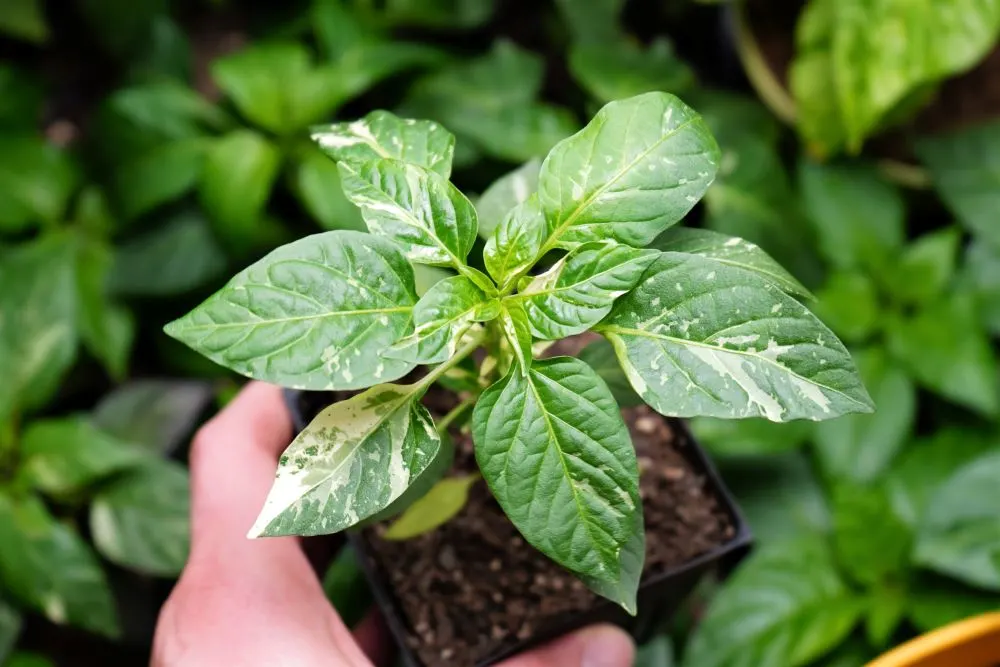 Tip: Always be sure you use gloves when handling Fish Peppers. Small amounts of spicy pepper oil can cause hours of irritation to the skin and eyes!
---
Other Ornamental Pepper Varieties
Since the Fish pepper is such a beautiful plant, many gardeners enjoy pairing them with other ornamental pepper varieties. These pepper types will bring lots of color to your home garden, as well as flavor!
Grow these to put some interesting color into your garden. You'll see pale yellows, red and deep purple colors from these plants. Similar in heat to the Fish pepper, the Chinese 5-color pepper will spice up your food and your garden!
Jigsaw Peppers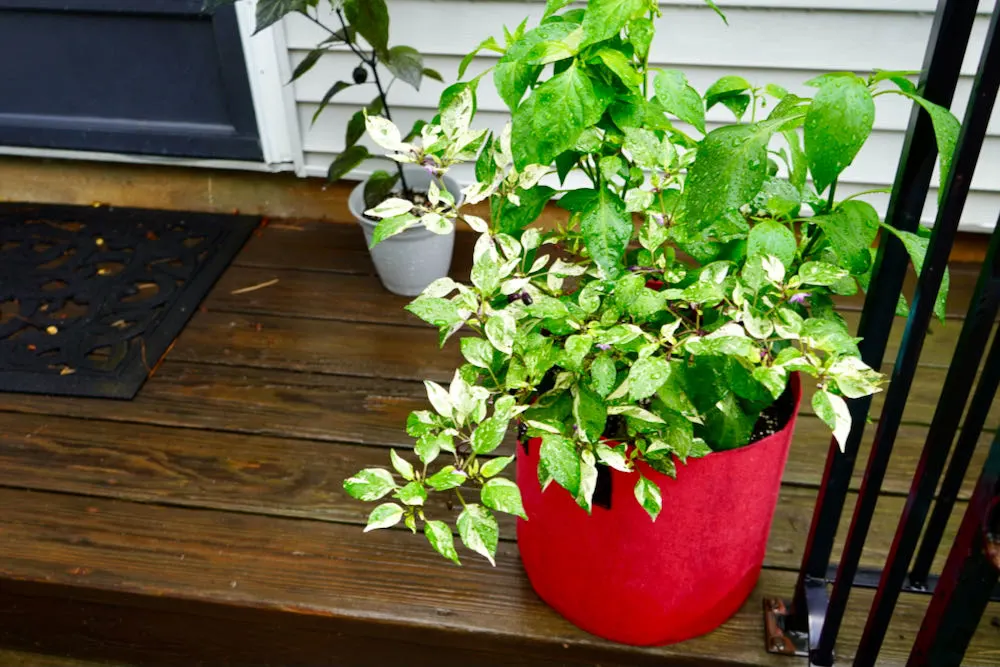 Mostly used for purely ornamental purposes, the Jigsaw is a beautiful pepper plant. With variegated purple, white and green leaves, this plant is stunning in any vegetable garden! The peppers also ripen from a deep purple color through many striped combinations to a final rich red color. Edible and spicy.
Another multi-color variety, the Vietnamese pepper has a unique shape. Small and farily mild in spice, these peppers are most often used for decorative gardening. If you plan to eat your colored peppers, these are a great choice for less heat.
---
Growing Fish Peppers
Growing the Fish pepper is as simple as growing any other pepper variety. If you have grown Jalapenos or Bell peppers before, you will have no trouble growing Fish peppers. They are ideally suited for container planting. Get some Fish pepper seeds here.
Learn how to grow peppers in our complete growing guide here.
How Long Until Fish Peppers are Ripe?
Fish peppers are typically harvested mid-season about 70-80 days after transplanting. This makes them one of the earlier varieties of hot peppers and will produce well into the late season. Be sure to start your Fish pepper seeds indoors to ensure an ideal harvest!
Tip: Use Garden.org's planting tool to see exactly when you should plant your Fish pepper seeds indoors.
And of course, don't forget to save your seeds and share them with other gardening friends to keep the Fish pepper alive and well!
---
How To Use Fish Peppers
Fish peppers are a great culinary addition to many meals. Try implementing this historic pepper into crab gumbo or oysters. These are some of the classic dishes that were so well received in the Baltimore region in the late 1800s.
Some of our other favorite ways to preserve and use hot peppers include:
I hope this article helped you learn more about the amazing Fish pepper plant. If you have any original recipes that use the Fish pepper, please share them in the comments below!
---