So you grew habaneros this year, and you have WAY more peppers than you were expecting. Never fear, it is time to make this simple habanero hot sauce recipe and put them to use.
With just 6 ingredients, this habanero hot sauce is super simple, yet highly delicious (and spicy). This recipe will use up a good amount of habaneros from the garden and will beat many craft hot sauces for flavor and price. It is now genuinely one of our favorite habanero hot sauces, period.
Simple Habanero Hot Sauce (Video):
---
Ingredients For A Simple Habanero Hot Sauce
Peppers, especially habanero varieties, are full of unique flavor. With habaneros, you get powerful floral notes paired with intense heat. It's definitely one of our favorites.
This recipe lets the habanero peppers take center stage, with a touch of sweetness and some oil and garlic. The texture is silky smooth, and the flavor is incredibly bright and tangy, perfect for chicken wings, tacos, or just about any type of food.
If you like a sweeter flavor, try our mango habanero hot sauce or our pineapple habanero hot sauce instead.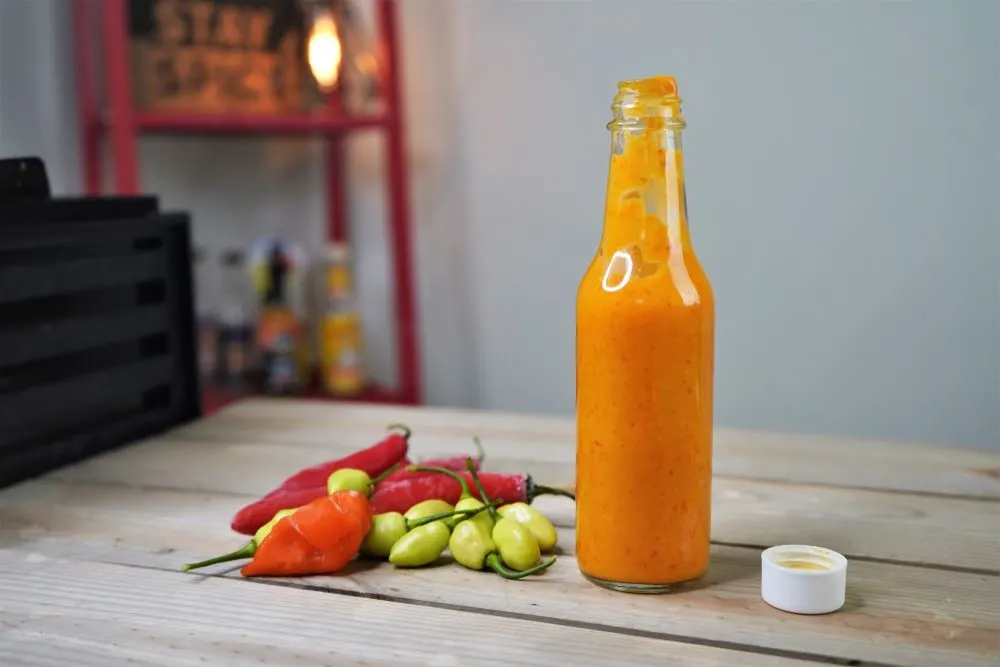 Ingredient List
Habaneros. These peppers are absolutely delicious, but most people can't handle the high heat level. By using them for hot sauce, you can dull down the spice level a bit with vinegar and sugar. This way, you can enjoy more out of your harvest.
Vinegar. Vinegar is highly acidic and is used to preserve the ingredients for long term use. Without vinegar, our sauce would only last a week or so. We prefer to use white distilled vinegar in this sauce.
Sugar. Whether you use white or brown sugar is up to you, but we keep it simple with white cane sugar. Just the small amount added helps to balance out the flavors.
Olive Oil. We use the olive oil to cook the peppers and garlic, but it also gives the habanero hot sauce a buttery-smooth texture. It also helps the sauce pour easily from the bottle, despite it being on the thicker side.
Garlic. Garlic just makes everything taste better, right? With just a small amount, this sauce comes alive. If you are sensitive to garlic, try substituting the olive oil for garlic-infused olive oil.
Salt. Use regular table salt or kosher salt. Salt helps to bring the flavors together and makes them pop.
You can't get much simpler than that. Trust me, this hot sauce will change how you look at other, store-bought hot sauces! Homemade is superior, and you can always tweak the recipe to your liking.
Tip: Habaneros are HOT. If you want to tone down the heat level a bit, consider using half habaneros and half jalapenos or other milder peppers. We used a blend of homegrown white habaneros and red serranos for the sauce in this article.
If this is your first time making habanero hot sauce, this can serve as a base-point for your experimenting. Try adding in other tasty flavors like fruits, veggies and herbs & spices. Sweet fruits are a great way to substitute some of the sugar used in this recipe.
We love to use pineapple, blueberries, mango, cumin, oregano, lemon, lime, and all spice in our other homemade hot sauces.
Tip: This recipe tastes great on jalapeno popper mac and cheese and stuffed pepper soup.
---
How To Make Habanero Hot Sauce
When it comes to putting the ingredients together, you have to first get the proportions right. As I said, this hot sauce showcases the habanero pepper, so the peppers occupy just under 50% of the contents.
Vinegar is the next ingredient, followed by sugar, olive oil, garlic and a touch of salt. With the ingredients ready to go, we have to follow a careful process to preserve the fresh flavors of our habaneros.
Ingredients:
15-20 medium Habaneros
1/2 cup White Vinegar
4 tsp Olive Oil
4 tsp White Sugar
2 cloves Garlic
1/2 tsp Salt
*Makes 1-2 5oz woozy bottles depending on size of peppers.
How To Make Habanero Hot Sauce
Wash The Peppers.

Always choose ripe, healthy looking peppers when making hot sauce. Wash them thoroughly under cold water.

Remove Stems and Chop.

Remove the stems and discard. Rough chop the peppers and the garlic, keeping them separate. For a milder sauce, you can remove the seeds with a spoon.
Reminder: Always wear gloves when handling spicy peppers!

Cook The Peppers In The Oil.

In a medium sauce pan, heat the olive oil on low heat, until it shimmers. Add the chopped peppers and cover. Cook until the peppers are very soft, about 8 minutes.
Note: We recommend wearing a respirator or mask and lab goggles while making super spicy hot sauce. Cooking habaneros releases capsaicin into the air. It doesn't feel good! At least open windows and get some ventilation.

Add The Garlic.

Add the garlic to the pan and cook until fragrant, about 2 minutes.

Add Vinegar, Sugar and Salt.

Add the remaining ingredients and stir thoroughly. Allow the mixture to come to a soft simmer, cover and cook for an additional 10 minutes on low heat.

Allow to cool.

Remove the mixture from heat and allow to sit, covered, for 10 minutes.

Blend until smooth.

Pour the mixture into a blender or food processor and blend until smooth. If the consistency is too thick, add vinegar by the teaspoon and blend until it is right.

Pour into bottles or jars.

Carefully distribute the hot sauce into jars or bottles. We use a small funnel, but a glass baster can help avoid any spilling.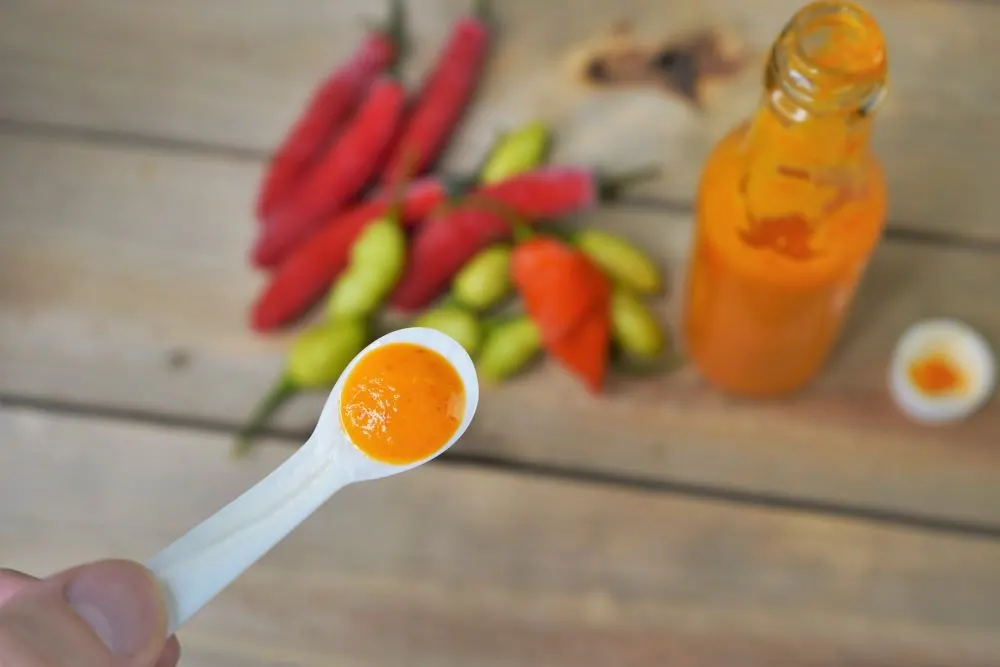 Recipe Tips
This is our basic process for homemade habanero hot sauce. But, we have learned a few tips and tricks along the way.
Garlic is always added after the habanero peppers are mostly cooked to avoid burning.
We also cook on low heat in order to reduce the amount of spicy fumes in our kitchen, and to avoid burnt peppers.
Always allow the mixture to cool for a bit before blending. There is nothing worse than a super spicy, hot pepper mash splashing around the kitchen.
Wear eye protection and face protection when cooking hot peppers. With 20+ habaneros sizzling on your stove, you will feel the burn in the lungs if you fail to wear a tight-fitting mask.
---
Sauce Too Thick or Thin?
If you want to thicken your hot sauce, there are a few easy ways to do it. You can add more ingredients from the recipe (add more peppers or fresh fruits). Or, simply simmer the sauce for an additional 10-15 minutes to reduce it.
If your sauce is too thick, thin it out by adding 1 teaspoon of vinegar at a time. Blend it up after each addition of liquid until the sauce is just right.
---
How Long Does Hot Sauce Last?
With homemade sauce, it is wise to always test the pH level. However, with this recipe, the contents are about 50% vinegar, meaning it should last at least 3 months in the refrigerator. Always keep hot sauce refrigerated, especially if it is homemade.
---
Make next:
---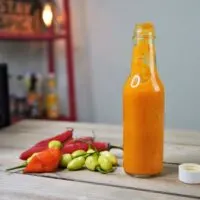 Simple Habanero Hot Sauce
Delicious 6-ingredient habanero hot sauce recipe. Fiery hot and full of sweet, tangy flavor.
Print
Pin
Rate
Equipment
Medium Sauce Pan

Blender

Bottle or jar
Ingredients
15-20

Habanero Peppers

use 1/2 habanero, 1/2 jalapeno for milder heat

0.5

cups

Apple Cider Vinegar

or white vinegar

4

tsp

Olive Oil

extra virgin

4

tsp

White Sugar

2

cloves

Garlic

0.5

tsp

Salt
Instructions
Remove stems and rough chop the peppers and garlic. Remove seeds at this step if desired , may reduce bitterness.

Heat the oil in a medium sauce pan over low heat.

Add the chopped peppers and cover. Cook, stirring occasionally, until the peppers soften, about 8 minutes.

Add the garlic and continue cooking until fragrant, about 2 minutes.

Add the vinegar, sugar and salt.

Bring to a simmer and cover, cooking for an additional 10 minutes on low heat.

Remove from heat and allow to cool for 10 minutes, covered.

Pour mixture into a blender and blend thoroughly until smooth.

Distribute the hot sauce into individual bottles using a glass baster or a funnel.

Store for 3+ months in the refrigerator.
Video
I hope you enjoy this delicious, simple habanero hot sauce recipe. Feel free to change this recipe up and add in some of your other favorite flavors.