When harvest time comes around, making hot sauce is one of our favorite things to do with our jalapeño peppers. We're known for adding a generous amount of hot sauce to any dish, morning or night.
This is a basic recipe for a simple jalapeño hot sauce. The flavors of the peppers, as well as the garlic and onion, are brought together by roasting them on a cast iron pan. This recipe is not fermented, so it can be made quickly and served right away.
You can also let it sit in the fridge for a few days and let all of the flavors meld together. If you liked our habanero hot sauce recipe, you'll love this green sauce as well!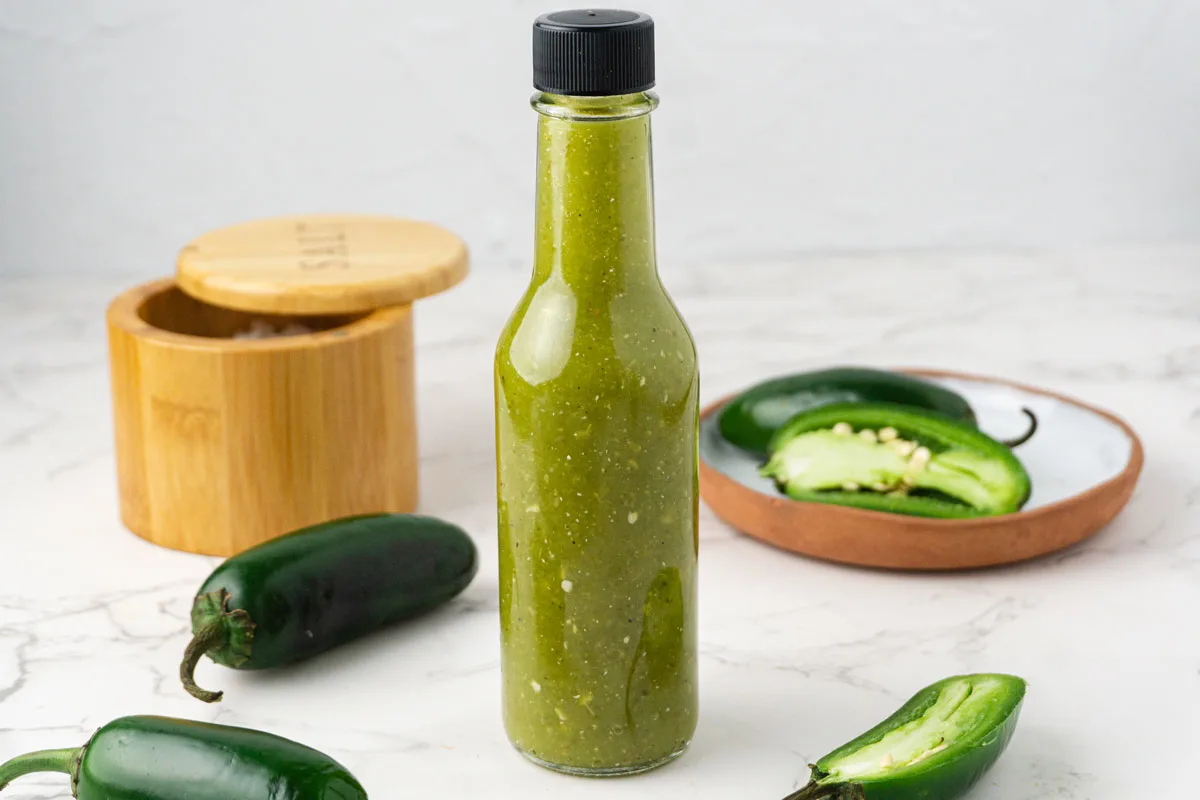 ---
Jalapeño Hot Sauce (Video):
---
Why you'll love this jalapeño hot sauce recipe
It's a great way to use up a large harvest of jalapeño peppers.
It's very versatile. You can experiment with additional ingredients for a more personalized flavor.
It tastes great on a variety of dishes, from chicken tacos to pizza.
All the ingredients are easy to find at a standard grocery store.
You can make this sauce with any type of jalapeño you'd like. Yes, there are many different types of jalapeños!
It's not too spicy. This makes a great sauce to prepare for friends and family members that may be sensitive to spicy foods. You can also make it spicier by adding serrano peppers.
This recipe makes just enough sauce. (About 2-3 cups). We typically use it up within a week and even share some with our friends and family.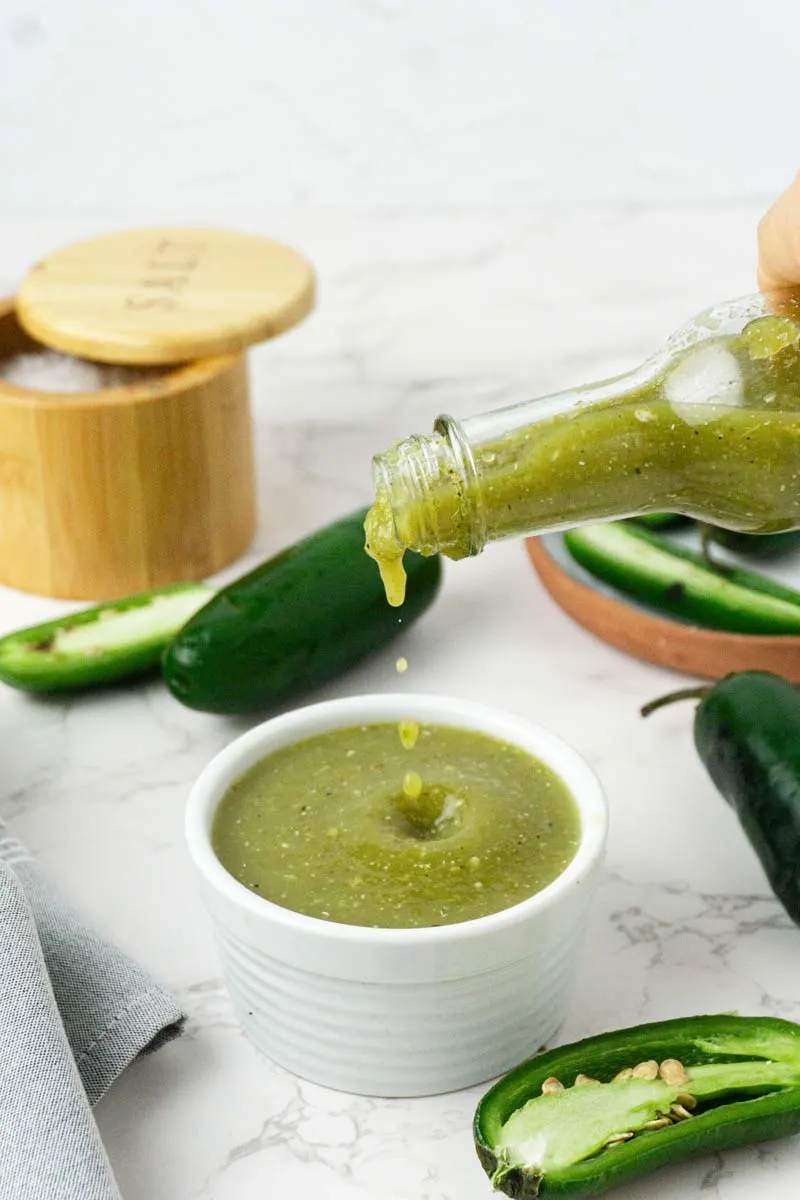 ---
About the ingredients
Green jalapeños. While red jalapeños make for a great hot sauce, green ones are easier to find (unless you grow your own). By charring them in a cast iron pan, you'll end up with an exceptional, smoky flavor.
Onion and garlic. These essentials add richness to the hot sauce. Pan-roasting them takes away the astringent bite and adds a subtle, caramelized sweetness.
Cumin. This spice is a staple in our kitchen for cooking delicious Indian food, sauces, and salsas. If you're feeling fancy, try toasting and grinding your own cumin seeds for the most vibrant flavor!
Cilantro. While this herb isn't everyone's favorite, it is essential to this hot sauce recipe. Don't shy away just yet, as it isn't too overpowering.
Sugar. A touch of sugar adds just enough sweetness without overdoing it. If you'd prefer to let the natural sugars speak for themselves, feel free to skip this ingredient. But, we think a little goes a long way in this sauce.
White vinegar and water. The liquid components of the sauce help reach the right consistency while adding acidity for longer storage and a zingy flavor. If you'd like, add a squeeze of fresh lime juice for a more citrusy flavor.
Salt. Sea salt, kosher salt, or regular table salt are all good options. Salt helps accentuate the flavors and bring it all together.
You may think it's hard to go wrong with an ingredient list like this, but the magic happens in the preparation method. Get your cast iron skillet ready!
---
How to make jalapeño hot sauce
What I love about this sauce is that virtually everything in it can be grown in the garden. If you haven't started growing your own peppers yet, you should start this year with a simple salsa garden! Here's how to make the jalapeño hot sauce.
Ingredients:
½ lb. jalapeño peppers, about 6 large peppers
½ medium onion, quartered
2 cloves garlic, crushed and sliced in half
10 sprigs fresh cilantro, rough chopped
⅔ cup white vinegar
1 tsp sugar
1 tsp salt
½ tsp cumin
1 cup water (as needed)
Vegetable or olive oil, about 1/2 tsp to coat the pan
*Makes about 2.5 cups of hot sauce, or around 3-4 5oz woozy bottles worth.
Steps:
Bring a splash of oil to medium-hight heat in a cast iron pan. Roast the jalapeño, onion, and garlic for about 5 minutes, turning the ingredients with tongs for even searing.
Remove the seared peppers from the pan and carefully slice them into rings on a cutting board. We prefer to leave the seeds in for simplicity, but you could remove them at this point if desired.
Simmer the roasted jalapeños and onions in a medium pot with about 1 cup of water for an additional 5 minutes.
Add in the garlic, salt, cumin, and sugar, stirring until combined. Simmer an additional 1 minute.
Remove from the heat and add the simmered mixture into a blender along with the cilantro and vinegar.
Blend until smooth and allow to cool at room temperature.
Season to taste by adding more salt and/or cumin.
Add into hot sauce bottles, mason jars, or another sealed container of your choice using a small funnel.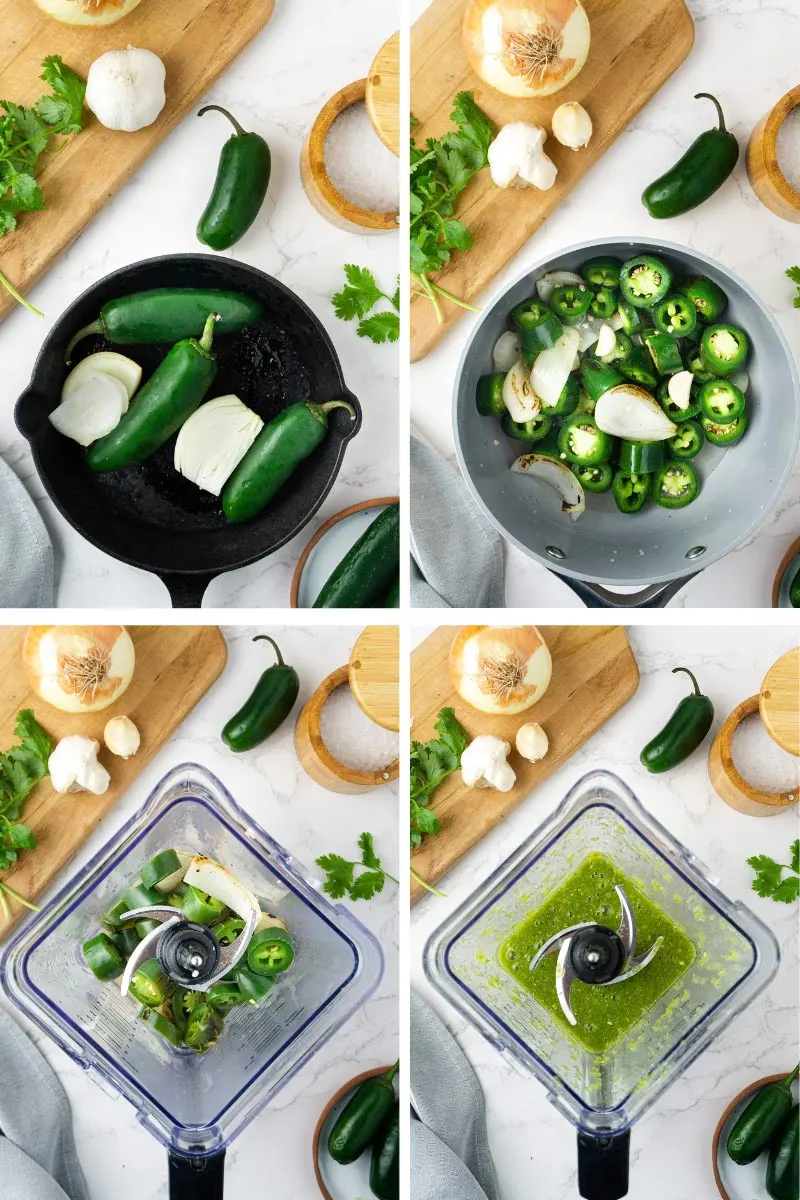 Recipe FAQs
How do I thicken or thin the hot sauce?
To thicken the sauce, simmer it over low-medium heat to reduce it. This process cooks off some of the moisture, though it may compromise flavor. Try to start with less liquid to start, as thinning out the sauce is much easier. For more options, we have an article about how to thicken hot sauce.
To thin out the sauce, add additional vinegar and/or water in small amounts. Blend to test the consistency, adding 1-2 tbsp at a time.
How long does this jalapeño hot sauce last?
Store the sauce in the fridge and consume within one week. For longer storage, test the pH level of your hot sauce, aiming for a value below 4.0.
You may need to adjust the amount of vinegar to achieve a pH suitable for longer term storage. In our experience, the pH of this hot sauce has always been below 4.0, but the water you use may vary in acidity.
Either way, we always use this sauce up well before it spoils. It's just so easy to dump it on anything and everything.
Can I use other types of peppers?
Yes! We are all about experimenting. Try adding a couple serrano peppers for a spicier sauce. If you try any variations or substitutes, let us know in the comments how it turned out, as we may have to try it ourselves.
Can I omit the cilantro?
Cilantro is key to the flavor in this jalapeño hot sauce. While we have never made it without the cilantro, you can experiment with different herbs and see how it turns out.
If you are not a fan of cilantro, I still recommend giving this recipe a try. The flavors combine to create a unique essence that is not cilantro-focused.
What does this sauce go best on?
This jalapeño hot sauce goes particularly well on Mexican foods like tacos, enchiladas, and rice and beans. However, it is also a great everyday sauce, amazing on pizza, cheese and crackers, eggs, and even sandwiches!
---
Expert Tips
Roast the jalapeño peppers and onions in the cast iron for a smoky flavor – Using a cast iron pan is a great way to achieve a smoky, roasted flavor without the hassle of using a grill or oven.
Hand protection for spiciness – Be sure to use gloves or clean your hands thoroughly after handling hot peppers. The capsaicin will transfer to your skin and can result in an unpleasant surprise if you rub your eyes after handling them.
Make it spicier with serrano peppers – To make it spicier, throw some serrano peppers in with the jalapeños.
Use a high-powered blender – For the smoothest texture, use a powerful blender. Our Vitamix pulverizes the pepper seeds into tiny bits without a problem.
If you enjoy this recipe, you'll love our salsa verde recipe as well!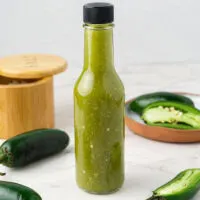 Jalapeño Hot Sauce
This simple jalapeño hot sauce is the perfect way to add some spice and flavor to your meal.
Print
Pin
Rate
Ingredients
1/2

lb

jalapeño peppers

about 6 large peppers

1/2

onion

peeled and quartered

2

cloves

garlic

crushed and halved

2/3

cup

white vinegar

1

tsp

sugar

1

tsp

salt

10

sprigs

cilantro

roughly chopped

1/2

tsp

cumin

1

cup

water

oil

to coat the pan
Instructions
Bring cast iron pan to medium-high heat and add a splash of oil.

Add the whole jalapeño peppers, quartered onion, and garlic to the hot pan.

Roast ingredients for about 5 minutes until lightly browned, turning frequently for even searing.

Remove the peppers and carefully slice them into rings.

Simmer the jalapeños and onions in a pan with the water for about 5 minutes, stirring occasionally.

Add in the garlic, salt, cumin, and sugar, stirring to combine. Simmer an additional 1 minute or so.

Add the simmered mixture into a blender along with the cilantro and vinegar.

Blend until smooth and let cool.

Season to taste by adding more salt and/or cumin, as desired.

Add into hot sauce bottles, mason jars, or container of choice and store in the refrigerator.
Notes
Use a cast iron pan for the best flavor and even heating.
Don't cut the peppers before roasting, as cooking sliced hot peppers may release capsaicin into the air and cause coughing.
Do not cook the vinegar, add it just before blending. Cooking vinegar can lead to a metallic flavor.
---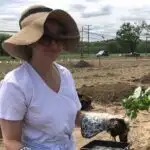 Crystalyn
Crystalyn loves spicy food and getting creative in the kitchen. When she isn't finding new ways to use hot sauce, shes very busy watching cat videos on the internet.