If you are a relatively new gardener, you may be interested in growing jalapeños at home. However, "jalapeño" is now more of a category of peppers rather than a single variety. In other words, you have many jalapeño types to choose from!
In this article, we'll cover 11 amazing types of jalapeño peppers. We'll discuss the different flavors and heat levels of each, along with any other special characteristics we have learned from growing our own at home.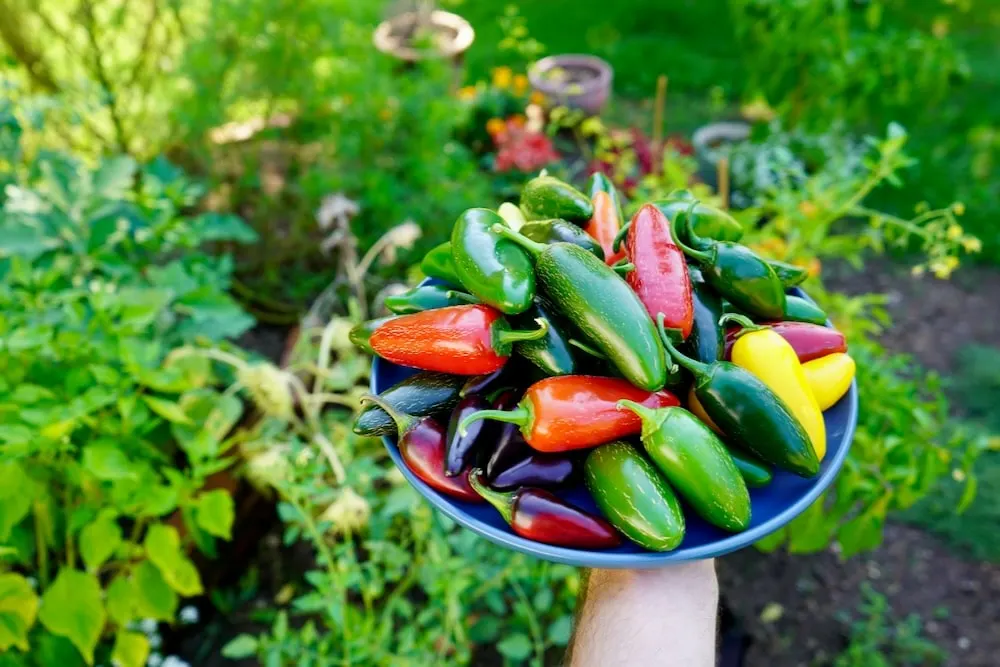 ---
1. Goliath Jalapeños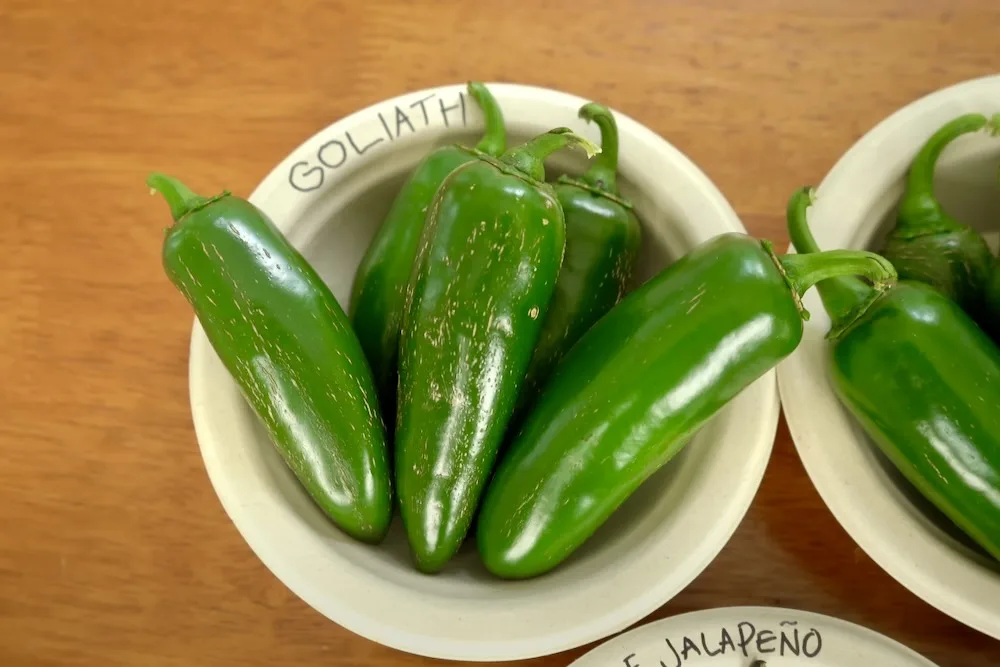 If you're looking to grow the largest jalapeño peppers possible, then the "goliath" variety may be exactly what you want. We loved these plants, as they were large, high-yielding, and produced big, uniform pods.
The average weight of our goliath jalapeños was 57 grams, far outperforming even the next-largest variety in our garden. It's no wonder the creators of this plant went to such extremes with its name!
The goliath jalapeño is a hybrid variety, bred for a larger size, but we found it had good flavor as well. The heat level was right up the middle for jalapeños, likely around 5,000 SHUs on the Scoville scale. Overall, the goliath is our new standard variety until something else outperforms it in the garden.
Get goliath jalapeño seeds here.
---
2. Jalafuego Jalapeños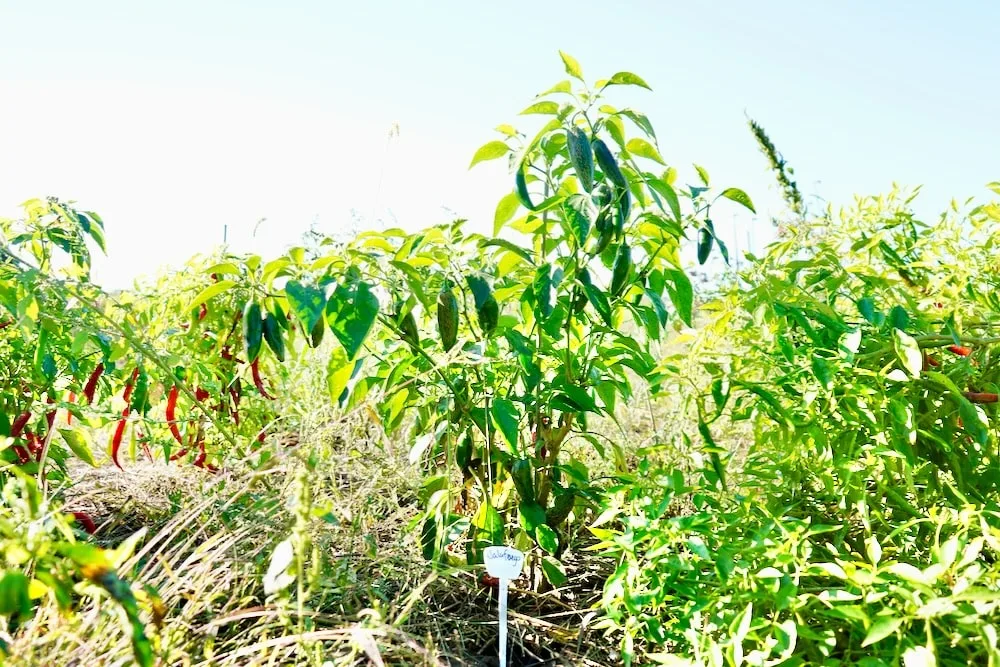 If heat is what you're after in your jalapeños, then look no further than the "jalafuego" variety. This impressive pepper is certainly the hottest out of the jalapeños we have grown, probably close to 10,000 SHUs.
However, the jalafuego is not just heat without the flavor. These were tasty, crunchy, and overall attractive jalapeños that would work for a variety of jalapeño recipes (like poppers or spicy salsa).
The plants were vigorous and productive, having little disease or pest issues throughout the season. So, if heat is your goal, the jalafuego may be the right choice for your garden.
---
3. Jedi Jalapeños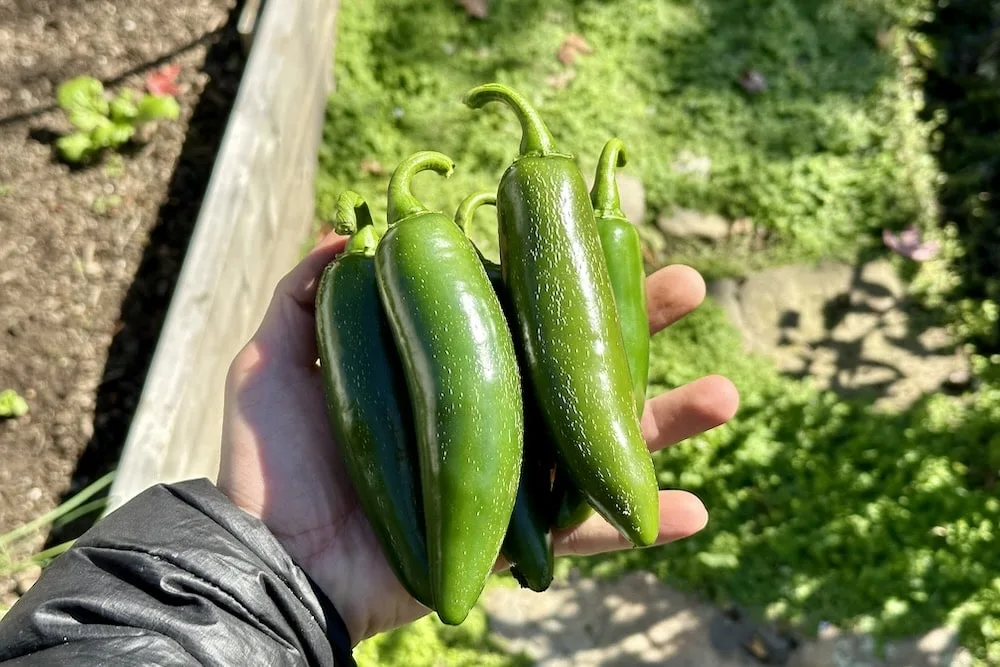 The "jedi" jalapeño is a hybrid pepper bred for a high yield potential. These huge, towering plants were indeed among the most productive in our jalapeño garden, producing right up until the cold weather arrived.
Our jedi jalapeños averaged 44 grams and were between 4-5″ long (that's pretty big for a jalapeño!). Overall, the plants were impressive to watch grow from seed, all the way to a bountiful harvest. If you want a reliable, workhorse-type jalapeño, then definitely give jedi a shot!
---
4. TAM Jalapeño (Low Heat)
Texas A&M University developed the "TAM" jalapeño to be less spicy than traditional varieties. So, if you aren't fond of scorching your mouth on spicy food, but love jalapeño flavor, the TAM variety may hit the sweet spot.
Coming in under 1,000 SHUs, this jalapeño is significantly less spicy than all the others listed here. Overall flavor of the TAM variety is on par with other green jalapeños, so you won't be sacrificing good taste.
Another benefit of this variety is the plant's tolerance of arid climates. So, if you live in a hot, dry region, the TAM jalapeño is likely to grow well.
---
5. Early Jalapeños
If you want the earliest possible harvest, then the "early" variety should be at the top of your list. This standard green jalapeño is ready for harvest just 63 days after transplanting, a full 9 days earlier than jedi and other varieties on our list.
This early harvest date is appealing for those who live in colder climates with shorter growing seasons. The peppers are on the smaller side at around 3″ long, and have average heat, between 2,500-5,000 SHUs.
Get early jalapeño seeds here.
---
6. El Jefe Jalapeños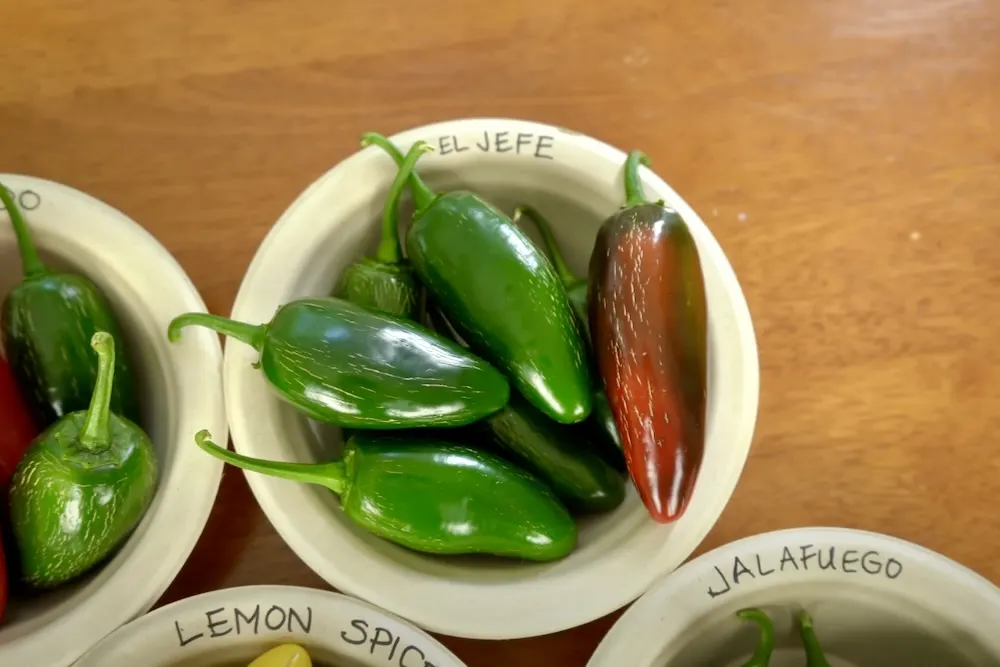 Okay, this is the last of the "normal" jalapeños before we get into some funky varieties. "El jefe" is yet another hybrid variety, touted for having a combination of early harvest and high yield. However, the flavor was underwhelming (in our opinion).
The pods were smaller than other types, and we encountered more pests issues as well. I would really only recommend el jefe if you are focused on optimizing your yield and harvest date for markets, etc.
Get el jefe jalapeño seeds here.
---
Jalapeño Taste Test (Video):
Watch us taste test 8 different jalapeño varieties and choose our favorites!
---
7. Jaloro Jalapeños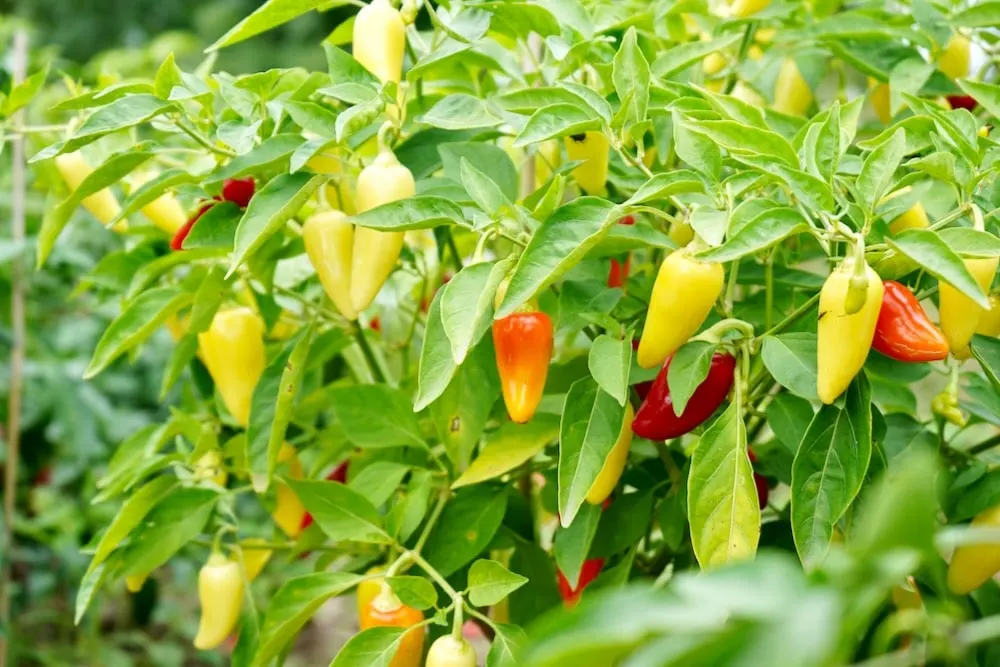 If you want to explore new colors in your garden or cooking, then the "jaloro" pepper may be for you. The name comes from the Spanish word oro which means gold. The peppers start off yellow, almost golden in color, eventually ripening to a rich red.
While the color and productivity were impressive, the actual peppers weren't our favorite. The pods were full of seeds, and the walls were thinner than other jalapeño varieties. They were also smaller overall, making them less suitable for stuffing.
Still, the jaloro could be a good fit if you want a new splash of color in the garden with a similar overall yield to other jalapeño types.
---
8. Purple Jalapeños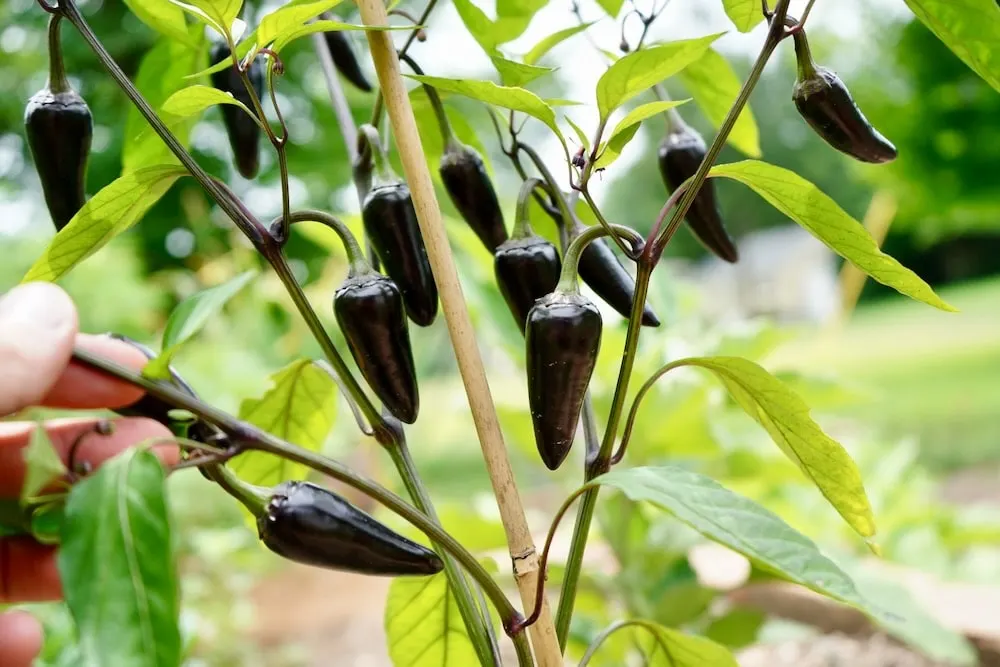 The purple jalapeño is unique because it's, well, purple. It seems like every popular pepper variety has gotten the purple treatment (cayenne, bell peppers, reapers, etc.), and jalapeños are no different.
The deep, almost black color comes from the anthocyanins (also called the purple pigment) in the plant. These are powerful antioxidants, so one could argue that the purple jalapeño is the healthiest of them all.
While they are beautiful, the plant was less vigorous, less productive, and less flavorful than other varieties we have grown. I would suggest growing the purple jalapeño in an ornamental garden, or along the border of your veggie garden to showcase its beautiful colors.
Get purple jalapeño seeds here.
---
9. Lemon Spice Jalapeños (Yellow)
Who could say no to a splash of yellow in the pepper garden? The "NuMex lemon spice" jalapeño is a yellow-ripening variety developed by New Mexico State University. The pods are notably smaller than a standard jalapeño, averaging an adorable 1.5-2.5″ in length.
However, don't be fooled by the small size – these jalapeños pack a punch! By our estimate, the lemon spice comes in around 7,500 SHUs on the Scoville scale. To top it off, this jalapeño type was delicious, certainly among our favorites for flavor.
On the downside, the lemon spice jalapeño suffered from pest damage more than almost any other plants in the garden. We wondered whether the yellow color of the fruits was more attractive to the stinkbugs and other pesky visitors in our garden.
---
10. Pumpkin Spice Jalapeños (Orange)
Similar to the lemon spice, the orange spice offers another colored jalapeño type. If you want to plant a (nearly) full rainbow of jalapeño colors in your garden, you're going to need orange!
NMSU is once again responsible for this beautiful variety. This copper-colored jalapeño is similar to "lemon spice" in size, shape, and heat level. When October rolls around, you'll be glad you have some beautiful orange jalapeños to match the Halloween decor!
Get orange spice jalapeño seeds here.
---
11. Mattapeño (Striped) Jalapeños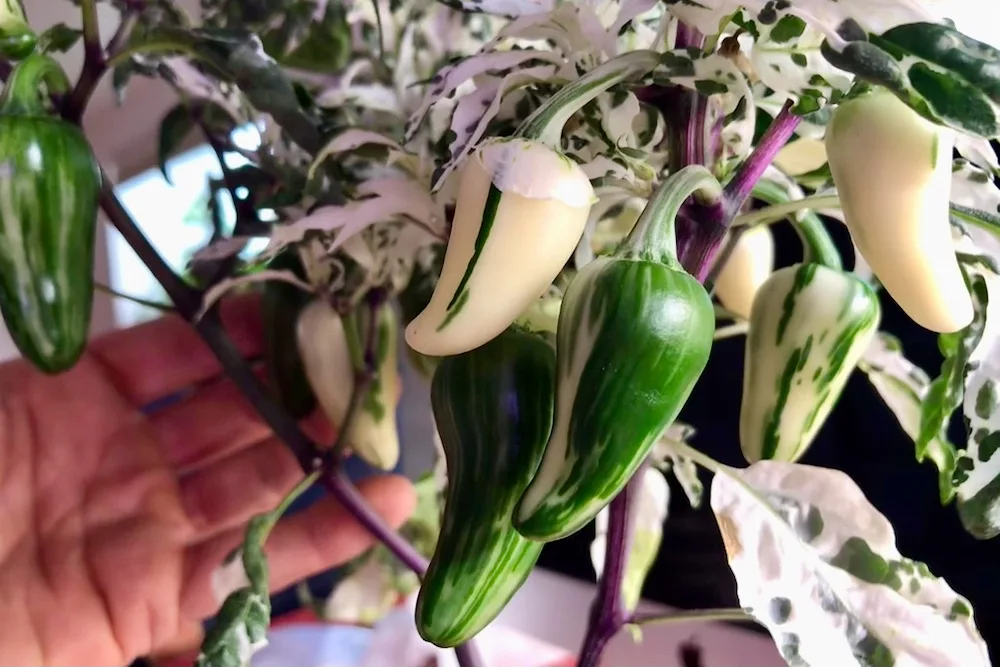 Lastly, we have to talk about the incredible "mattapeño" variety. This striped variety has patterns of white and green variegated foliage, and often striped unripe peppers.
This plant was initially discovered in a commercial greenhouse, when Matt O. noticed an odd-looking seedling with white leaves. Thankfully, he grew and saved seeds for the unique plant, eventually sharing it with the pepper growing community.
Some mattapeño plants have shoots of mostly white foliage, artfully splattered with green freckles and stripes. This is a beautiful characteristic when paired with the classic, albeit small jalapeño shape. While this variety is still in development and refinement, the current state of the mattapeño is gorgeous!
Seeds come free with any order over $25 on MattsPeppers.com.
---
I hope you found this article helpful in your search of the many types of jalapeño peppers. The number of jalapeño types is ever-growing, and we love to try new varieties each season. Let us know your favorite jalapeño type in the comments below.