If you love hot peppers, you should try growing your own! The experience is exciting, and the results are tasty and fresh. And, it's easy! All you need are some containers, soil, water, and light. As long as you have a bit of space for growing, you can get started at any time of the year, even if it's mid-winter! You're probably wondering, where can I buy pepper seeds online? Here are 5 excellent online seed shops that sell a large variety of pepper seeds – (hot or not).
UPDATE (4/13/2020): With all that is going on in the world, many seed suppliers have low inventory. Some of the websites listed here may not currently have seeds available. One market we have discovered that still has inventory is True Leaf Market. Good luck and stay safe gardeners!
---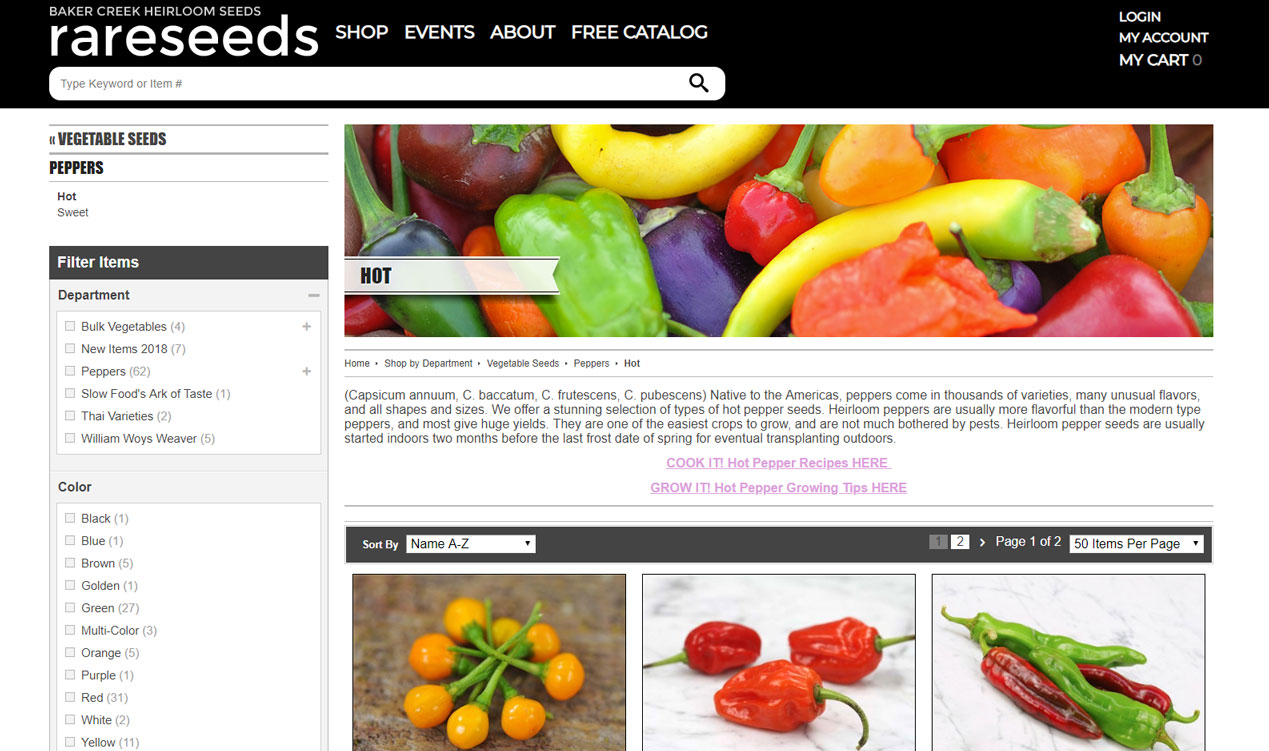 There are many things to love about Baker Creek Heirloom seeds. They have a free annual catalog with thousands of different seed varieties. This is great to leaf through in the winter when you are planning your outdoor garden. We always get some great new ideas on what to grow from the free booklet, pepper or otherwise.
RareSeeds' all-new online interface is also a step above many other online seed retailers. They are clearly one of the more modern leaders in the seed space and have an excellent variety of options. You can filter your results by the color of the peppers as well as the heat level. With over 60 varieties of spicy peppers (and many non-spicy), you should be able to find what you're looking for.
Check out some of our favorite, bizarre varieties of hot peppers here. We loved growing the Habanada (a Habanero pepper without any heat) and the Sugar Rush Peach Peppers from RareSeeds.
---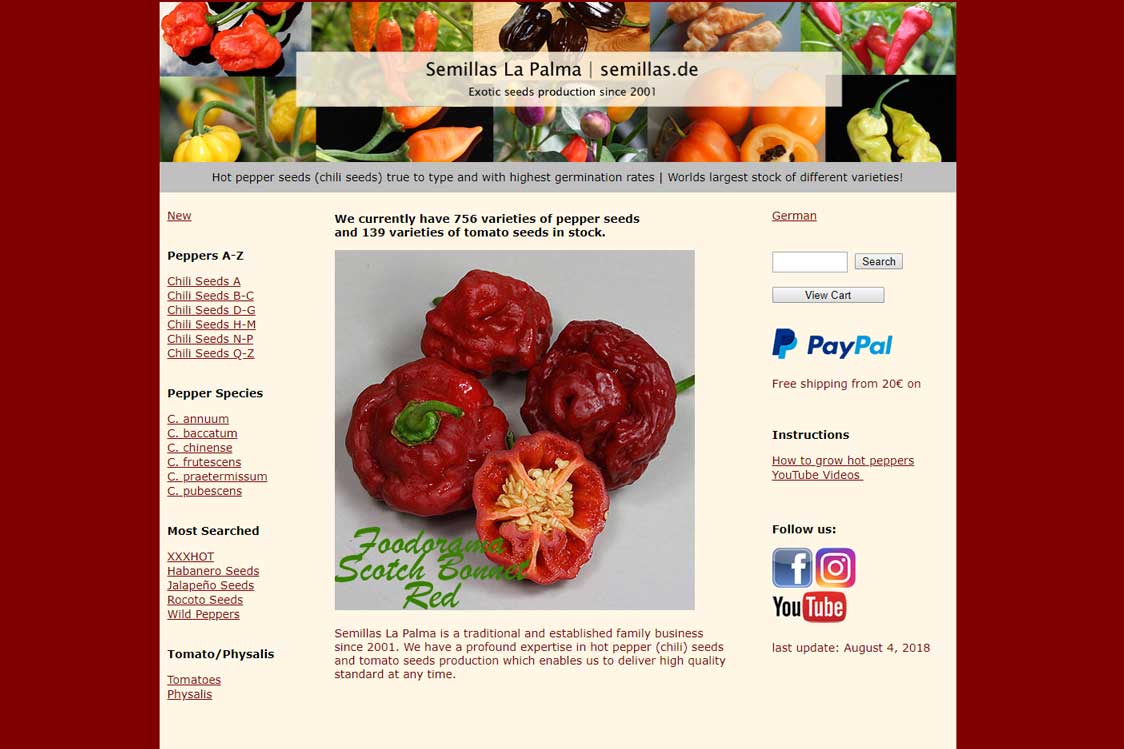 Semillas La Palma has been an exotic seed producer since 2001 based out of the Canary Islands (off the coast of Morocco). They sell over 700 varieties of plants and claim to have the world's largest variety of pepper seeds. They are especially great if you are looking to grow superhot peppers like Ghost or Scorpion peppers. They have lots of bizarre and unknown varieties available for you to grow.
We prepared most of our pepper garden this year using Semillas.de and received our seed order about 2 weeks after ordering online. If you live in Europe, you may receive your order sooner, but in the USA it will likely take a couple of weeks, so prepare for that! If you are planning to start seeds indoors, you should place your order in December or early January to be ready for the growing season.
One drawback to Semillas La Palma is the online ordering interface – its definitely outdated. However, if you are looking for something truly unique and rare, this site is the place to go.
---
True Leaf Market has been selling pepper seeds (and many other plant varieties) since the 1970s. They started the brands Mountain Valley Seed and Handy Pantry and have been at it ever since. Whether you're in the market for hot peppers or common sweet peppers, True Leaf has a great variety. From ornamental pepper plants to scorpion peppers and everything in between. They also only sell non-GMO seeds, keeping their certificate up to date each year. Get inspired by the massive seed catalogue and make your garden a masterpiece!
True Leaf Market also offers bulk or wholesale seeds for your store. They can supply a pre-populated rack full of seed packets and more! Check out the great wholesale options here.
---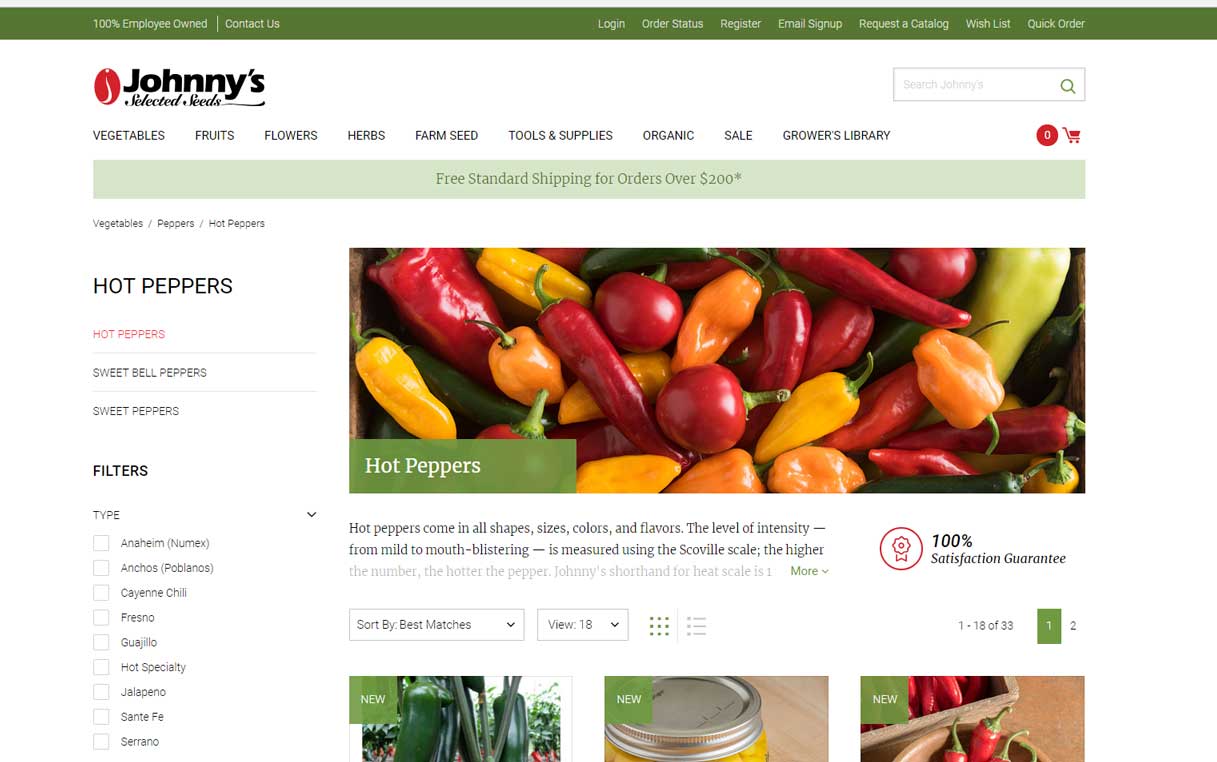 Johnny's Seeds has a beautiful website and selection. They are not tailored to hot pepper lovers, but they do have plenty of spicy options. Currently showing over 80 varieties, it is worth a look, especially if you are not set on only hot peppers. We especially love the deep red and ribbed look of the Round of Hungary peppers.
Johnny's is also a great option if you are interested in buying bulk seeds. Most varieties of pepper have the option to purchase 25,000 seeds in a single order!
---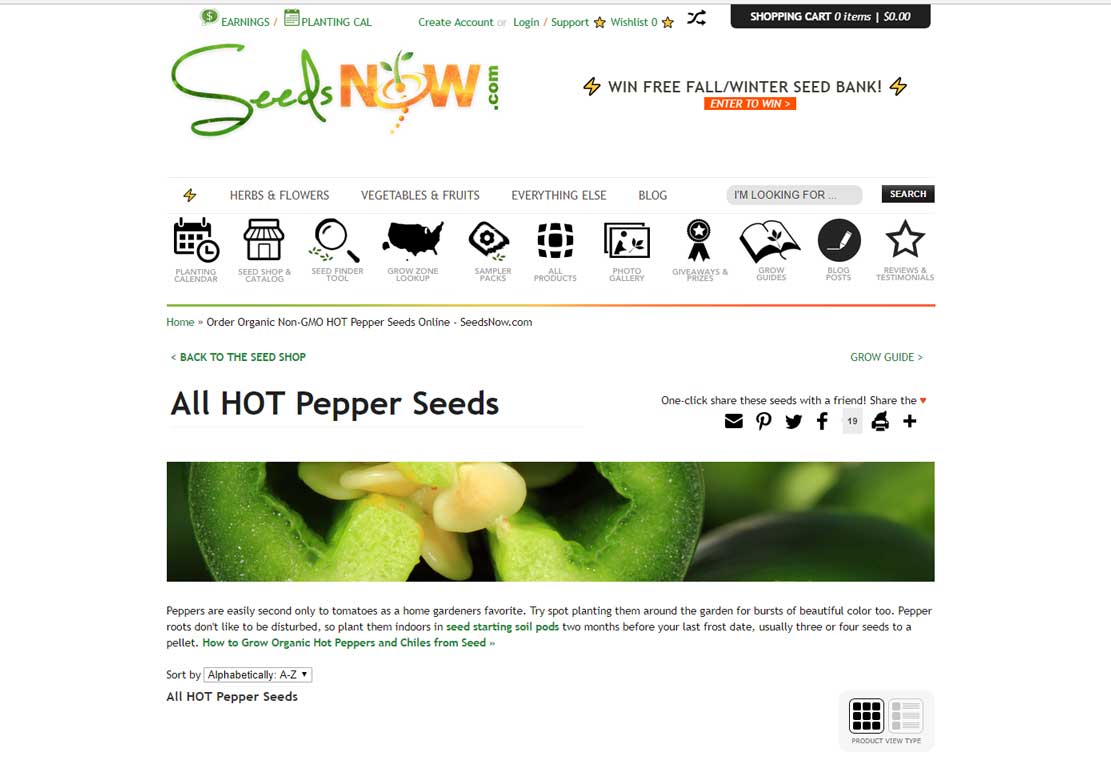 SeedsNow has a great catalog of seeds, ranging from spicy to mild and sweet peppers. They carry some unique varieties and pricing is very competitive. If you are looking for bulk seeds, this option will not suite your needs, but if you just need enough to plant your home garden, SeedsNow is great.
It is a nice middle ground between a huge selection and rare seed options. This is a great resource to visit on your pepper seed search, both for seeds and for gardening tips and guides. We love their variety of organic seeds. They also have some useful tools available on the website, including a planting calendar and a grow zone lookup.
---
We hope this has led to down the right path toward your dream pepper garden! There are many other resources for getting pepper seeds online. And let's not forget our favorite method: saving your own pepper seeds!