If you love hot peppers, try growing your own! The experience is exciting, and the results are tasty and fresh. And, it's easy. All you need are some containers, soil, water, and light.
As long as you have a bit of space for growing, you can get started any time of the year, even if it's mid-winter. You're probably wondering, where can I buy pepper seeds online? Here are some excellent online seed shops that sell a large variety of pepper seeds (hot or not).
IMPORTANT: As of September 8th, 2019, the US implemented a Federal Order that requires internationally sourced pepper seeds to be shipped with a Phytosanitary Certificate. This means there is a risk of your seed order being confiscated at US borders (it has happened to us!).
---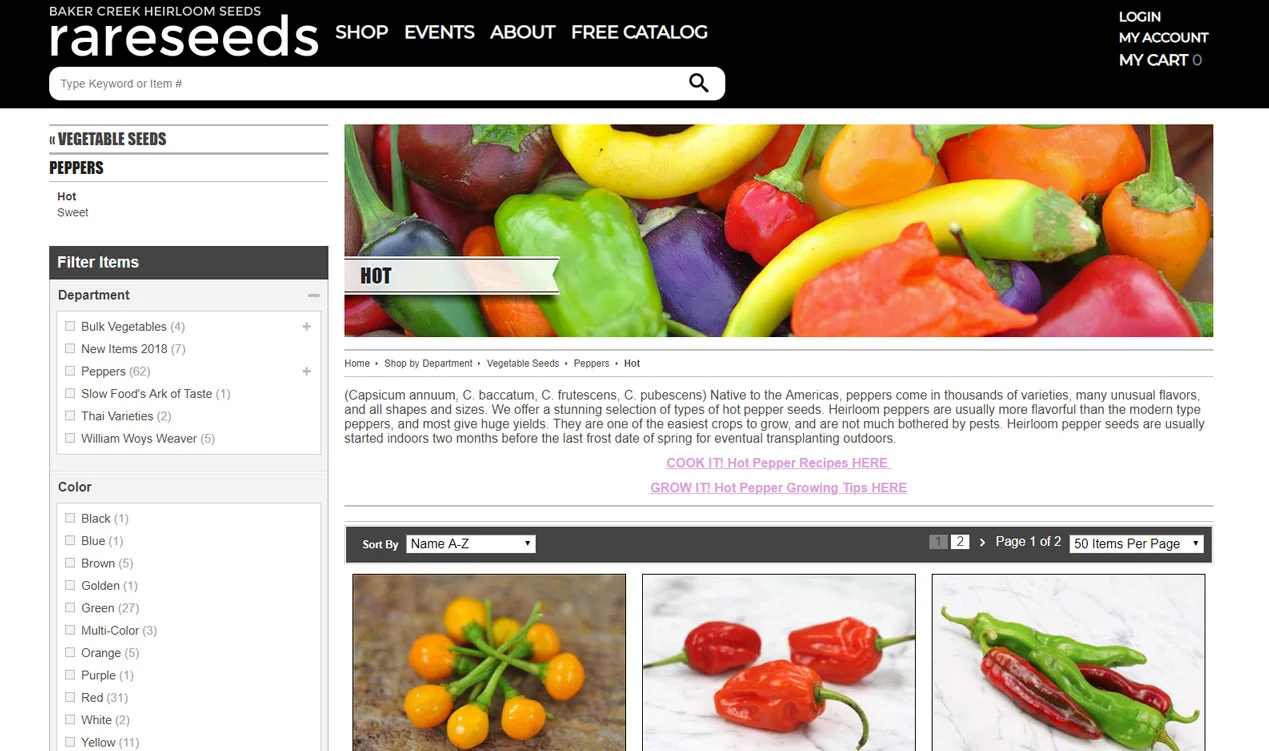 There are many things to love about Baker Creek Heirloom seeds. They have a free annual catalog with thousands of different seed varieties. This is great to leaf through in the winter when you are planning your outdoor garden. We always get some great new ideas on what to grow from the free booklet, pepper or otherwise.
RareSeeds' all-new online interface is a step above many other online seed retailers. They are one of the modern leaders in the seed space and have an excellent variety of options.
You can filter your results by the color of the peppers as well as the heat level. With over 60 varieties of spicy peppers (and many non-spicy), you will find what you're looking for.
Check out some of our favorite bizarre varieties of hot peppers here. We loved growing the Habanada (a Habanero pepper without any heat) and the Sugar Rush Peach Peppers from RareSeeds.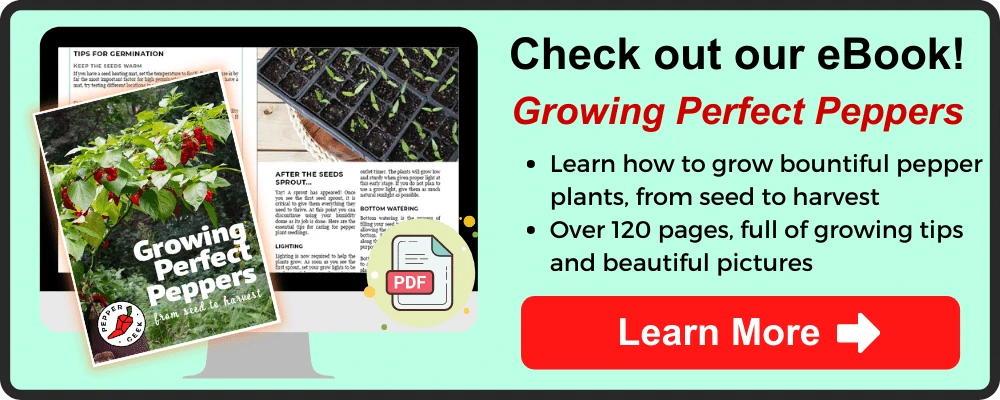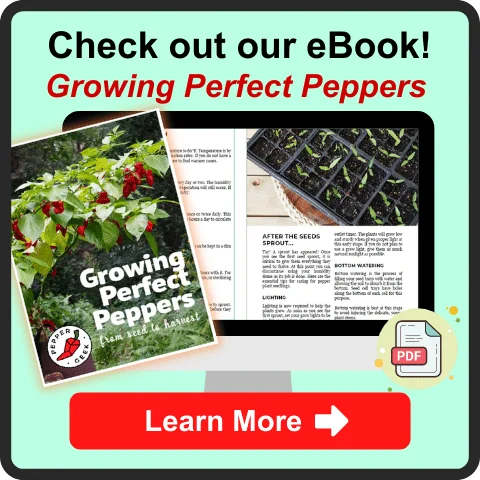 ---
Botanical Interests has some of the most unique and beautiful seed packet designs on the market. They are highly informative about planting instructions, and each comes with a custom, hand-drawn image of the pepper variety.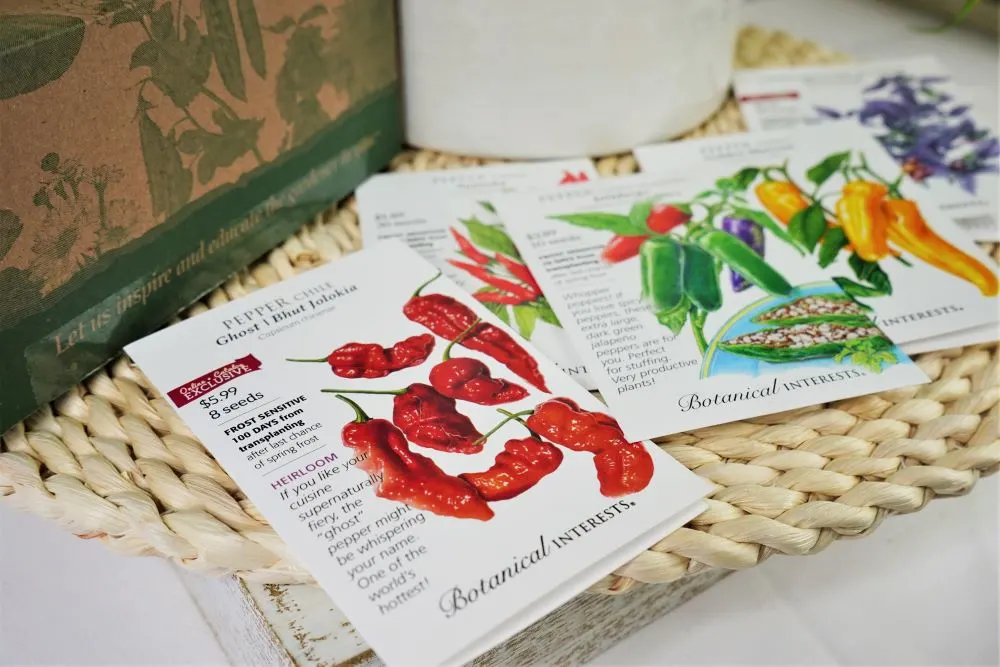 While the assortment of pepper varieties is limited, there is a healthy selection from sweet peppers all the way to the super-hot ghost pepper, which we highly recommend growing.
The filters allow you to narrow your search to just organic seeds, heirlooms, newly added varieties and more. Once you're done shopping peppers, you can browse their extensive collection of various organic seeds, from huge pumpkins to juicy tomatoes.
---
Bohica Pepper Hut was founded by a passionate hot pepper lover. Owner Jason Tate grows hundreds of varieties, and sells many superhot varieties. If you're in the market for ghost, 7 pot, habanero, reapers, or other specialty super hot varieties, this is a shop to check out.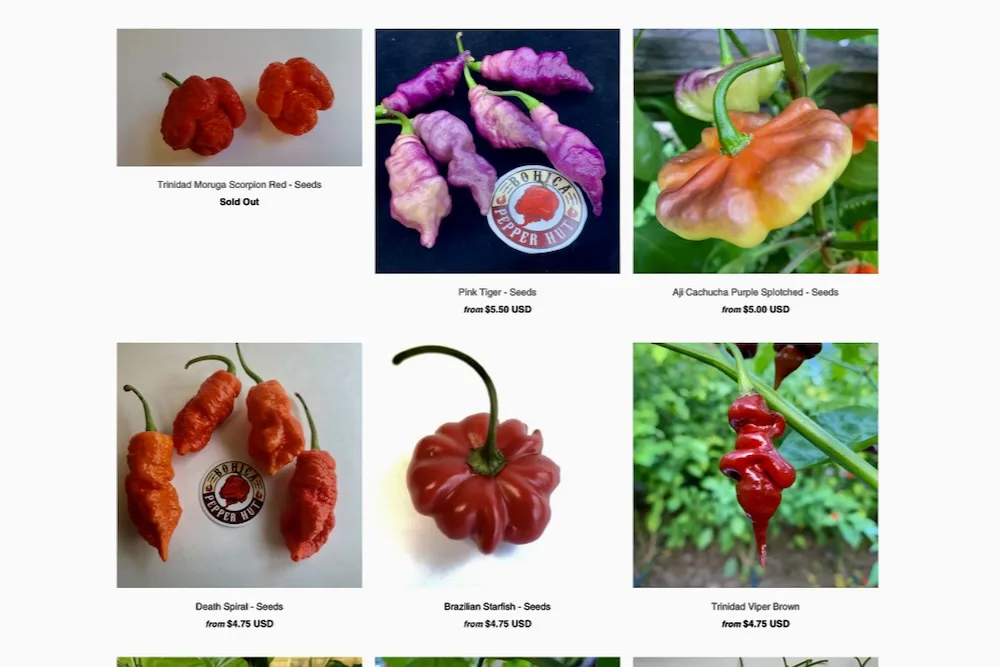 Another perk of Bohica Pepper Hut is that they sell fresh and dried pods. If you don't have the time to grow your own, you can order a box of fresh, superhot peppers. This is, of course, seasonal, so be sure to check in regularly during the summer months.
*Save 20% on any order over $20 with code: PEPPERGEEK
---
New Mexico State University is known for cultivating and breeding peppers for decades. They have produced some of the unique colored jalapeno varieties like the pumpkin spice and lemon jalapenos.
The good news is that they sell seeds directly from their Chile Pepper Institute (CPI) website. The seeds are a bit pricier than other sites mentioned, but you know that the seeds are coming from an extremely reliable and well-respected source.
The NMSU website also has a great variety of chile pepper information from decades past. If you'd like to learn about the history of studies related to peppers, you can spend hours reading old newsletters from the CPI!
---
True Leaf Market has been selling pepper seeds (and many other plant varieties) since the 1970s. They started the brands Mountain Valley Seed and Handy Pantry and have been at it ever since.
Whether you're in the market for hot peppers or common sweet peppers, True Leaf has a great variety. From ornamental pepper plants to scorpion peppers and everything in between.
They also only sell non-GMO seeds, keeping their certificate up to date each year. Get inspired by the massive seed catalogue and make your garden a masterpiece!
True Leaf Market also offers bulk or wholesale seeds for your store. They can supply a pre-populated rack full of seed packets and more! Check out the great wholesale options here.
---
Talk about a huge collection of pepper seeds, White Hot Peppers currently has around 250 different varieties. I love browsing the WHP website each season to see what new, strange superhot varieties are available.
They also offer select isolated seeds, meaning you won't have to worry about the possibility of cross pollination. Isolating plants takes more time and effort, so the seeds are usually a bit more expensive, and they sell out quicker.
Every time we have ordered from White Hot Peppers, we have received 1-2 packets of free seeds. The owner seems to cater each freebie to the buyer. When we bought a couple of white varieties, the freebies were other white types, etc. Very cool!
Lastly, this seller is US based, so shipping time is pretty speedy. We have ordered at least 3 times, and have waited no more than a week for our seeds to arrive.
---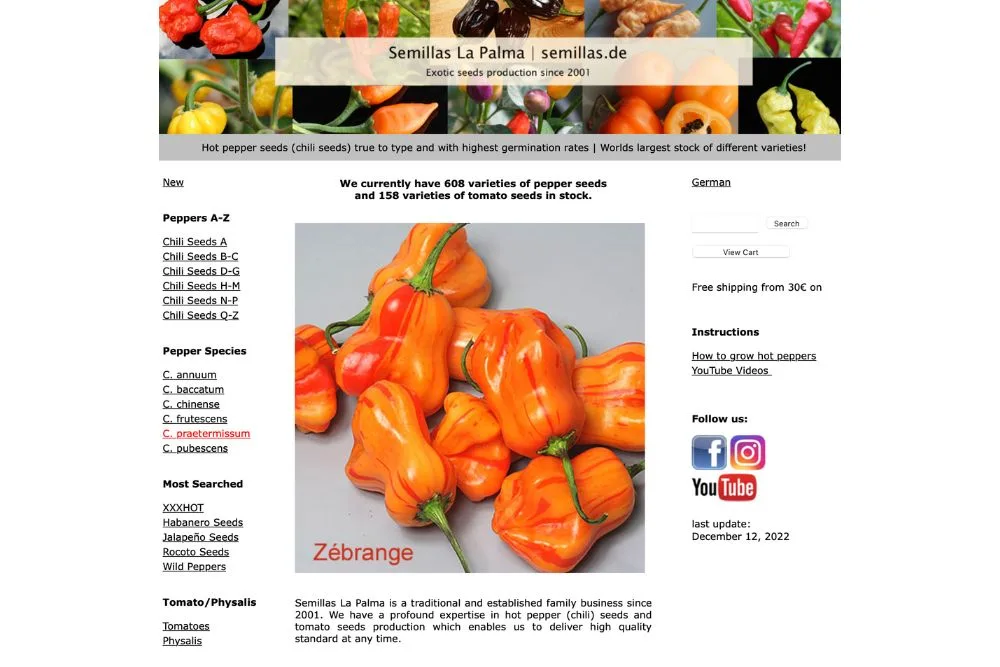 UPDATE: Semillas la Palma currently cannot accept orders from US-based customers. We're hoping they can resolve the issue soon so we can enjoy their huge selection!
Semillas La Palma has been an exotic seed producer since 2001 based out of the Canary Islands (off the coast of Morocco). They sell over 700 varieties of plants and claim to have the world's largest variety of pepper seeds. They are especially great if you are looking to grow superhot peppers like Ghost or Scorpion peppers. There are lots of bizarre and unknown varieties available for purchase.
We have ordered from Semillas.de for several years now and received our seed order about 2 weeks after ordering online. If you live in Europe, you may receive your order sooner, but in the USA it will likely take a couple of weeks, so prepare for that!
Note: Semillas La Palma does not currently include a Phytosanitary Certificate with seed orders (as of January 2023).
If you are planning to start seeds indoors, place your order in December or early January to be ready for the growing season.
One drawback to Semillas La Palma is the online ordering interface – it's definitely outdated. However, if you are looking for something truly unique, this site is the place to go.
---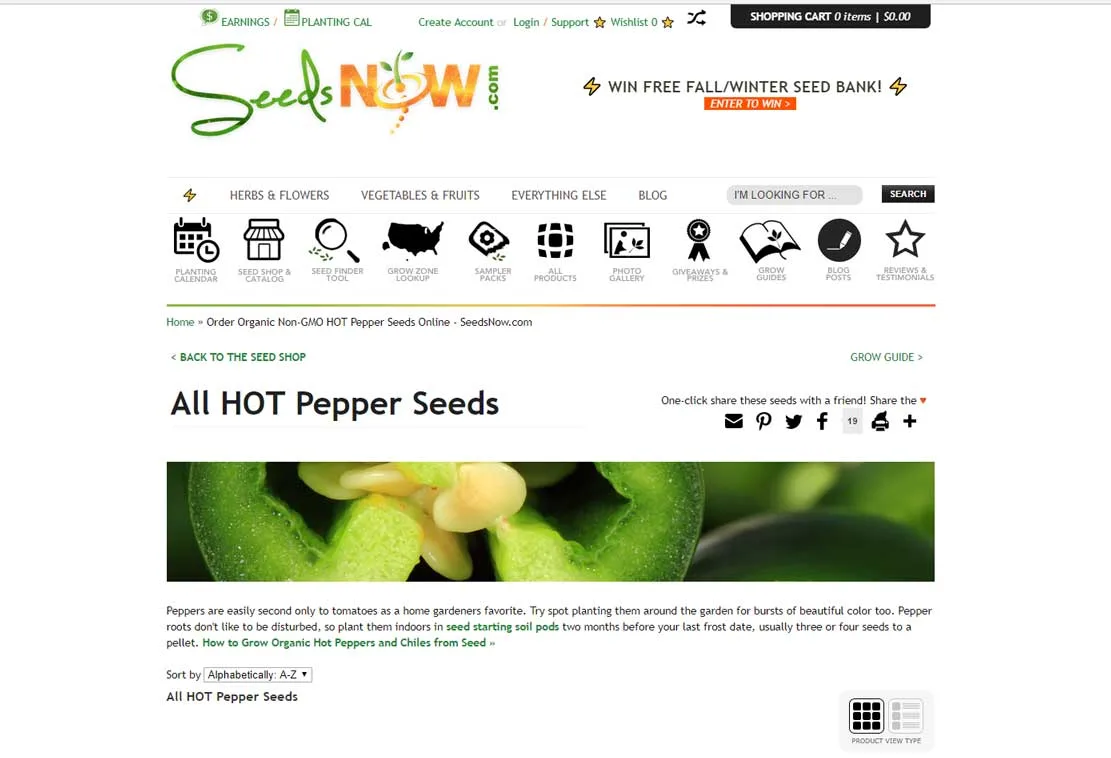 SeedsNow has a great catalog of seeds, ranging from spicy to mild and sweet peppers. They carry some unique varieties and pricing is very competitive. If you are looking for bulk seeds, this option will not suit your needs, but if you just need enough to plant your home garden, SeedsNow is great.
It is a nice middle ground between a huge selection and rare seed options. This is a great resource to visit on your pepper seed search, both for seeds and for gardening tips and guides.
We love their variety of organic seeds. They also have some useful tools available on the website, including a planting calendar and a grow zone lookup.
---
More Trusted Pepper Seed Suppliers
While the above sellers are great, we have also bought from several other suppliers with great results. Here are a few other places to browse when looking for pepper seeds online.
Forgotten Heirlooms – Great selection of rare peppers and other veggies (Based in USA).
Matt's Peppers – For all things bizarre and special, browse Matt's selection of seeds. Several 'mutant' pepper varieties and other oddities (Based in USA).
ChilePlants.com – In business since 1997, this website offers seeds and a particular emphasis on live plants. They offer a stunningly wide selection of peppers!
Fatalii Seeds – Excellent source of baccatum species peppers. Original creator of the Sugar Rush varieties. Great range of mild to superhot varieties (Based in Finland). *No longer ships to USA
Towns-End Chili and Spice – Great selection of rare superhots. Plants are non-isolated (Based in USA).
ChilePlants.com – In business since 1997, this website offers seeds and a particular emphasis on live plants. They offer a stunningly wide selection of peppers!
Etsy sellers – Be careful and read reviews. Etsy can be a great source for hard to find varieties from small sellers. Also a great place to buy live plants.
Jimmy Pickles – Isolated plants to ensure no cross pollination occurs. Generous seed quantities (Based in USA).
We hope this has led to down the right path toward your dream pepper garden! There are many other resources for getting pepper seeds online. We love trading seeds with friends or even purchasing less stable varieties on Etsy for experimental grows. Please, let us know your favorite place for buying pepper seeds online!
And let's not forget our favorite method: saving your own pepper seeds!