Peppers are among the most incredible plants to grow in a home garden. They offer amazing variety in flavor, heat level, and plant characteristics. In this article, we'll share some of the most beautiful ornamental pepper varieties that you can grow yourself.
Ornamental peppers are typically smaller plants with some form of unique or beautiful visual characteristic. They are typically grown for garden appeal rather than for the edible fruits (though they are all okay to eat).
Some ornamental pepper plants have purple or black foliage, while others have variegated leaves and fruits. If you have an extra spot for some edible landscaping, these plants will do the trick, and produce edible fruits if you want to spice up your cooking.
---
1. Fish Peppers
The fish pepper has an amazing backstory, and were almost lost to lack of cultivation. However, the plant variety was saved and lives on today, with seeds readily available for gardeners. Get seeds here >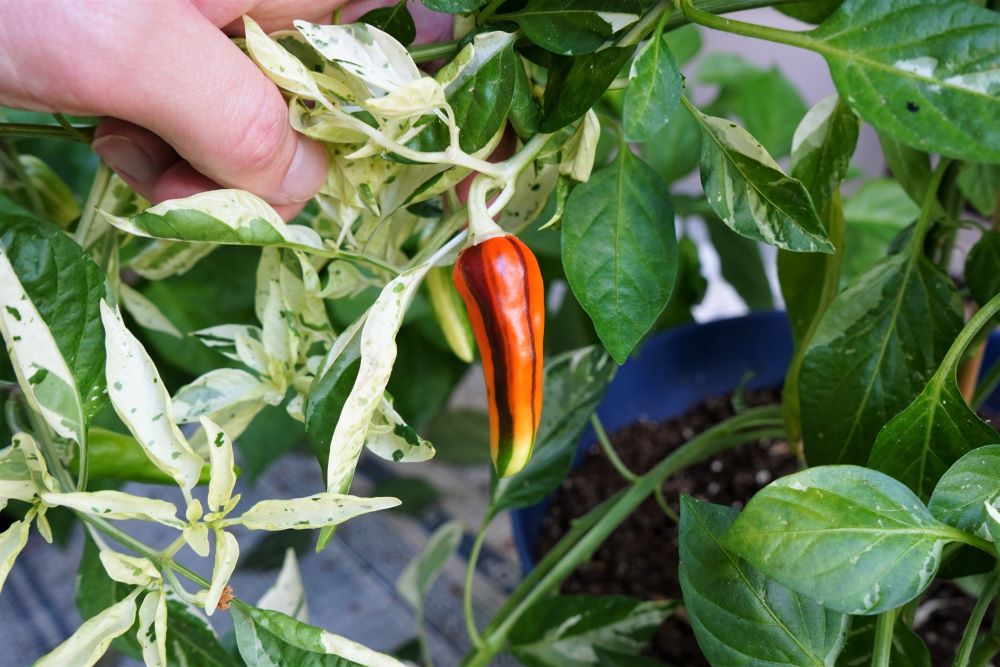 The fish pepper is basically the epitome of the ornamental pepper plant. The plants are small in size, around 2 feet in height when mature. They also have variegated leaves, with gorgeous greens and whites speckling the foliage.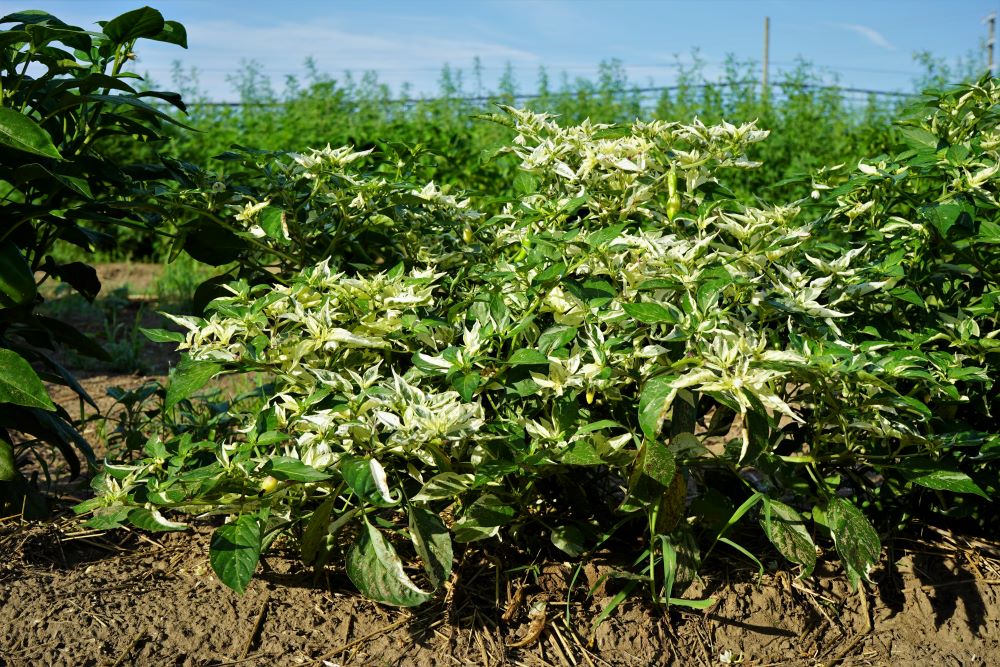 Not only that, but the peppers themselves become variegated too! The fruits ripen from a striped green and white coloration, through oranges, browns and reds, finally to a purely deep red color.
This firework display of color is exciting to watch unfold in the garden, and could work wonders for an ornamental garden or a botanical display.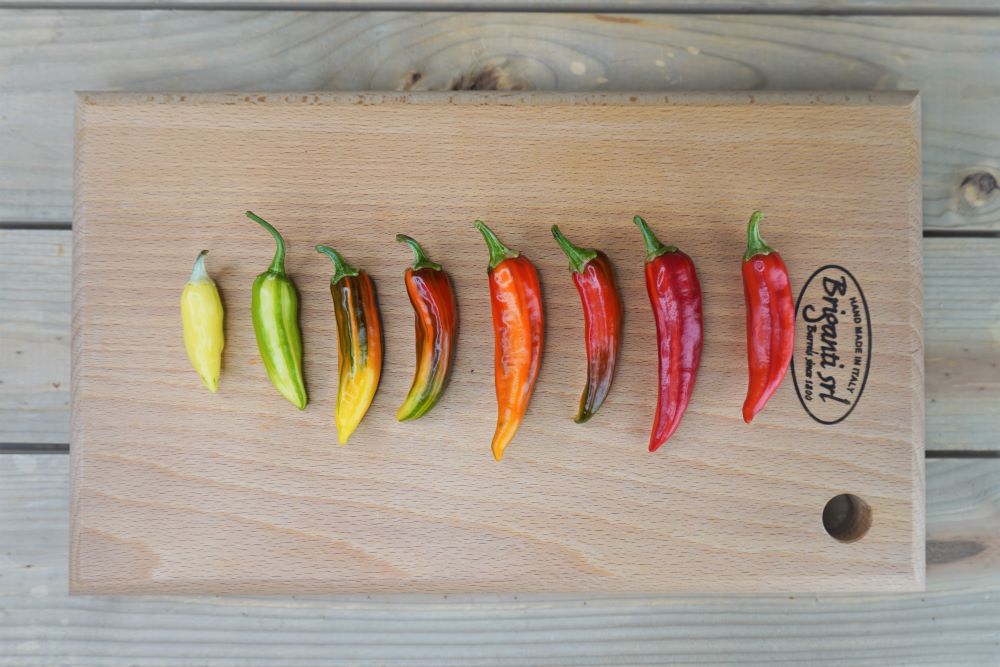 In terms of flavor, the fish pepper isn't anything special, though it does have a good amount of heat. However, they can be dried and ground into a powder that could easily replace your cayenne powder in the kitchen.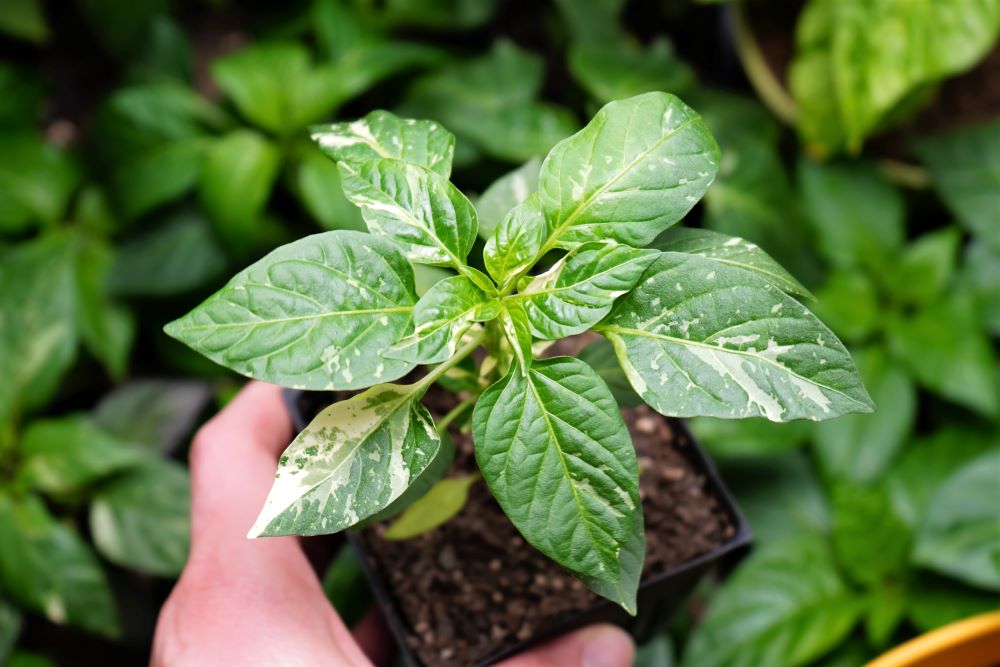 Overall, the Fish Pepper is undoubtedly one of our favorite plants to watch grow in our pepper gardens. It is extremely prolific and beautiful from seedling to harvest. If you're looking for something unique and easy to grow, look no further!
---
2. Black Pearl Peppers
Variegated leaves are special, but what about jet black foliage? Nothing stands out against a blanket of greenery like a dark-colored pepper plant! Get seeds here >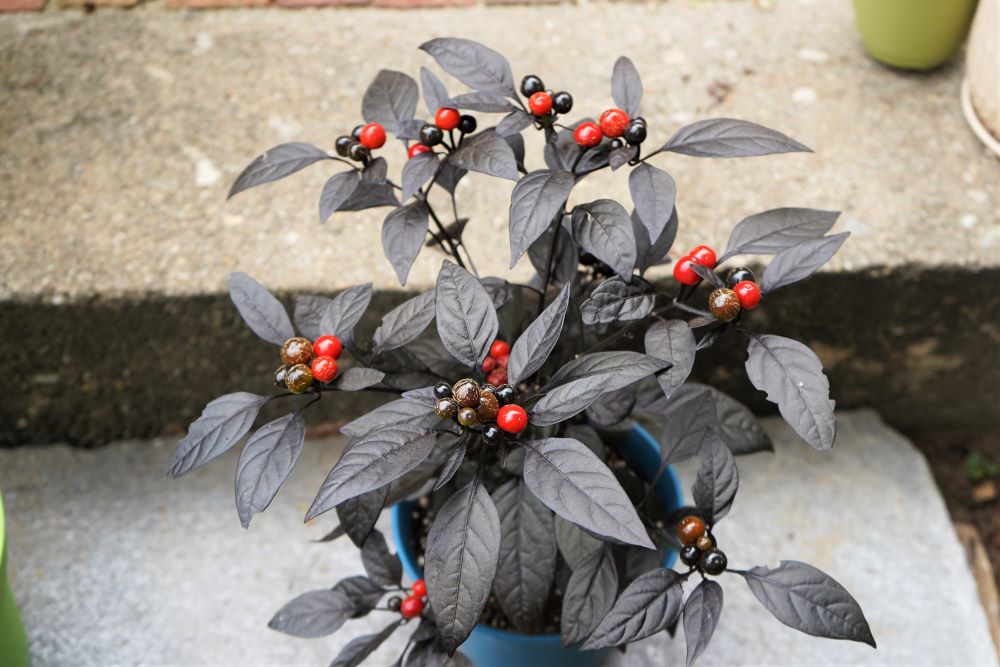 The Black Pearl pepper plant is rich in anthocyanins, pigments that are known as the "purple pigment." It is found in abundance in many foods, including blueberries, and in certain peppers and tomatoes.
The result is black foliage and very dark fruits. The peppers ripen from a rich, almost black color through to a deep red when fully ripe. The berry-like fruits are edible, but again, don't taste too great.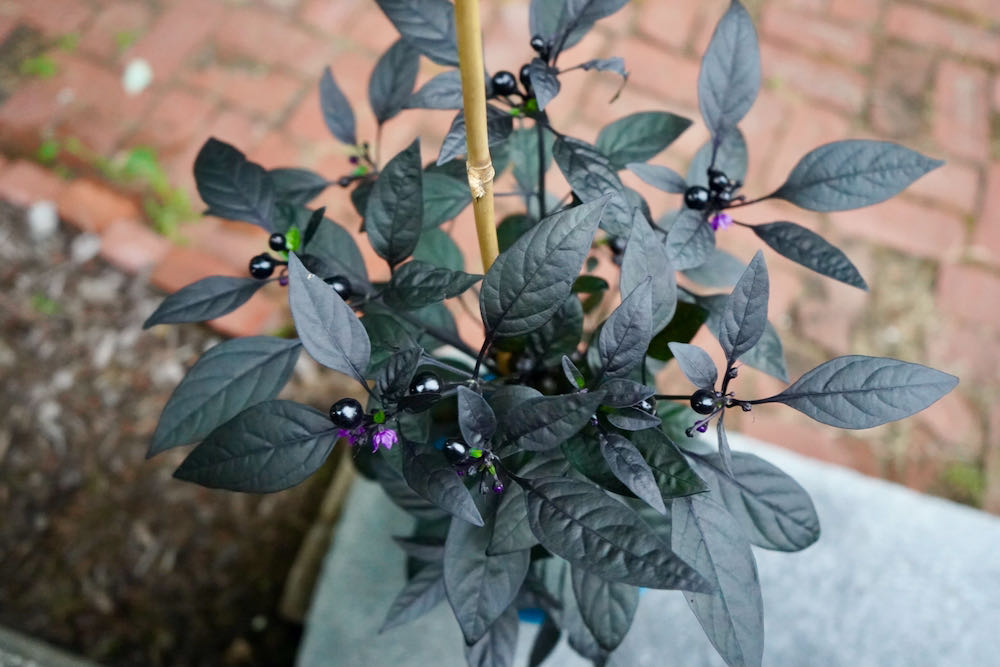 The Black Pearl plant doesn't grow too large, around 1.5-2 feet tall when mature, which is perfect for an ornamental plant. The fruits also produce in bunches, making for a breathtaking look when the plants are in full fruiting mode!
The flowers are a deep purple color that looks incredible against the dark foliage. This plant would work beautifully alongside a flower garden, offering great dark hues to offset the bright colors of your blooms.
---
3. Jigsaw Peppers
The Jigsaw pepper combines the appeal of Fish peppers and the Black Pearl to mind-blowing effect. The leaves are variegated, but they often have splashes of purple coloration. Get seeds here >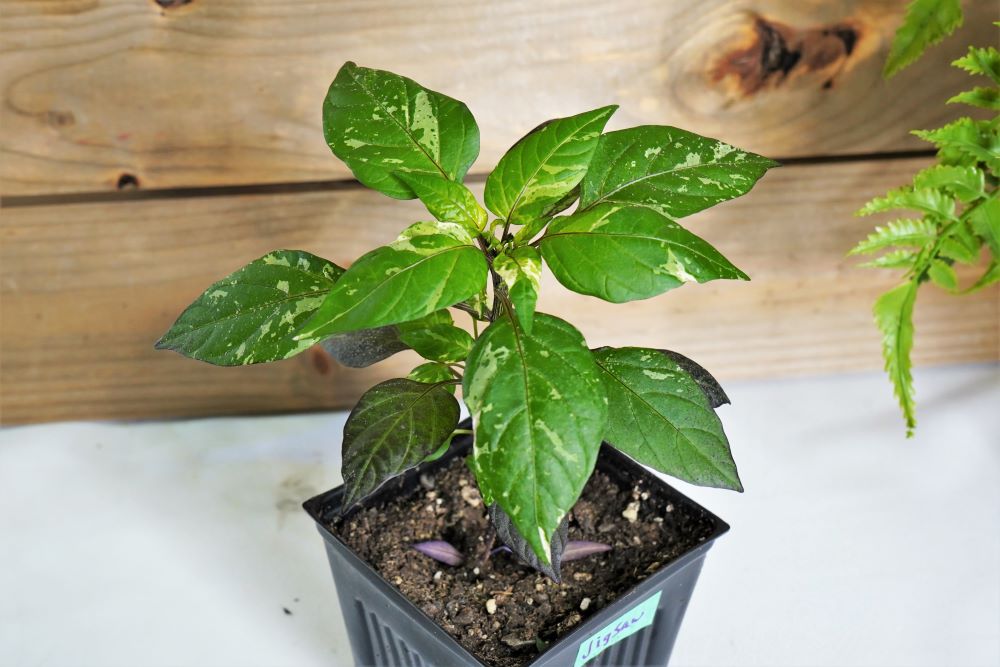 The fruits of the Jigsaw pepper plant have some variegation, and they also go through a variety of colors. The flowers are a deep purple, and the fruits ripen from a dark purple, through reds and browns, finally ripening to a deep red color.
I'm not sure there is much more you could ask for in an ornamental pepper plant. Perhaps a more desirable flavor, as once again the Jigsaw is nothing to write home about for taste.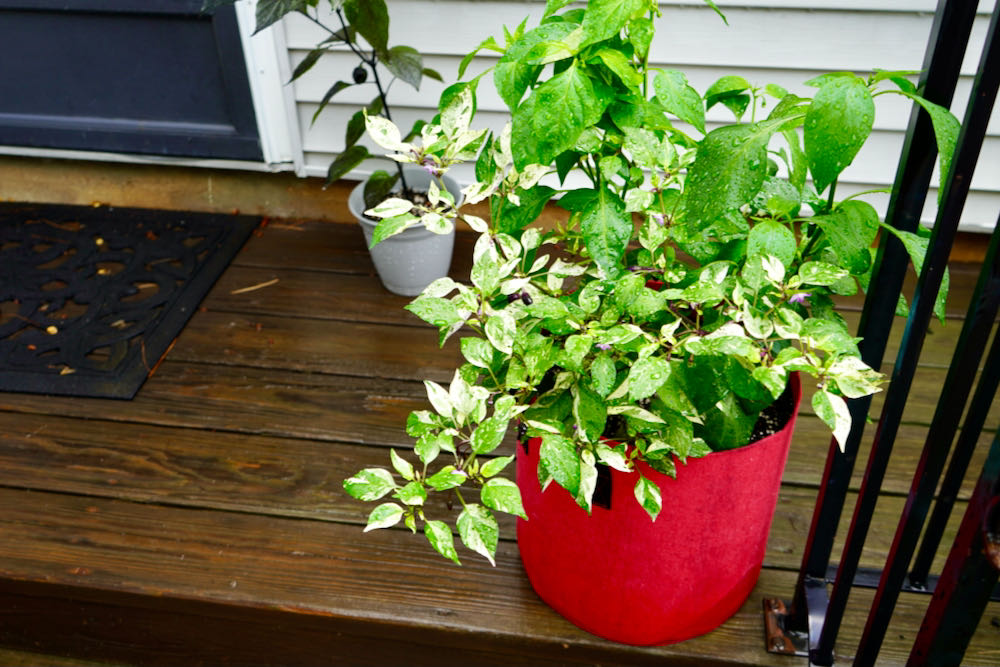 However, since this is an annuum species variety, there is much room for cross breeding to produce something with better flavor!
---
There are many other ornamental peppers out there, but these are a few of our favorites that we have grown so far. As we discover and grow more, we'll update this article to include anything worth checking out.
Read Next:
Let us know your favorite pepper plants, ornamental or otherwise, in the comments below!