Meet The Pepper Geeks!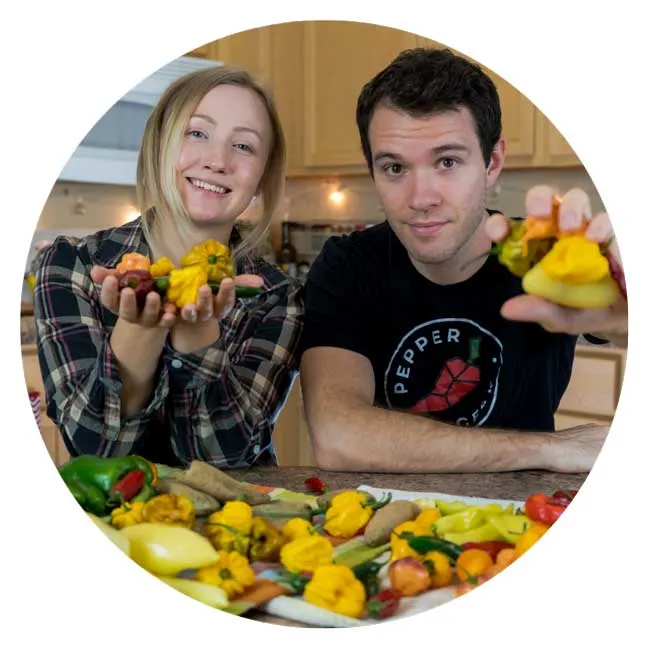 From growing peppers in our closet to blending our own sauces in the kitchen, it all started with a fiery passion. We love spice! We can't remember the last meal we had that wasn't spiced up with one of our favorite hot sauces.
Pepper Geek is more than a blog, it's a community. We know there are thousands of chiliheads just like us. With a fridge door dedicated to hot sauce and a back room dedicated to pepper plants, we want to share our passion with all the fellow spice addicts. We started off as seedlings and we've learned so much. Thanks for sharing this spicy journey with us!
More from us:
---
Calvin started growing peppers in 2013 when a local farmer's market attendee gifted him a small habanero pepper plant. Ever since frying his taste buds for the first time, he's been hooked on heat. Obsession with peppers would be an understatement. He is regularly perusing the various forums and literature that is available on obscure, super spicy or otherwise bizarre peppers and pepper facts.
Crystalyn realized her addiction for spicy food as a teenager when she went through a 'cayenne pepper on everything' phase. We're talking a 1/4 inch layer of cayenne on a slice of pizza kind of addiction. Soon, she discovered a whole new world of heat. Ghost peppers anyone? She loves nature and has developed a natural green thumb for growing beautiful, healthy plants. Her spice tolerance is impressive and her taste in hot sauce is diverse and always growing.
Other things we love: Our cat, sushi, bourbon, wine, Disney, farmer's markets, video games, traveling, and playing music.
Calvin's favorite hot sauces: Los Calientes, Dawson's Original, Dirty Dick's, Cholula, Carnival
Crystalyn's favorite hot sauces: Zombie Apocalypse, Pirates Lantern BBQ, Los Calientes, Dawson's Cremini Habanero
---
Want To Stay In Touch?
Shoot us an email at [email protected]. You can also sign up for Pepper Week – our weekly newsletter! We'll keep you up to date on all our blog posts, giveaways, and pepper growing adventures.
If you're a hot sauce company looking to spread the word – shoot us an email! We'd love to check you out and have you on our radar.