As PepperGeeks, we have a natural curiosity towards the most popular and beloved hot sauces out there. We recently reviewed and discovered amazing things about Frank's RedHot. Now, it is time to find out about another of our favorites, Cholula Hot Sauce.
Many have tried it, but few likely know the origin and history of this tasty, restaurant table-topper hot sauce. Here, you'll learn all about Cholula's long journey to store shelves, along with our take on the flavor and usability of the sauce.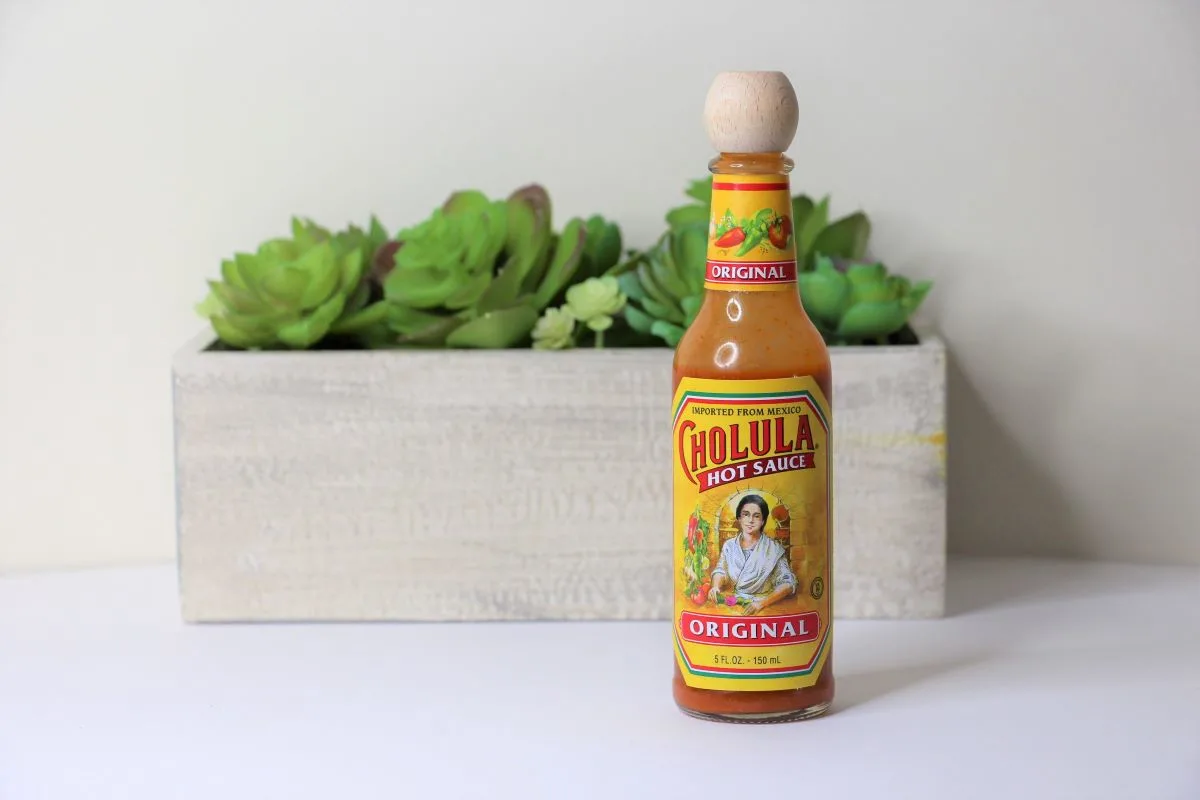 ---
History of Cholula Hot Sauce
Let's start with the name. Cholula (pronounced "Cho-Looh-La") is the name of an ancient city in Eastern Mexico. It dates back about 2,500 years and is still inhabited today, making it the oldest such city in North America.
The sauce, however, was not created in the city of Cholula, but rather in Chapala, Jalisco. The name simply pays homage to the rich and deep history of Mexico.
The Best Dang Tequila Chaser Out There
Before Cholula became an all-purpose hot sauce, it was commonly used as an ingredient in sangrita. What is sangrita, you might ask? Well, the word translates to "little blood" and is a bright red drink that typically accompanies a shot of pure tequila.
The spicy piquin pepper recipe of Cholula along with citrus juices helps complement the raw, natural flavor of 100% agave tequila. Current day recipes often mistakenly include tomato in the recipes to achieve the classic red color.
However, this is not authentic to the original sangrita drink. The red color originally came from hot pepper powder. To try an authentic sangrita, mix up some Cholula with orange juice, grapefruit juice, and lime juice. Cheers!
Who is the Cholula Hot Sauce Lady?
Sources are difficult to verify, but it has been rumored that the woman on the Cholula bottle represents Camila Harrison. She was the head of the family responsible for the original Cholula recipe in Chapala, Jalisco. The recipe was developed around 100 years ago and was not brought to the USA until 1989.
Interesting Note: In the hot sauce image, we see Camila Harrison with a variety of vegetables, including tomatoes, garlic, onions, peppers and perhaps a lime. Might this hint at the secret "spices" that are included in the ingredients list? We may never know for sure…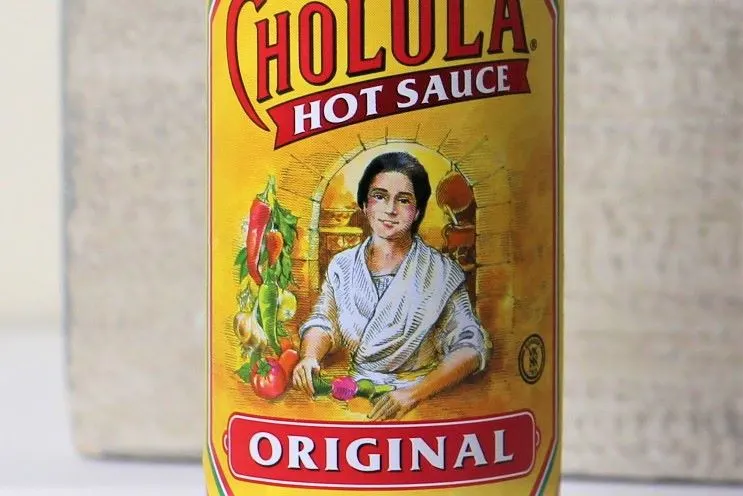 Aside from the lady, the label is artistically Mexican. It shows off the colors of the Mexican flag around the border with a bright yellow background. There is also the iconic wooden cap that helps Cholula stand apart from other hot sauce brands.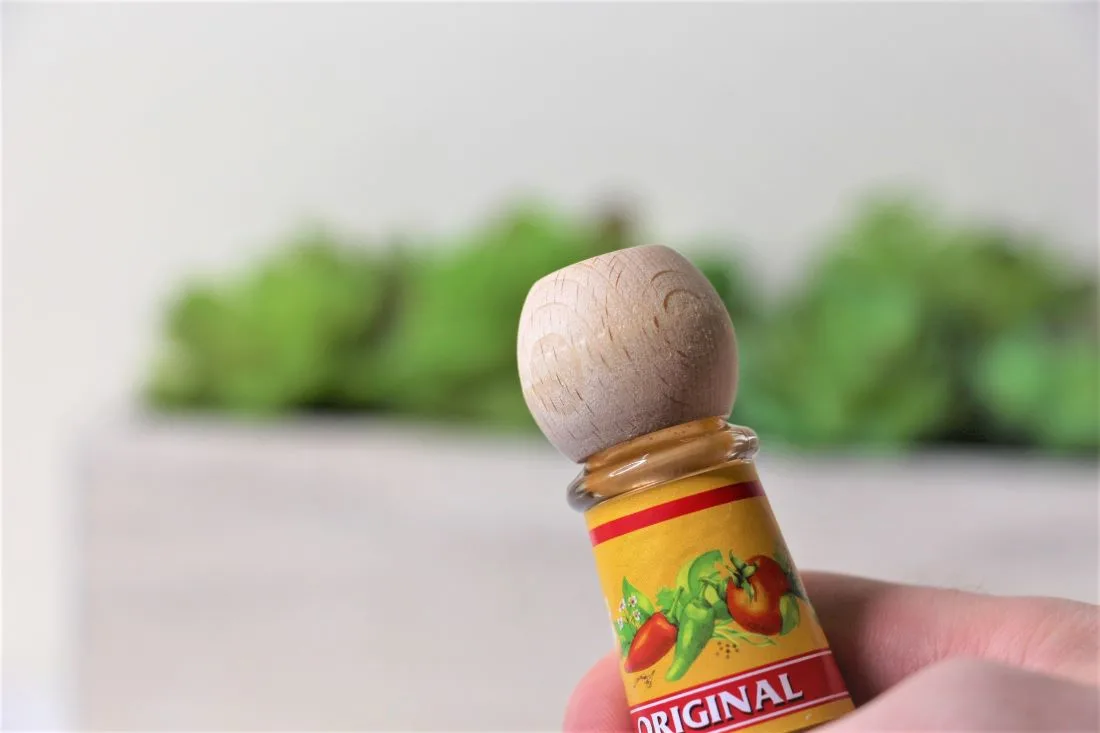 ---
Cholula Hot Sauce Scoville Rating
The heat level of Cholula is a bit uncertain. The company's official heat rating seems lower than expected given a subjective taste test. Cholula claims a rating of 1,000 SHUs on the Scoville scale, making it significantly less spicy than an equivalent volume of jalapeno peppers. However, in practice, the sauce seems hotter than that rating.
Another source claims to have tested the sauce at around 3,600 SHUs, on par with Tabasco. Based on our experience testing lots of hot sauces, we would have guessed the Scoville rating to be around 3,000-4,000 SHUs. Whatever you want to believe, the sauce tastes slightly milder than Tabasco but is certainly spicier than Frank's RedHot.
---
Cholula Hot Sauce Ingredients & Nutrition
The Cholula recipe is another simple, no-nonsense approach to great flavor. The stand-out flavors are the piquin and arbol peppers, which add give the sauce heat.
Smokey garlic and onion flavors complement the peppers, along with a unique blend of 'spices' that is unknown and difficult to pinpoint.
Add in some vinegar and salt and you've got your tangy, signature Cholula taste. Cholula has made something truly unique with the Original hot sauce recipe, one that is super versatile.
Is Cholula Hot Sauce Healthy?
Cholula hot sauce is Gluten Free, Kosher, sugar free, and vegan. They also claim that the sauce is low sodium, however, this can be subjective. At 110mg of sodium per tsp, you may want to go light on the sauce if you are watching your sodium intake.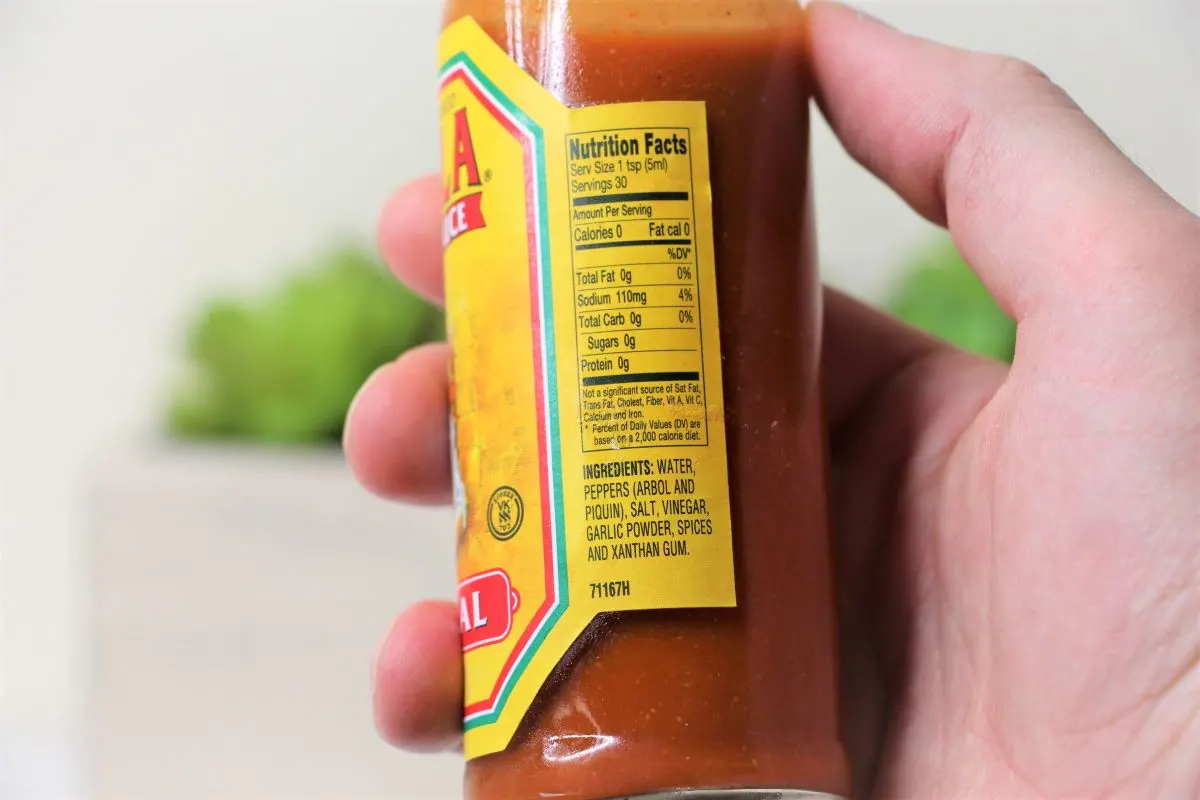 Does Cholula Need To Be Refrigerated?
No, Cholula doesn't need to be kept in the refrigerator, even after being opened. The vinegar and salt, along with capsaicin help keep the hot sauce from going bad at room temperature. This is why you will often see Cholula hot sauce out on restaurant tables, ready for use!
---
Cholula Recipes & Uses
While you can do pretty much whatever you want with Cholula, we thought we'd put together a list of recipes and uses for the iconic hot sauce.
Cholula Recipes
Using hot sauce in cooking can be your secret ingredient in home cooking. Your friends and family might ask how you made that dip taste so good, or what is in these deviled eggs?! Here are some great recipes using Cholula hot sauce from around the internet.
We couldn't not include the classic recipe for sangrita. This beverage is a citrusy, spicy drink made to accompany tequila shots. This has been around longer than Americans even knew what tequila was.
Try the original recipe from Cholula's website here. If you don't have all the necessary ingredients, mix and match with whatever citrus fruits you have around.
This recipe from Cookpad blends Cholula with traditional sweet glaze to make sweet and spicy grilled chicken. Homemade wings can be made in so many different ways, but using Cholula will bring out a unique flavor that other hot sauces can't achieve.
Tip: Try substituting Cholula for Frank's RedHot next time you're making homemade buffalo sauce or dip!
If you haven't tried making your own mac n cheese, it's time. Fresh cheese, butter, milk and in this case, Cholula makes for an incredibly rich dish. Once you try making this at home, you might have trouble going back to Kraft.
However, if you want to spice up your boxed mac n cheese, Cholula makes a great addition. Just splash in a few dashes and see what you think.
Find more tasty recipes from Cholula on their website. This page allows you to select the type of Cholula you are cooking with to find relevant recipes!
How to Use Cholula
If you're anything like us, hot sauce goes on almost everything. Cholula is a fantastic sauce for many different foods, but it goes particularly well with certain things. Here are a few PepperGeek recommendations for when to reach for the Cholula over your other hot sauces.
Cheese omelet (it topped our 'best hot sauce for eggs' article)
Chicken tacos or quesadillas
Guacamole
Sangrita! (see above)
Underwhelming pizza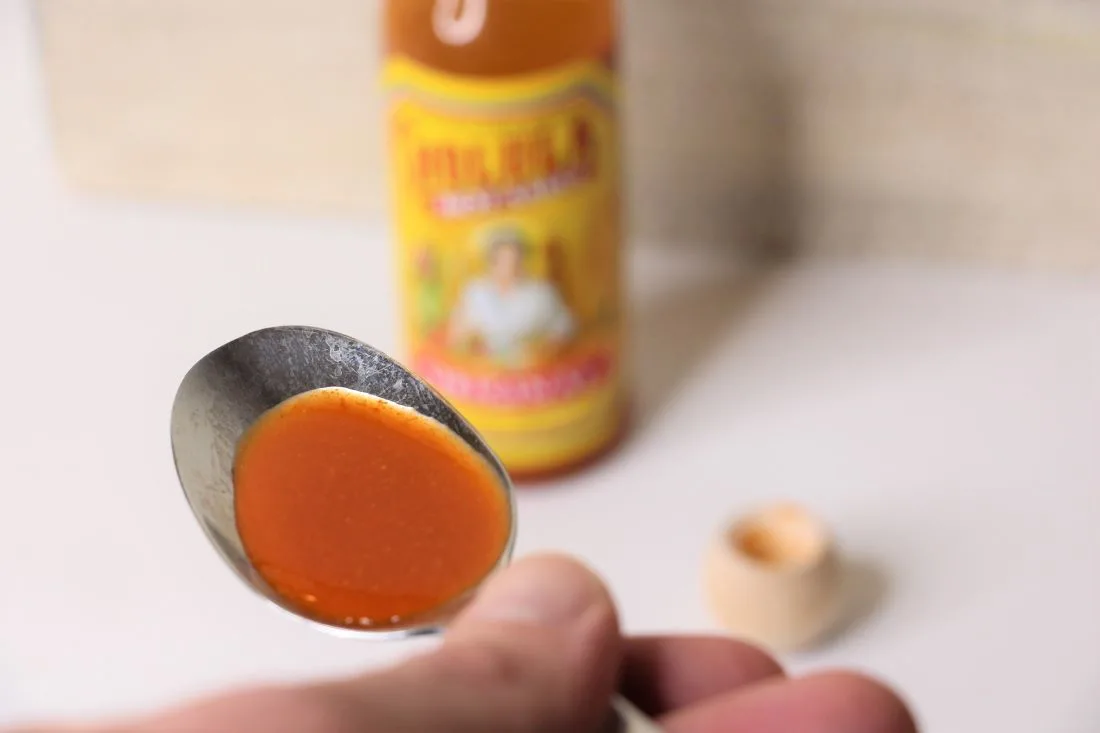 While Cholula could easily become the only sauce you ever need, it shines on Mexican food and spicy breakfast. The flavor is potent even in small dashes, so even a small 5oz bottle will go a long way. If you do intend to use a lot of Cholula, you can buy 12oz or even 64oz (half-gallon) containers on Amazon.
Other Cholula Flavors
The Cholula lineup of hot sauces has expanded over the years to include many global flavors. Many can be found in stores, and if they can't they can be purchased online in a variety pack. Here are a couple of our favorite flavors from the growing list of Cholula options. You can also find the full lineup here.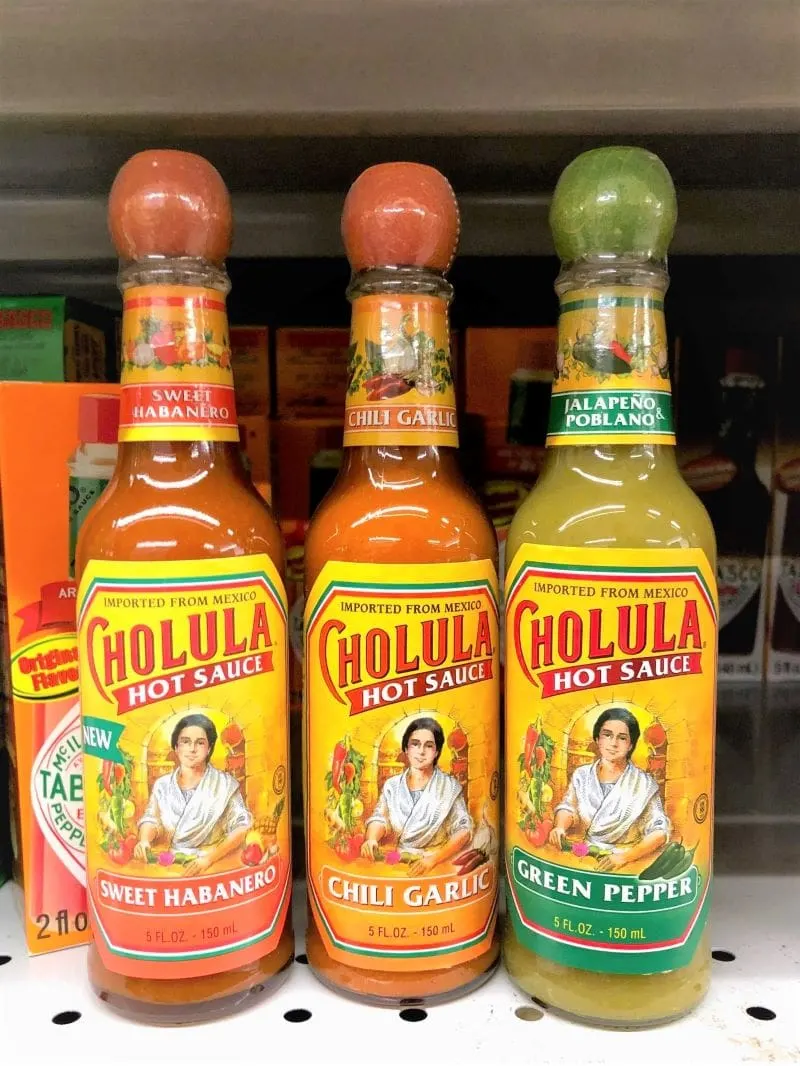 Bold jalapeno flavor is so versatile. With a great nice medium heat level that is slightly hotter than the original, Cholula's Green Pepper hot sauce is perfect for chicken or burrito bowls. This sauce can be found at Chipotle Mexican Grill for adding quick heat and flavor to your burrito.
One of the spicier Cholula flavors, Sweet Habanero brings together the tropical flavor of pineapple with the fiery heat of Habaneros. A great alternative for making tangy wings or spicing up bland pizza.
Strong smokiness is the name of the game for this sauce. Chipotle peppers are simple smokey red ripened jalapeno peppers, and they come through strong. The sauce also uses the piquin and arbol peppers found in the original, but the flavor is much smokier and sweeter. Great for making finger-licking ribs or for smoking up grilled chicken.
---
Read Next:
I hope this article helped bring some light to the interesting history of Cholula. It's affordable, and the possibilities for use are endless!
Try the historic sangrita next time you're having some tequila, or just throw it on your next slice of pizza. We love Cholula and will always keep it in stock in our refrigerator!