If you grow your own scotch bonnets in the garden, then we consider you a fellow pepper geek. They're easy to grow, and nothing beats the fresh flavor and heat of a home-grown scotch bonnet.
When you have a harvest of fresh scotch bonnets, there are many ways to use them. My favorite is to make hot sauce. In this article, I'll share a delicious scotch bonnet hot sauce recipe with a bright, citrus flavor (and plenty of heat)!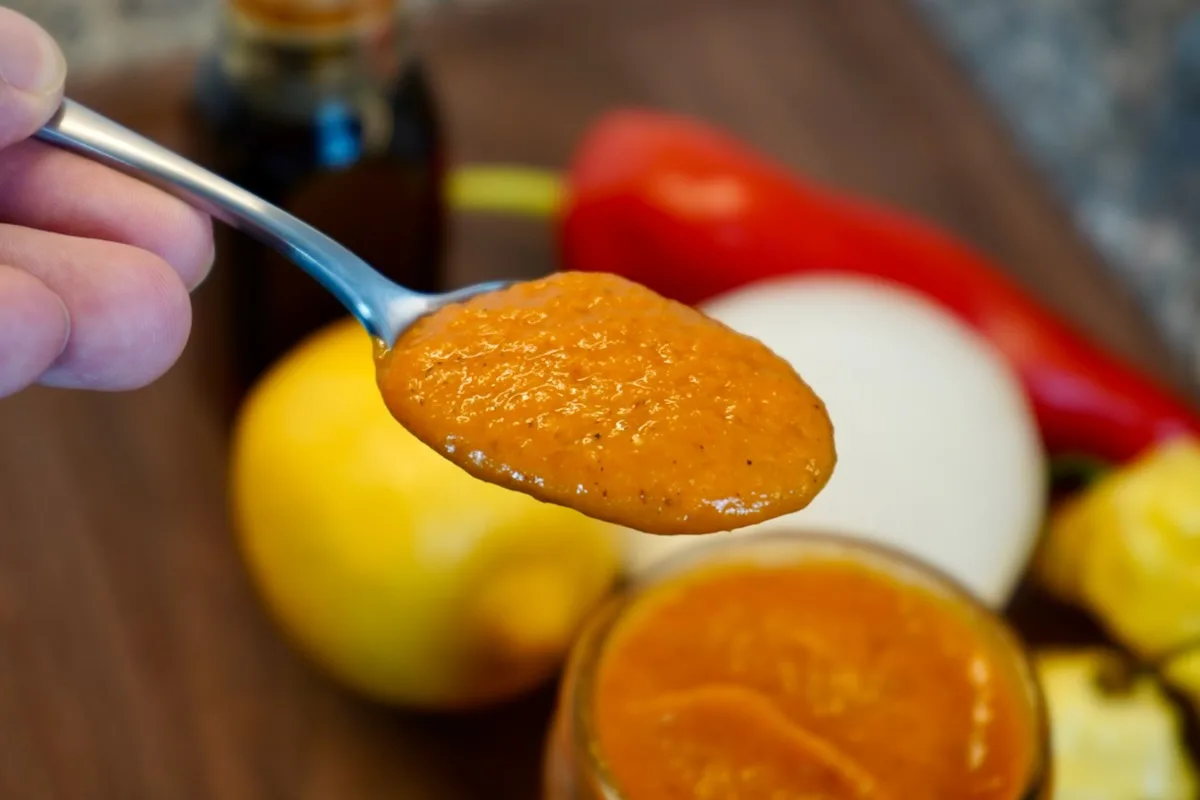 Ingredients
There are 3 main components to this hot sauce: fresh ingredients, liquids, and spices. Each were chosen carefully to make a bright, smooth sauce that tickles the taste buds with both heat and a flavorful zing.
Scotch bonnets. The star of the show, these peppers have a natural bright and lemony flavor. They also pack a punch, so we'll only be using a few for each bottle. If you don't have scotch bonnets, habaneros can be used as a substitute.
Sweet red peppers. Red bell pepper (or another sweet red pepper) helps to balance the heat level and add sweetness to the sauce.
Carrots. Carrots are surprisingly sweet, especially when roasted before blending.
Onion. While fresh onion can be added just before blending, I opted to roast them to reduce the harsh bite and bring out more sweetness.
White vinegar. Plain white vinegar adds a subtle flavor, but mostly adds tartness and lowers pH.
Lemon juice. In keeping with the citrusy flavor of scotch bonnets, a touch of lemon juice helps to reach the desired taste.
Honey. Added sweetness is optional, so if you don't like to add any sugary ingredients to your sauces, feel free to leave this out. I find that a light-colored honey makes this sauce more craveable.
Spices. Coriander, cardamom, garlic powder, thyme, ginger, black pepper, and salt blend to make a distinctly citrusy and bright flavor profile.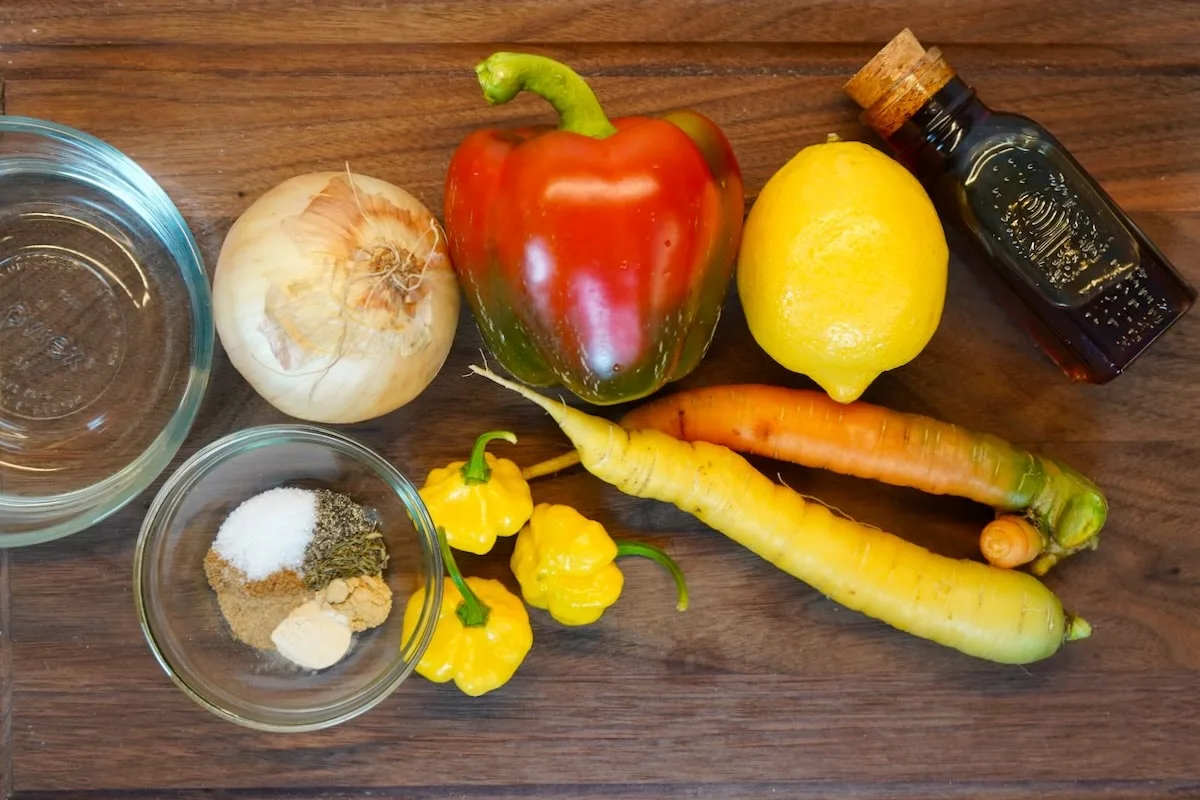 It's hard to go wrong with this amazing blend of ingredients, but there are a few steps to take before it all comes together.
---
How To Make Scotch Bonnet Hot Sauce
Before we go blending all our ingredients together, let's talk about method. We use a similar formula when crafting new hot sauces, and the process is the same here.
Ingredients:
1 red bell pepper
3-6 scotch bonnet peppers (use more for more heat)
2 medium carrots
1/2 medium white onion
1/2 tsp salt
1/4 tsp coriander
1/4 tsp cardamom
1/4 tsp garlic powder
1/4 tsp thyme
1/4 tsp ground ginger
1/4 tsp black pepper
1/2 cup white vinegar (plus more as needed)
1 tbsp lemon juice
1 tbsp honey
Step 1: Cook the fresh ingredients
First, we need to cook up the peppers, carrots, and onion. Rough chop all the fresh ingredients and remove the seeds from the red pepper. We don't bother removing the seeds from our scotch bonnets.
Coat all the fresh ingredients in a paper-thin layer of cooking oil, and roast at 425°F for 10-15 minutes. As the veggies cook, you should see a brown or black char forming on the outside.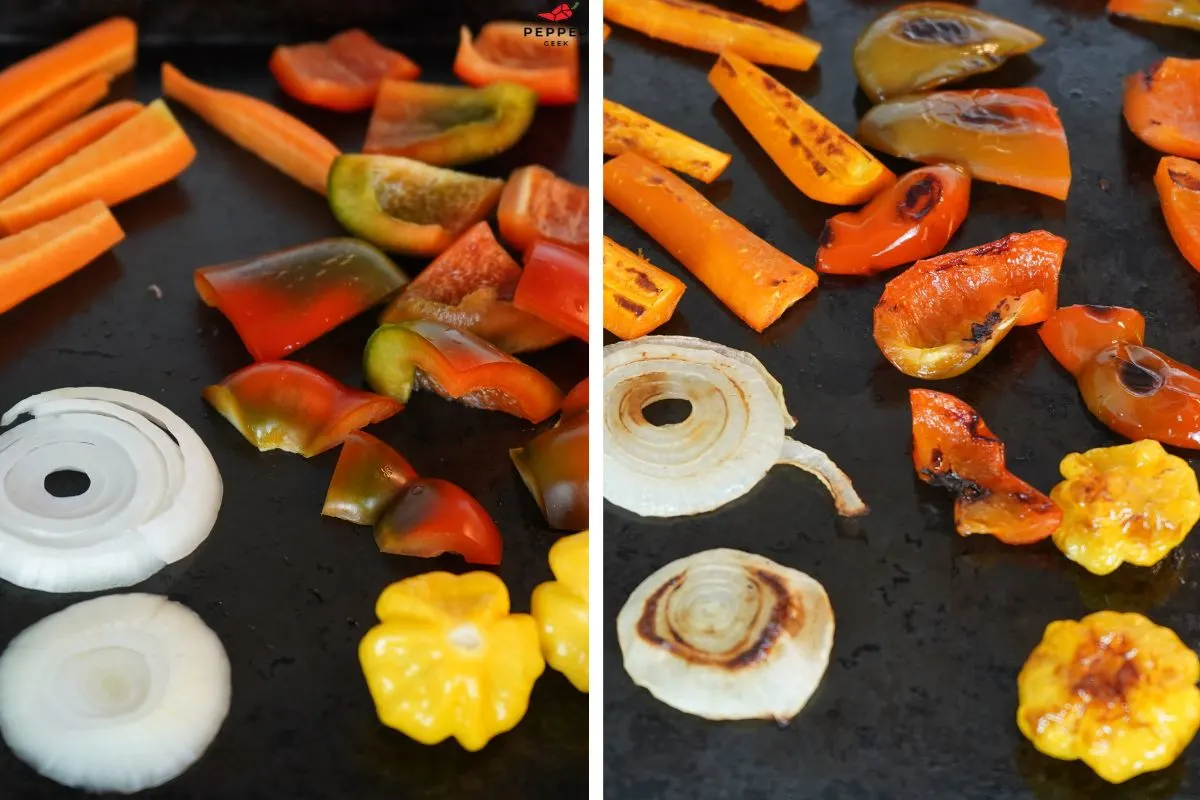 Flip the veggies about halfway through cooking to ensure even browning. When the carrots and peppers are fork tender, remove them from the oven and allow to cool.
Step 2: Add the vinegar and spices
After the roasted veggies have cooled for 5-10 minutes, add them to a high-powered blender. And I mean high-powered – we use this Vitamix to get our hot sauces buttery-smooth.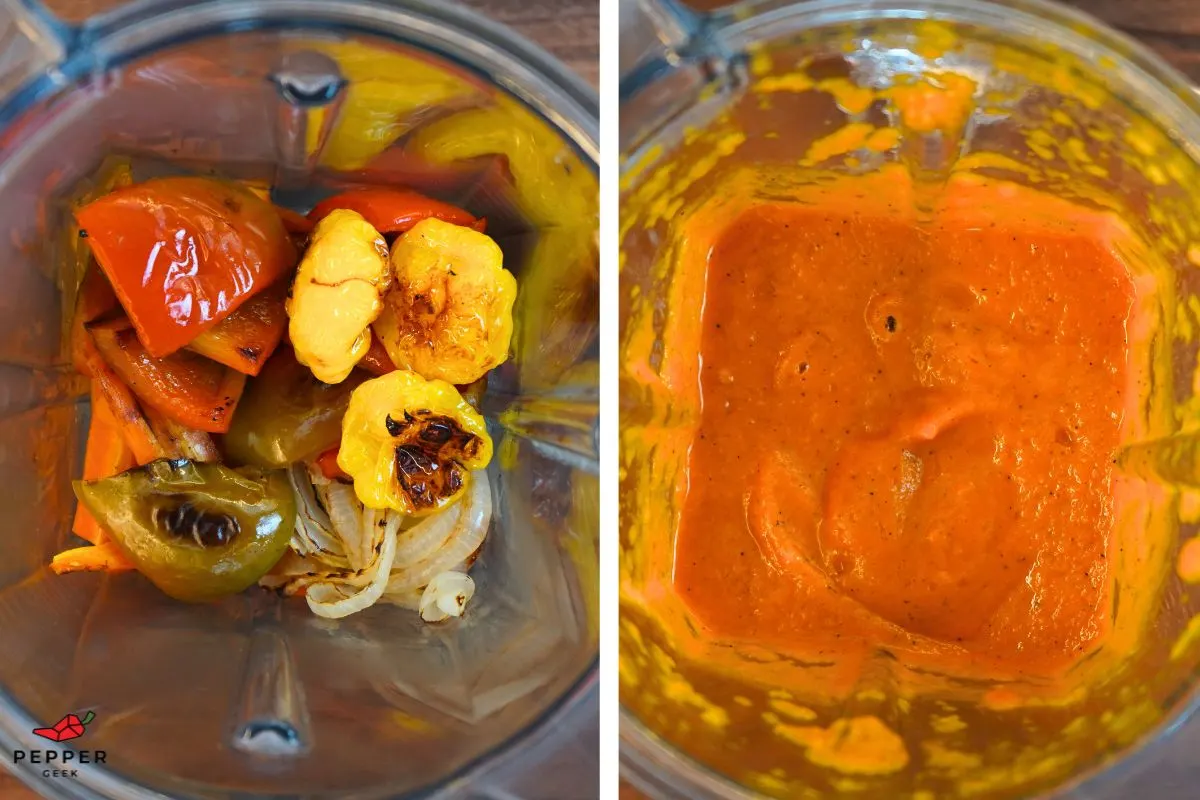 Add in the spices along with the vinegar, honey, and lemon juice and blend. Start on low speed until the mixture is evenly combined, then blast it on high speed. Allow the mix to blend for at least 20 seconds to make sure any seeds or tougher bits are liquified.
Step 3: Season to taste and adjust thickness
Depending on the size of your bell peppers or onions, your sauce may be slightly thicker or thinner than desired. The intended thickness is around ketchup consistency so that it sticks to food nicely, but can still be poured freely.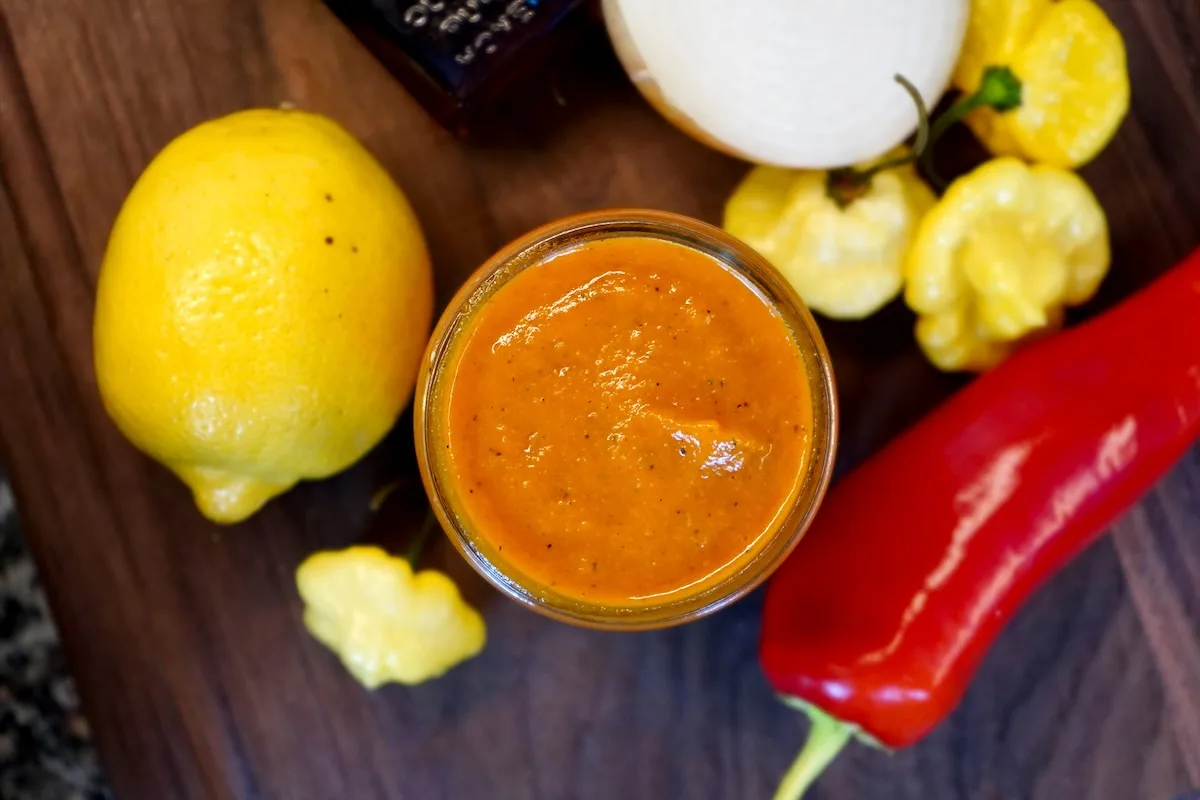 To make your sauce thinner, add more white vinegar in 1 tbsp increments, blending again to check the viscosity. To thicken up your sauce, you can gently simmer it to boil off liquid, or add a corn starch slurry.
Any good chef will tell you that a sauce isn't finished until you've seasoned to taste. Grab a spoon and take a tiny taste. If the flavors don't pop enough, add a pinch of salt and stir to combine, tasting as you go. Once you're satisfied, you can bottle up the sauce for storage!
Tip: Use a funnel to add the sauce to hot sauce bottles. This gives your sauce a professional look and makes them giftable.
---
Recipe FAQ
How long does this hot sauce last?
In our household, delicious hot sauces don't last long. However, they can be stored for quite a while if necessary.
If you don't consume this sauce in a few days, it can be stored in the fridge for at least 3 months. The high acidity keeps the sauce stable, preserving the fresh ingredients.
How to use scotch bonnet hot sauce
When it comes to using this hot sauce, there are countless applications. The lemon flavor profile lends itself well to a wide variety of foods:
Lasagna and pasta dishes
Seared fish
Tuna melts
Chicken (grilled or fried)
Pizza
Eggs
This hot sauce could even be used as a marinade for grilled pork or chicken. The consistency is pourable, but thick enough to hold its shape – we even have some in a ketchup-style squeezy bottle!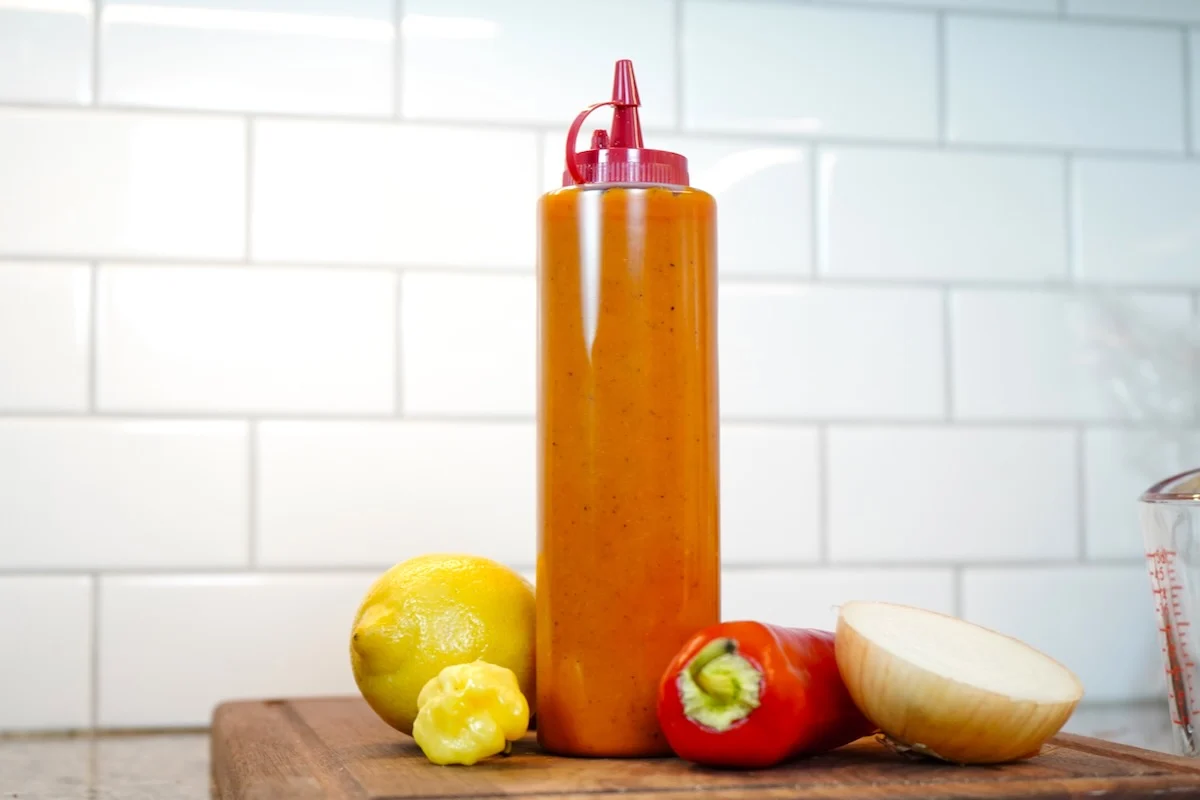 How can I make it spicier?
If you're a true chilihead, you may find yourself wanting more heat from this recipe. It is easy enough to make it spicier, simply add more scotch bonnets.
However, if you want to add even more heat without adding too much volume, you can add 1-2 ghost peppers. Just roast them whole along with the other ingredients. These superhots can add massive heat with just a couple chilies.
---
Scotch Bonnet Hot Sauce Recipe
Caribbean scotch bonnet hot sauce is perfect for fish, chicken, or pizza!
Print
Pin
Rate
Ingredients
3

scotch bonnet peppers

or substitute habaneros

1

red bell pepper

2

medium

carrots

1/2

white onion

1/2

tsp

salt

1/4

tsp

ground coriander

1/4

tsp

cardamom

1/4

tsp

garlic powder

1/4

tsp

ground ginger

1/4

tsp

thyme

1/4

tsp

black pepper

1/2

cup

white vinegar

plus more to thin sauce as needed

1

tbsp

lemon juice

1

tbsp

honey

optional

Cooking oil

for roasting
Instructions
Cut open the bell pepper and remove the seeds and any white parts inside.

Rough chop the red bell pepper, carrots, and onion into thick chunks. Leave the scotch bonnets whole.

Apply a light drizzle of cooking oil (canola or other high-heat oil) to the produce, tossing to coat.

Roast the produce at 425°F for 10-15 minutes, tossing halfway through cooking. The onions should be well-browned and the carrots should be fork tender. Allow to cool about 5 minutes.

Add the roasted veggies to a high-powered blender. Add all other ingredients (spices, vinegar, lemon juice, and honey) to the blender.

Blend on low for about 15 seconds to incorporate all ingredients, then gradually turn it up to high until the consistency is smooth.

Season to taste with salt and pepper, add to hot sauce bottles, and enjoy!
Notes
If the hot sauce is too thick after blending, add more white vinegar in 1 TBSP increments, blending each time until the sauce is pourable
Substitute habaneros if scotch bonnets are not available
Add 1 ghost pepper for a hotter variant