If you like making your own dill pickles and you like spicy food, I think we'd be good friends. You're also going to love our simple recipe for spicy dill pickles.
As the gardening season comes to a close, we love making pickled veggies to preserve our fresh produce. Pickled banana peppers, carrots, and of course, cucumbers. But why not combine different vegetables in the same batch?
That's exactly what we do with this spicy dill pickle recipe. Crunchy pickling cucumbers combine with the heat of spicy red chiles to make a sweet, salty, spicy party of flavor.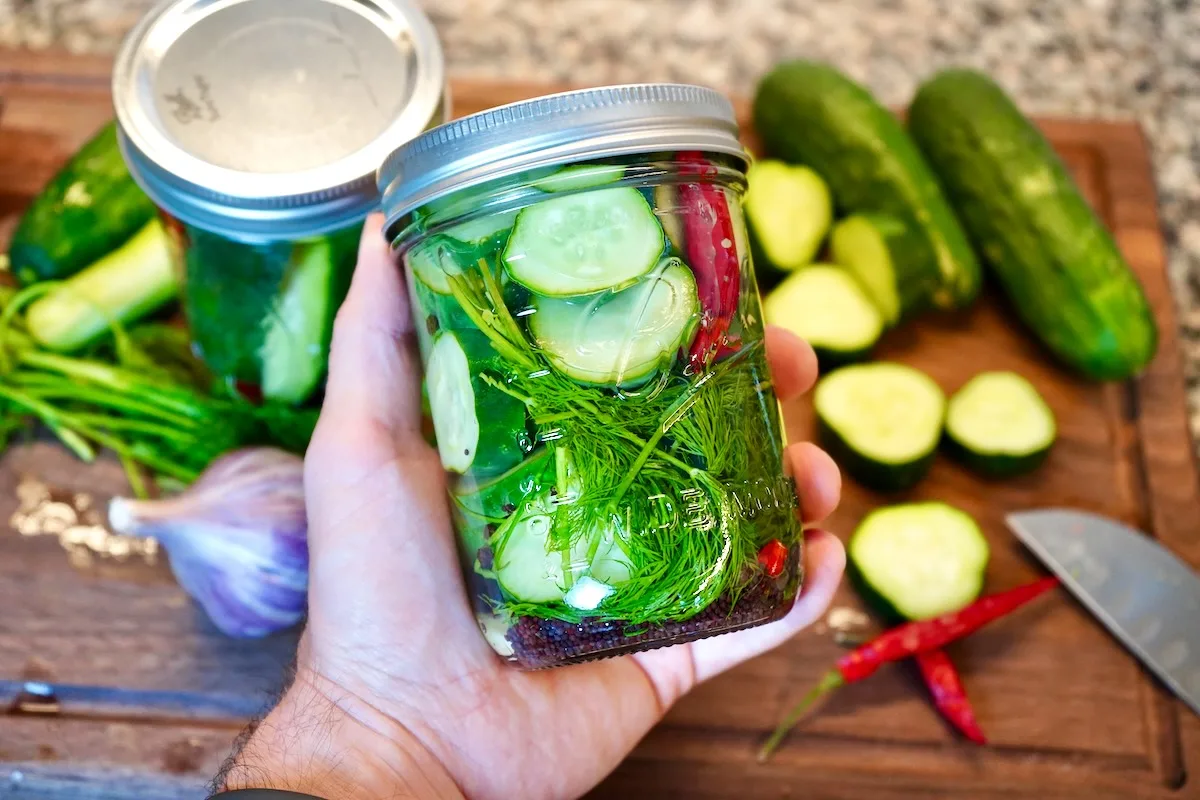 ---
How To Make Spicy Dill Pickles
If you're new to making pickles, you'll be shocked at just how simple it is. Just 10 ingredients, most of which you likely already have in your pantry! Sliced cucumbers, hot chilies, fresh dill, vinegar and water, and a few spices are all it takes.
Equipment:
Ingredients:
8 pickling cucumbers (Kirby or similar)
6 Thai chili peppers (dried or fresh)
2-3 fresh dill sprigs (per jar)
6 cloves garlic (crushed)
1 tbsp whole mustard seeds
1 tbsp whole black peppercorns
2 cups white vinegar
2 cups water
1/4 cup white sugar
2 tbsp salt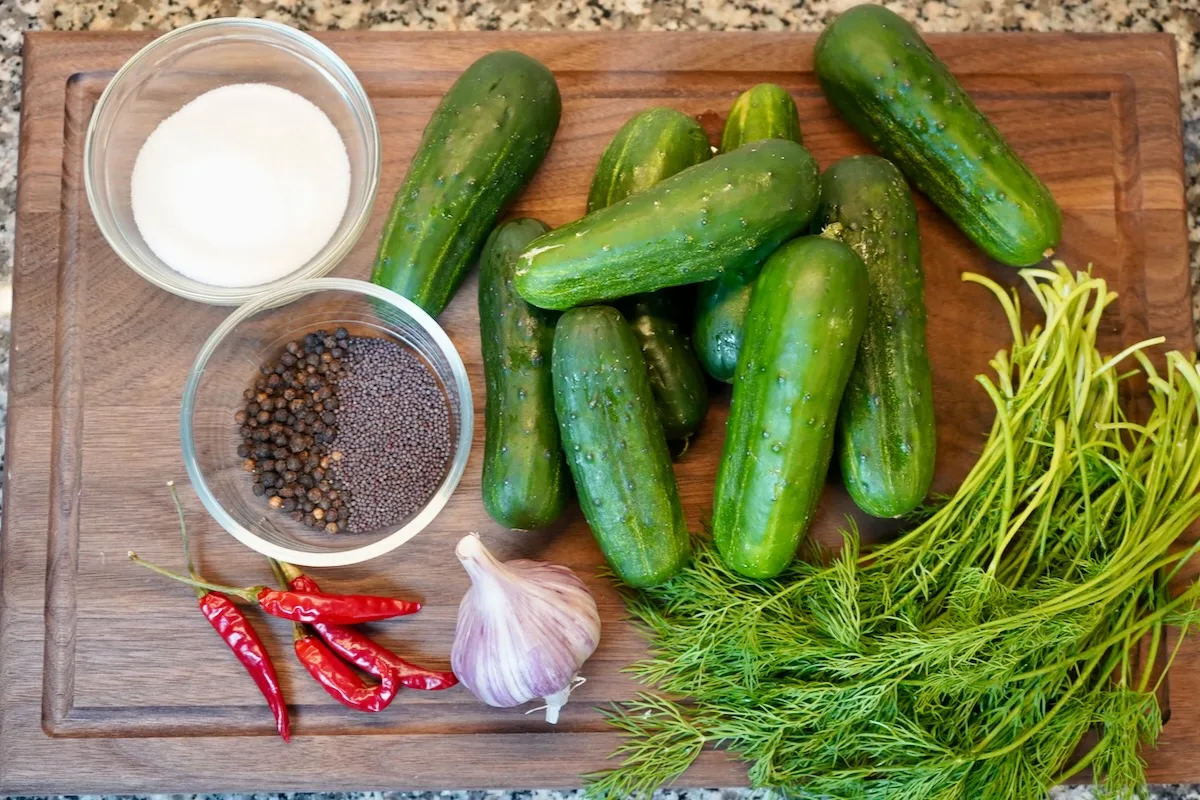 Time needed: 15 minutes
How to make spicy dill pickles
Slice the cucumbers

Start by slicing your pickling cucumbers into the desired shape. I like to make thick pickle chips, but you can also make spears or lengthwise slices.

Slit open hot peppers.

Make a single slit along the length of your red hot peppers. This will allow the spice to infuse into the pickle brine and the cucumbers.

Add herbs and spices to glass jars.

Divide the hot peppers, crushed garlic, mustard seeds, and black peppercorns among the pint glass jars. You can use larger or smaller jars, but I like to have smaller batches to keep them preserved for longer. Then, add in the dill sprigs to each jar.

Pack sliced cucumbers into the jars

Add the sliced cucumbers into the jars on top of the herbs and spices. Pack the cucumbers in as tight as possible, filling to about 1/2″ from the top of each jar. If your spears are too long to fit in the jar, you'll need to slice them to the correct length first.

Make the brine.

With the jars prepared, it's time to boil up the brine liquid. Add the vinegar, water, sugar, and salt to a medium sauce pan and bring it to a boil. Once boiling, remove it from the heat.

Pour hot brine over pickles.

Carefully pour the hot brine over your cucumbers, covering them completely. Tip: Shake the jars gently to release any air pockets that form, topping off the brine to within 1/2″ of the top of each jar.

Seal and allow to cool at room temperature.

Cover the jars with a sealing lid and allow them to completely cool at room temperature (do not place them directly in the refrigerator!).

Refrigerate for at least 2 weeks before opening.

Once cool, place the spicy pickles in the refrigerator for about 2-3 weeks before opening. This time allows the pickles to develop a much better flavor (seriously, it makes a huge difference).

Enjoy within 2 weeks after opening.

After 2 weeks, pop open a jar and enjoy your spicy dill pickles! Once you open a jar, it is best to consume them within a week or two.
---
Dill Pickle Recipe FAQs
How can I make the pickles even spicier? If you like extra-spicy pickles, add a sliced habanero or ghost pepper to the jars before adding the brine. Keep in mind that the brine will get spicier over time as the flavors meld and infuse. I find that 2-3 Thai chilies per jar is the perfect touch of heat.
Which type of cucumber is best for pickling? Pickling cucumbers have thin skin compared to traditional European cucumbers. They are also picked before ripening, giving them a longer-lasting crunch. Look for "Kirby" cucumbers, or "pickling" cucumbers at the grocery store. Or, try growing your own cucumbers!
Can I waterbath can this recipe? While we use this recipe only for refrigerator pickles, it can be modified for waterbath canning. Always follow the official safety guidelines for at-home canning.
What other ingredients can I add? If you want to try different flavors, try adding fresh carrots, onions, bell peppers, and radishes. For spices, you can experiment with celery seed, cumin seed, cloves, cinnamon sticks, and other pickling spices.
How can I keep my pickles extra-crispy? While these refrigerator pickles will remain crisp for at least 3 months, they may eventually begin to go soggy. For extra protection from soggy pickles, dissolve calcium chloride into the brine.
What type of salt is best for pickles? We like to use either kosher or sea salt for making our quick-pickles. However, you can also use pickling salt, which has no additives that might cause cloudiness or discoloration of your pickles.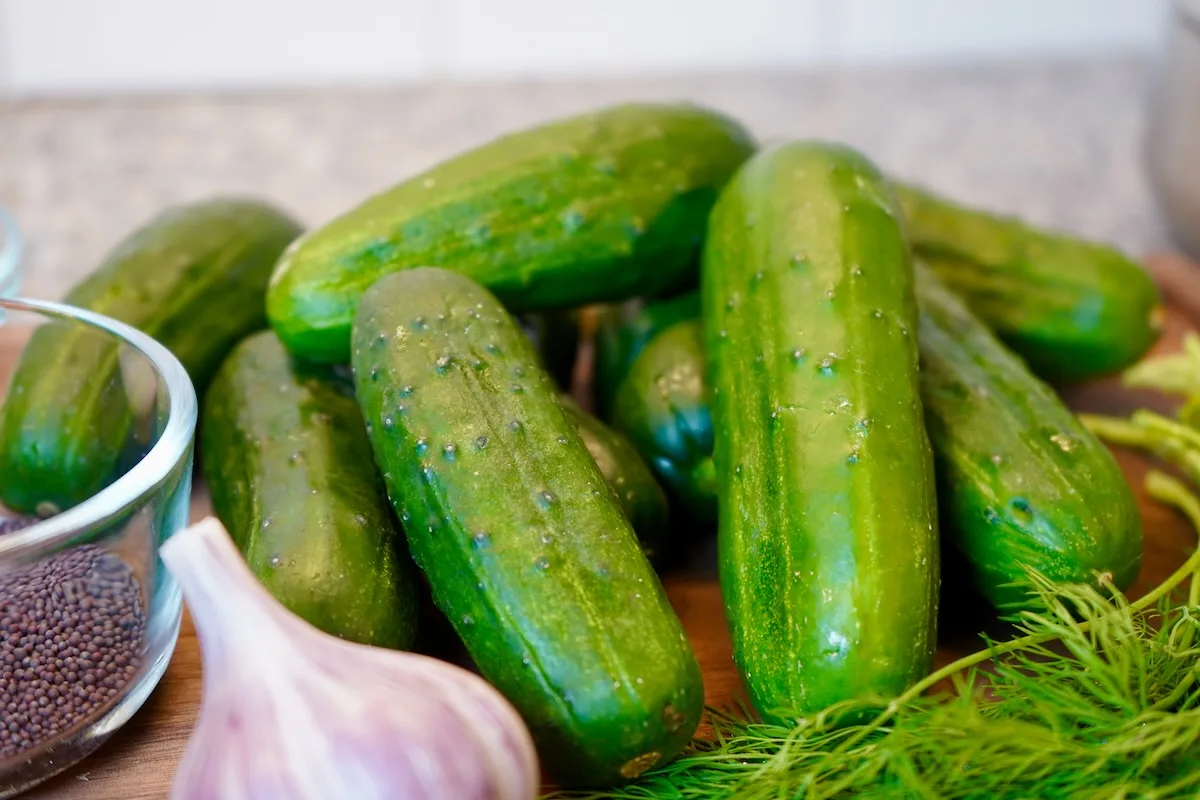 ---
If you love this recipe, leave us a star rating and review below! This is our go-to dill pickle recipe (as we always make them a bit spicy). Enjoy!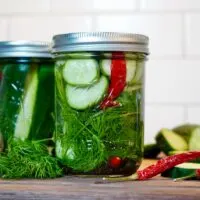 Spicy Dill Pickles
Crunchy, sweet, and spicy dill pickles with just 10 total ingredients.
Print
Pin
Rate
Equipment
3 Quart ball jars

1 Medium Sauce Pan
Ingredients
For the jars
8

pickling cucumbers

6

Thai chilies

or other hot red chili

10

sprigs

fresh dill

2-3 per jar

6

cloves

garlic

crushed

1

tbsp

whole mustard seed

1

tbsp

black peppercorns
For the brine
2

cups

white vinegar

2

cups

water

¼

cup

sugar

2

tbsp

salt

sea or kosher
Instructions
Filling the jars
Slice the cucumbers into the desired shape (chips or spears). If making spears, make sure they will fit vertically inside your jars.

Slice the hot peppers open to release the flavor and heat.

Add the hot peppers, crushed garlic, mustard seed, and peppercorns to the glass jars. Then, stuff in the fresh dill sprigs (about 2-3 sprigs per jar).

Tightly pack the sliced cucumbers into the jars, filling to within ½ inch of the top.
Making the brine
Add the vinegar, water, sugar, and salt to a sauce pan. Heat over medium high heat, stirring occasionally to dissolve the sugar and salt.

Once boiling, immediately remove from heat.
Finishing the spicy dill pickles
Pour the hot brine over the cucumbers, filling the jars to about ½ inch of the top.

Cover the jars with sealing lids and allow to cool completely at room temperature. Do not put in the refrigerator until cooled!

After cooling, refrigerate for 2-3 weeks before opening. This infusion period adds so much flavor!

Once opened, enjoy the pickles within 2 weeks.
Notes
Always keep the pickles refrigerated. This is not a canning recipe, so it is important to always keep the pickles refrigerated.
For the best flavor, allow the pickles to sit in the fridge for at least 2 weeks after making them. During this time, the brine will infuse into the cucumbers, drastically improving flavor!
Make sure to use pickling cucumbers, not European cukes. Kirby cucumbers are a popular pickling type, but look for light green, shorter cucumbers rather than the thick-skinned slicing types.