Homemade tacos are one of our favorite year round meals. We experiment with everything from the protein to the toppings, and of course, the seasoning.
When we want traditional Mexican-style tacos, this taco seasoning recipe never fails. So, if you find yourself without a packet of taco seasoning, try our amazing, bold and spicy blend.
---
Taco Seasoning Ingredients
Taco seasonings can be as simple or as complex as you wish. Our favorite homemade taco seasoning is on the simple side, using ingredients that you probably already have on your spice rack.
1 tbsp paprika. The base of this taco seasoning is paprika. If you don't have any, you can substitute chili powder or ancho powder (or any other ground chili pepper you have on hand).
2 tsp onion powder. Onion powder brings so much flavor to this blend. If you don't have onion powder, consider simply adding chopped fresh onions to your taco filling or toppings.
1 tsp garlic powder. Garlic powder is a must for traditional taco seasoning. You can use fresh garlic as well, but the ground powder adds a unique flavor we love.
1 tsp cumin. Ground cumin may be the single most important ingredient to achieving "bold" flavor. If you don't have any on hand, try curry powder.
1 tsp marjoram. When it comes to herbs, marjoram is the best possible choice. The mild citrus flavors and bright aroma add so much depth to the taco seasoning. You can use oregano as an alternative.
1 tsp salt.
1 tsp black pepper.
1/4 tsp allspice. While this is optional, I love what allspice adds a unique twist to this taco blend. Consider it the "secret ingredient."
1/2 tsp smoked paprika (optional). Smoked paprika adds a great depth of flavor – if you have some, add a bit!
1/4 tsp cayenne powder (optional, if you like it spicy). If you like tacos with a kick, add a bit of cayenne powder or chili flakes for heat. Or, just add a splash of hot sauce to your finished tacos.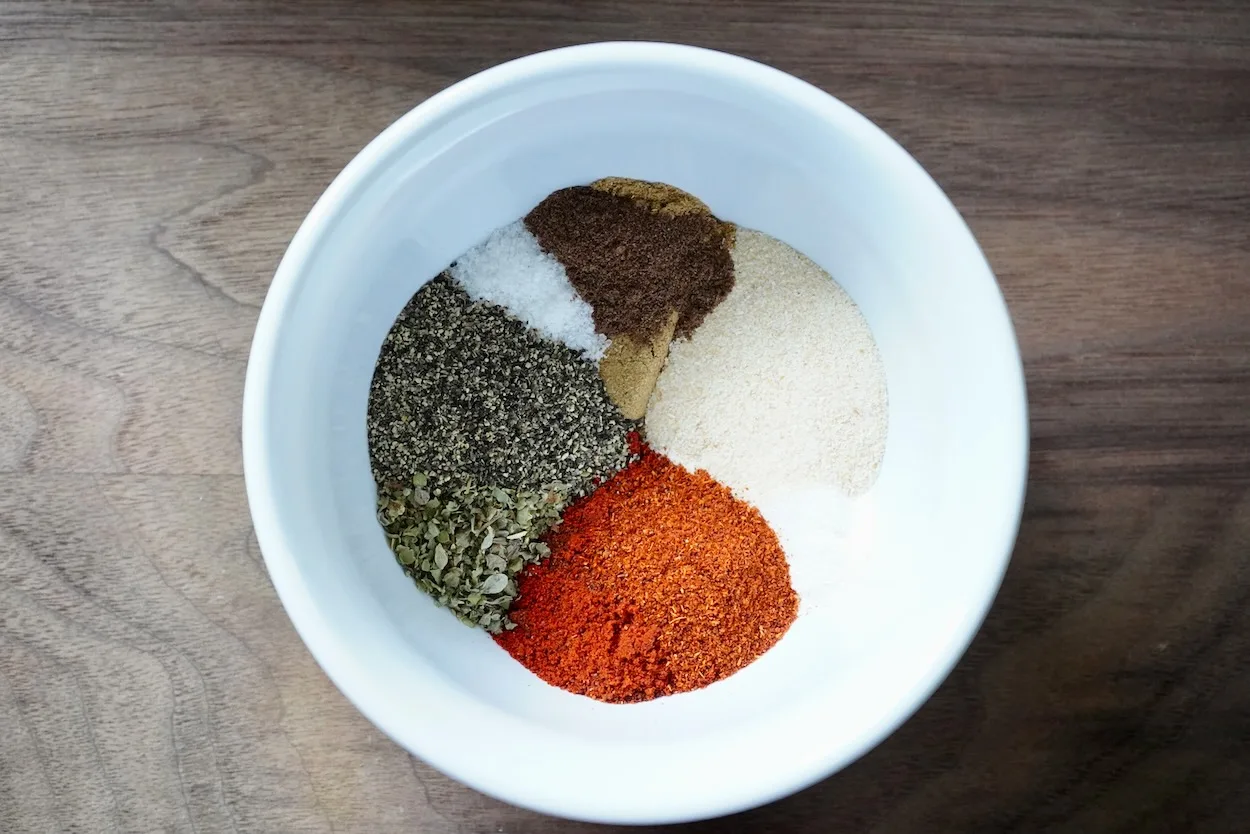 I think this blend is better than any store bought taco seasoning I've ever tried. It is easy to make extra for later, or to whip together when you don't have any on hand.
For a low sodium taco seasoning, reduce the salt to 1/4 or 1/2 tsp, and add more as desired. You can even make this spice blend salt-free if you'd like – the flavor will still be great!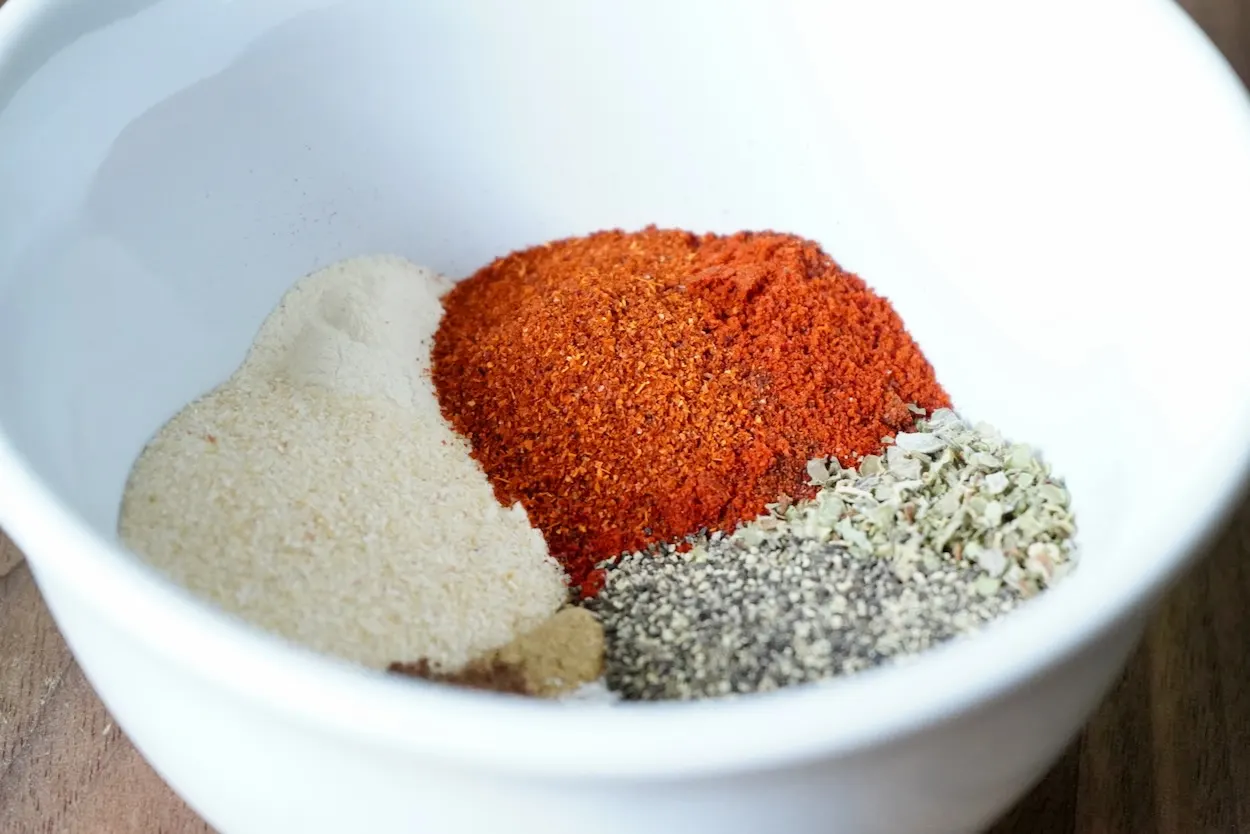 How long does taco seasoning last?
One of the best things about DIY taco seasoning is how long it can last in storage. Since the ingredients are all dried herbs and spices, taco seasoning can store for 1 year or longer at room temperature.
For the best flavor, I recommend using your taco spice mix within 3 months. It can also cake together a bit if it is humid. If this happens, just give it a shake before using.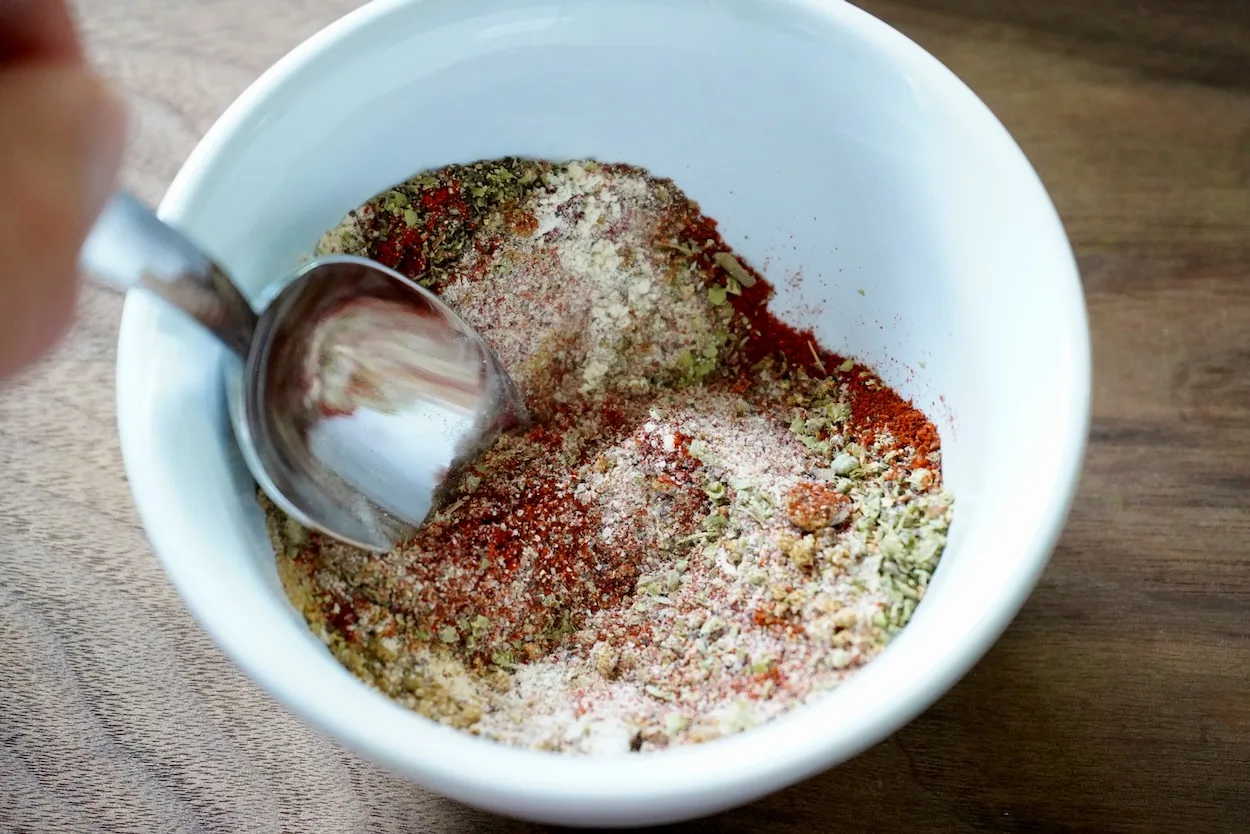 ---
Using the Seasoning for Tacos:
Once you make your homemade taco seasoning, it's so easy to make delicious tacos. All you need is a protein of choice, diced tomatoes, taco shells, and a few fresh toppings.
Suggested taco filling:
1 lb. meat (ground beef or chicken)
3 tbsp. taco seasoning blend
15 oz can diced tomatoes
To make up a batch of simple tacos using our taco seasoning blend, start by browning the meat over medium-high heat until just cooked through. Add 3 tbsp. of seasoning per pound of meat, mixing thoroughly.
Add the diced tomatoes (with juices) to the pan and mix thoroughly. Allow the mix to heat through until it is bubbling, stirring occasionally.
Fill up your favorite taco shells with the filling, add toppings, and enjoy. Our favorite toppings are chopped lettuce, pico de gallo, fresh lime juice, cilantro, shredded cheese, and sour cream.
---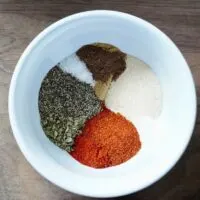 Bold Taco Seasoning
Bold, classic taco seasoning flavor with simple herbs and spices.
Print
Pin
Rate
Ingredients
1

tbsp

paprika

or chili powder

2

tsp

onion powder

1

tsp

garlic powder

1

tsp

cumin

1

tsp

marjoram

or oregano

1

tsp

black pepper

1

tsp

salt

1/4

tsp

cayenne pepper

optional, for spicy tacos

1/2

tsp

smoked paprika

optional

1/4

tsp

allspice

optional
Instructions
Mix all herbs and spices in a small bowl and store in a cool, dry location.
Notes
Other spices we found to work well include ancho chili powder, chipotle powder, Mexican oregano, and tomato powder.
Allspice may seem like an odd addition, but it adds a special touch that compliments this taco seasoning.
I hope you enjoy our taco seasoning recipe. Try experimenting with other spices or herbs to make this blend your own – oregano, cilantro, ancho powder, pasilla, and chipotle powder are all great options.