Subscription boxes have become incredibly popular and varied. From ready-to-cook meal services like Sun Basket to custom wardrobe curators like Stitch Fix.
But more importantly, you can now get hot sauces delivered right to your door, every month. Heatonist and Hot Ones work together to bring us their monthly hot sauce box.
Thanks to this awesome subscription service, our fridge is happily full of exotic and interesting hot sauces. Today, we're going to share our experience thus far and give our Hot Ones Hot Sauce Box review.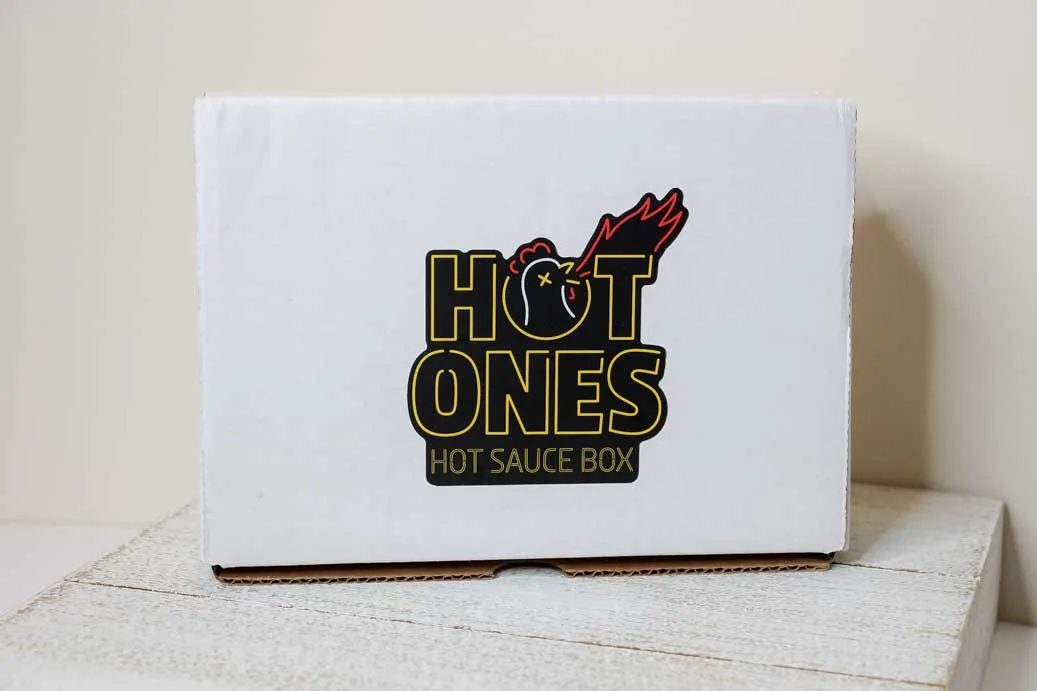 Our unique referral links to Heatonist found in this article will save you $10 on any purchase of $40 or greater. We also receive an incentive if you make a purchase. This in no way affects our opinions of the hot sauce box service.
In This Article:
---
What's In The Box?
Each month, subscribers receive three hot sauce bottles, an info card with details about each sauce and a custom message from Heatonist founder, and a unique sticker from Hot Ones. Each hot sauce is usually the typical bottle size of 5oz.
Each hot sauce is usually part of the Hot Ones YouTube show's current lineup of sauces. You get early access to try new sauces that have not yet been released for the public. Getting this box really does make us feel like part of an exclusive club.
We recently received 3 all-new Hot Ones sauces in the monthly box where they crossed the peppers in the existing sauce lineup. Check out our article about this special box here.
To see exactly what came in one of our hot sauce box deliveries, check out our video review of the Hot Ones Hot Sauce box here:
Video Unboxing:
---
How Much Is It?
Keep in mind that the sauces included in this subscription box are all gourmet quality (we're not talking about Frank's), and are usually exclusive access.
For this reason, the box costs $30 per month plus shipping. Shipping costs depend on where you are in the world, but USA costs an additional $6 per box.
That comes out to $12 per bottle of hot sauce, which in some cases works out to be a good deal. In one of our boxes, we received the Last Dab Triple X ($20), FiyaFiya ($14) and Small Axe Peppers Jalapeno ($10).
If you were to buy these individually on Heatonist, the price would work out to $44 plus shipping, making the box a great (and delicious) deal.
---
Heatonist Discount & Rewards Program
Recently, Heatonist announced an all-new rewards program for hot sauce enthusiasts. When you shop through our unique link and spend $40 or more on your first order, you'll receive a $10 discount!
Once you click the link, you will get a unique discount promo code to use at checkout. Once you sign up and create an account, you can also create your own link and share it with your friends who love hot sauce.

When you have an account, you also earn rewards points when you buy anything on Heatonist.com. For every $1 spent (not including shipping), you receive 1 reward point.
This means that every time your monthly subscription box renews, you'll earn 30 points ($3 equivalent) toward other Heatonist purchases. For every friend you refer who spends $40+ on their first order, you get another 100 points ($10 equivalent).
---
How Do I Skip A Month?
Over the last several months, we have been collecting the new sauces and using as many as we could. But three bottles a month is a lot, even for a PepperGeek, and Hot Ones knows that.
Thankfully, they make it super easy to edit your subscription and skip a month at any time before the boxes ship. They even send out a reminder email letting you know that the box will ship soon and that you can skip this month with a few clicks.

To skip a box, you can navigate to your account, click edit your subscription, then delivery schedule, and finally "skip" the month to skip the box and not get charged. The box will then be resumed the following month.
We love this feature and just how easy Hot Ones makes it to skip a month. It can be overwhelming to have dozens of unfinished hot sauces in the fridge, and skipping a month or two can give you time to finish up what you have left!
---
Does It Ship to My Country?
Unfortunately, the subscription boxes do not ship to every country. Currently, the box can be sent to USA, Canada, Australia, and New Zealand. This means that there is currently no shipping option for the UK for the Hot Ones subscription box.
However, if you order your sauces individually, you can get shipping worldwide. It isn't cheap (the UK costs about $29 to ship one bottle of sauce), but you can get Heatonist and Hot Ones sauces if you want them.
This means that the unique stickers and exclusive access to hot sauces are currently limited to the four countries listed above.
---
Overall Review – Is It Worth It?
In general, we love the Hot Ones subscription box. We love trying new hot sauce flavors and heat levels, and the idea that you never know what you're going to get is exciting.
It's like getting a little present in the mail every month. That's why this box (even just one) would make for an amazing gift for the spicy food nut in your life.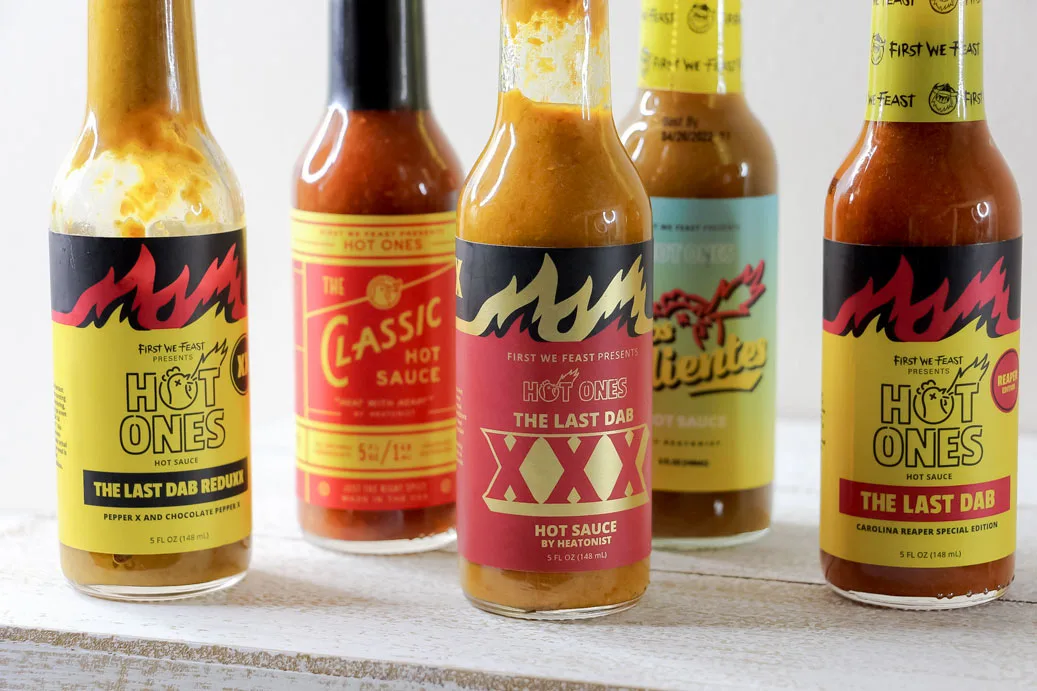 However, if you are not a fanatic about hot sauces, you'll end up with way too many hot sauces. If that is the case, or if you aren't one of the 8 million+ followers of the Hot Ones show (which you should be), you may just want to shop for individual sauces on Heatonist.
The only other drawback is that it is somewhat pricey for hot sauces, especially if you live outside of the USA. If you like treating yourself, and you have a little extra space in the fridge, we highly recommend the Hot Ones Hot Sauce box!