It's no secret that we're die-hard fans of hot sauce over here at Pepper Geek. Fuego Box is one of the most popular hot sauce subscription boxes, so we gave it a try! Here, we'll share our full Fuego Box review.
When it comes to hot sauce, Fuego Box has a very careful selection process. The team hosts regular "hot sauce tasting parties" where they choose the best sauces to be featured in their subscription box.
We would love to be invited to that party. Fuego Box focuses on flavor as opposed to gimmicky extract-based sauce, which is something we appreciate.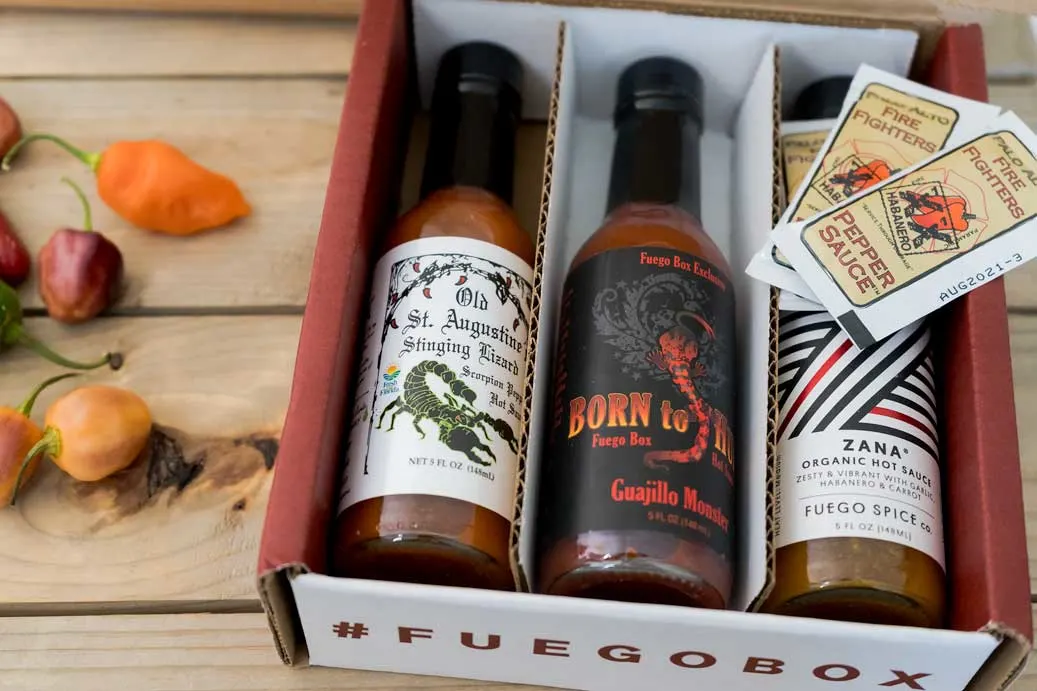 Fuego Box Price And Subscription Options
Fuego Box has three subscription options, all of which you can cancel at anytime. We chose the "Sauce Lover" box which contains 3 hot sauces. After all, we are sauce lovers.
You can also opt for their "Pain Seeker" box. This subscription contains two sauces that are extra hot. Non-extract sauces that contain super hot peppers are more expensive, so it makes sense that this box only contains two sauces.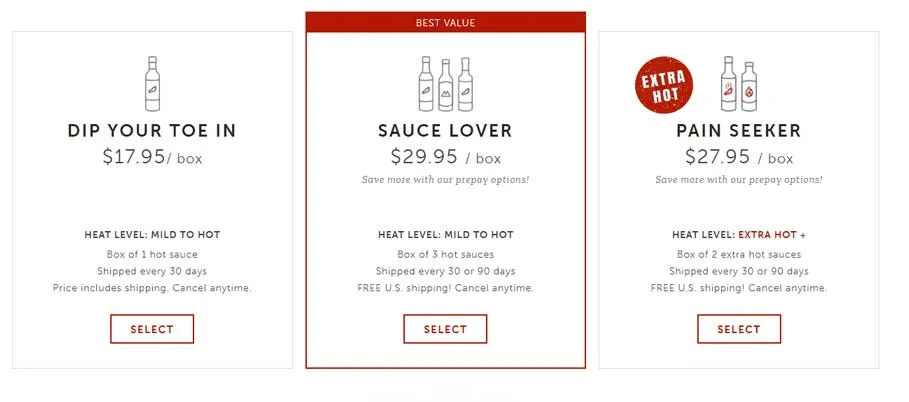 You can also save a couple bucks by prepaying for your subscription (instead of paying month-to-month). If you are dedicated to trying lots of new hot sauces, this will make sense for you.
Fuego Box First Impressions
We were impressed by how quickly our Fuego Box shipped and arrived to our door. When it comes to packages, we hate waiting around, so kudos to them for being so speedy.
On first impression, we loved the Fuego Box packaging. We think the included 'Hot Sauce Log' book is a great idea. It is something we should have been using from the start of our sauce-obsession.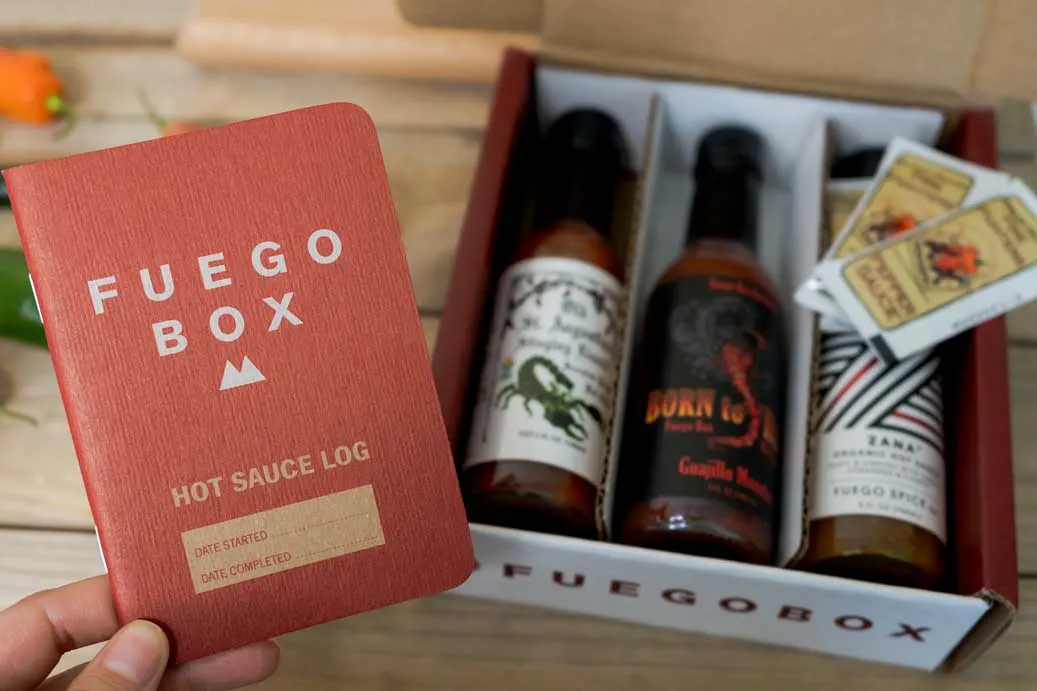 The first Fuego Box you'll receive is an excellent introduction to the service. There is no question that the people who put this together are just as geeky for hot sauce as you are.
Fuego Box Sauces
We enjoyed all the sauces that came in our box. It's a great introduction to the service and a good variety on the heat scale.
Zana Hot Sauce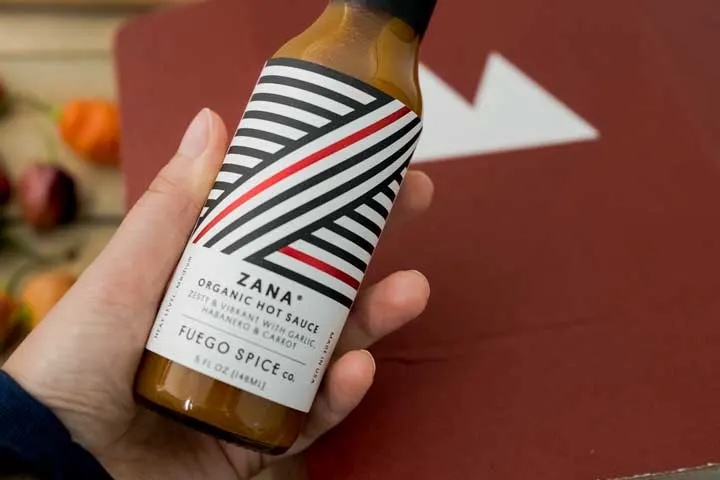 Zana was created by Mike, the founder of Fuego Box. This sauce is very mild and versatile. You could drench a burrito in this without worrying about your mouth catching on fire.
It appears this is what Fuego Box had in mind. A tasty, everyday hot sauce that will compliment almost anything. The first flavors to come through are carrots and vinegar. It's a good, basic sauce and we'll be using the bottle up quickly.
Born To Hula Guajillo Monster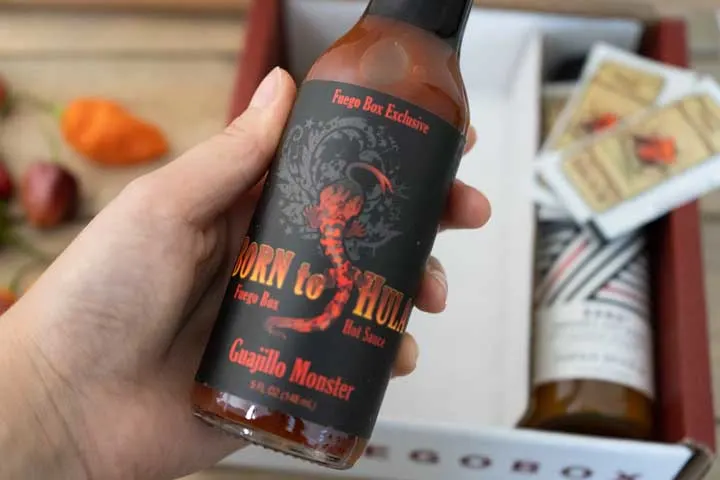 Guajilo Monster by Born To Hula is a Fuego Box exclusive. We love that the company works with small craft sauce makers from around the country. The flavor of this sauce hits your palate instantly.
Out of the three hot sauces, this was our favorite. It gives a pleasant, smokey burn with addicting chili pepper flavor. This would be a great addition to chili, stew, or tacos.
St. Augustine Stinging Lizard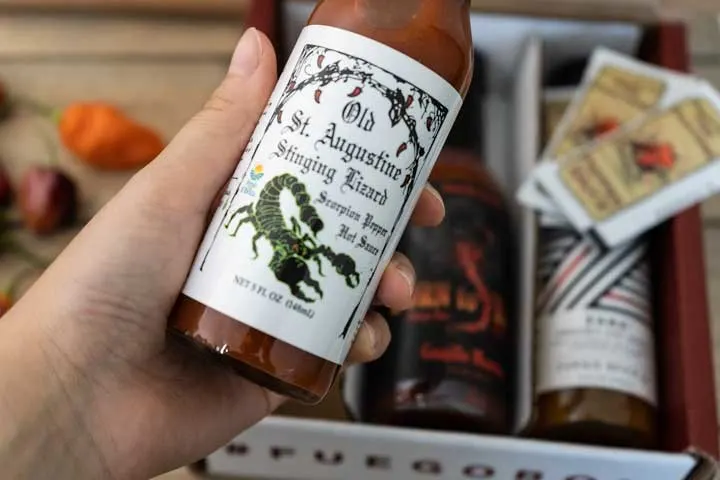 We should have known by the scorpion on the bottle that this would be the hottest sauce out of the three. They claim this sauce is deadly on the heat scale, but we don't agree with that. It's hot, but pleasantly so.
We love the combination of cayenne peppers, scorpion peppers, and datil peppers complimented by garlic undertones.
Also included in the hot sauce subscription box are three packets of Palo Alto Firefighters Habanero Hot Sauce. We love individual packets of hot sauce and would not be upset if every box had them. Glass bottles of hot sauce are not easily transported, but packets make it easy to spice up food on the go!
Overall, we think Fuego Box is a great option for anyone looking for a variety of sauces delivered to their mailbox. If you're a fan of the Hot Ones show, you might prefer the Hot Ones Subscription Box, which regularly includes sauces from the series. If you're looking to compare your options, check out our post the best hot sauce subscription boxes.
Have you tried Fuego Box or any of the other hot sauce subscription options? Be sure to let us know your favorite in the comments! Thanks for reading our Fuego Box review.
---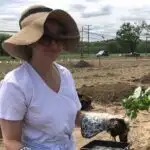 Crystalyn
Crystalyn loves spicy food and getting creative in the kitchen. When she isn't finding new ways to use hot sauce, shes very busy watching cat videos on the internet.