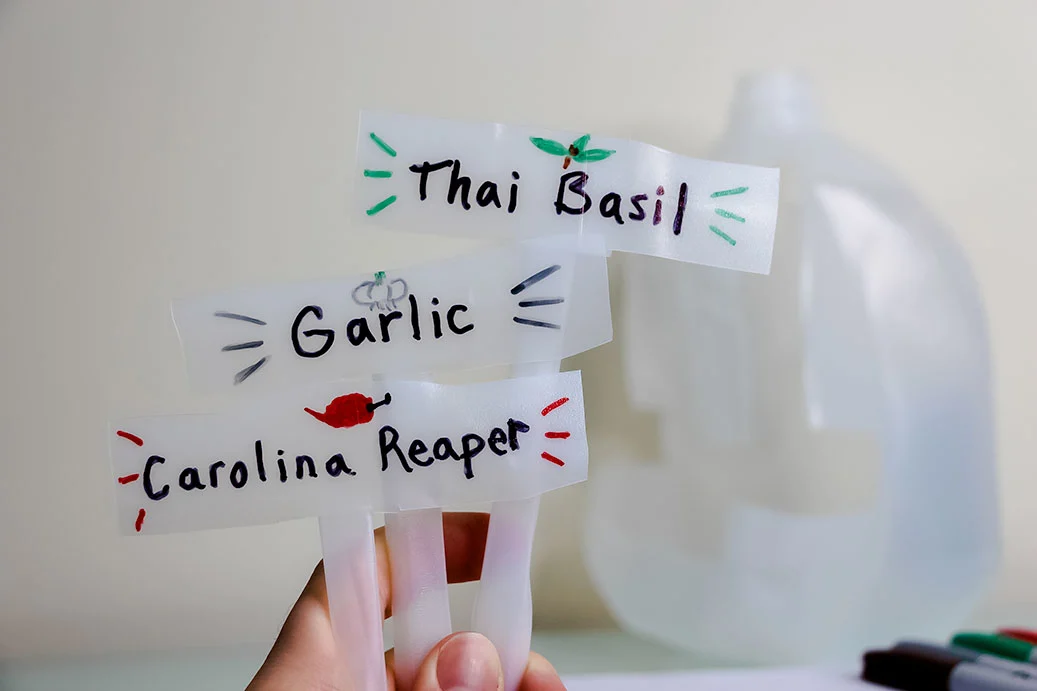 The Winter months can be a tough time for gardeners. Some resort to planting indoors using grow lights or an Aerogarden. Some simply wait patiently, planning diligently for the upcoming growing season. We do both. One of the most important steps is to plan what you will be planting, and how you will organize your garden. If you're plating multiple varieties of peppers or other veggies, using plant markers will be essential. So naturally, we've come up with a few budget-friendly DIY plant marker ideas for your garden.
Repurposed Milk Jug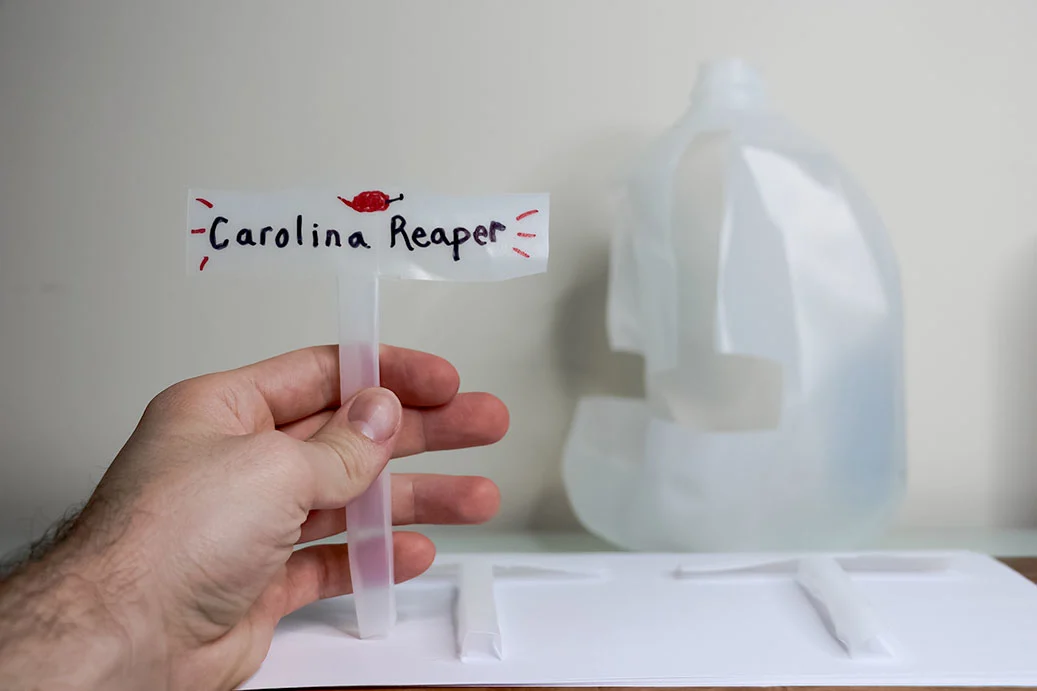 Winter is cold and dry in New England, so we end up buying at least a few jugs of distilled water for our humidifier. This leads to unwanted plastic, destined for the recycle bin. So we thought of a great way to re-purpose the leftover gallon jugs. We turned them into plant labels for the garden!
Steps:
Clean out milk jug with clean water.
Using scissors, carefully slice the jug from the spout, into large 'T' shapes. Make sure the stem of the 'T' is roughly 1-1.5″ thick.
Slice the plant markers in an alternating fashion to use as much of the plastic bottle as possible. For example: T > ┴ > T
Write in permanent marker on the front and back to protect labels from the elements. You can also cover the writing in tape for an extra layer of security against rain.
Tip: Make your labels more sturdy by folding the stem portion over into a cylinder. This will keep the plant markers upright through wind and rain.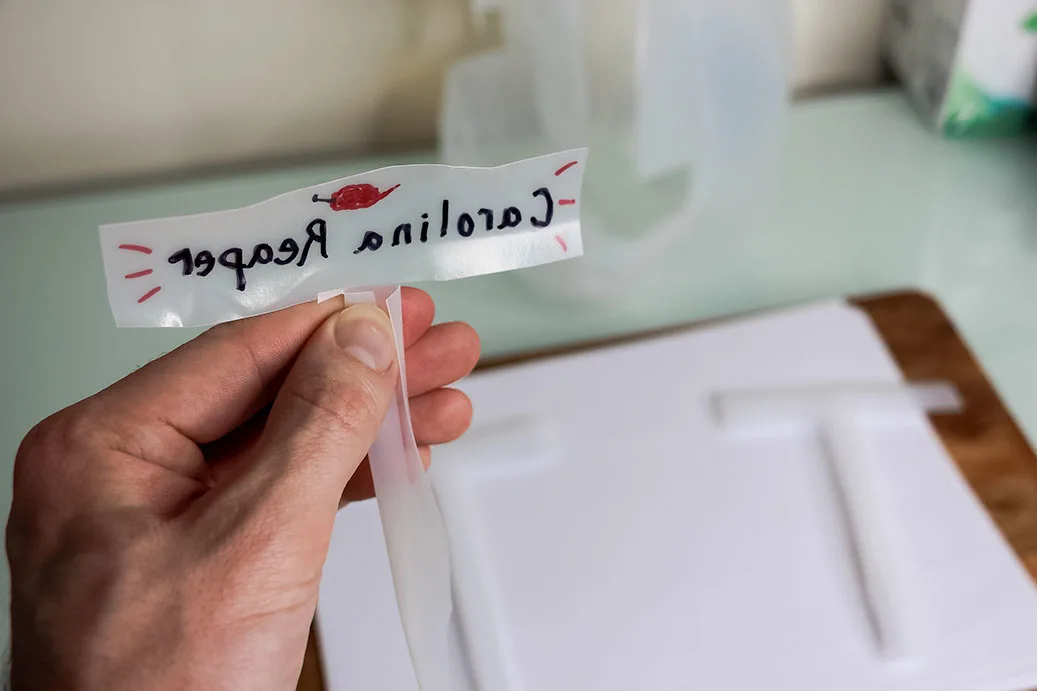 Paint Stir Sticks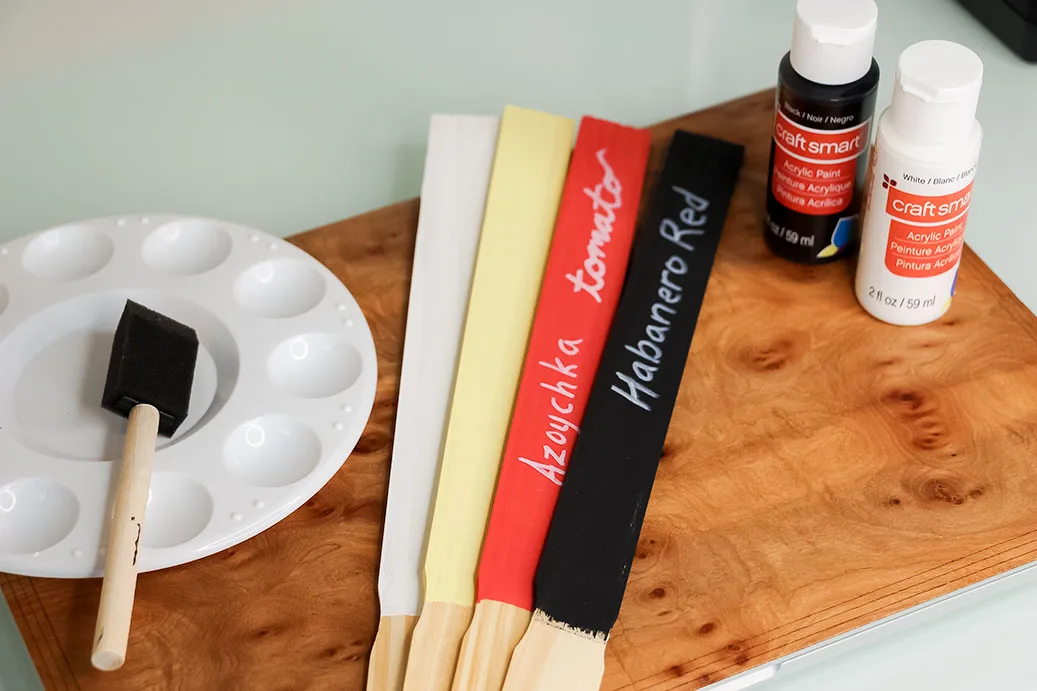 Paint stirring sticks are made of lightweight wood and are very cheap. You can find them at Home Depot or Lowe's for 10/$1. They also make a great template for DIY plant markers. When painted with acrylic paint, these simple pieces of wood are transformed into weather-resistant garden labels. They also bring great color and charm to any garden.
Steps:
Get some paint stir sticks, acrylic paint (we like red, white and black) and a foam paintbrush.
Paint each stick from the base to the tip and allow it to dry. Apply a second coat of paint after the first has dried if necessary.
Using either metallic sharpies or a paint pen, write each plant label vertically.
Tip: Work on top of old newspaper or cardboard to avoid paint spills. You can also use parchment paper to avoid the paint from sticking.
Paint stirring sticks make for a great plant marker thanks to their large surface area. They will also be highly legible in the garden without the need to squint or get too close. You can also color-code your garden for great, vibrant aesthetics.
Rocks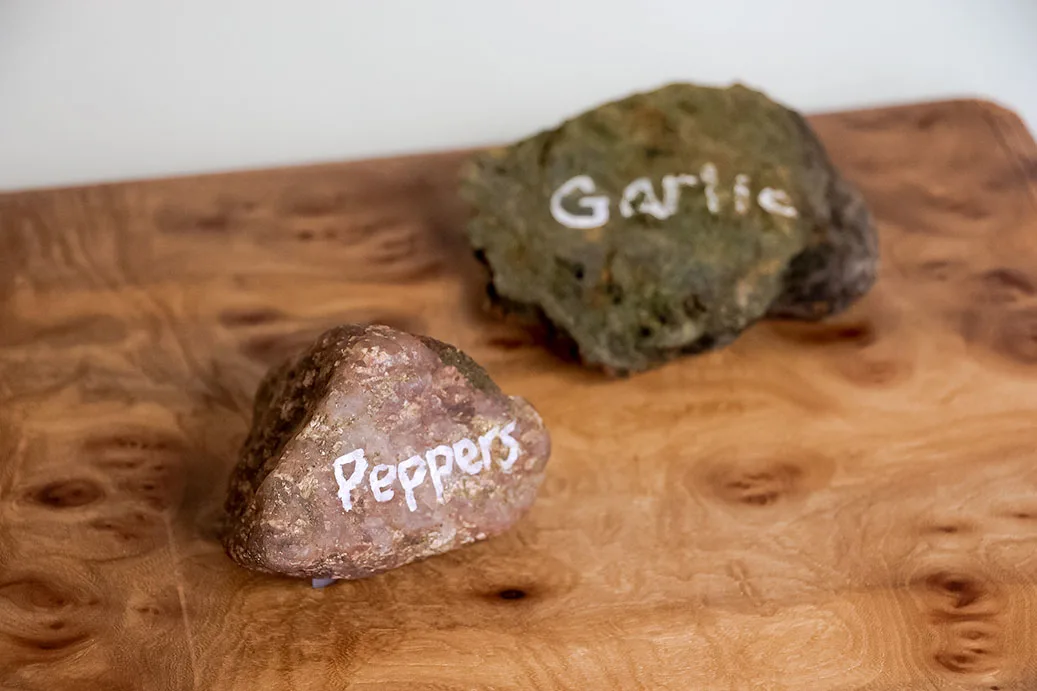 Yeah, that's right, rocks. You know where to find them. Everywhere. All they need is a little cleanup and some weather-resistant paint to become your new plant markers. This is a great way to save time and money. You can even buy your own smooth rocks online if you couldn't be bothered to go rock hunting outside. These are super charming and can be decorated however you please.
Steps:
Find rocks.
Clean rocks.
Paint rocks (with acrylic paint or paint pen).
Rocks are ultimately the most affordable way to mark your different plants in the garden. It gives the garden a truly natural feel. The only potential drawback is that they may collect dirt when it rains, obscuring the writing. If you find tall enough rocks or plan to use mulch on your soil, this becomes a non-issue.
Wood Sticks & Black Tape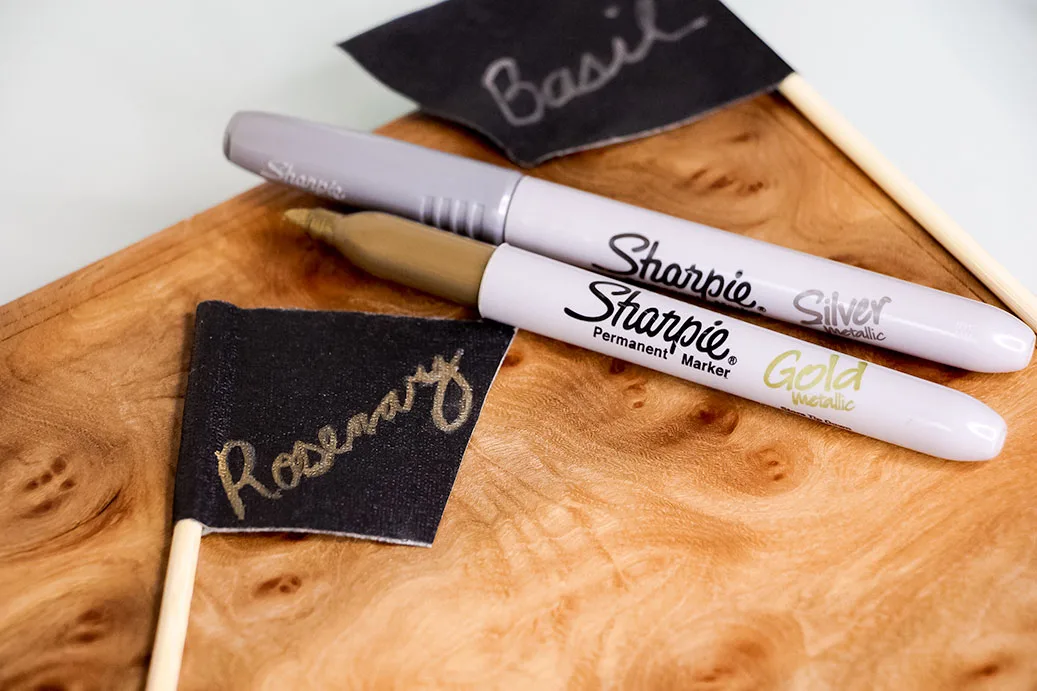 Though these are not the most reusable, wood sticks with black duct tape make a nice herb label. They can be stuck into potted plants at an angle, and make for a nice indoor garden label. The tape can be cut in a variety of shapes and sizes to suit your needs. We are using skewer sticks that we got for cheap on Amazon.
Steps:
Get some wood sticks and black duct tape (either gorilla tape or gaffer tape work fine)
Use 4-6 inch pieces of tape, folding them over the top of each wood stick.
Cut the tape into the desired shape using scissors.
Write on the tape with a silver metallic sharpie or a paint pen.
Wood tends to deteriorate when placed in the ground, so these may not last the longest. However, they are a great container gardening option for their versatile size and shape. They also look pretty neat in the garden.
---
Have more ideas for DIY plant markers? Share them with us on Pinterest!