The craft hot sauce industry is booming. This is thanks to shows like Hot Ones and all the spicy challenges of the internet. As a result, there are thousands of new hot sauces to try. Today, I'll share some of the best (and hottest) Carolina Reaper hot sauces that you should try.
First, an overview of the pepper behind all of these sauces. The Carolina Reaper. The official king of hot peppers, the Reaper is currently recognized as the hottest pepper in the world. There is controversy behind it, but either way, the pepper variety is seriously hot.
This means that any hot sauce company that wants to boast about having a 'super hot' sauce needs to have a sauce with Carolina Reapers in it. So, there are tons of Reaper sauces to choose from.
Some of them have fancy names alluding to the Grim Reaper, others are more subtle. However, they all have one thing in common: They're spicy.
Carolina Reaper Hot Sauces:
---
Hot Ones: The Constrictor
Hot Ones has partnered with Ed Currie of Puckerbutt Pepper Co. to create one of the most viciously spicy sauces we have tried. The Constrictor is nothing but Carolina Reaper peppers and vinegar.
Well, there is also something called 'Carolina Reaper pepper distillate,' which we assume is just a fancy term for natural extract. Heatonist cheerfully refers to this substance as 'Reaper Blood.' Either way, this sauce punches hard.
Each bottle is said to contain around 36 Carolina Reaper peppers, putting the heat level off the charts. Even a tiny dab of this sauce will send you into a world of pain.
The Constrictor was also featured on the first season of Hot Ones the Game Show as the hottest sauce. The reactions of the contestants was not overblown.
The all-new Last Dab Apollo shares the same recipe as The Constrictor, only using Ed Currie's elusive 'Apollo' pepper in place of the Reapers. We have tried both, and The Constrictor is hotter.
Beware of the heat, but also the price tag. This sauce will currently set you back $30 for just 5oz. While this is steep, it is also the hottest all-natural sauce we have ever tasted.
---
Dragon's Blood Elixir: Don't Fear The Reaper
Simplicity. This is the word that comes to mind while tasting this Carolina Reaper hot sauce from Dragon's Blood Elixir. The heat level is high, but the number of ingredients is low. Just Reapers, apple cider syrup, and vinegar.
If you are looking for an approachable Carolina Reaper hot sauce that will give you a good idea of the flavor of the peppers, this is your sauce. Unfortunately, it is commonly sold out thanks to a limited supply of fresh, local ingredients.
Thankfully, Dragon's Blood has a wide selection of other hot sauces, many of which include various superhot peppers. One of our favorites is Wild Elephant Deterrent.
They also have another limited run superhot sauce to take place of Don't Fear The Reaper. Check out the very similar It's Cryin' Time Again here.
---
The Last Dab: Carolina Reaper Edition
Over the years of Hot Ones, The Last Dab has gone through several iterations. With the exception of the latest 'Apollo' edition, none are spicier than the Carolina Reaper edition.
Unfortunately, this sauce is no longer made and has become expensive on the secondary market. Instead, all of the Puckerbutt collaboration sauces now use the mysterious 'Pepper X' and 'Apollo' pepper varieties in lieu of Reapers.
This older version of The Last Dab is delicious and spicy, while the Apollo edition lacks flavor. We are grateful to have an opened bottle of this in the fridge for when the moment is right.
Chunky Reaper peppers mix with savory cumin, fresh ginger and dry mustard for a truly unique flavor. Thankfully, these sauces last a long time (unless you're a chilihead). We, however, will have our Last Dabs for many years to come!
Get the current Last Dab Triple X sauce here.
See our review of the Last Dab here.
---
Chase The Heat: Pineango
Now this sauce was a total surprise. I frequently enjoy watching Johnny Scoville eat preposterous amounts of fresh superhot peppers on his YouTube channel. Finally, he released his first branded hot sauce: Pineango.
The flavor of this sauce is extremely sweet, almost like eating liquid candy. However, all of the ingredients are natural and blend beautifully. For example, mango and pineapple, key lime juice, vidalia onions and yes, Carolina Reapers.
In fact, Reapers are the only source of heat in this sauce, with every other ingredient simply adding to the flavor profile. The hot peppers are the 9th ingredient in the sauce, making for a medium-hot level of heat.
I loved this sauce, but if you don't like sweet sauces, it may not be for you. Some have said that it even goes well on ice cream. We didn't get a chance to try that, but our bottle didn't last long.
We only wish this sauce was available on Amazon, or with free shipping, as the price is a bit high. Either way, we'll be back for more of Johnny's Pineango, and hopefully his 2nd CTH sauce.
Read our full review of Pineango here.
---
Torchbearer Sauces: Reaper Evil
Torchbearer makes some of the most unique hot sauces, both in flavor and artistic design. Reaper Evil is among their spiciest sauces available. When the first ingredient is Reapers, you know it is serious.
The sauce is more savory than sweet, with the main flavor contributors being garlic, onions and black pepper. This makes a great addition for meat or rice dishes that need a kick of heat.
Note: If you are looking for something with respectable heat and a better flavor (in our opinion), try Torchbearer's Zombie Apocalypse here. No Reapers, but its one of Crystlyn's favorites!
---
SeaFire Gourmet – Reaper Sauce
Heat: 7/10
Flavor: BBQ, sweet, smokey
Price: $$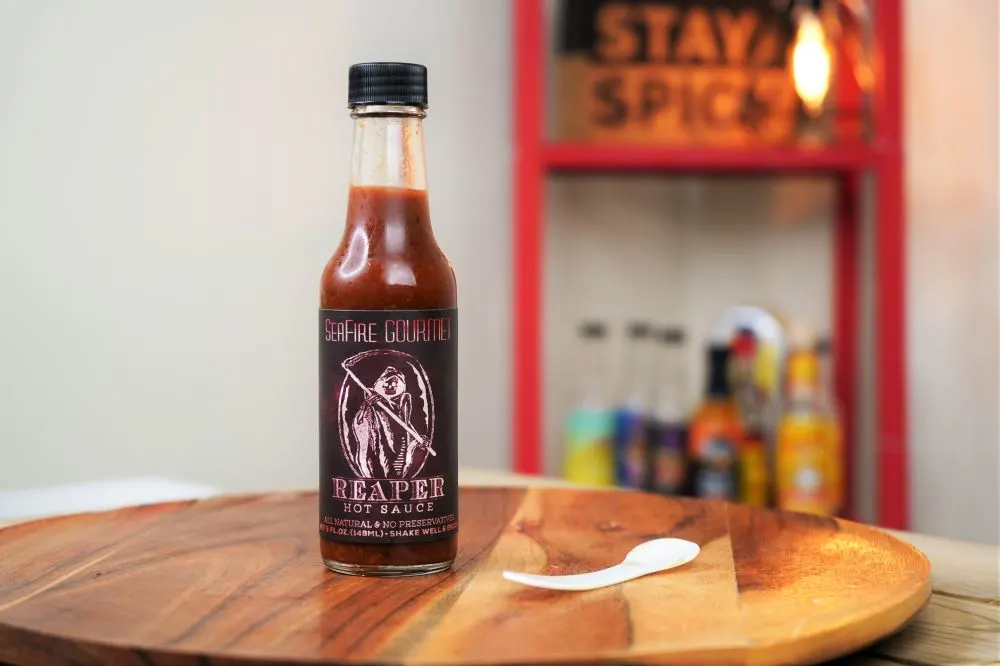 Not all Carolina Reaper hot sauces need to be painfully spicy. SeaFire Gourmet's Reaper Sauce is reasonably hot with lots of mouthwatering flavor.
Think sweet, spicy BBQ sauce and you'll get an idea for this sauce's flavor. The rich, thick sauce pours almost like honey and is full of pepper chunks.
This became an instant favorite in our house, perfect for chicken or anything off the grill. If your favorite dipping sauce isn't as hot as you'd like, substitute this next time!
---
Hellfire – Fear This
Save the worst burn for the last. Hellfire makes some viciously spicy hot sauces, and Fear This is no exception. Full of the hottest peppers on Earth, this sauce is also not too terrible tasting.
Get this if you want something complex and savory. Sun-dried tomatoes, tomatillos, curry powder, black pepper, lime juice, ginger, and more. The flavor was fine, but it seemed like they tried a bit too hard. It was chunky, but too savory and vinegary for our tastes.
Watch us try Fear This on our YouTube channel.
---
Did you find the right Carolina Reaper hot sauce for your needs? This is by no means a comprehensive list of all the available options. However, these are some of our personal favorites.
I will keep this list up to date as time goes on and as we try more Carolina Reaper sauces. Be sure to let me know what your favorite Reaper sauces are so we can find some new ones to try.