The founders of Pepper North Artisan Foods had a typical foray into the hot sauce game. Like many of us, they began with a love for growing spicy peppers at home and experimenting with them in the kitchen.
Based out of Oshawa, Canada, Pepper North has grown a sizeable fanbase across the country. Now, their Stargazer hot sauce has been featured in the number 7 spot on season 11 of Hot Ones on YouTube.
Stargazer has everything we love in a hot sauce: a unique set of ingredients, a perfect consistency, and some super cool artwork on the label. It's also pretty spicy.
Many of their hot sauce names refer to the sun, perhaps paying some respect to the source of energy for pepper plants. As fellow pepper lovers, we are excited to review Stargazer hot sauce here on Pepper Geek!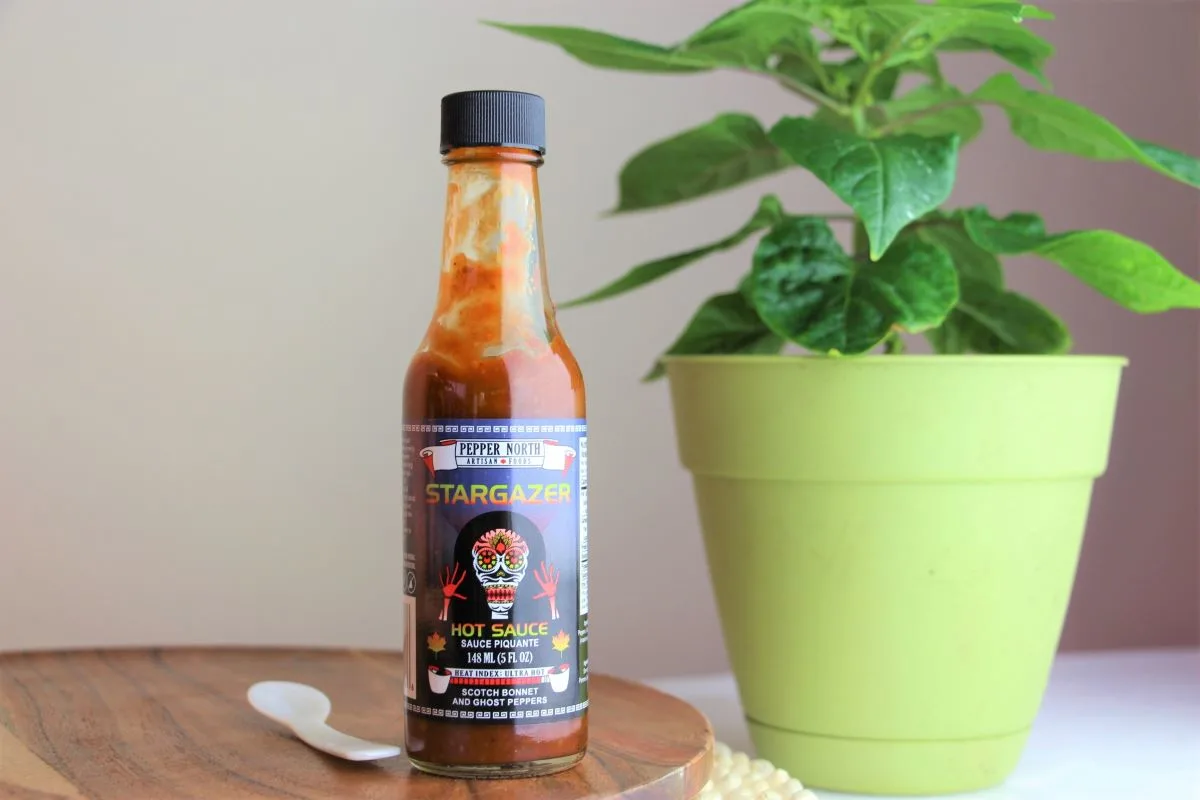 Buy Some On Heatonist
*Get $10 off when you spend $40 using our unique Heatonist referral link.
Or, buy on Pepper North here (cheaper if you live in Canada).
---
---
Stargazer Hot Sauce Review
So many sauces start with the wrong ingredient. Water, vinegar, etc. Whenever I see a new hot sauce starting with one of these, I lose a little bit of excitement. It's not that a delicious sauce can't start with water or vinegar, we just love a sauce that's extremely pepper-forward.
Stargazer gets it right.
The first three ingredients are different varieties of peppers. In particular, Stargazer begins with jalapenos, scotch bonnnets and ghost peppers. As a result, this is currently Pepper North's hottest sauce, and we can see exactly where the heat comes from.
Flavor
Lightly smokey, sparking memories of outdoor campfires
Woodsy, maple sweetness and citrus undertones
Slight superhot pepper flavor
How To Use It
Add to BBQ grilled chicken around the campfire
Spice up a bowl of fresh salsa or guacamole
Mix it into a burrito bowl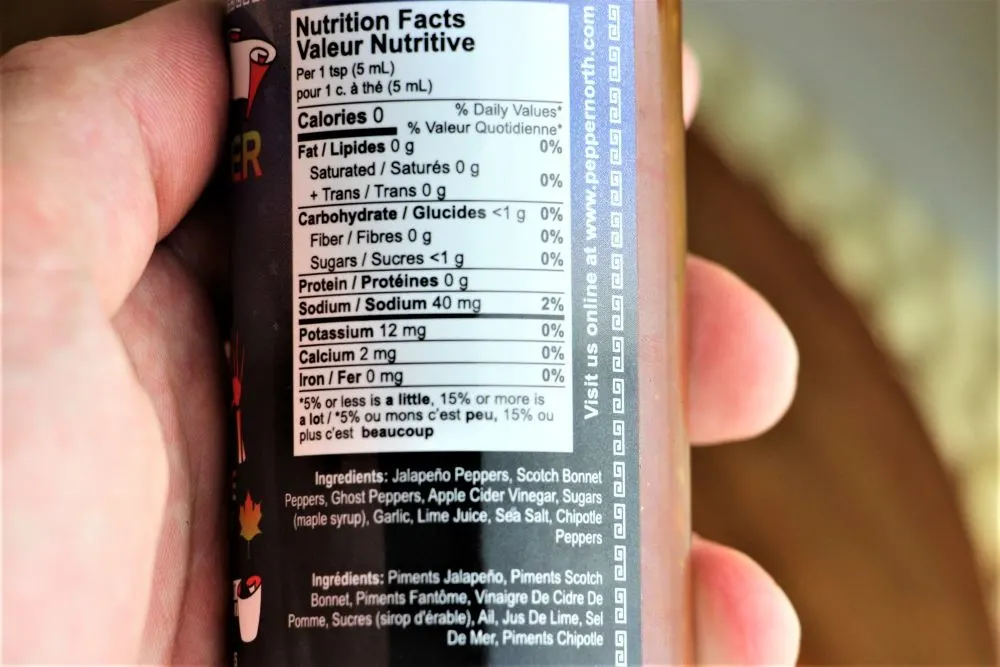 The peppers all come together to bring a front-of-the-mouth burn that builds and lasts. The maple syrup adds the perfect touch of sweetness, and the lime juice adds a citrusy zing that hits immediately. The salt content is relatively low at 40mg per teaspoon (about 2% DV), which seems adequate for a punchy flavor. The ingredients are simple and elegant, rounding everything off with smoked jalapenos (chipotles) for a mild level of smoke.
---
Stargazer Hot Sauce Scoville Rating
If you are a true chilihead, I don't think Stargazer will knock your socks off. However, the heat builds to a respectable level, fast. The ghost pepper held the record for the world's hottest pepper for some time, and they are the 3rd ingredient in this sauce. While heat is around a 4/5 on our heat scale, we have certainly tried hotter sauces. With that said, Stargazer is no slouch!
Simply put, Stargazer hot sauce reaches an impressive 118,000 SHUs on the Scoville scale. This places it around the same level as Karma Carnival. I really enjoyed the complex heat from this sauce, using a total of 4 pepper varieties to achieve a beautiful flavor and spiciness.
---
Stargazer Hot Sauce Consistency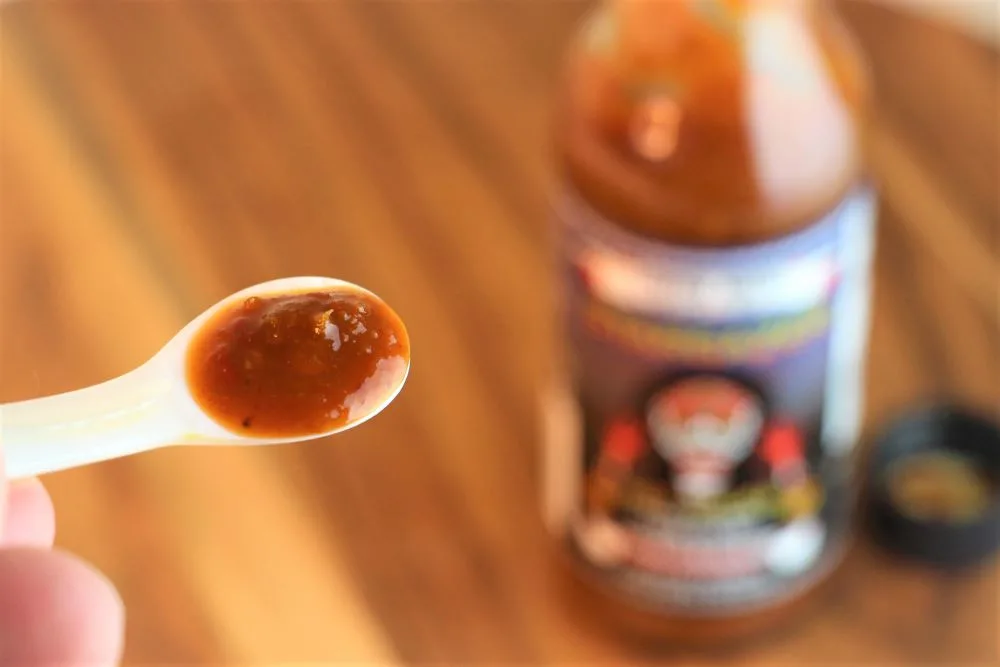 With the perfect balance of sugars and peppers, Stargazer has the absolute ideal texture. It pours effortlessly from the bottle but doesn't come recklessly spilling out. Small chunks of peppers and garlic can be seen and tasted in the sauce. I love when a hot sauce can almost be chewed when eaten on its own. This makes Stargazer a great addition to some chunky homemade salsa or a burrito in need of some kick.
---
Stargazer Hot Sauce Price
The price for a bottle of Stargazer varies depending on where you are located. If you are in Canada, it is likely best to buy through Pepper North directly, as shipping will be cheaper. However, for US residents, Heatonist has better domestic shipping rates. The hot sauce alone will cost between $12-14. This sauce is also available on Amazon.
The reason that a 5oz bottle of sauce costs over $12 is simple: scarce ingredients. Ghost peppers and other superhots are becoming difficult to source with the popularity of hotter and hotter sauces on the rise. Since this recipe is natural and includes some of those hard-to-find peppers, the price is a bit higher than average. However, if you want real ingredients (with we always do) and high-heat, you'll have to pay the price. This one is well worth it in our opinion.
---
Overall Thoughts On Stargazer
Stargazer hot sauce falls perfectly between the medium heat and the super spicy hot sauce ranges in our collection. The slightly smoky flavor and the natural sugars are perfectly balanced, with three of our favorite peppers topping the ingredients list. Despite the high heat, I suspect this hot sauce won't last very long on our hot sauce shelf in the fridge.
Keep up the great work, Pepper North, and we can't wait to try some of your other sauces!
Get your own bottle on Heatonist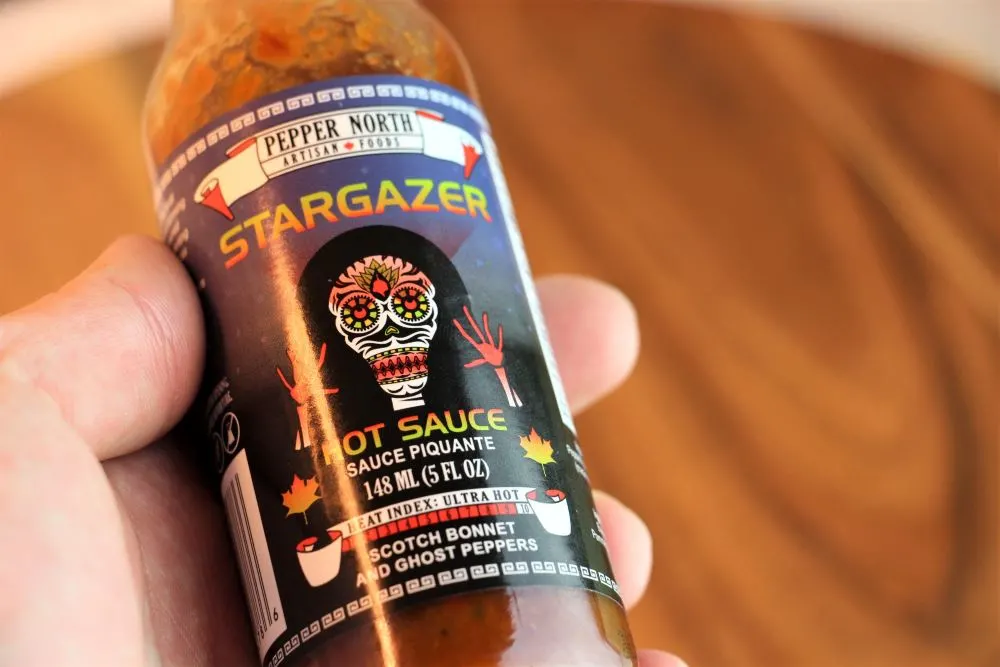 ---