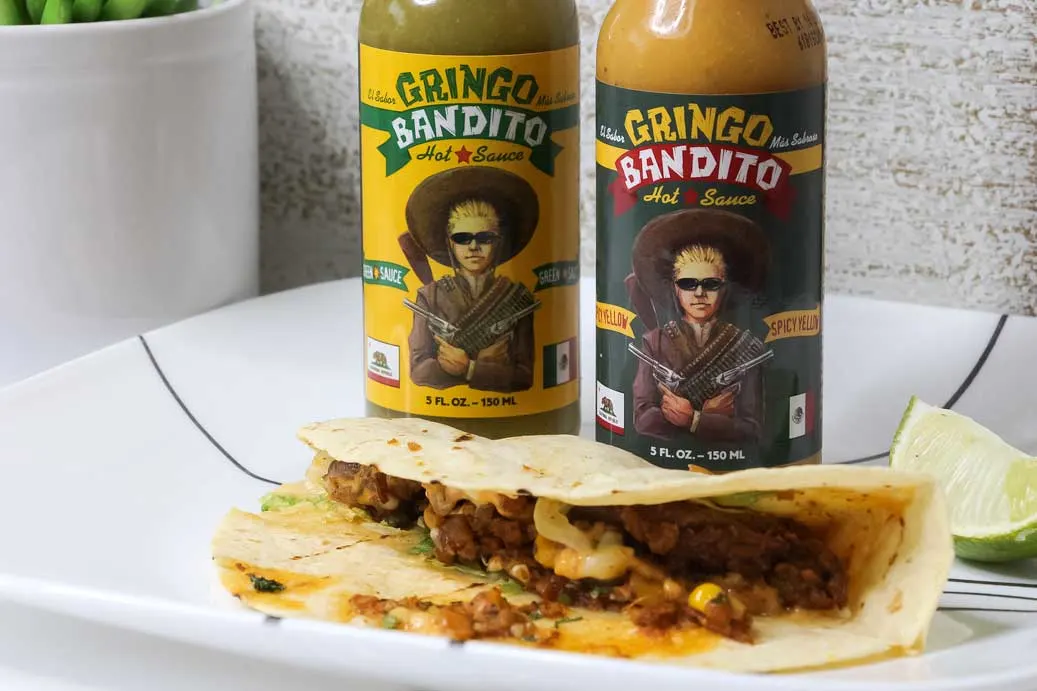 Gringo Bandito hot sauce comes to us from Dexter Holland, vocalist of the platinum-selling punk rock band, The Offspring. Like many sauces, Gringo Bandito started off as a small hobby for Dexter.
His genuine love for hot sauce and Mexican food inspired him to create his own sauce to share with friends and family. People loved it. After one taste of Gringo Bandito, you'll understand why this passion project grew so quickly.
Gringo Bandito is currently one of the top-selling sauces on Amazon and has sold over 1 million bottles in the US!
Gringo Bandito gifted us four of their hot sauces to try. While they're all delicious in their own unique way, our absolute favorite was the Gringo Bandito Green Sauce. Coming in a close second was their newest flavor, Spicy Yellow.
Gringo Bandito flavors are available on Amazon. We would recommend grabbing the variety pack!
---
---
Gringo Bandito Green Sauce Review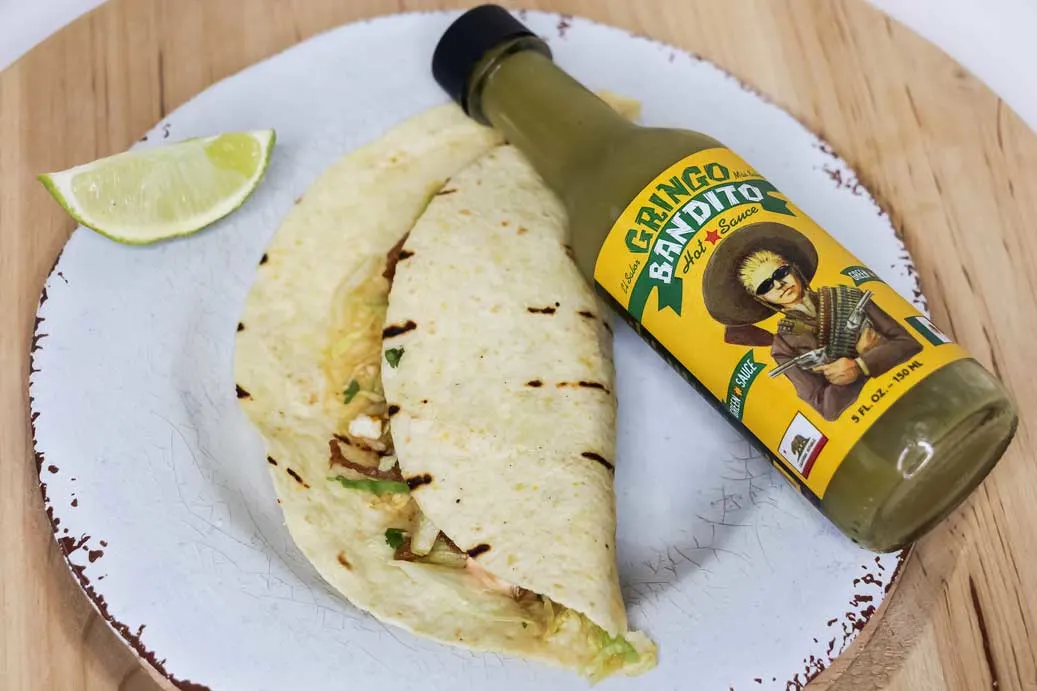 Review disclaimer: These sauces were gifted by Gringo Bandito to Pepper Geek for our honest review. All thoughts and opinions are our own.
Gringo Bandito green sauce is definitely spicier than the original red hot sauce. The pepper flavor comes through strong with a great balance of tangy vinegar and spices. It's not too sweet, not too salty, and not too spicy. You'll find this sauce is extremely versatile.
Flavor
A great balance of tasty pepper flavor and tangy vinegar
Has a fresh Mojo flavor that compliments seafood very well
None of the spices are too overwhelming that they "take over" the sauce
How to Use It…
Add it to tacos (exceptionally good on fish tacos)
Spice up a quesadilla, nachos, or a burrito
Experiment spicing up seafood dishes
Dab it on a slice of pizza or your eggs in the morning
Use it to make a unique aioli
One whiff of this sauce and you'll be whisked away to a taco stand on the beach of Southern California. It really does smell as good as it tastes.
Dexter, we're going to formally request you make some sort of green sauce scented candle to get us through the winter.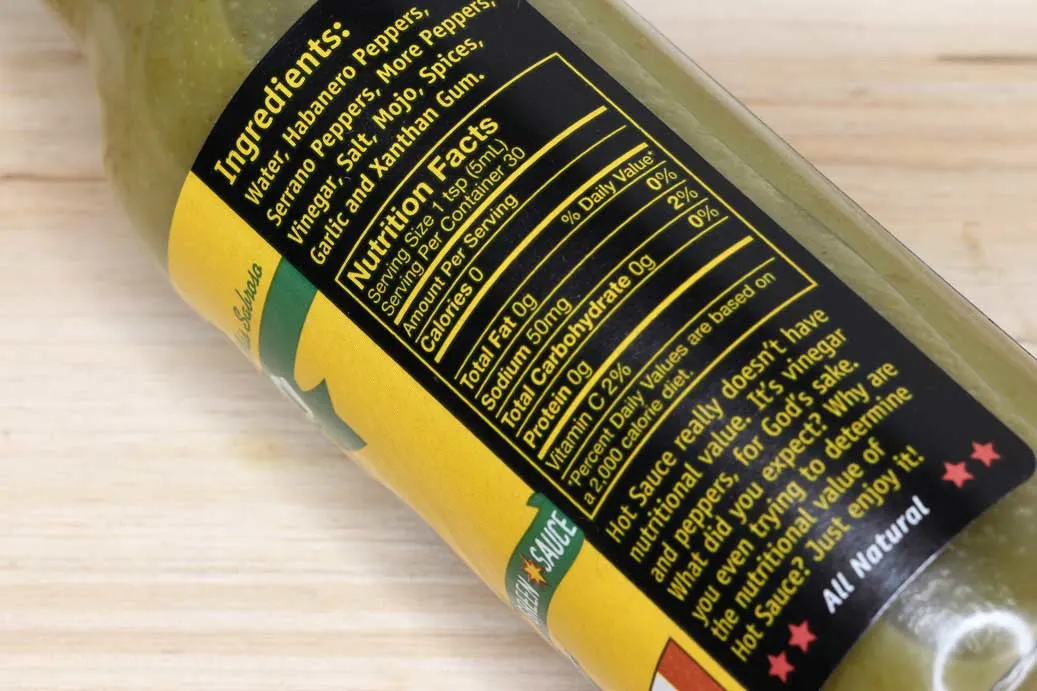 We're used to green sauces being the mildest of our collection, but this one took us by surprise. The strong flavor, low sodium, and tolerable heat level are a winning combination.
Gringo Bandito Scoville & Spiciness
Big news – Gringo Bandito has officially tested their sauces! Their Original Red Sauce sits at 820 SHU, and their Super Hot Sauce clocks in at 2,900 SHU.
However, we're not reaching for this sauce for the heat level. The reason we love this sauce is the unique, addicting flavor that makes it so versatile for a variety of foods.
Where To Buy Gringo Bandito Hot Sauce
Gringo Bandito is sold in various grocery stores, so be sure to check for it the next time you're cruising the hot sauce aisle. You can also buy Gringo Bandito from several online retailers, including Amazon and the Gringo Bandito website.
Gringo Bandito Hot Sauce Consistency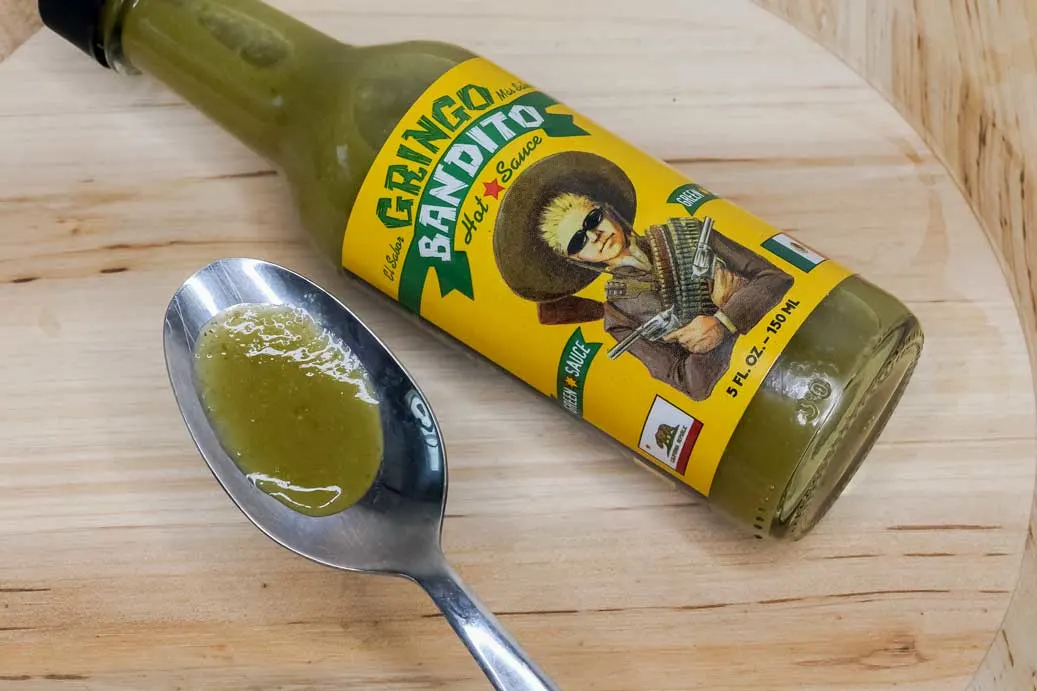 All of the Gringo Bandito sauces are thin enough to pour easily from the bottle. If you're not careful, you can over-sauce your food, but we had no complaints about that happening. The sauce is also thin enough that it can easily be mixed into a recipe.
Other Gringo Bandito Flavors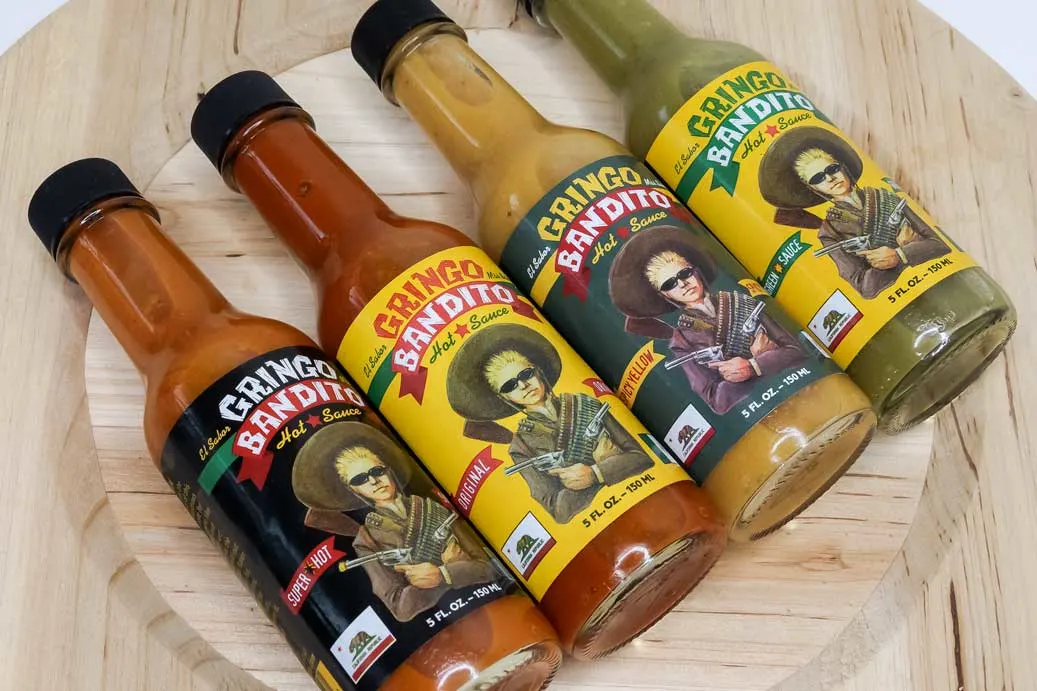 Gringo Bandito Original – Great if you're looking for a milder "everyday" sauce. This one will win your heart if you're a fan of Cholula or Tapatio. Not a fan of anything overwhelmingly spicy? Start here.
Gringo Bandito Super Hot – Kicks up the heat with Scorpion and Ghost peppers. A more powerful flavor and spice level if you're looking for it.
Gringo Bandito Spicy Yellow – One of the newest sauces in the Gringo Bandito collection. We love the flavor of this one. The scotch bonnet peppers and habanero give it a beautiful color and delicious kick.
Overall, the Gringo Bandito sauces are great. Not only are they incredibly versatile and flavorful, but they're also affordable and come with novelty.
These sauces would make a great gift for anyone who is a fan of The Offspring or spicy food. So grab a bottle and get ready for a serious party in your mouth. Give it to me baby!
---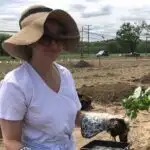 Crystalyn
Crystalyn loves spicy food and getting creative in the kitchen. When she isn't finding new ways to use hot sauce, shes very busy watching cat videos on the internet.