If you're a true pepper geek like we are, then you probably enjoy Hot Ones on YouTube. If you haven't heard of it, its 'The show with hot questions and even hotter wings,' hosted by Sean Evans.
Basically, Sean invites famous people to eat 10 progressively hotter wings while being interviewed. It's fantastically entertaining both for the inevitable spicy struggles and the well-researched interview questions.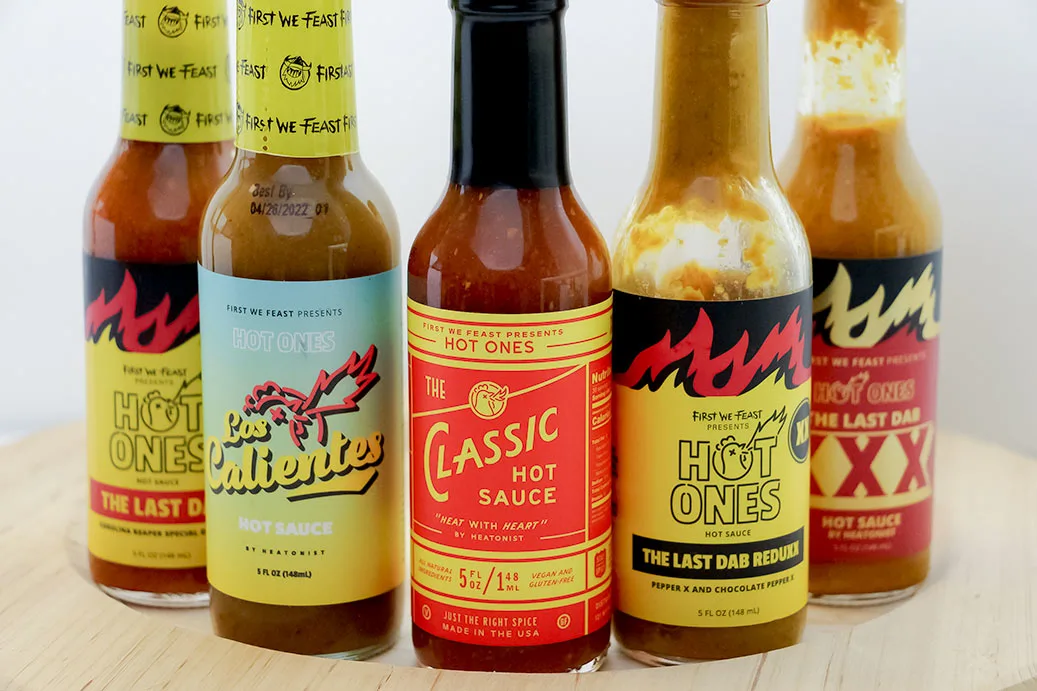 You may also know that Hot Ones has created some of their very own hot sauces that are featured on the show. Out of the 10 hot sauces used to spice up the wings, 3 of them are homemade by Hot Ones.
The Hot Ones sauces range in heat level from mild and tingly to almost unbearably spicy. Recently, Heatonist announced the addition of brand new Hot Ones sauces available first exclusively in the December 2019 Hot Ones subscription box. This means that the Hot Ones collection of hot sauces is continuing to expand and cover more flavors and levels of heat.
In this article, we'll go through the existing hot sauces from Hot Ones, where to buy them, along with our brief review of each. We have also reviewed most of the available Hot Ones sauces, and if we have, we'll provide a link to a more in-depth review. Let's get started!
Skip Ahead:
The Classic
The classic is the mildest sauce that Hot Ones currently sells. It comes in at just 1,800 SHUs on the Scoville scale, putting it in the same vicinity as Tabasco or Frank's RedHot.
We love the natural, almost maple-like Chile de Arbol flavor and the simple ingredients list. This sauce has found a home at the first spot on Hot Ones YouTube show, and we suspect this won't change any time soon.
Buy your own bottle of The Classic on Heatonist here.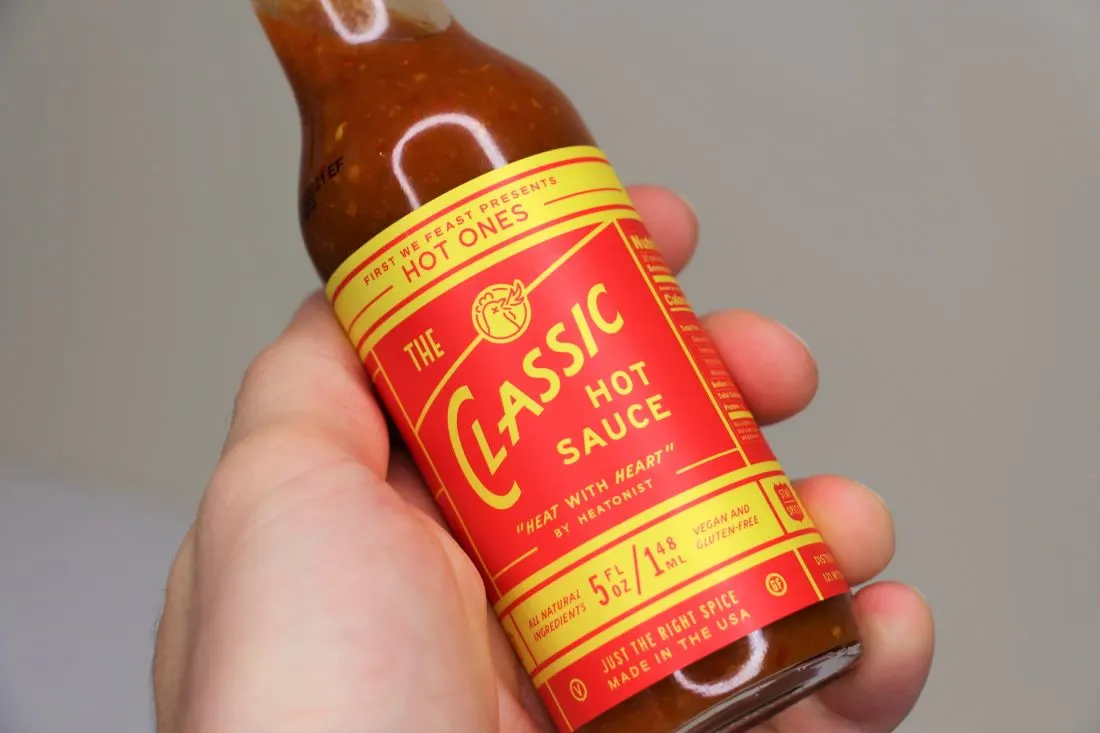 The Classic Pepper X Edition (NEW)
One of the exciting experiments from from Hot Ones, The Classic Pepper X edition spices up the relatively tame Classic using the Pepper X peppers from the Last Dab. We have finally tried it thanks to the Hot Ones subscription box! Check out our in-depth analysis and taste test here.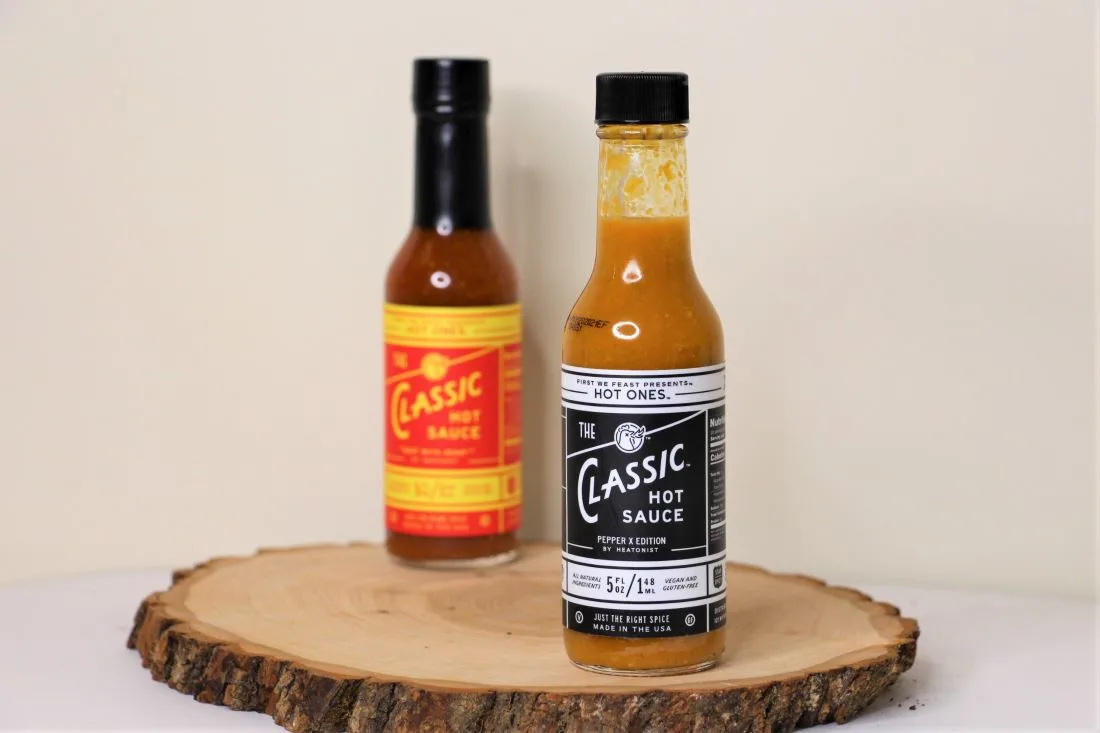 ---
Los Calientes
One of our favorite hot sauces we have reviewed, Los Calientes brings the tropics to the table. Sweet, tangy and exploding with delicious flavor, Los Calientes is a great all around sauce.
Los Calientes held the number 5 spot for many seasons, only recently being moved down to the #4 spot on Hot Ones to make way for hotter sauces.
Coming in at around 36,000 SHUs on the Scoville scale, this sauce packs the perfect punch. In our opinion, not too spicy, not too mild, and definitely not lacking flavor.
Buy a bottle of Los Calientes on Heatonist here.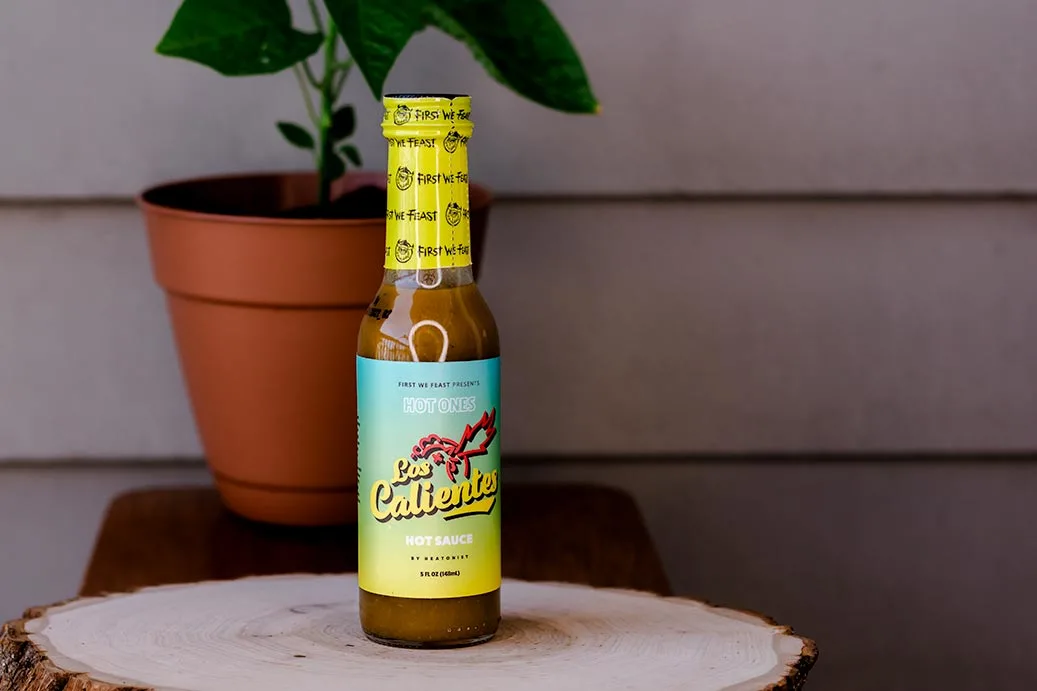 Los Calientes Rojo (NEW)
Another new sauce from Hot Ones, Los Calientes Rojo takes the delicious, tropical notes from the original and spices things up. The new recipe swaps serrano peppers for smoked red ripe jalapenos. They also use more habaneros to bring the heat level up slightly.
This sauce was the surprise of the already exciting Hot Ones box. The smokey jalapenos make the already impressive Los Calientes even better. We hope this sauce is here to stay.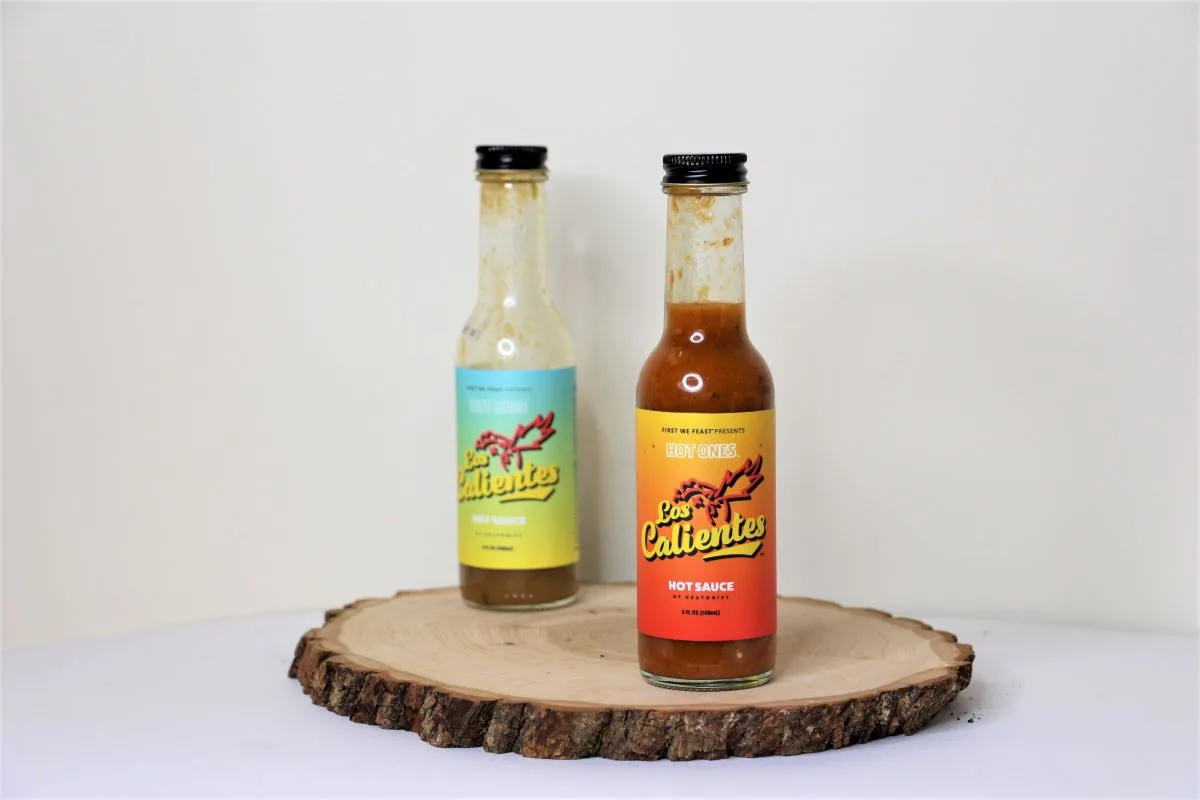 ---
The Last Dab
The Last Dab holds the notorious #10 spot on Hot Ones, and for good reason. I tried the Triple X variant on our YouTube channel, and the results were…interesting. I may have had to do some editing to make things appear smooth.
Anyway, The Last Dab is super spicy thanks to the Pepper X Peppers used in the recipe. These are a relatively new breed of peppers created by none other than Smokin' Ed Currie of Puckerbutt Pepper Company, the man responsible for the Carolina Reaper.
It has not been officially crowned the world's hottest pepper, but some specimens of the Pepper X Pepper have shown incredibly high capsaicin levels (over 3 million SHUs raw). This means that an official new world record holder is just around the corner.
While this may sound like an intolerable nightmare in hot sauce form, The Last Dab actually manages to be flavorful enough to use in small amounts. Cumin, turmeric and ginger come together to bring out a unique, Indian inspired flavor with a consistent burn.
While it does come in at a claimed 2 million+ SHUs, it isn't an overwhelming heat (unless you go overboard). It will give a nice burn, but it isn't nearly as violent as eating a raw super-hot pepper.
Last Dab Triple X
The most recent super hot version of the Last Dab, Triple X is in the #10 spot on Season 10 of Hot Ones. Fiery hot, and on par with the predecessor the Last Dab Reduxx for flavor. It isn't cheap, at around $20 plus shipping on Heatonist, but it sure will last a long time.
Buy a bottle of Last Dab on Heatonist here.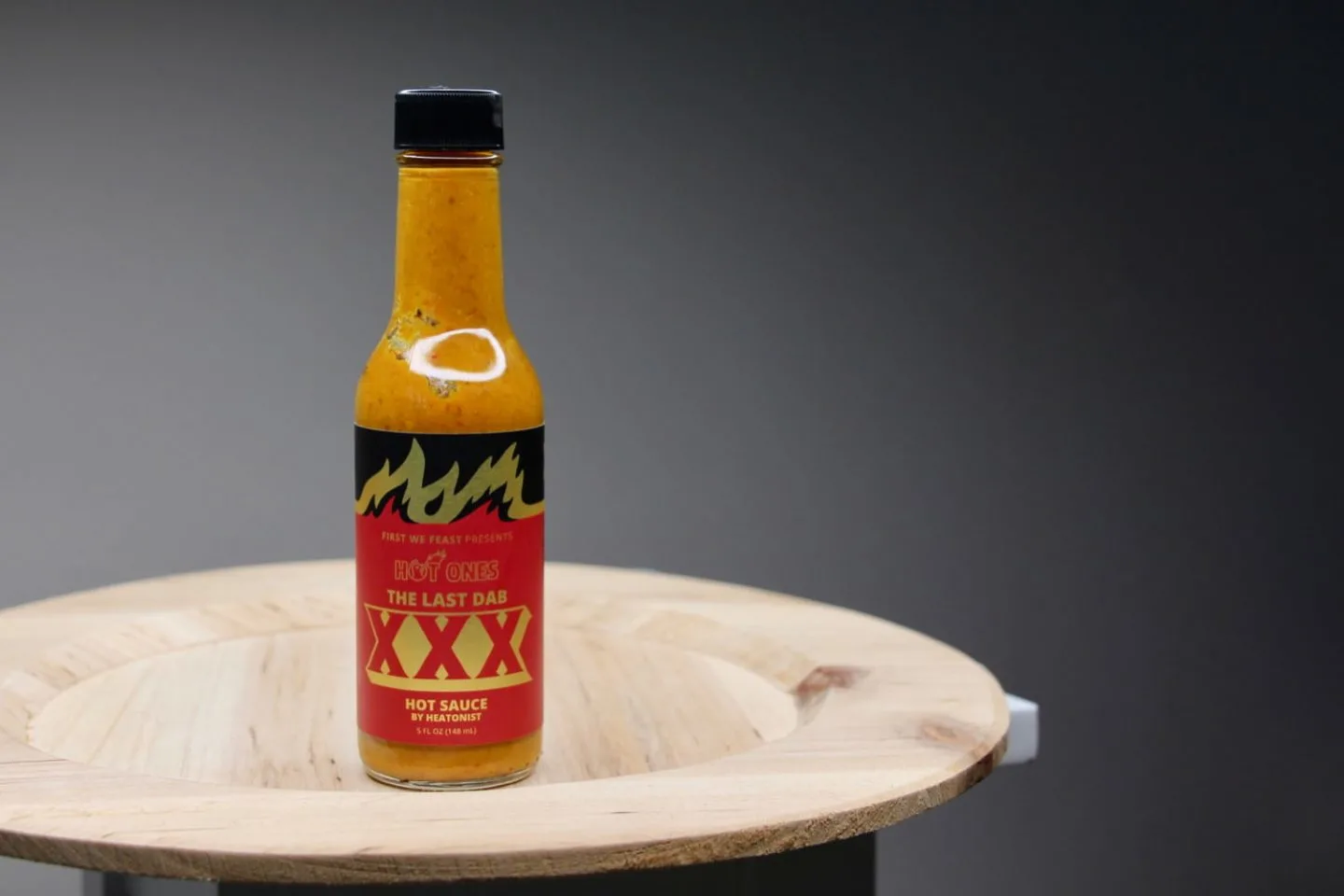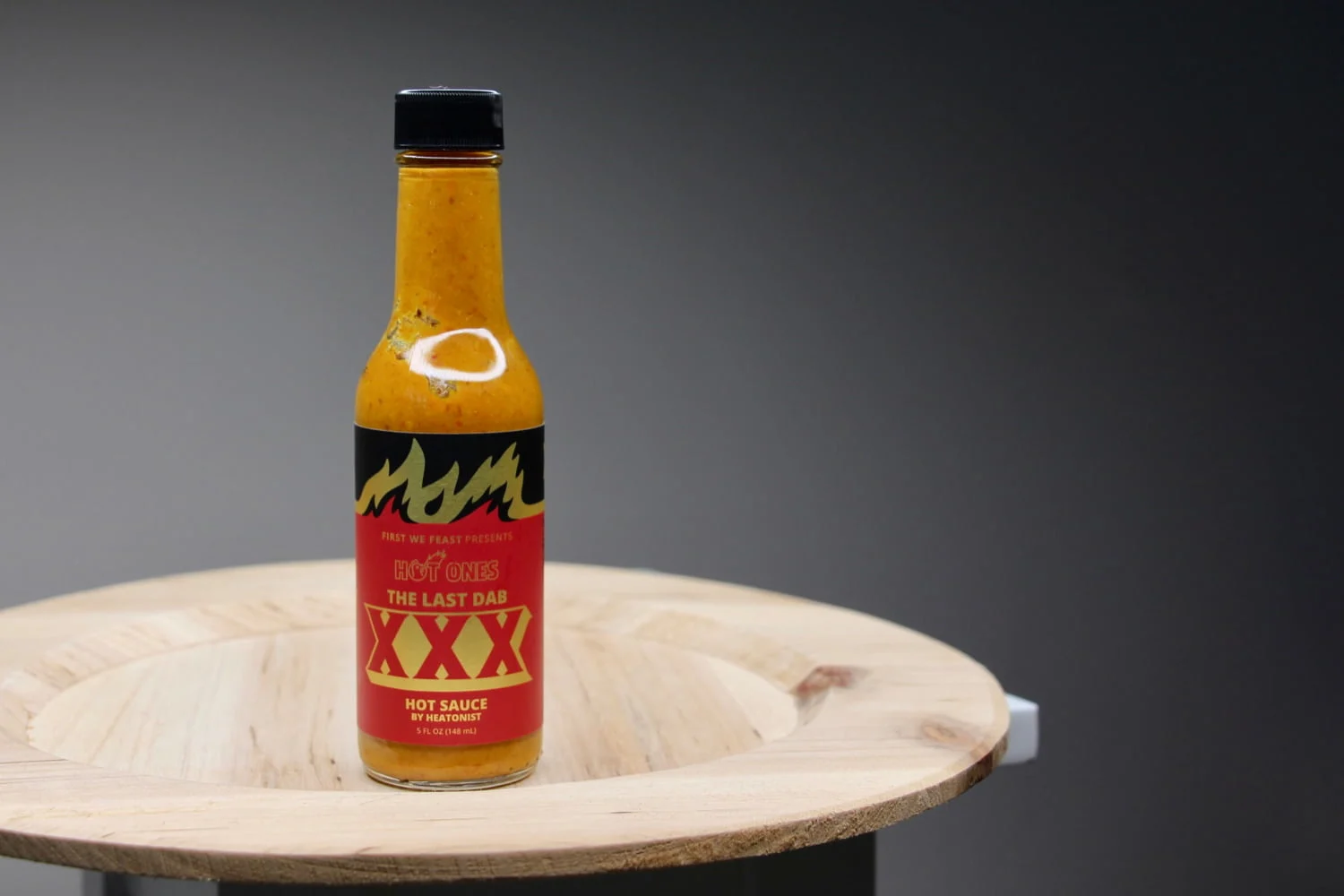 Last Dab Reduxx
Almost identical in flavor to the newer Triple X sauce, the Last Dab Reduxx came just before the most recent iteration. No longer available for purchase on the site, we recommend simply getting the Triple X if you want to try it.
However, we did have a bottle of Reduxx and were able to review it here. We now have two opened bottles of Last Dab in the fridge. We suspect they'll be there a while.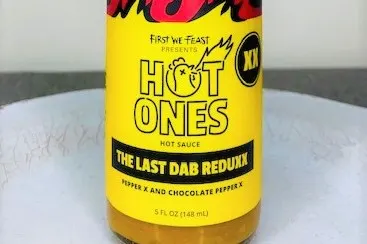 Last Dab Chile De Arbol Special Edition (NEW)
The final new Hot Ones hot sauce is a mild version of the Last Dab using Chile De Arbol peppers. This sauce allows us to enjoy more of the delicious flavor of the Last Dab without having to have a glass of milk on standby.
The Chile De Arbol peppers in this sauce are chopped roughly, giving this sauce a new level of chunkiness. The flavor is also very much different from the Reduxx version but still has that savory mustard profile. This sauce is great for Indian food and will not make your tongue catch fire.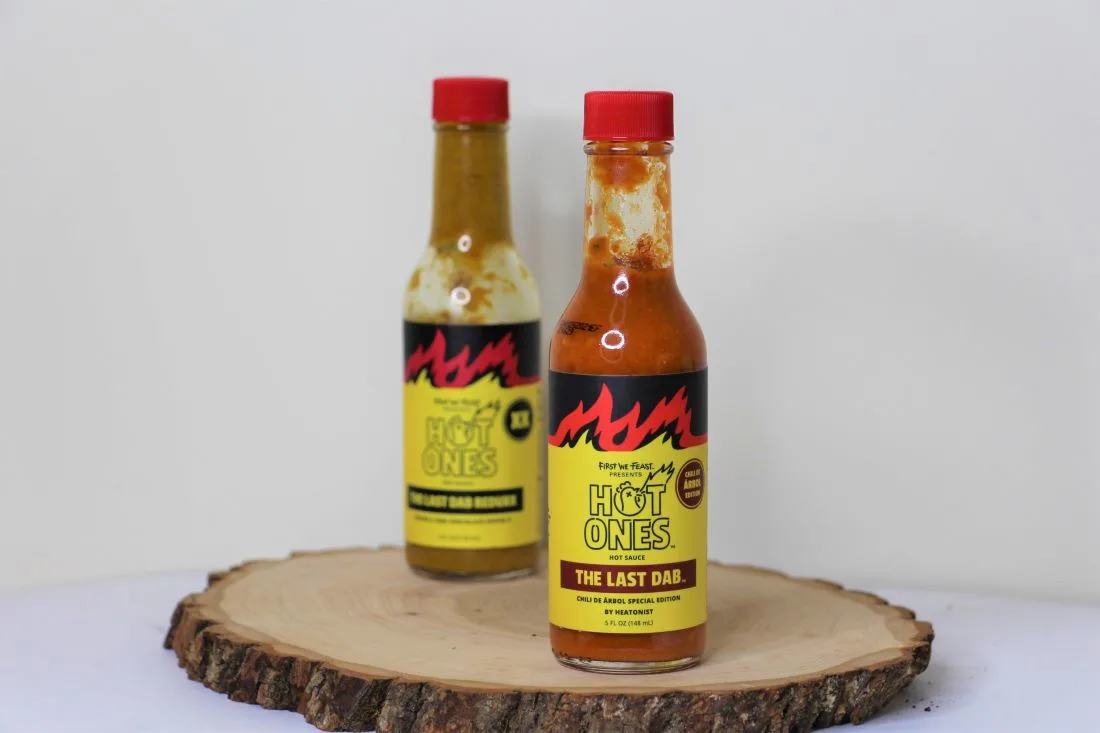 ---
Dragon In The Clouds
One of the more bizarre hot sauces of the year, Dragon In The Clouds is a collaboration between First We Feast and 88Rising. It blends the super hot flavor of the Ghost pepper with szechuan peppercorn, garlic, and citrusy yuzu sauce.
The flavor is not for everyone, and the heat level seems even hotter than The Last Dab. It is also pretty expensive. But hey, exclusivity comes at a cost, right? Although you can still get a bottle if you want to here.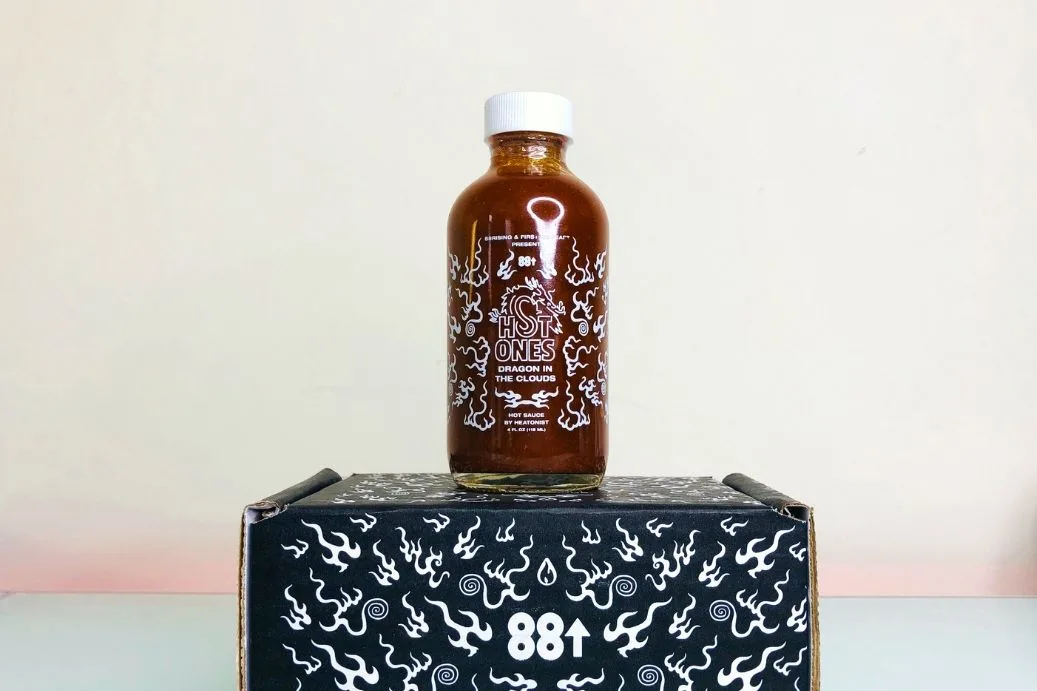 ---
Hot Ones Hot Sauce Box Subscription
If you go through as many hot sauces as we do, getting a monthly subscription box of 3 special edition hot sauces might actually make sense. The price is currently $30/month (plus shipping) for the Hot Ones subscription box, which always comes with 3 unique hot sauces.
Our Video Review Of The Sauce Box
Want more info on the box? check out our review of the box and the Last Dab Triple X below.
Read our full review of the Hot Ones hot sauce box here.
Why get the box?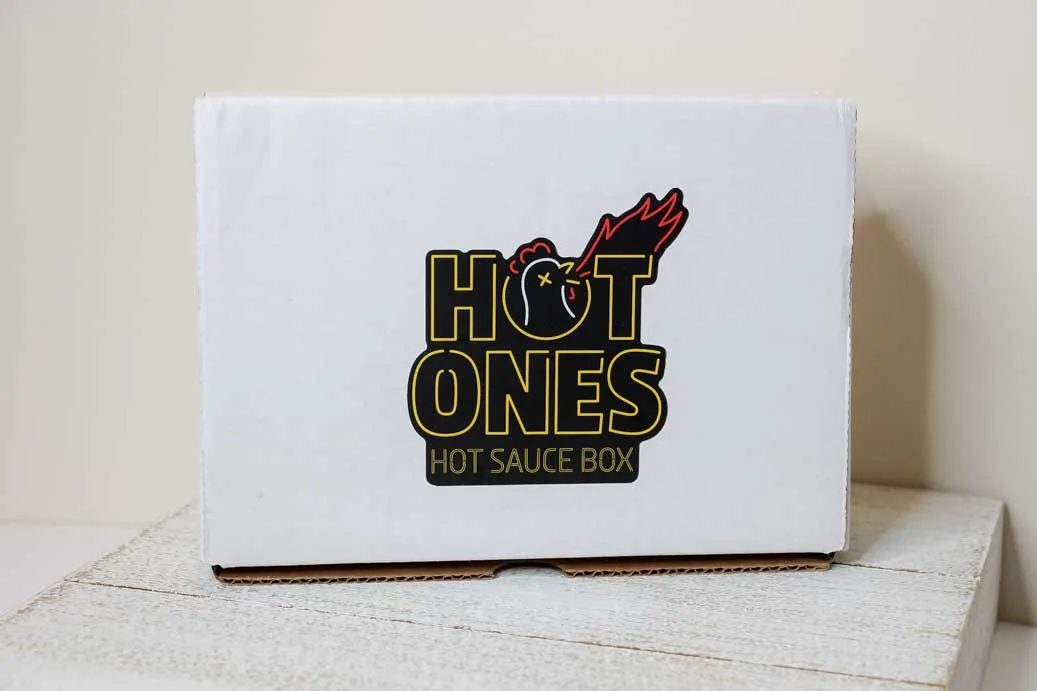 Some of the benefits are obvious. You get to try the latest and most exclusive sauces, first. Many sauces arrive before they are available for purchase anywhere else on the internet. This is exciting for us at PepperGeek since we tend to geek out about new hot sauces.
You also get a unique sticker in each box. They can be pretty cool, especially if you have a good place to show off your collection of stickers. We loved the "Sauceaholic" sticker that we recently got. Seems fitting.
Lastly, you get a card with each box, explaining the origin and uses for each of the sauces that you are receiving. This is a nice personalized touch that makes the box feel like it has truly been catered to hot sauce lovers.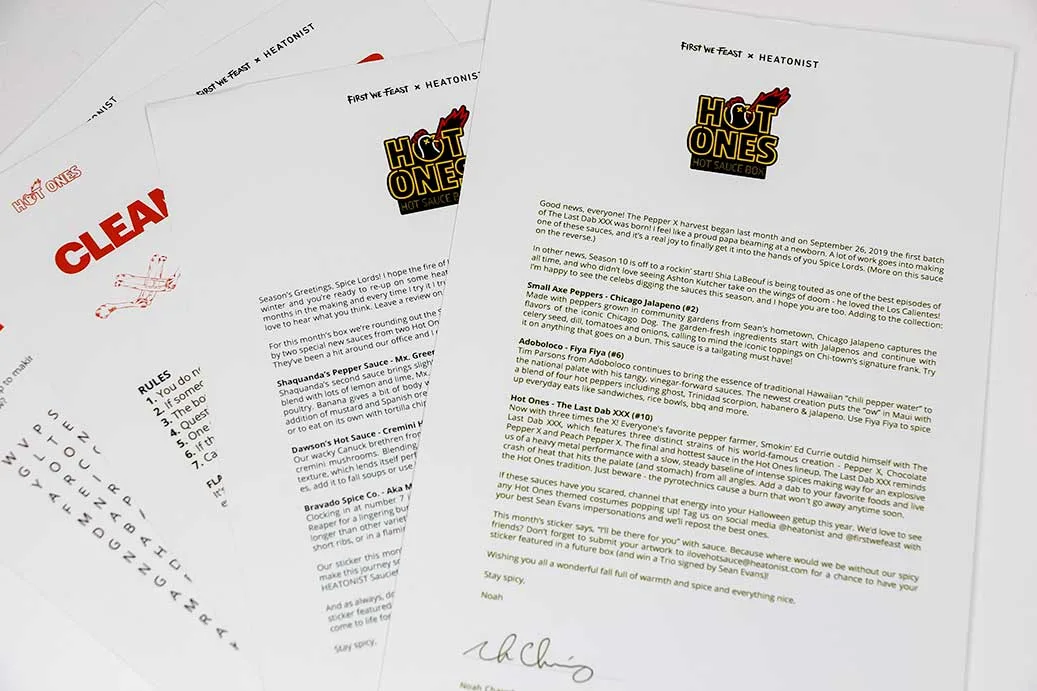 ---
We are big fans of the Hot Ones collection of hot sauces, and we look forward to what else they will bring us in the future. As they would say, Stay Spicy!