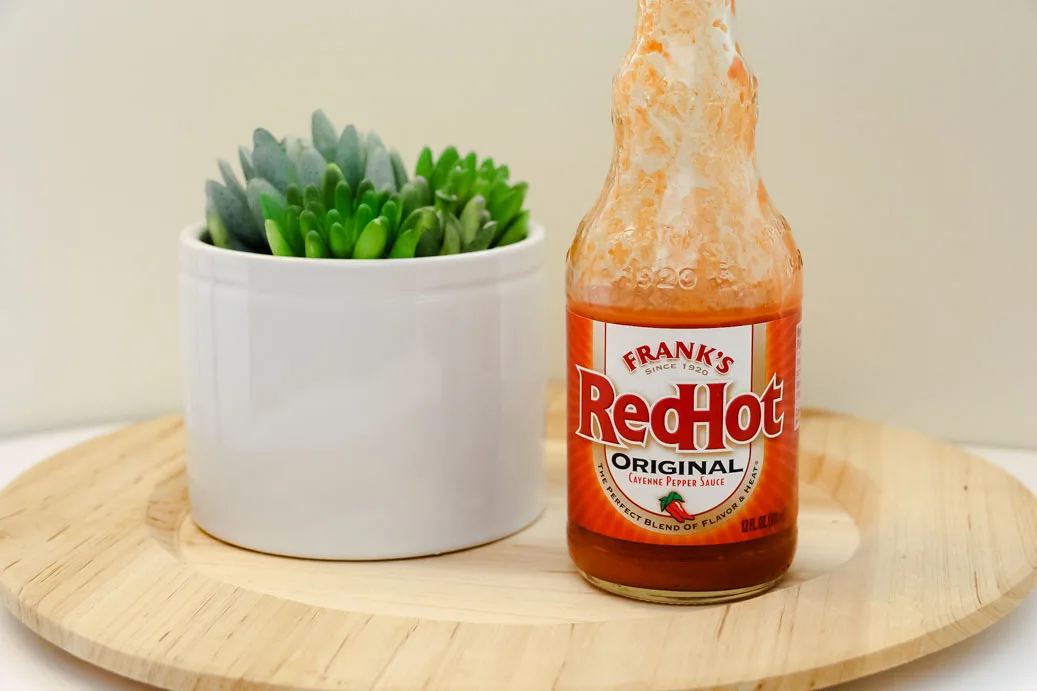 Frank's RedHot original cayenne pepper sauce has become a must-have refrigerator item in several regions. The Northeast US market loves Frank's, and according to their commercials, even Grandma puts that $#*t on everything.
---
Vinegar based sauces are great for a number of reasons. For one, they are extremely usable. As Grandma says, it goes well on pretty much everything. It is also really cheap, so you can buy Frank's in a 1-gallon container for like $12 on Amazon. However, there is more to this hot sauce than an affordable price tag and versatility.
In this article, we'll give a full review of Frank's RedHot sauce, covering its history, heat level, flavor, recipes and some of the other sauce varieties that are available.
Skip Ahead:
---
Who Is Frank, Anyway?
Way back in the late 1800s, Jacob Frank founded the Frank Tea & Spice Company in Cincinnati, OH. Frank's original aged cayenne pepper recipe was born in 1918 through a partnership between Frank and Estilette Pepper Farm. The first bottle of Frank's hit the market in 1920 out of the Louisiana-based plant. Every bottle has "FRANK'S 1920" imprinted on the glass to commemorate this history, and the original recipe has remained unchanged ever since.
Frank's RedHot was the secret ingredient used to make the first ever Buffalo wings in Buffalo, NY in 1964.
That's right, without Frank's, "Buffalo" style wings and dishes may never have come to be. Let's all take a moment to be grateful to Mr. Jacob Frank for making buffalo chicken dip and buffalo mac n' cheese a reality.
---
Frank's RedHot Sauce Ingredients & Nutrition
What made Frank's so iconic and legendary? Surely the ingredients list is complex and secretive, right?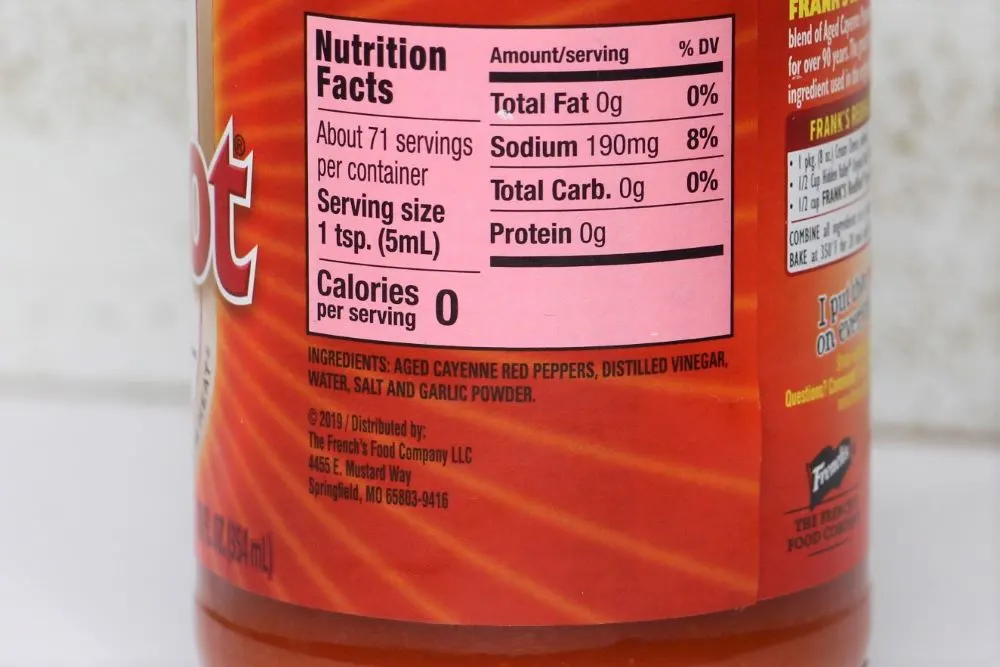 Nope! Frank's Original RedHot uses just 5 simple ingredients:
Aged Cayenne Red Peppers
Distilled Vinegar
Water
Salt
Garlic Powder
However, the ingredients alone don't tell the whole story. The cayenne peppers are "aged" for an unknown duration, certainly giving the peppers their characteristic flavor. Cayenne peppers account for approximately 35% of the recipe, a good quantity considering the price point of this sauce. Distilled vinegar generally gives hot sauces a tangy zip, while also preserving the sauce from spoiling. Water is likely used to bring the sauce to the desired, dash-able, thin consistency without using too much vinegar. Salt (at about 3.5% content) helps bring out the overall flavor, and garlic is the perfect complement for a savory, spicy sauce.
Frank's offers a self-proclaimed "perfect blend of flavor & heat," and for everyday use, we think this is true. It is great on almost anything, and we think it is one of the best hot sauces on eggs in the morning.
Is Frank's RedHot Sauce Healthy?
Given that Frank's is a commercially available hot sauce, we can assume that it is pasteurized (heated to at least 165F Degrees). This inherently removes health benefits from fresh foods by breaking down vitamins and phytonutrients. In addition, the sauce is relatively high in sodium at an estimated 3-4% content (190mg/tsp [8% DV per tsp]). This means that in higher quantities you may want to watch your salt intake.
However, Frank's isn't generally used in large amounts. It is primarily meant to be used as an additive to foods to complement and improve flavor. Suffice it to say you probably shouldn't be drinking Frank's RedHot straight off a spoon (though some say they would gladly), especially if you have high blood pressure.
---
Frank's RedHot Scoville Rating
Frank's isn't the hottest sauce on the market (we've tried some crazy hot sauces) by any means, but it still tickles the tastebuds. The spice hits quickly, but tapers off just as fast, making it highly versatile.
To put it simply, Frank's RedHot Sauce has a Scoville rating around 450 SHUs, while the XTRA Hot variant comes in around 2,000 SHUs. This puts Frank's in the perfect range for use in everyday dishes. If you're looking for an extra spicy sauce, this may not be the best option at the supermarket. But if you want a great balance of flavor and kick, that's what Frank's is all about.
---
Substitute For Frank's RedHot Sauce
While there are many vinegar-based hot sauces available, there are few that have the same distinct flavor of Frank's. However, if you need a substitute for Frank's RedHot, here are a few alternatives that should do the trick. Or, if you have the necessary ingredients, try making a substitute yourself.
This sauce is not widely available at every supermarket, but if you can find it, it will work as a great substitute for Frank's. Louisiana Perfect hot sauce is straightforward with just 3 ingredients. Aged peppers, vinegar, and salt. You can sprinkle on some garlic powder to get a bit closer to the original RedHot recipe if desired.
Widely available in grocery stores, Cholula is another great sauce that goes well on everything. A bit spicier than Frank's, this sauce will kick things up a bit. If you have some in the fridge, it will work as a replacement for Frank's in a pinch.
Super popular in the Southeast of the US, Texas Pete is another go-to, simple red hot sauce. Highly affordable and full of tangy flavor, this sauce will surely do the trick if an alternative is necessary.
Make Your Own Frank's redHot Substitute
In a pinch and need to whip up some homemade Red Hot sauce? No problem. Here is a quick recipe that comes close to resembling the flavor of Frank's using household ingredients.
Ingredients:
20 fresh hot peppers (Fresnos, Cayenne or Jalapenos will work)
1.5 cups white vinegar
1 tsp salt
1 tsp garlic powder
1 tsp paprika
Directions:
Step 1: Clean peppers and slice off stems. Remove seeds to reduce heat (taste test peppers for heat level). Roughly chop peppers and add to a large saucepan.
Step 2: Add all other ingredients and bring to a boil. Simmer for 15-20 minutes. Peppers should be soft and pliable.
Note: Simmering vinegar and hot peppers will cause your kitchen to be a bit uncomfortable on the lungs. Open a window if possible!
Step 3: Remove from heat and allow to cool for 10 minutes. Add to blender and blend until smooth.
While the flavor will not be exactly like Frank's, this hot sauce should still do the trick for making buffalo wings or for use in recipes that call for RedHot.
---
Other Flavors Of Frank's RedHot Sauces
While the original sauce is great on anything, there are some food categories that call for more specific flavors. As a result, the Frank's brand of hot sauces has expanded its reach into other culinary niches. From the Latin inspired Chile 'N Lime to Thai inspired Sweet Chili sauce, Frank's has a wide variety of unique hot sauce options. Here's a list of the current Frank's hot sauce lineup.
Chile 'N Lime

First introduced in 2003, Frank's Chile 'N Lime hot sauce starts with the same aged cayenne red peppers but adds lime flavor and other spices. Great for Latin inspired wings, tacos or other recipes.

Buffalo Style

Considering Frank's original hot sauce was the inspiration for the very first Buffalo wings in 1964, it seems fitting that they would create a Buffalo sauce. Introduced in 2009, this offered a straight-from-the-bottle option for Buffalo-style sauce. We recommend making your own Buffalo sauce (using real butter) if you can, but this is a much simpler alternative.

Sweet Chili

First introduced to the market in 2010, Frank's Sweet Chili sauce draws inspiration from Thai cuisine. With a much sweeter flavor, this may have been the first true diversion from the original recipe, using chili peppers instead of cayenne.

Xtra Hot Sauce

Recognizing the desire for hotter sauces, Frank's delivered with the spicier XTRA Hot Sauce. This sauce cranks up the Scoville rating to around 2,000 SHUs using 'Natural Flavor,' which we assume is some type of chili pepper extract. This helps retain the original Frank's flavor, just with more heat.

Stingin' Honey Garlic

Frank's knows that people love using their sauces for wings. When the sweet and spicy flavors really took off, Honey Garlic was their answer. This sauce is probably the furthest from Frank's original, but if you want an affordable sweet honey wing sauce, this will do the trick.
---
Frank's RedHot Sauce Recipes
As we stated earlier, Frank's RedHot is what brought buffalo-style wings into the world. Therefore, it is one of the essential ingredients when it comes to making homemade buffalo-style recipes. Here is a list of some of our favorite Frank's hot sauce recipes from around the internet.
Baked Buffalo Wings
Buffalo Chicken Dip

Looking for something a little less messy? Buffalo chicken dip puts the classic chicken wing flavor into a chip-dip perfect for parties. This recipe comes from none other than the Frank's RedHot website, so you know it's been well-tested and reviewed. But beware, if you bring this Frank's dip to the family party, they will expect it every year going forward!
Buffalo Chicken Pizza
Another great grab and go snack, Buffalo chicken pizza puts some of our favorite things into a neat, triangle-shaped package. A great family project, or a weeknight dinner for everyone. This recipe comes from Delish and uses a fresh dough. If you'd rather use a pre-rolled or frozen crust, this recipe will still be delicious.
Buffalo Chicken Mac n Cheese
Well, by now you should get the idea. You can pretty much 'Buffalo' anything. This time it's mac n cheese, and once again the recipe comes from Frank's RedHot website. Something about the combination of cheesy macaroni with the spicy and zesty kick of Frank's is wonderful. Try this recipe, or simply add a few dashes of Frank's to your favorite boxed mac n cheese!
---
I hope you learned a lot of new things about Frank's Hot Sauce. We love exploring the histories of hot sauces and all things peppers. If you have any thoughts or questions, feel free to reach out!