With 2 successful hot sauces under his belt, Keith is going for the trifecta with the all new Keith's Taco Sauce! We love tacos here at Pepper Geek, we even have a Taco Night cookbook, so we were pretty pumped to try this hot sauce.
Keith is well known as one of The Try Guys, and especially for taste-testing every food item on fast food restaurant menus. To celebrate this sauce, Keith recently tried every menu item at Chipotle.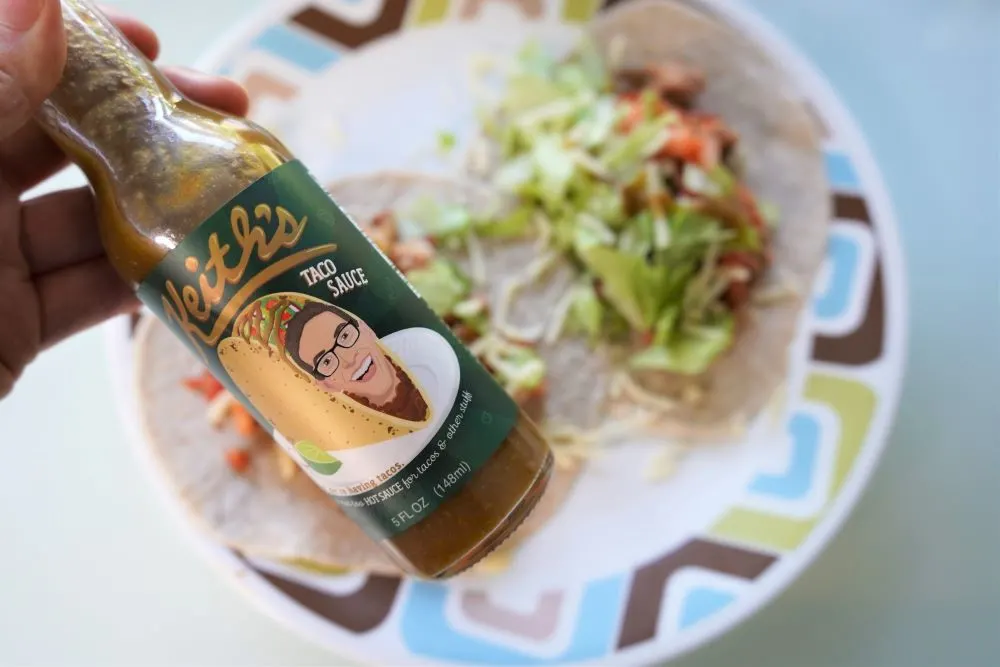 ---
---
Keith's Taco Sauce Review and Flavor
Tacos are a regular occurrence at the Pepper Geek household. We love having makeshift street tacos with our own homemade taco seasoning in the kitchen. From pork belly to ground meats, fresh herbs and spicy, tasty cheeses…we always look forward to a good taco night.
However, high quality tacos deserve a high quality sauce, and Keith's Taco Sauce delivers. The complex variety of flavors blend seamlessly, even when eaten right off the spoon. But the sauce really shines on tacos.
Flavor
Peppery and bright
Raisin/allspice undertones
Lime and grapefruit
How to Use It…
TACOS
Southwestern salad
You get the idea…
After a quick taste-test off our mother of pearl tasting spoons, we were immediately impressed with Keith's Taco Sauce. The immediate, tangy bite from vinegar, lime, grapefruit and other citruses is smile-inducing.
Once the tang subsides, you start to taste the complexity of more subtle flavors, like raisins, smoked paprika, cumin, cinnamon and allspice. These ingredients are all easy to over-do, but this sauce walks the line perfectly.
Of course, we had to test it out on tacos, so we had an impromptu menu change for dinner (and we weren't complaining).
---
Keith's Burger Sauce Scoville Scale
If there is one thing we know about Keith's lineup of hot sauces, it is that they aren't scorchers. Keith has talked about his aversion to super-spicy foods, so it is no surprise his sauces are on the tame side.
Though there is no official claim, our best estimate is that Keith's Taco Sauce comes in around 3,000-5,000 SHUs on the Scoville Scale. This offers the perfect mouth-warming effect without ruining your taco day.
---
Consistency & Texture
Most taco sauces are splashy and thin, and Keith's is no different. This is one of the (forgivable) issues with this sauce – it is just too easy to over-pour!
However, this is more of a design flaw with the bottle than the sauce itself. We would have preferred to see this sauce in a squeezy bottle, or at least with a flow-restricting top to make it easier to control the pour.
Still, once you get the appropriate amount on your tacos, you won't be complaining about the bottle. The smooth, thin sauce coats your palate instantly, sending flavor bombs throughout your mouth.
---
Where To Buy Keith's Taco Sauce
For $12, you can currently buy Keith's Taco Sauce from Heatonist. For now, that is the only official source for the sauce.
This price may seem on the high side for a hot sauce, especially if you are used to picking up Frank's for $2.99. However, this sauce contains nothing but high quality, all-natural ingredients.
---
This is definitely our favorite Keith's sauce to date. While the Burger sauce was good, this sauce is great. It won't last long in the Pepper Geek fridge!
---
Enter Our Hot Sauce Giveaway!
---