Los Calientes is one of our very favorite hot sauces of all time. We have included it on many, many lists of our top picks, and it is with good reason. It just goes well on everything (the one job of any truly great sauce).
Now, in 2021, Hot Ones has released a 3rd iteration of Los Calientes hot sauce, this one deemed 'Barbacoa.' The claim is that this sauce harkens back to the very roots of BBQ, focusing on Earthy tones, smoked peppers and fresh herbs & spices.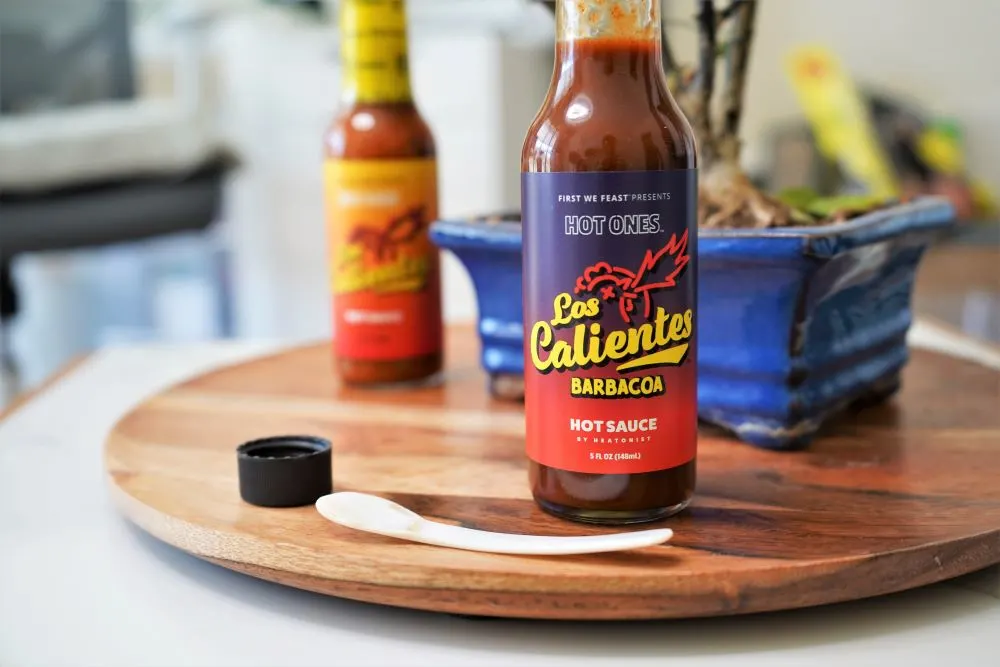 ---
---
Los Calientes Barbacoa Review and Flavor
We haven't been counting, but we must have devoured 6 or 7 bottles of the previous Los Calientes sauces. The original blew us away, then the Rojo edition made it even better with more heat and an improved flavor.
So you could probably guess that we were super excited to hear that yet another iteration was approaching. We ordered a couple bottles on day 1, and sampled them as soon as they arrived.
Flavor
Smoked peppers
Sweet apricot and agave

Tangy tomatillos and lime
How to Use It…
Baste it onto grilled chicken
Mac n cheese never felt so right…

Top off a pulled pork sandwich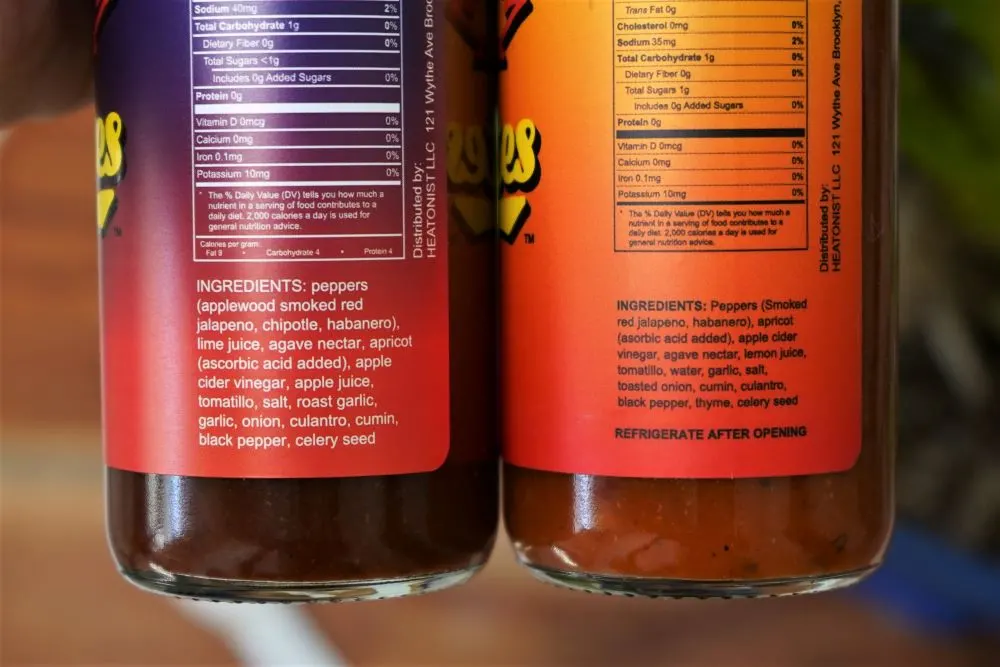 The first taste was right off a tasting spoon, and it was not immediately obvious that anything had changed… This isn't necessarily bad, but we were admittedly hoping for a bit more variation.
However, after a few more spoonfuls, the subtle differences could be distinguished. There is a bit more of a zing from the lime, and a slightly deeper smokiness from the chipotles and the applewood smoked jalapeño.
I believe the addition of 'chipotle' is to blame for the darker color. However, smoked jalapeños are pretty much just chipotles, so we're not sure what is different (and we'd be curious to learn more).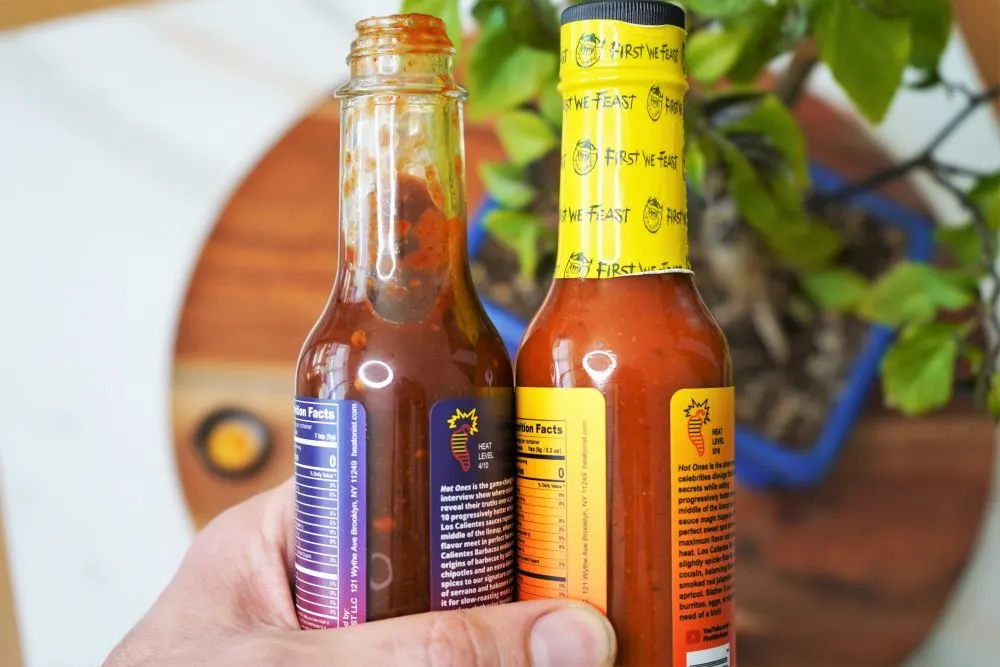 The brilliant balance of complex spices seems unchanged, with a few ingredients being swapped in order. The earthy undertones paired with the sweet apricot still hits just right.
---
Los Calientes Barbacoa Scoville Scale
Heat is slightly reduced when compared to Rojo, but only a bit. We feel that this sauce falls somewhere just below the original Los Calientes, which is a nice spot to be in.
Los Calientes Barbacoa has an official Scoville rating of 33,000 SHUs, making it slightly less spicy than the original Los Calientes hot sauce. In our opinion, all of the Los Cal sauces fall right in the sweet spot of usable heat.
Historically, Los Calientes always filled the #5 spot on the Hot Ones YouTube show. However, when the Barbacoa sauce was released, it was bumped down to #4. This is likely just due to hotter and hotter sauces filling the back half of the lineup.
---
Consistency & Texture
Once again, texture and consistency don't seem to have changed much. Los Calientes Barbacoa has a thick, slightly syrupy texture with small chunks of peppers and apricots mixed in.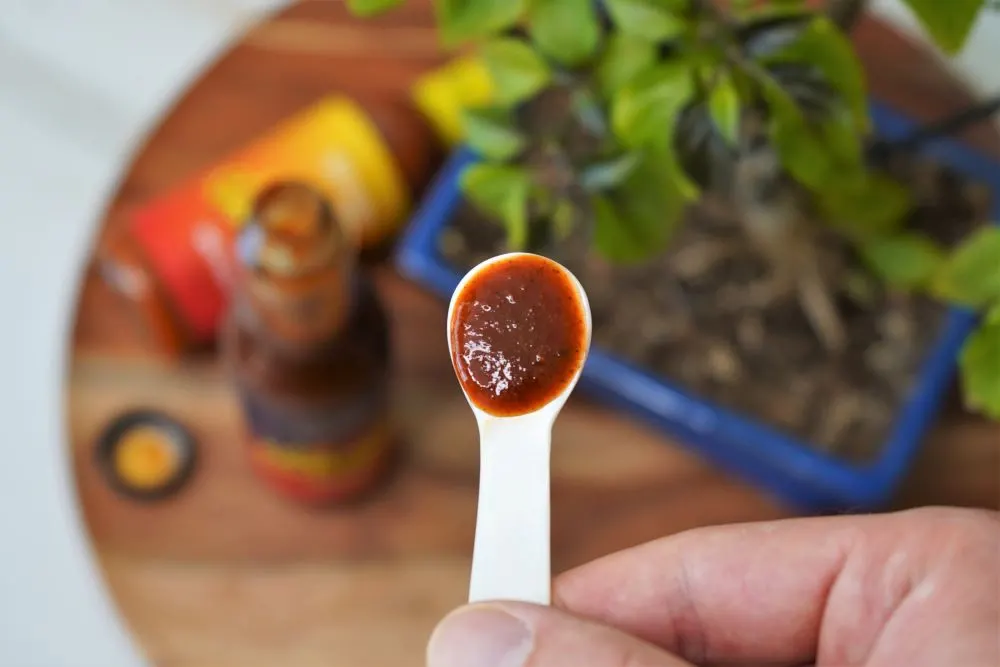 The sauce is not runny, but is very easy to pour from the standard woozy bottle spout. The sugar content helps keep the sauce from splashing around, while the lime juice and vinegar thin it out for an all around smooth finish.
---
Where To Buy Los Calientes Rojo
The price hasn't changed either – the Barbacoa edition of Los Calientes costs $12, right in line with all the other all-natural sauces from Hot Ones. For now, this version of the sauce is available exclusively on Heatonist.
---
While Los Calientes Barbacoa is not much of a departure from the original, it is still an excellent sauce. And frankly, it probably would have been more disappointing than anything else if Karma Sauce had made too many changes.
---
Enter Our Hot Sauce Giveaway!
---