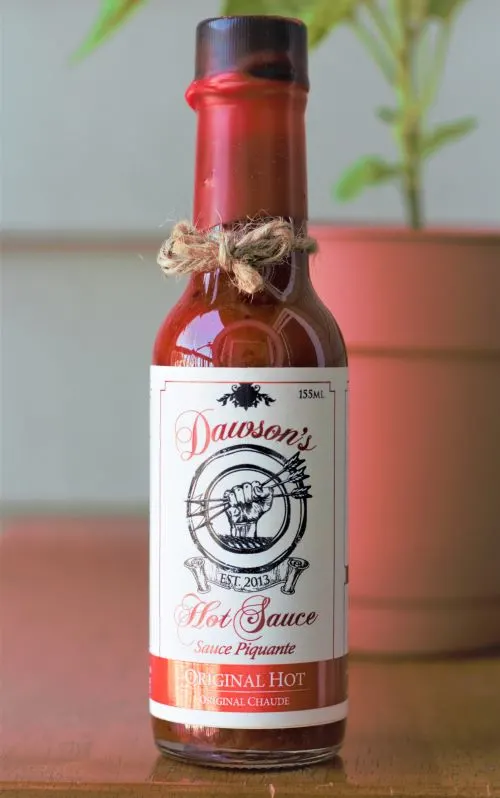 Hailing from Ontario Canada, Dawson's is a relative newcomer to the hot sauce game. With a fancy presentation (waxed and stamped bottle cover), we had high hopes when we ordered it from Heatonist.
Here, we review Dawson's Hot Sauce – Original Hot in full, with our overall thoughts on flavor and heat.
---
Flavor
Very sweet, powerful habanero flavor (first ingredient)
Silky smooth, thanks to the extra virgin olive oil
Spicier than your average hot sauce
---
Dawson's Original Hot Sauce Review
Dawson's Hot Sauce is a simple sauce with a lot of kick. What we like most about it is the smooth, extra virgin olive oil addition.
Many hot sauces are simply too thin to use as a sandwich condiment. This sauce could be used for that purpose, or as a nice way to spice up a cheesy dip.
The overall flavor is extremely satisfying. You get the intense floral flavor from the Habaneros, paired with the immediate sweetness. A touch of garlic rounds out the sweet and savory profile nicely.
Not too salty, and almost no uncomfortable bite from the vinegar. It is difficult to describe just how smooth this sauce feels on the palate. We really enjoy this hot sauce for it's flavor, and the beautiful color and aroma.
Update (2020): We ordered another bottle of Dawson's and the color is much different – sort of an orange-cream color. This is likely due to a new batch of habaneros with different color. Some habaneros are deep red, some are light orange. Thankfully, the flavor is still amazing.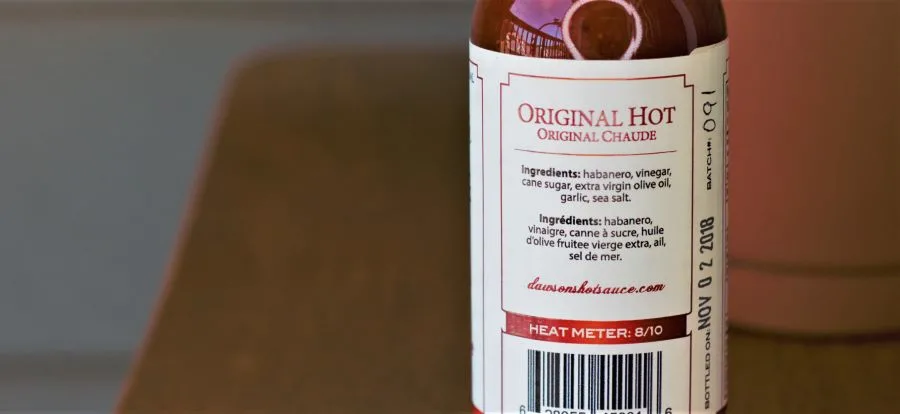 Tip: Definitely shake this sauce before using as it separates over time.
---
Dawson's Hot Sauce Scoville Rating
Dawson's hot sauce is very spicy. We agree with Dawson's self-proclaimed rating of 8/10 on the spiciness scale. According to Hot Ones where it was featured in season 5, Dawson's Original Hot sauce Scoville rating comes in at 82,000 SHUs. That is some respectable heat!
It is not too bad in small amounts, but in larger pours the heat can get intense. It won't singe the nostril hairs, but it will certainly tingle the lips for a while after consuming. For an every day sauce, we prefer a bit less heat, but Dawson's is definitely usable for the typical pepperhead.
---
Where To buy Dawson's Original Hot Sauce
Pricing is currently between $11-14 per bottle depending on where you are buying. Dawson's is a Canadian based operation, so Canada shipping is free for orders over $50 from their website.
However, if you are US based, it may be cheaper to buy it from Amazon.
---
Consistency
This sauce is on the thicker side, with large flecks of habanero peppers and seeds suspended in the sauce. However, it flows nicely out of the normal-sized 5oz bottle.
Thanks to the olive oil, you can carefully meter how much sauce you want with each pour. No risk of over-pouring, as long as you're careful.
---
Is Dawson's Hot Sauce Worth It?
Yes! Dawson's Original Hot is a fancy, classic hot sauce that should last a long time in most people's refrigerator. If you like it hot, this sauce will definitely satisfy your spicy cravings.
There is a reason that this sauce now holds a place on Calvin's all-time favorite hot sauces. As a result, it does not last long in our refrigerator. To the makers of this hot sauce, keep up the awesome work!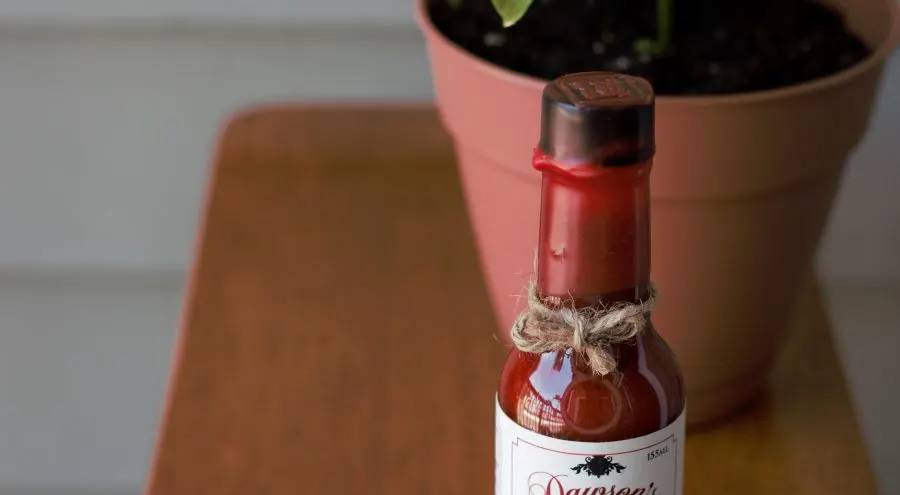 Get your own bottle on Amazon
---