Karma Sauce Co. has grown rapidly ever since their Extreme Karma sauce was featured on Hot Ones season 5. Since then, the former NASA optical engineer turned hot sauce maker Gene Olczak has pumped out some legendary recipes.
Ever heard of Los Calientes? That was formulated by Gene at Karma. They also have several delicious recipes under their own brand, including Carnival hot sauce (emphasis on the 'val').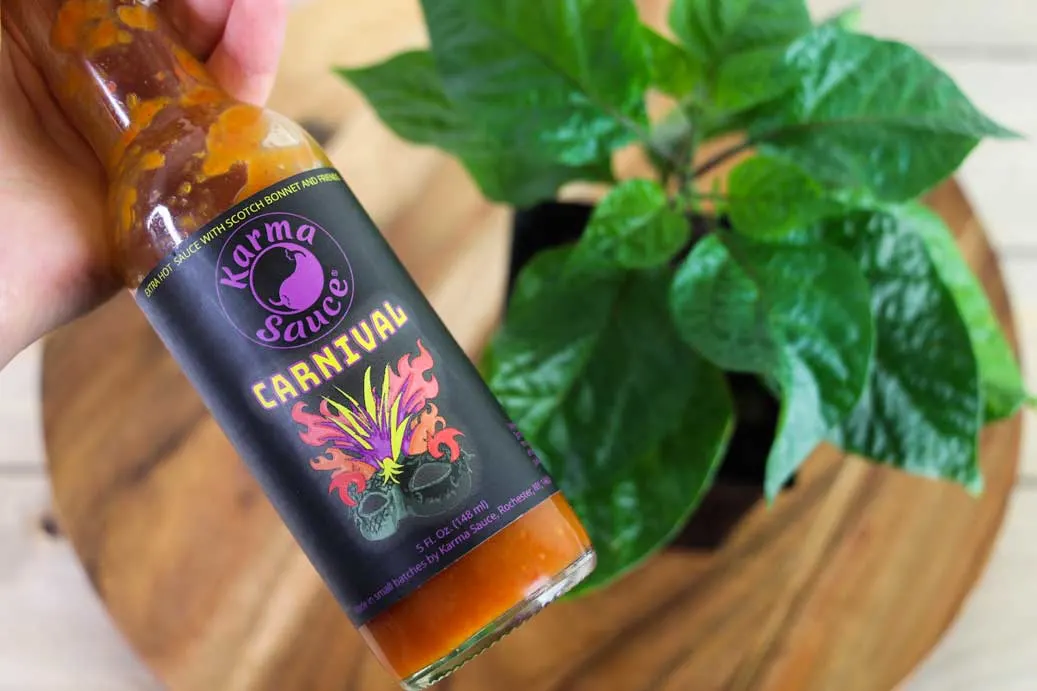 We think this sauce has an appropriate name. The fun, tropical flavors paired with powerful pepper heat make the experience highly stimulating, much like the thrill of a carnival ride. Carnival hot sauce has a relatively short ingredient list, but the flavor is rich and complex.
---
---
Karma Carnival Hot Sauce Review
Crack open a fresh bottle of Carnival hot sauce and you're greeted with the aroma of fresh superhot peppers. Many of the Capsicum Chinense (habanero-type) pepper varieties share the same floral smell when fresh.
This makes a lot of sense, since the first ingredients are a blend of yellow superhots: Scotch bonnet, fatalii and moruga scorpion. There's no wonder this sauce is a solid 4/5 for heat.
Flavor
FRESH superhot peppers, flowery
Mostly sweet, slightly bitter
Lime and punchy mango
Packed with small pepper chunks and seeds, yum!
How to Use It…
Put on calamari, crab cakes, fried fish, or other seafood
Add a few drops to phở
Mix in with fresh salsa to level up the heat and enjoy with tortilla chips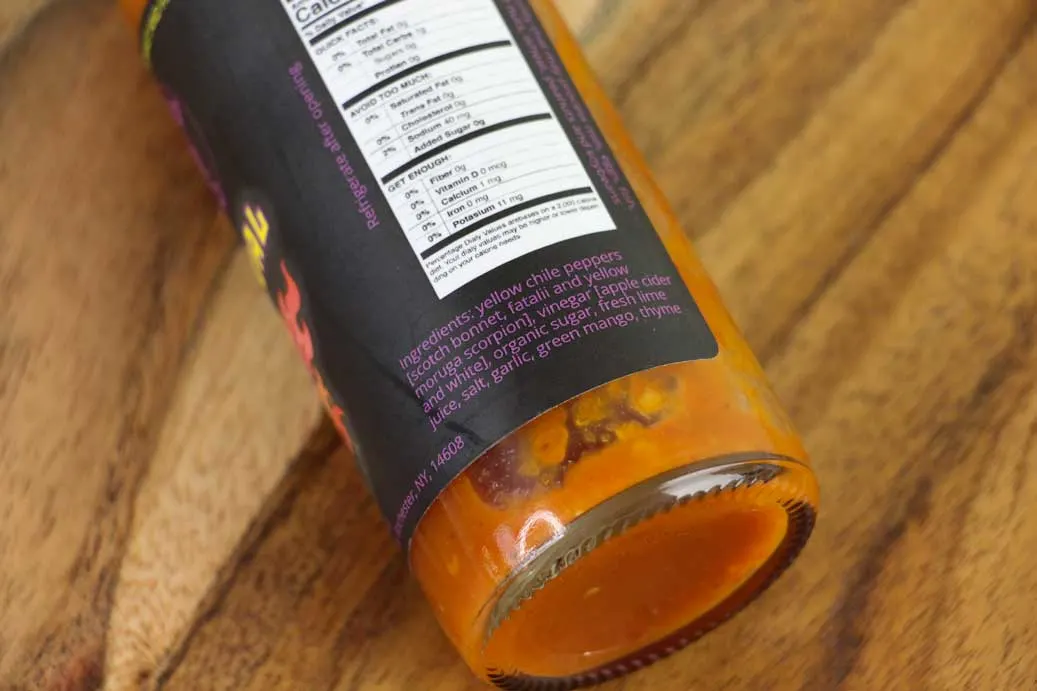 Ingredients: Yellow chili peppers (scotch bonnet, fatalii and yellow moruga scorpion), vinegar (apple cider and white), organic sugar, fresh lime juice, salt, garlic, green mango, thyme.
There are a number of great applications for Carnival hot sauce. We like the idea of using it in a spicy bowl of phở or on rich fried seafood. The lime juice gives it a bright, acidic flavor that brings the pepper flavors to life without much salt.
The sugar and green mango are where some magic happens, almost fooling you into thinking Carnival isn't a super-spicy sauce on first taste. Think again!
This sauce is among our best hot sauces of 2020!
---
Carnival Hot Sauce Scoville & Spiciness
Like many sauces out there, Carnival does not have an official rating on the Scoville scale. However, we have tried many, many hot sauces and can put forward our best guess.
Given the ingredients, we would guess that Carnival hot sauce comes in around 100,000 – 150,000 SHUs on the Scoville scale. This lands it around the same level of Pepper Norths Stargazer Hot Sauce.
The burn from Carnival is long-lasting and even-tempered with a familiar habanero-type sting. Scotch bonnets are known for having a citrusy, tropical flavor and a smooth burn and it really shines through in this hot sauce. This one will certainly make you sweat!
---
Carnival Hot Sauce Consistency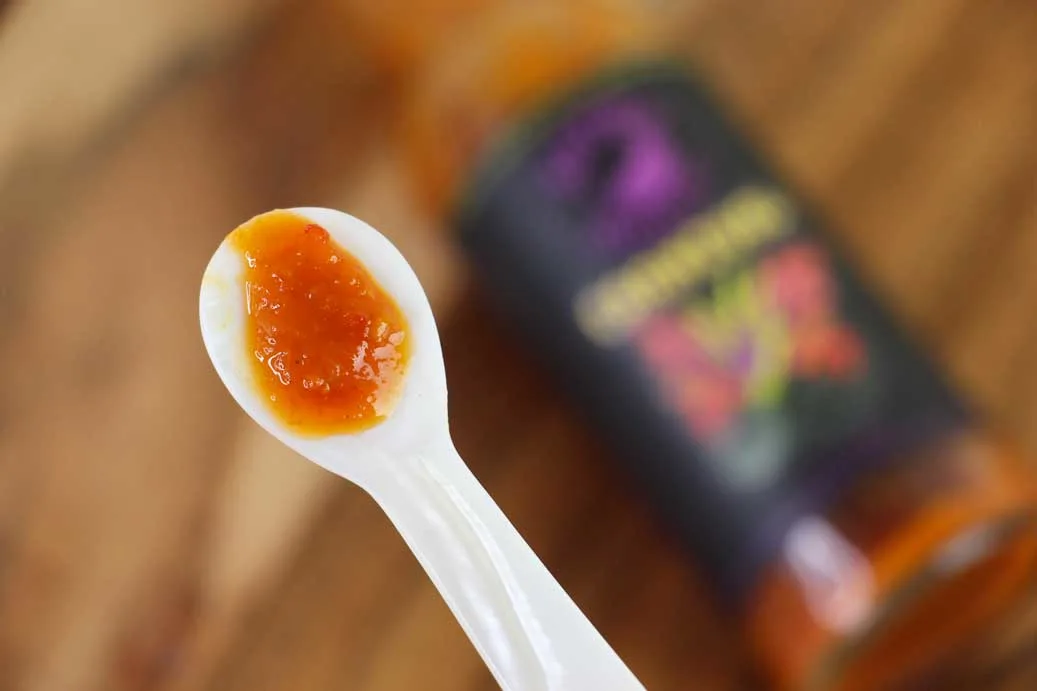 Gene is known for making sauces on the thicker side. He has yet to make a 'splashy' hot sauce, and tends to prefer chunky sauces with some real body. Carnival is thick, but thanks to the sweetness, it pours well. No smacking the bottle to coax the sauce out.
There are visible seeds and pepper chunks throughout the sauce. This is noticeable when eaten straight off a spoon – and we like it! As a result, Carnival feels more substantial than many hot sauces, with a fresh homemade character.
---
Where To Buy Carnival Hot Sauce
At the time of writing this, Carnival hot sauce is available on Amazon here with free Prime shipping. We've found this to be the cheapest way to access the sauce, given that most other sites will charge extra for shipping.
You can also shop directly on the Karma Sauce website if you prefer to order from the source and support Karma!
Karma Sauce co is quickly becoming a favorite sauce maker in our (ever growing) collection. Carnival hot sauce is a fantastic take on the scotch bonnets and fatalii peppers and deserves a spot in your fridge. If you like it super spicy with a tropical, Latin flare, Carnival is well worth the price!
---
---