Is there anything better than a fresh scoop of salsa on a tortilla chip? We think not. This jalapeño salsa recipe is the perfect balance of fresh and spicy. It's a great way to use up fresh peppers, garlic and tomatoes from the garden.
Experimenting in the kitchen is fun, but sometimes you just need a tried-and-true recipe to fall back on. This is one of those recipes. Though, it did take a lot of experimenting to get this one right.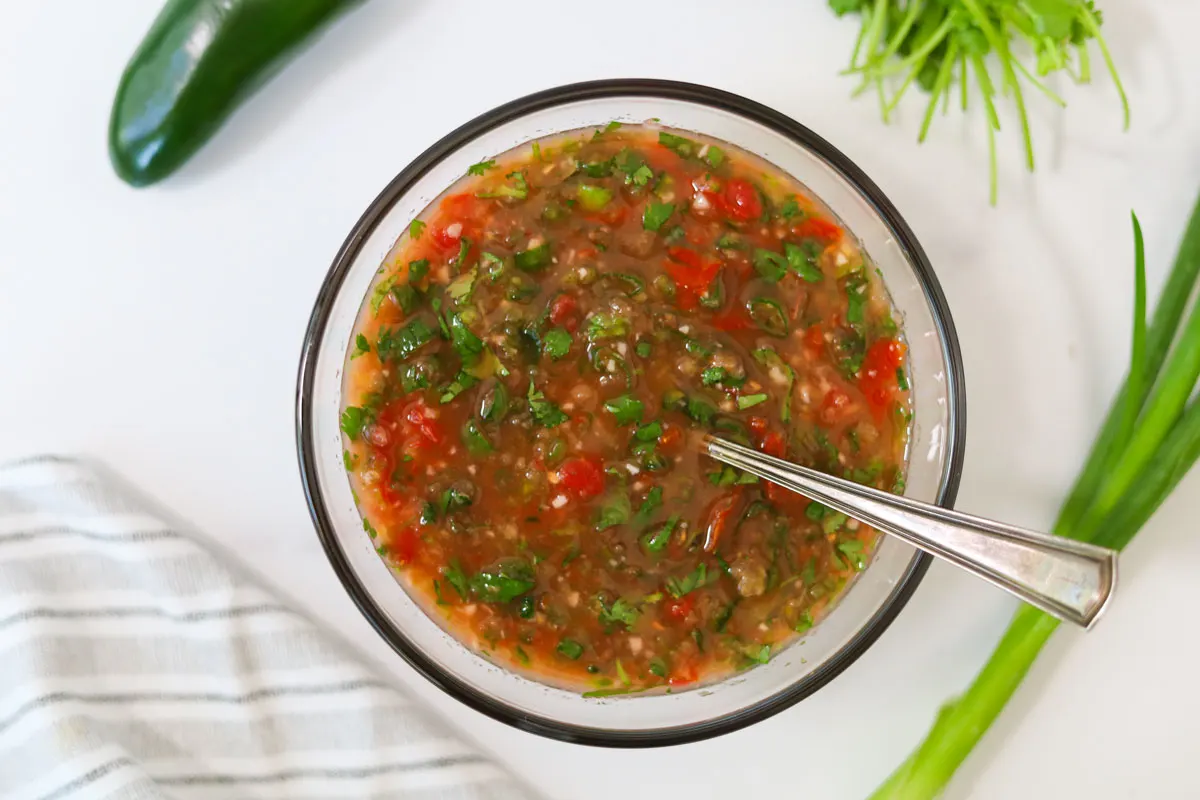 Salsa is a staple in Mexican dishes, and it is typically prepared with fresh tomatoes, peppers, onions and cilantro. Jalapeño peppers are commonly used to add spice and heat to the dish, but you can use other peppers as well. We also have a recipe for salsa verde if you're looking to use tomatillos!
Serrano and jalapeno peppers are both a delicious addition to salsa or guacamole without adding overwhelming heat. Salsa can be served as a dip with chips, or used as a condiment for tacos, burritos, and other dishes that need a little bit of leveling up. We love using hot sauce and salsa on eggs!
This recipe is unique because it doesn't use white or yellow onions like most salsa recipes. We've swapped them out for green onions instead. The result is a salsa that is still fresh and flavorful, but with a little less bite.
It all comes together at the end with a handful of fresh chopped cilantro. If you're not a fan of cilantro, you can omit it from the recipe. But, we think it adds a lot of flavor to this dish.
Tips for making the perfect salsa
We've made a lot of salsa over the years and it's safe to say that we have learned a thing or two. Here are some tips and tricks for making the best jalapeño salsa:
Use fresh ingredients. This is key for any recipe, but especially for salsa. The fresher the ingredients, the better the flavor will be. Try using homegrown tomatoes and peppers, if possible. You can also check out your local farm stand for the best possible ingredients if you're not growing your own.
If you want more heat, leave some seeds in the jalapeño peppers. If you want less heat, remove the placenta and seeds. We like to remove the pith to avoid a bitter flavor. You can also use a spicier pepper variety.
Use a food processor instead of a blender. We've found that a food processor does a better job of chopping the ingredients evenly. When we make salsa in the blender, it tends to come out a bit too watery. If you don't have a food processor, you can chop the ingredients finely and make a chunkier salsa.
Let the salsa sit for at least 30 minutes in the fridge before serving. This allows the flavors to meld and develop.
Remove the tomato pulp. Removing the pulp of the tomato helps give the salsa a good consistency that is not too watery.
Serve with the right chips. The chips matter! Mae sure you are using a good quality tortilla chip when serving your salsa. If you are using unsalted chips, you may want to add a pinch more to the recipe to balance the flavor out.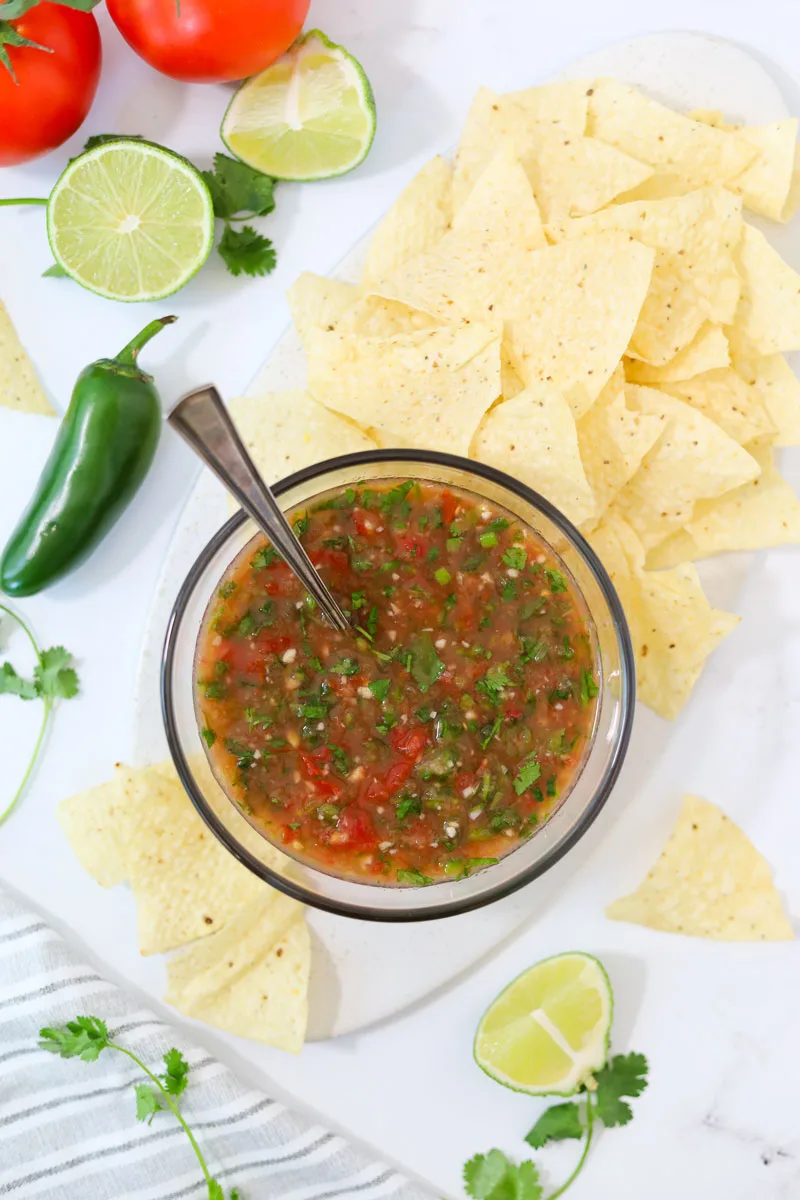 Variations on this jalapeño salsa
Salsa is one of our favorite kitchen experiments. We love trying out different flavor combinations and ingredients. Here are a few ideas for how you can change up this recipe:
Use different peppers. In addition to jalapeños, you could also use serrano peppers, poblano peppers, or even ghost peppers if you're really brave.
Try different tomatoes. We have made this recipe using roma tomatoes, globe tomatoes, and even cherry tomatoes! They were all delicious – so try mixing it up!
Add fruit. This may sound strange, but we love adding fruit to our salsa. A little bit of mango or pineapple can really brighten up the flavors. We do have a tasty pineapple salsa recipe as well.
Make it smoky. One of our favorite ways to change up this recipe is to add a smoked chili pepper. You can use homemade chipotle powder, or just a little bit of smoked paprika to change up the flavor.
Use yellow or white onion. We like this recipe the way it is with green onion, but you could definitely substitute in a different type of onion. Just keep in mind that the flavor will be a little bit different.
Jalapeño salsa ingredients
This recipe makes a relatively small batch (perfect for 2 people). You can easily double or even triple this recipe if you're making it for a crowd.
2 tomatoes
1 jalapeño pepper
2 cloves garlic
2 tablespoons lime juice
1/2 tsp cumin
1/2 tsp salt
1/4 cup fresh green onion (green parts only)
1/4 cup fresh cilantro
How to make this jalapeño salsa
Start by chopping the tomatoes into wedges and removing the tomato pulp. Leaving the pulp will result in a salsa that is watery. It's okay if a little bit gets in.
Chop the jalapeño pepper lengthwise and remove the white pith and seeds. If you want more heat, leave this part in.
Peel and chop the garlic cloves.
Add chopped tomatoes, jalapeño pepper, garlic, lime juice, cumin, and salt to a food processor.
Pulse the ingredients until they are finely chopped and at your desired salsa consistency.
Finely chop the green onion and cilantro and stir into the salsa. Do not blend!
Let the salsa sit for at least 30 minutes in the fridge to allow the flavors to develop. Serve with chips or use as a condiment for tacos or burritos!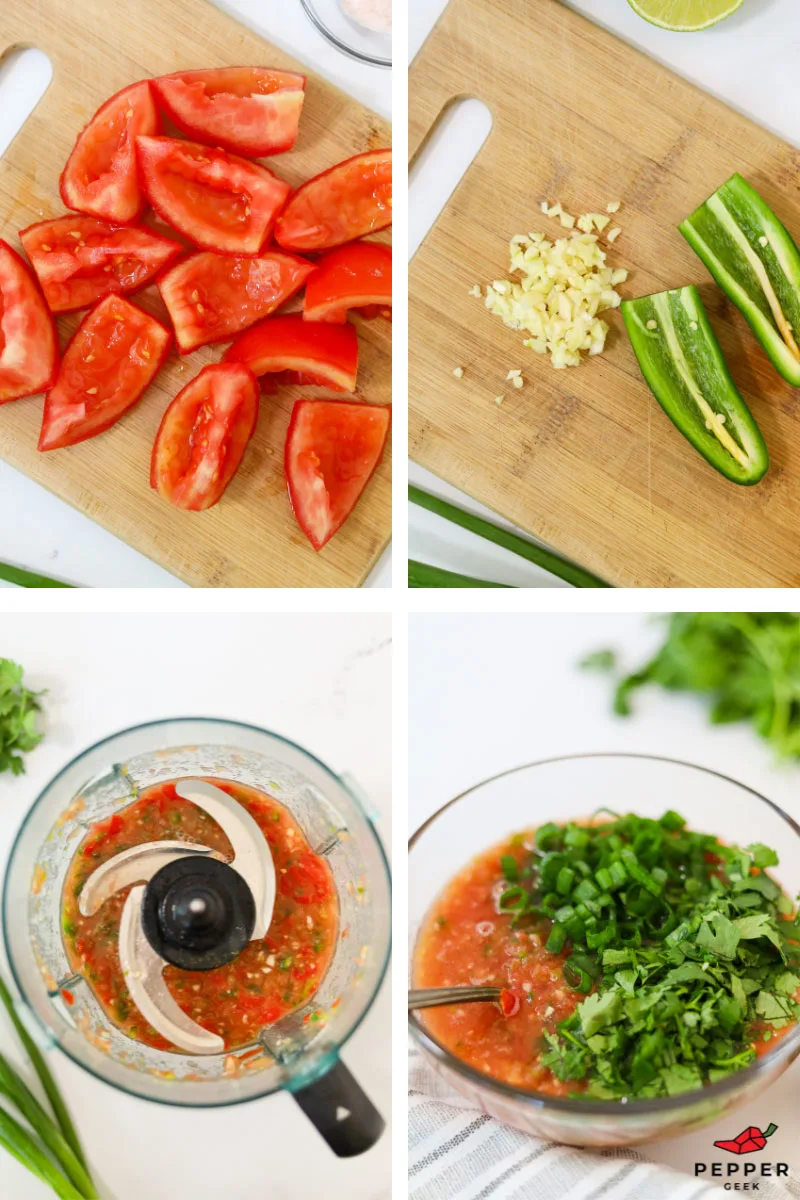 This recipe for jalapeño salsa never lets us down. It's great for parties, potlucks and BBQs. The best part about this salsa is how customizable it is. You can tailor the heat very easily but adjusting the amount (or type) of pepper being used.
When harvest time comes around, we always have an overabundance of peppers and tomatoes, so this salsa recipe is the perfect way to use them up! This dish can be made ahead of time and stored in the fridge for a few days. If you make this recipe or any variation of it, let us know your thoughts in the comments below.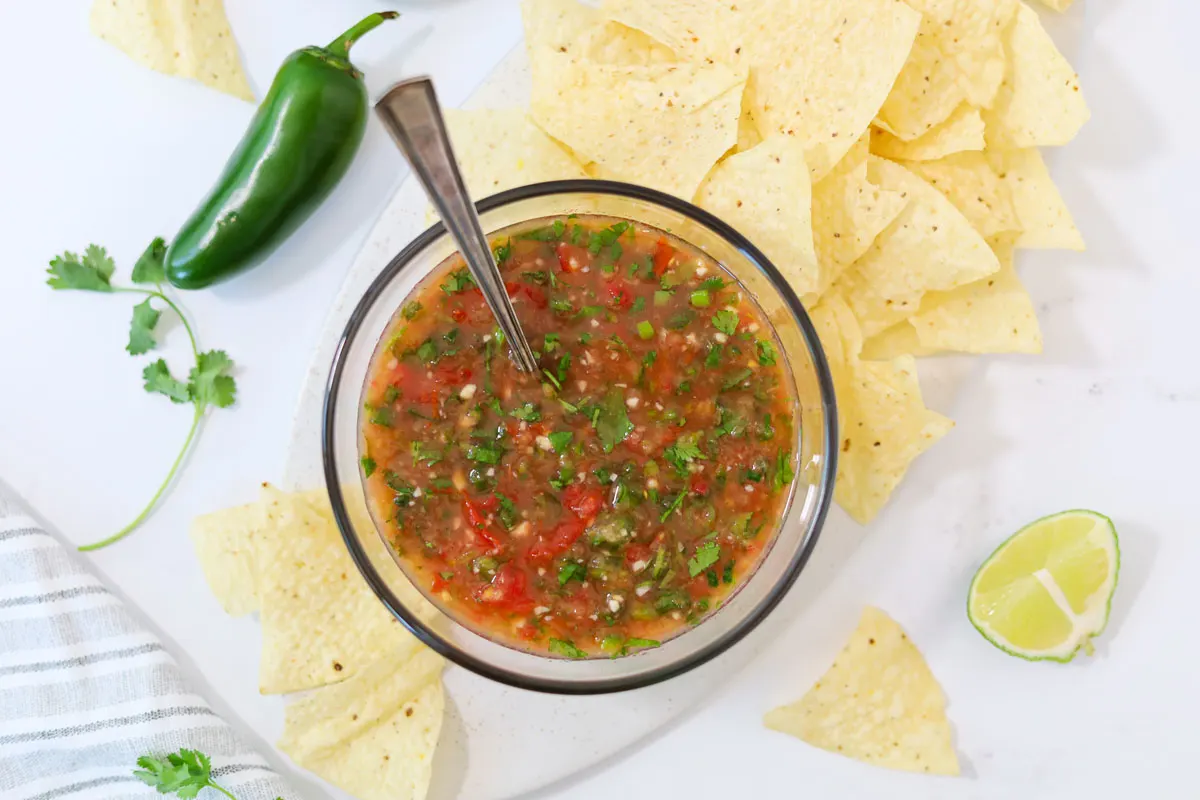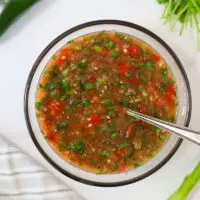 Jalapeño Salsa
This fresh and delicious salsa recipe is made with tomatoes, jalapeño, green onion and cilantro.
Print
Pin
Rate
Ingredients
2

Globe Tomatoes

large

1

Jalapeño Pepper

2

cloves

Garlic

2

Tbsp

Lime Juice

1/2

tsp

Cumin

1/2

tsp

Salt

1/4

Cup

Green Onion

chopped, green parts only

1/4

Cup

Fresh Cilantro
Instructions
Slice tomatoes into wedges and remove pulp

Slice jalapeño lengthwise and remove white pith and seeds. Leaving more of this will result in more heat

Add tomatoes, pepper, garlic, lime juice, cumin, and salt to food processor and blend to desired consistency

Stir in fresh chopped green onion and cilantro after processing

Refrigerate for at least 30 minutes before serving. Enjoy!
Let us know in the comments how you like to make salsa at home. If you try this recipe, leave a review and let us know how you liked it!