Salsa is one of the greatest summertime snacks. It is so easy to make, and uses delicious, fresh ingredients from the garden. Today, I want to share one of the tastiest salsa recipes we have ever created!
With just 8 ingredients, you'll be making this delectable pineapple jalapeño salsa over and over again. It has the perfect level of spice, natural fruity sweetness, and a mouthwatering tang. Let's get started!
Pineapple Jalapeño Salsa (Video):
---
Why You'll Love This Salsa Recipe
You may see pineapple and think, "oh great, another perfectly good recipe spoiled by the over-used tropical fruit." First of all, calm down. But also, give it a chance! The fruity ingredients make this salsa sing.
Pineapple is not overpowering, but adds subtle sweetness and tangy flavor
It is perfect for a hot summer day refreshing, bright flavors
It is incredibly easy to make, easy-to-grow fresh ingredients
It tastes amazing with corn chips, but also works as a topping for tacos, grilled chicken or fish, and burritos
---
Pineapple Jalapeño Salsa Ingredients
Salsa comes in so many shapes and sizes. From purely savory and rich salsas, to deep and smoky, to vibrant and fruity. This is why it is one of our favorite snacks to make using fresh ingredients – it is just so fun to experiment.
While peaches and mangoes are popular salsa ingredients, we especially love the sweet and acidic bite that pineapple offers. We also have a secret ingredient up our sleeve that really makes this salsa sing.
Ingredient List
Pineapple. The all star of this recipe is the fruity goodness of pineapple. While it doesn't overwhelm the flavor of the salsa, it adds just the right amount of sweetness and zing that keeps you reaching for another chip.
Tomato. Would a salsa be complete without fresh tomato? I don't think so either. This not only adds flavor, but it also adds a lot of liquid, giving the salsa the right moisture content for dippin'.
Sweet onion. I love sweet onions for their relatively tame flavor. They don't overwhelm the palate with that strong, oniony spice, but add a tremendous amount of overall flavor.
Jalapeño. This is the do-it-all pepper variety, with just enough heat for most. If you love it extra spicy, why not reach for a habanero instead and make this a pineapple habanero salsa?
Pasilla chile. The secret ingredient: Pasilla. This dehydrated pepper got its name from the Spanish word pasas, or raisins. The aroma is indeed very similar to that of a raisin, and they add the magic touch to this salsa recipe. Buy pasilla chiles here >
Cilantro. Some love it, some hate it. In salsa (or on tacos), I think it is essential. If you don't like it, feel free to omit this ingredient. However, I think it amps up the fresh flavor.
Salt. Salt helps meld all the flavors together and makes them pop.
White vinegar. You could use another type of vinegar if you have a preference. However, white vinegar is clean and simple, allowing the fresh ingredients to stay in the spotlight.
If seeing all these ingredients together isn't making your mouth water, you'll just have to trust me. This salsa is delicious. Pasilla is a special ingredient that made a decent salsa experiment into an all-star.
Note: Pasilla may not exactly a household staple where you live. If you need an alternative, you can use poblano pepper (ideally the dried version, known as ancho chile).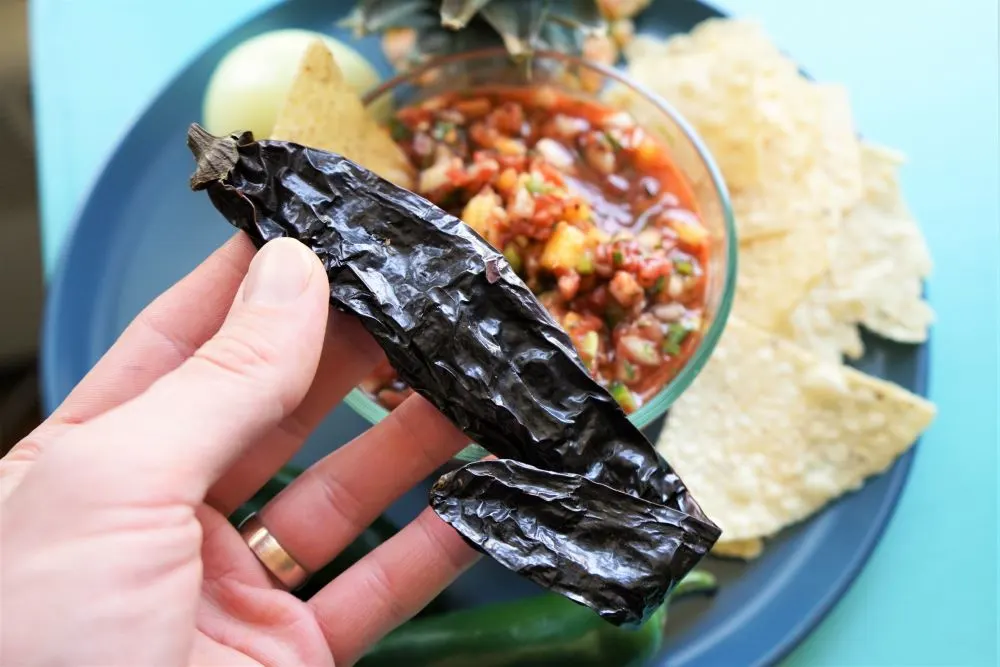 I made several variations of this salsa, and found the perfect balance of these ingredients. Not only is it fresh and tasty, but almost everything can be grown in a home garden.
If you want to try something a bit different, try using other fresh fruits in place of the pineapple. Some great salsa additions to try include peaches, mangoes, blueberries, nectarines, plums, and apples. Let us know what flavors speak to you!
---
How To Make Pineapple Jalapeno Salsa
While some salsas over-do it on the fruit, this salsa was designed to be balanced. Oh, you'll taste the pineapple, but it doesn't steal the show.
Ingredients:
½ cup pineapple (~4oz)
1 medium tomato (~9oz)
½ medium onion (~4oz)
1-2 jalapeño peppers
1 tsp ground pasilla chile
1 tbsp fresh cilantro
1 tbsp white vinegar
½ tsp salt
*Makes about 2 cups of salsa.
How To Make Pineapple Jalapeño Salsa
Wash all produce.

Always choose fully ripe tomatoes and pineapple. You can use canned pineapple (be sure to drain it first), though I think fresh is always better.

Prepare the tomato.

I like to separate the tomato flesh from the seeds and pulp (this is optional). To do this, slice the tomato crosswise, and squeeze the pulp and seeds into a food processor. Puree the juices. Then, finely dice the tomato flesh and skin into about ¼" cubes. Add both the diced tomatoes and the pureed juices to a medium mixing bowl.

Finely dice the onion, peppers, and pineapple.

Finely dice (around ¼" cubes) the onion, jalapeno pepper, and fresh pineapple. Add them to the mixing bowl.

Grind the pasilla.

Pasilla chile usually comes in its whole form (this way more flavor is preserved). Using a spice grinder, grind about ½ of a pepper into a powder. This should come out to around 1 teaspoon. Add it to the mixing bowl.

Add cilantro, vinegar, and salt.

Roughly chop the fresh cilantro leaves, then add the remaining ingredients to the mixing bowl. Mix thoroughly with a spoon.

Chill in the refrigerator for 1 hour.

This step is optional, but I enjoy salsa chilled.

Serve with tortilla chips.

Straight off a salted tortilla chip is my favorite way to enjoy this salsa. However, it would complement pork or fish nicely as well!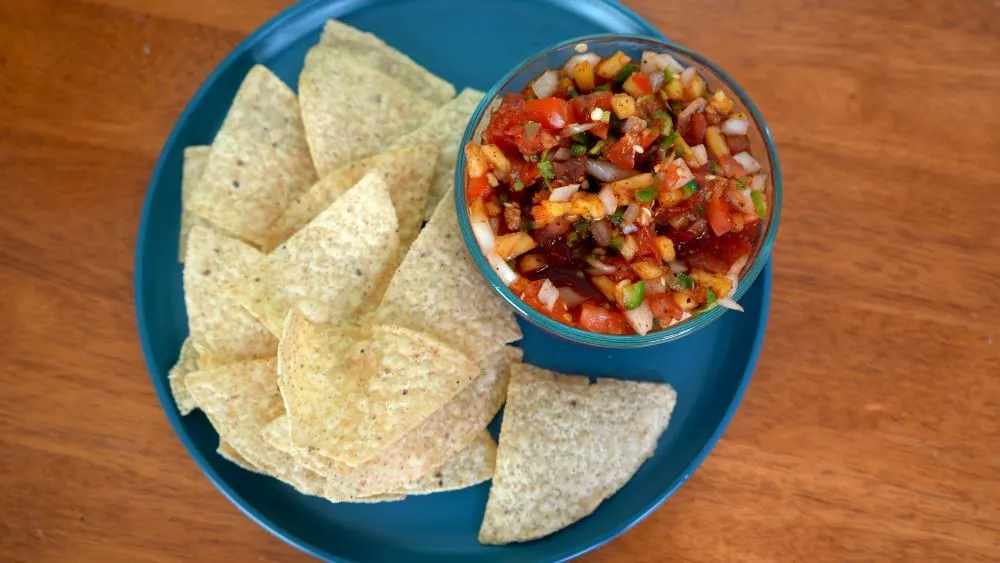 This salsa is so good, I can eat it straight off a spoon. However, I think it is best on corn tortilla chips as a tasty snack. It can also work as a hot dog or burger topper, on top of fish, or dolloped on tacos.
If you have more jalapenos to use up, try our quick-pickled peppers, or spicy jalapeno relish!
---
How Long Does Salsa Last?
This salsa is not meant for long term storage. You may be able to preserve it by cooking and canning, but this preparation method is intended for short term use (up to 1 week stored in the refrigerator).
---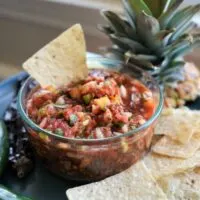 Equipment
1 mixing bowl

1 spice grinder

(optional to grind pasilla)

1 food processor

(optional)
Ingredients
1/2

cup

pineapple

finely diced

1

medium

tomato

finely diced

1/2

medium

onion

finely diced

1

jalapeño

finely diced

1

tbsp

fresh cilantro

chopped

1

tbsp

white vinegar

1/2

tsp

salt
Instructions
Prepare the ingredients
Optional: Separate the tomato flesh from the seeds and pulp. Slice tomato in half crosswise, then squeeze the pulp into a food processor. Puree the pulp.

Dice the tomato flesh into ~1/4" cubes.

Dice the onion, jalapeño, and pineapple into ~1/4" cubes.

Grind pasilla chile into a powder.

Add all ingredients to mixing bowl.
Finish the salsa
Add salt, vinegar and chopped cilantro to mixing bowl, and mix well.

Chill for 1-2 hours before serving (optional).
Video
I hope you enjoy our delicious spicy pineapple salsa recipe. Feel free to iterate on the ingredients and share your results with us below!