Relish is one of our favorite homemade condiments. Since we grow dozens of pepper plants each year, we end up making a lot of homemade spicy jalapeño relish.
In this article, I'll share our simple jalapeno relish recipe using just 7 ingredients. It is tangy, sweet, and will last for weeks in the refrigerator. You can even can it for long term storage!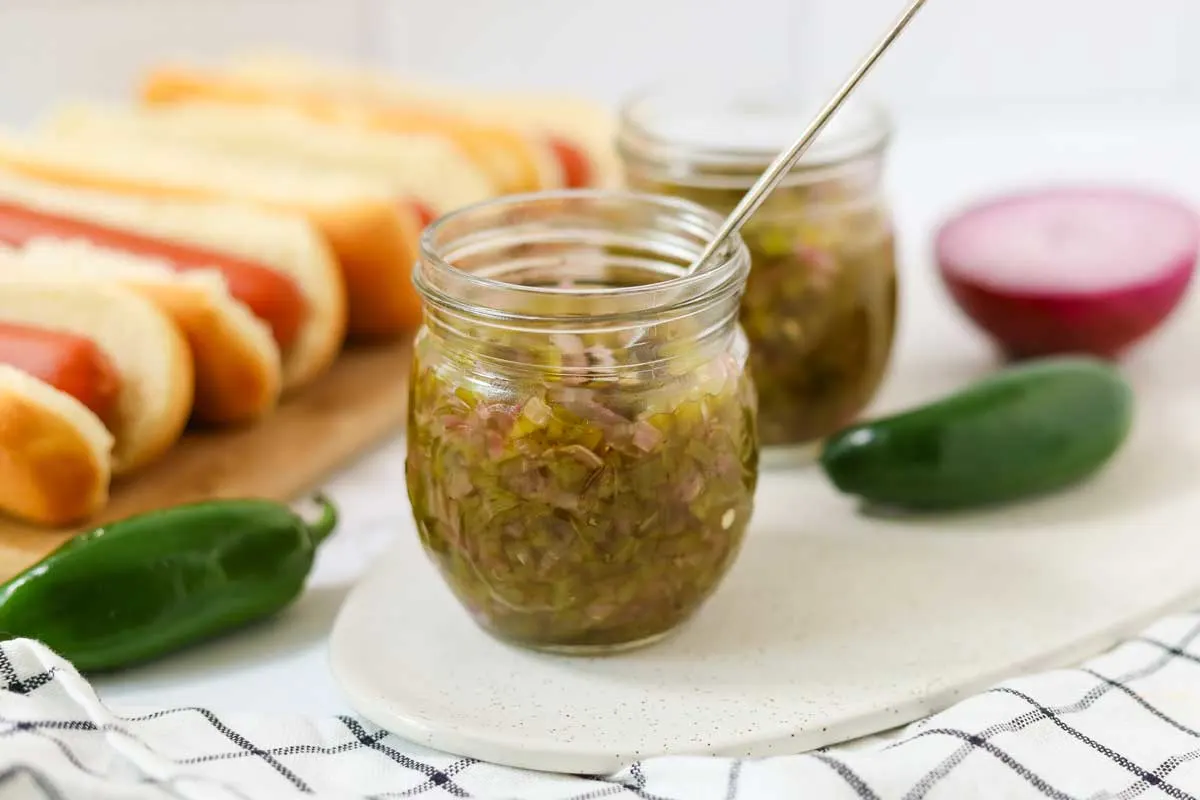 ---
How To Make Relish (Video):
---
Ingredients for Jalapeno Relish
At its most simple, relish is made up of cooked and pickled chopped vegetables (and sometimes fruits) to make a tasty condiment. You can ferment your ingredients to make relish, but I prefer to use vinegar for a quicker method.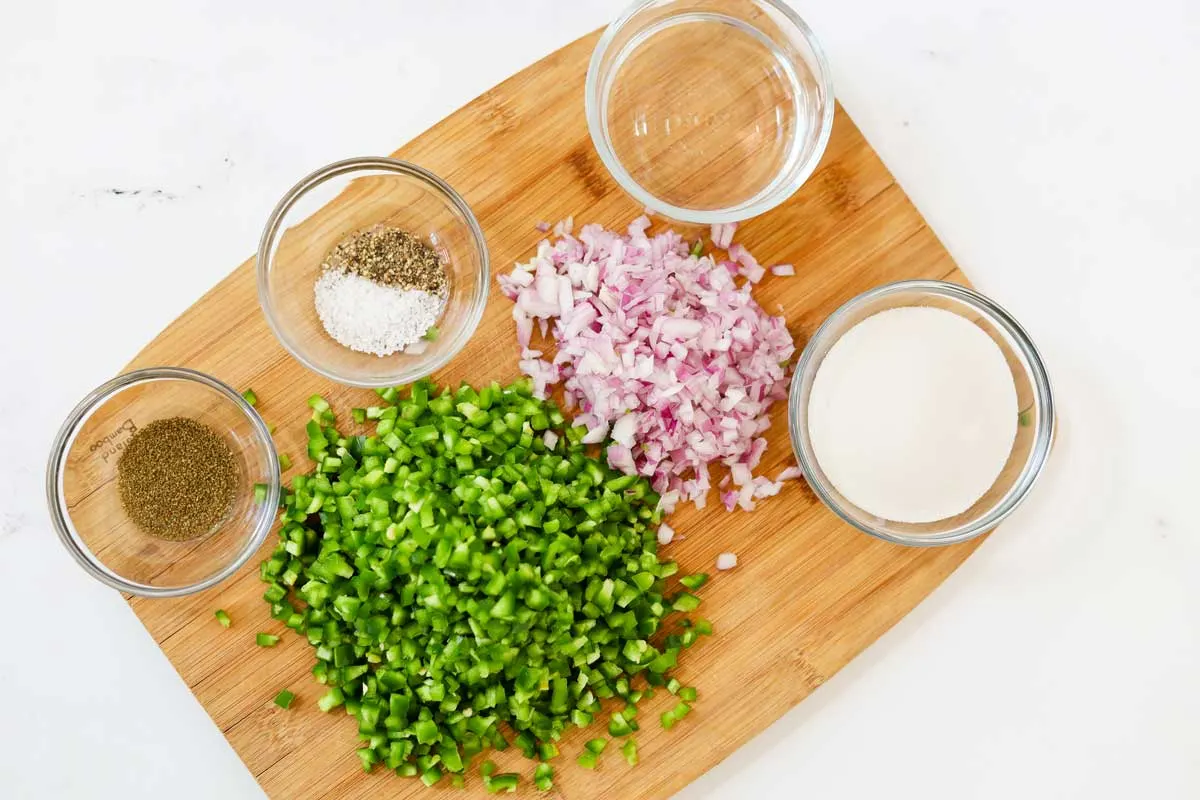 This recipe is all about the jalapeños. There is a reason they dominate supermarkets in the US – they are smokey, crunchy, and have the perfect amount of heat for most people.
Ingredient List:
Jalapeño. These spicy green peppers are easy to find and make up the majority of this recipe. If you want an even spicier relish, feel free to throw in something hotter such as a cayenne or even a habanero or ghost pepper.
Red onion. After much experimenting with simple relish recipes, red onion (or shallot) makes the perfect compliment to the rest of the ingredients. They also add a beautiful color to the finished product.
Sugar. This is a sweet relish, so sugar is required. I experimented with less sugar and it just isn't quite the same. Of course feel free to use a sugar-free substitute at the appropriate amount.
Salt & pepper. Just a touch of salt to make the flavors pop, and a few cracks of freshly ground black pepper.
White vinegar. White vinegar allows the natural colors of the jalapenos to shine in this relish. You could use white wine vinegar instead if you prefer the flavor.
Celery seed. While fresh celery is perfectly usable in as a substitute, a small amount of celery seed adds a surprising amount of taste. Plus, we'll be toasting the seeds to bring out the oils and maximize flavor.
With a star-studded ingredient list like this, I'm sure you agree that this can't possibly be bad (and you're right, it is delicious). However, feel free to use this as a base and tinker to your liking with other herbs, spices, and fresh ingredients.
Tip: Other common ingredients used for relishes include cucumber, mustard seeds, turmeric, ginger, and garlic.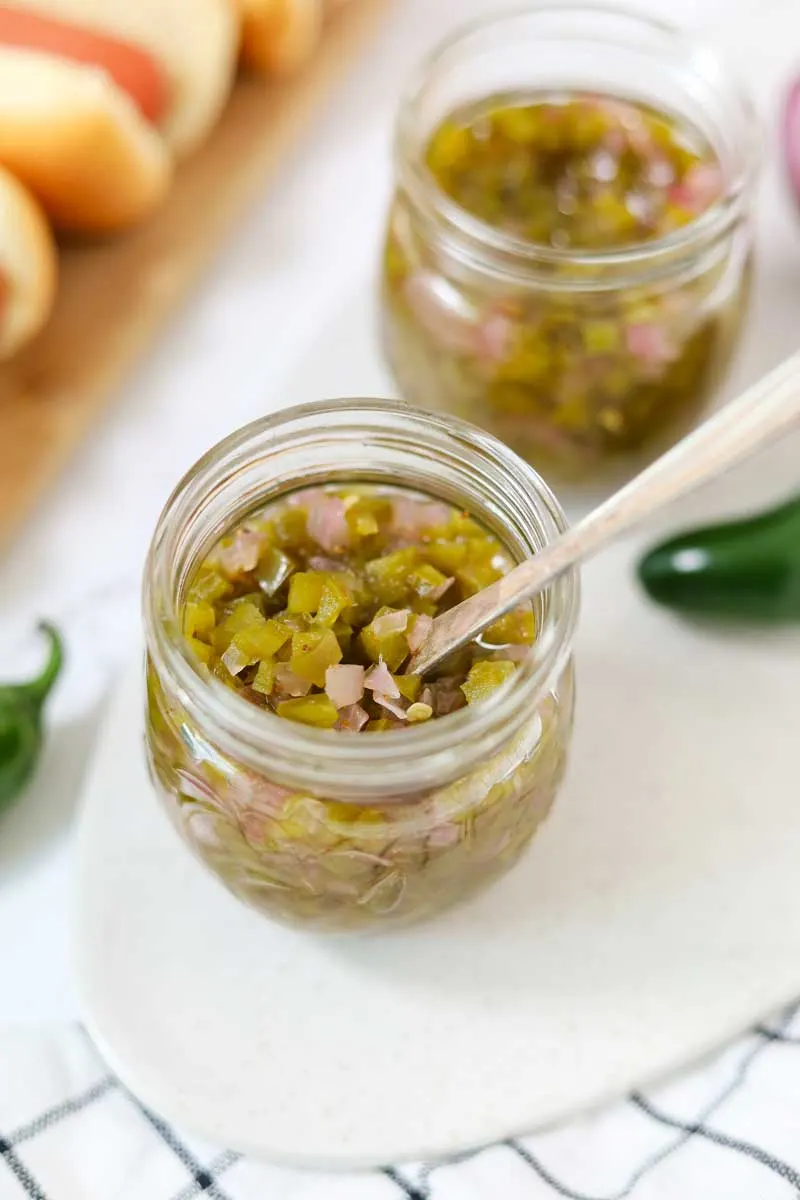 ---
How to Make Jalapeno Relish
The most important thing to get right is the proportion of fresh ingredients to liquid ingredients. The amount of sugar you add can be varied to your sweetness preference.
Ingredients:
2 cups jalapeños, finely diced (about 12 peppers)
1 cup red onion, finely diced
3/4 cup white sugar
1 tsp salt
12 cracks black pepper
1 cup white vinegar
1 tsp celery seed, toasted (substitute 1/4 cup fresh celery, finely diced)
*Makes ~2 cups finished relish
Time needed: 15 minutes
How To Make Jalapeno Relish
Finely dice peppers and onion.

Remove the stems from the jalapenos. Slice lengthwise into thin sticks, then chop into tiny cubes, about 1/8-1/4″ thick. Finely dice the red onion the same way.

Toast celery seeds.

Place a medium sauce pan over medium heat. Once hot, add the celery seed, shaking constantly for about 1 minute or until it becomes fragrant.

Add all other ingredients.

Stir thoroughly until the sugar is dissolved.

Simmer about 10 minutes.

Bring the mixture to a light simmer and cook for about 10 minutes. Don't let all of the liquid evaporate, as the spicy relish will thicken up after it cools.

Cool and store in jar.

Once the mix has thickened slightly, remove it from heat and allow to cool for 20-30 minutes. Add it to a glass jar and store in the refrigerator for 2-3 weeks.
The most important step is getting the cooking time right. If your relish turns out a bit too thick and syrupy, simply add a bit more vinegar after removing from the heat.
It is very easy to boil the relish too vigorously, so shoot for a light simmer and watch it closely. The mix should still look somewhat watery when it is finished, as the sugar will thicken it when it is cooled.
Once the relish is cooled enough, give it a taste! If you're a relish lover, I am sure you'll be happy with the flavor and you'll be craving grilled foods.
---
How Long Does It Last?
I always store this relish in the refrigerator where it will keep for at least 2-3 weeks. The vinegar paired with high sugar content will preserve the jalapeno relish well.
If you want to make a large batch, you could use the waterbath canning method to make the relish shelf stable for months. Just follow safety standards by using new jar lids and boiling for the correct amount of time.
---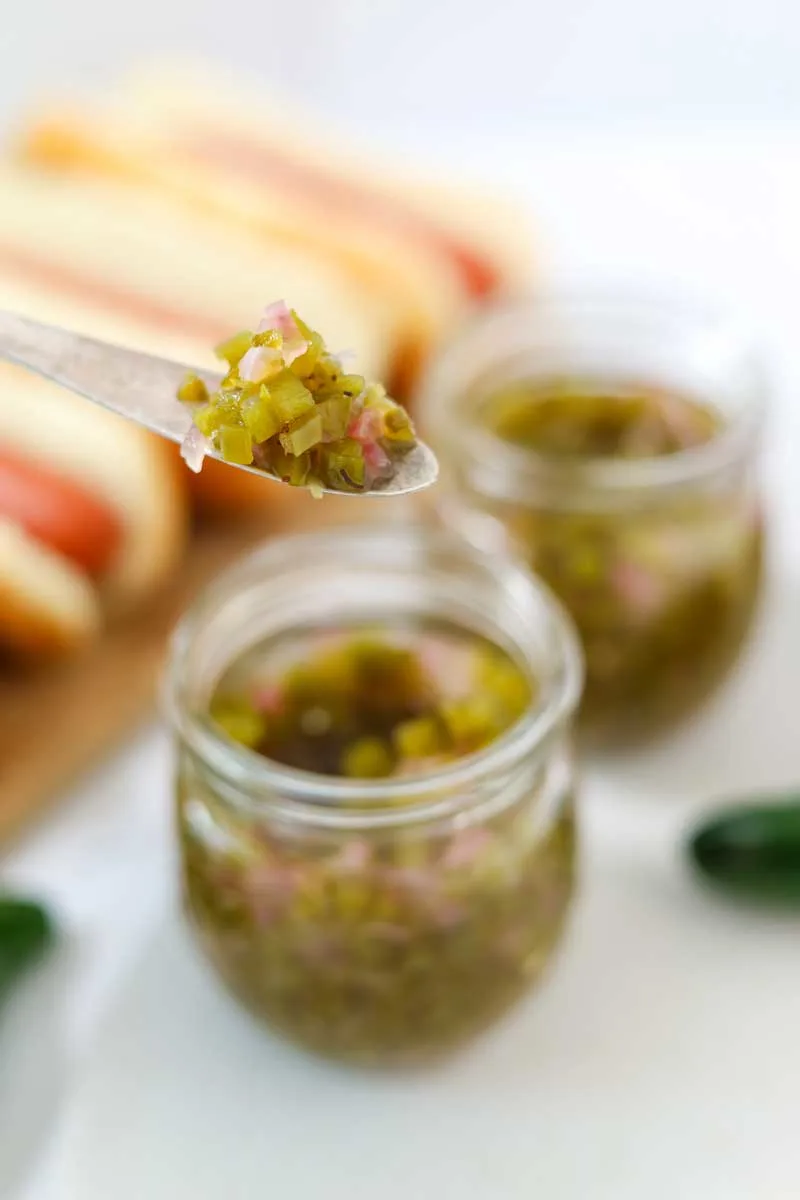 How To Use Spicy Relish
Relish has its obvious uses, but there are many less popular applications for this spicy condiment. Here are a few ideas for how to use your homemade spicy relish.
Slather it on a hot dog. The classic use for relish; on a hot dog. The hot meat and the cold relish make the perfect companions. Everyone likes their relish a certain way, but I like it spicy and layered on thick!
Add to sandwiches. One could argue that a hot dog is as sandwich, but spicy relish can be used for traditional deli sandwiches, too. Use in place of mayo or mustard.
Bring salad to life. If you like pepperoncini in your salads, you may enjoy some spicy relish, too. Zingy, sweet and crunchy relish will only do good things for your greens.
Add to a cheese plate. Cheese and crackers have never been so good. Throw a dollop of jalapeno relish on a slice of cheddar and you won't look back.
Spice up tacos. One of my favorite fancy tacos is glazed porkbelly and pickled relish. Try it out on traditional or non-traditional tacos for a surprisingly tasty combo.
Add to dip. Next time you make chips and dip, mix in a few spoonfuls of your homemade jalapeno relish. Your guests will be asking for the secret ingredient.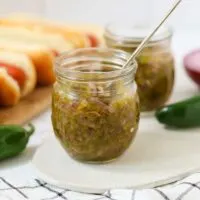 Simple Jalapeño Relish
Delicious, tangy, spicy jalapeño relish recipe using just 7 ingredients.
Print
Pin
Rate
Ingredients
3

cups

jalapeños

finely diced

1

cup

red onion

finely diced

3/4

cup

white sugar

1

tsp

salt

1/4

tsp

black pepper

about 6 cracks

1

cup

white vinegar

1

tsp

celery seed

toasted
Instructions
Finely dice the jalapeños and red onions into small cubes, about 1/8 inch.

Bring a medium sauce pan to medium heat. Add the celery seed and toast for about 1 minute, or until fragrant.

Add the rest of the ingredients (peppers, onions, sugar, salt, black pepper and vinegar) to the pan and stir thoroughly.

Bring the mix to a simmer and allow to cook for about 10 minutes, uncovered.

Remove from heat when some of the liquid has evaporated, but it is still somewhat watery or runny. The relish will thicken as it cools.

Allow to cool and add to a clean glass jar.

Store in the refrigerator for 2-3 weeks or waterbath can for long term storage.
Video
Notes
* If the relish comes out too thick, add a small splash of vinegar and stir. I like a more thin and runny relish (it is a condiment, after all!).
---
I hope you enjoyed our simple spicy jalapeno relish recipe! If you have any suggestions for other ingredients that go well in a spicy sweet relish, leave a comment below.