The Trinidad Moruga Scorpion pepper is fiercely spicy. The small, wrinkled peppers look angry, because they are. They are known as one of the hottest peppers in the world.
Most commonly used to make super-spicy hot sauces and powders, Moruga Scorpions are highly sought after. They take a long time to fully ripen, often 1-2 months longer than a typical jalapeno.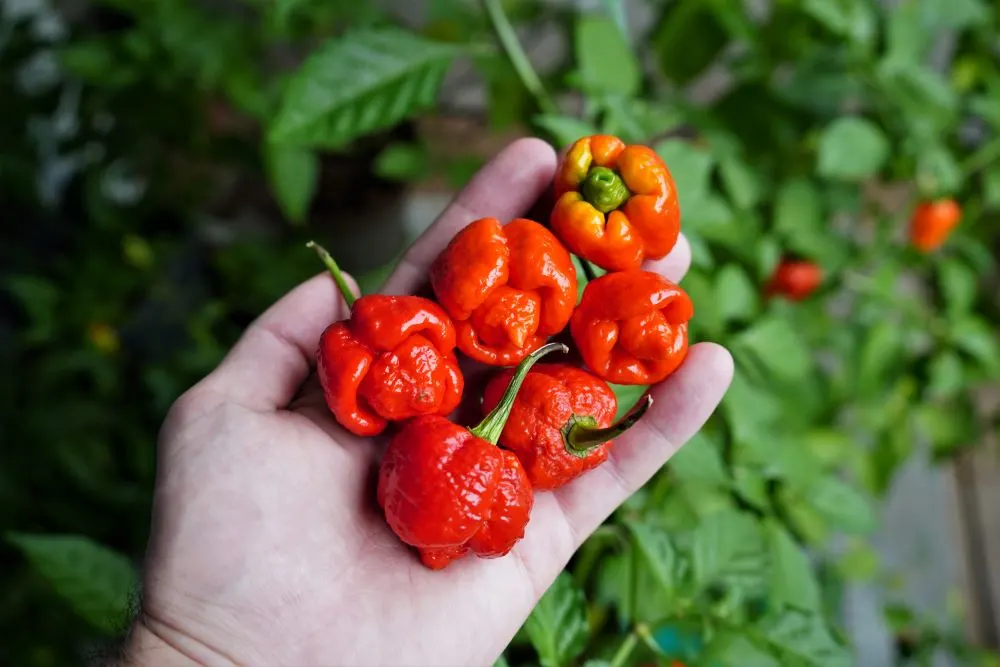 About Moruga Scorpion Peppers
Scoville Heat Units: 1.2 – 2 million+ SHUs
Diameter: 1 – 3 inches
Length: 1 – 3 inches
Color: Red, Yellow
Species: Capsicum chinense
Buy Seeds: NMSU
The Trinidad Moruga Scorpion pepper is a landrace variety found on the Caribbean island of Trinidad. Known to be wickedly spicy, this pepper has been used to breed other superhots.
The pepper's name stems from its origins in the village of Moruga on the island of Trinidad. Trinidad is known for many superhot pepper cultivars, including the various 7 pot peppers.
---
Trinidad Moruga Scorpion Pepper Scoville
In 2012, NMSU's Chile Pepper Institute named the Moruga Scorpion the 'hottest pepper on Earth.' While testing a variety of other superhot peppers, the Moruga was found to be the hottest of them all.
To put it simply, the Moruga Scorion pepper has an average Scoville rating of 1,200,000 SHUs, with the hottest individual peppers reaching over 2,000,000 SHUs. This means the Moruga Scorpion is about 240 times hotter than a jalapeño.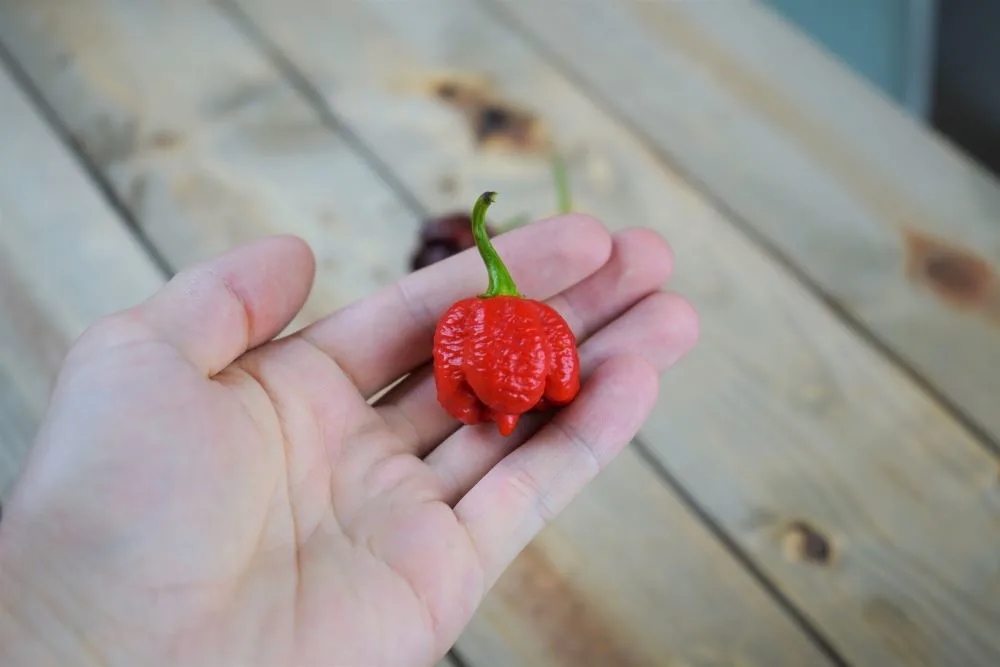 1,200,000 SHUs was the mean Scoville rating, or an average of all the individual peppers tested. Two particular peppers from the NMSU's study were tested at over 2,000,000 SHUs!
Either way, the Moruga Scoprion is right up there with the 7 Pot Primo and the Carolina Reaper for heat.
With all of that spice, the Moruga Scorpion is a favorite for making super-spicy hot sauces. For example, Tabasco has a scorpion sauce that is fiery hot (and full of flavor).
---
Moruga Scorpion Pepper Flavor
Spicy Caribbean peppers are known for their fruity flavor, and the Moruga Scorpion is no different. The flavor is distinct and unlike any common store bought pepper you'll find. Unfortunately, if you don't like heat, you may never know how delicious these peppers are!
The C. chinense pepper species tend to have similarities in flavor. These flavors are commonly described as floral, nutty, citrusy and fruity. However, the Caribbean types, like the scotch bonnet, tend to be less floral and more well-regarded for flavor.
If it weren't for the intense burn, these may be a more common snacking pepper. Either way, it is no wonder that Moruga Scorpions make for delicious hot sauce.
---
Trinidad Moruga Scorpion Pepper Seeds
Since it is one of the hottest in the world, Moruga Scorpion seeds are always in high demand. Check some of our recommended seed suppliers here for availability.
We purchased our Moruga Scorpion seeds from Semillas.de.
Another reliable source, NMSU, also sells seeds here.
---
Read More:
---