Jay's Peach Ghost Scorpion pepper is a hybrid pepper variety created by Jay Weaver from PA. Commonly known simply as JPGS, this pepper is the result of crossing a common ghost pepper with the Trinidad Scorpion.
The pepper looks angry, with a highly wrinkled texture and long, curly stingers on the end. The color is also unique, ripening from light green to a peachy color. JPGS plants will definitely spice up your garden!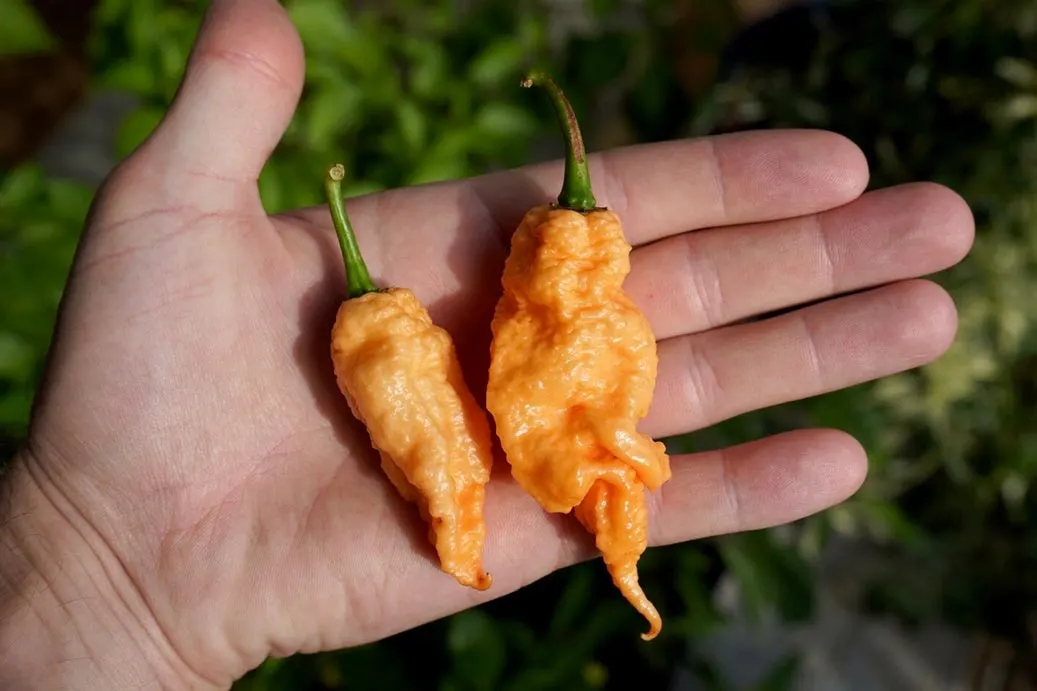 ---
About Jay's Peach Ghost Scorpion Pepper
Scoville Heat Units: ~1,000,000 SHUs
Diameter: 0.5 – 1.5 inches
Length: 2 – 3.5 inches
Color: Green to Peach
Species: Capsicum chinense
Buy Seeds: White Hot Peppers
This pepper variety was an accidental cross on Meadow View Farm in PA. Pepper plants easily cross-pollinate with the help of insects, so it is common for large pepper farms to find bizarre variants through years of growing.
---
Who Is Jay?
Around 2010, Jay Weaver saw an odd looking pepper growing in a field of ghost peppers. He decided to save seeds and stabilize the variety, leading to what is now Jay's Peach Ghost Scorpion.
Jay Weaver is the humble superstar behind the famous Peach Ghost Scorpion pepper. Meadow View Farm is located in Bowers, PA where the accidental cross between a bhut jolokia and scorpion pepper occurred.
Video With Jay!
Jay clearly has a passion for peppers, and we are thankful for his hard work. His family is seriously old school cool, having grown hot peppers since 1994 or earlier!
---
Jay's Peach Ghost Scorpion Pepper Scoville
Jay's Peach Ghost Scorpion pods are very spicy. They are about on par with a standard bhut jolokia, the former world record holder for the hottest chili.
To put it simply, Jay's Peach Ghost Scorpion pepper has a Scoville rating of around 1,000,000 SHUs. This means the JPGS pepper is around 200 times hotter than a jalapeño pepper.
Many of the pods also have long stingers on the end, likely thanks to the Trinidad Scorpion's genetics. This makes them look mean.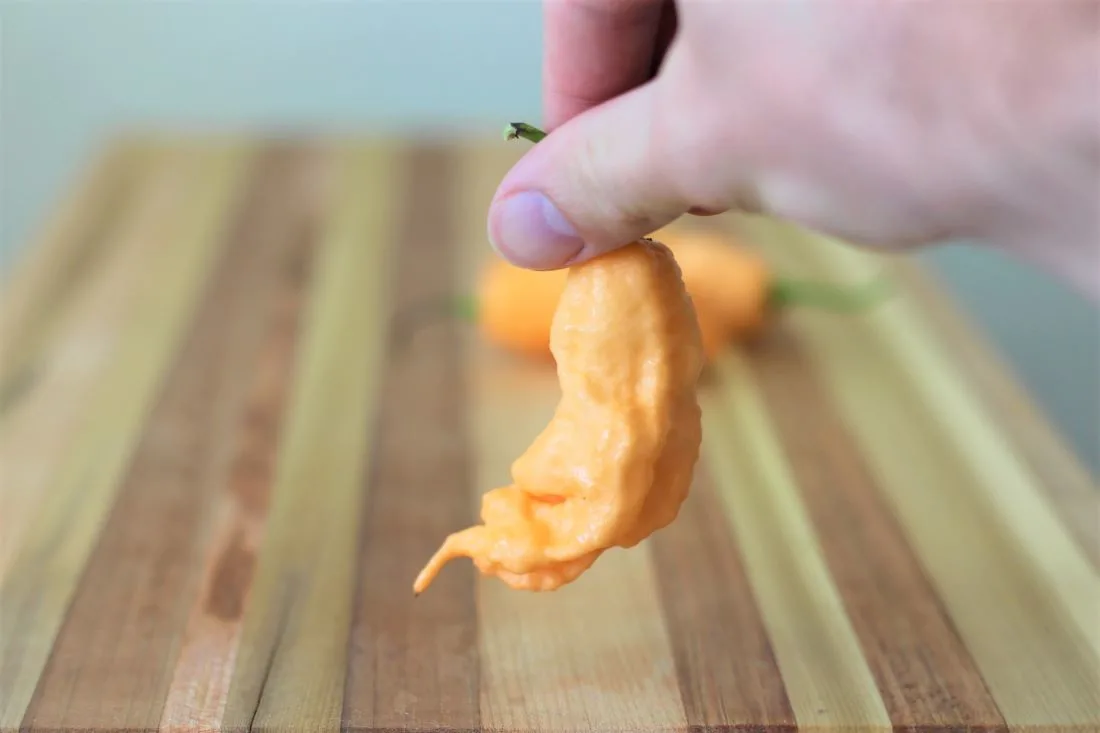 ---
JPGS Pepper Flavor
If you can tolerate the heat, JPGS peppers are delicious. Fruity and slightly floral, the unique taste is wonderful in a powder or in homemade hot sauce.
The combination of the Caribbean Trinidad Scorpion and the ghost pepper make for a delicious flavor profile in JPGS. However, the burn is quick to follow, overwhelming the palate with serious heat.
This pepper comes from two varieties within the chinense species, which tend to have some similarities in flavor. The plants are also large and bushy, and in the case of Jay's Peach Ghost Scorpion, highly productive!
---
Jay's Other Peppers
Jay Weaver also stabilized the 'Jay's Red Ghost Scorpion' pepper, a variant of the same cross. The peppers look very similar to the peach variety, but are bright red in color.
Jay also bred the 'Lightning Habanero' peppers, a less well-known variety. They are habanero-type peppers that are long and crinkled, but not nearly as bumpy as the ghost scorpions.
James has grown the lightning habanero variety in 5 colors: Red, yellow, brown, mustard and peach colors! Unfortunately, seeds are hard to come by…
---
Jay's Ghost Scorpion Pepper Seeds
Since Jay's pepper became popular, seeds are easier to find. We got our JPGS seeds from Semillas.de, but they are also available on RareSeeds.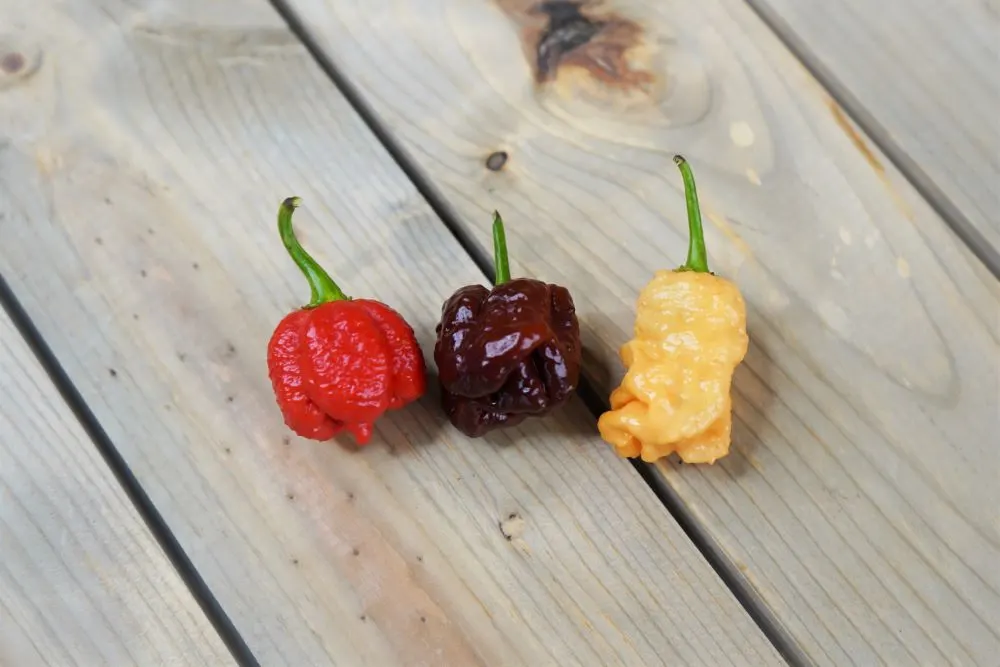 ---
We love Jay's Ghost Scorpion pepper for it's high productivity, heat and beautiful appearance. We only wish official seeds could be purchased directly from the Meadow View Farm!
Read More:
---