No matter where you live in the world, gardening will come with its challenges. One of the most difficult problems to deal with when growing peppers is disease. Once a disease sets in, it can often mean the end of the plant (or multiple plants!).
The best way to deal with disease is to avoid it altogether. While practicing good gardening hygiene, mulching, and pruning can help, your best bet is to plant disease resistant pepper varieties.
So, in this article, I've rounded up a selection of disease resistant peppers. For each, I'll share which diseases it resists, along with where you can find seeds to grow your own. Let's get into it!
In this article (skip ahead):
---
Disease Resistant
Bell Peppers
Since bell peppers are such an important food crop around the globe, there is a great need for disease resistant varieties. As a result, commercial growers and home gardeners have a wide selection of hybrids that are specifically bred to stave off disease.
While the list of disease resistant bell peppers is huge (and continually growing), we've picked a few that offer different packages (and colors). You can browse a more extensive list here.
Ninja S10 (Red)
Disease resistance: Bacterial leaf spot (races 0-10), tobacco mosaic virus
Seeds: Johnny Seeds
Here in New England, there are few diseases that we won't eventually run into. However, bacterial leaf spot is among the most common. So, when we saw that the Ninja S10 hybrid bell pepper has resistance to all 10 races of BLS, we were immediately sold!
The "S10" in the name is actually a trademark of Sakata Vegetables, indicating resistance to all 10 races of bacterial spot. Keep in mind, these seeds are not genetically modified (GMO).
These traditional, blocky bell peppers ripen from green to bright red, so you can treat them as a green or a red bell. They're also medium-large, so they'll work well for stuffing.
Orange Blaze (Orange)
Disease resistance: Bacterial leaf spot (races 0-3, 7, 8), tobamovirus, tobamovirus pathotype O, tobacco mosaic virus
Seeds: Totally Tomatoes
If you want to add some bright orange color to your garden, the Orange Blaze hybrid pepper is a great option. It also comes with great resistance to some important diseases, including bacterial leaf spot and TMV.
The Orange Blaze was an AAS winner back in 2011 for its early productivity, sweet flavor, and of course, disease resistance. Keep in mind, this pepper is on the small side when it comes to bell peppers. They are better used for slicing, eating fresh, or frying than for stuffing.
Super Heavyweight (Yellow)
I love yellow peppers. I also love huge, heavy fruits. The Super Heavyweight hybrid bell peppers delivers on both of these traits, with big, golden pods weighing as much as 9 oz each!
While the disease resistance is not as robust as some of the others on this list, the huge size is unique. Another yellow bell pepper option with a bit more disease resistance is the Abay hybrid variety.
Alliance (Red)
Disease resistance: Cucumber mosaic virus, bacterial leaf spot (races 1-3, 5), pepper mottle virus, potato virus Y, pepper yellow mosaic virus, tobacco mosaic virus
Seeds: Seeds n Such or Totally Tomatoes
Let's end on an all-star bell pepper: Alliance. This red-ripening bell has an incredible ability to dodge many important diseases. It also produces large, thick-walled pods on sturdy plants with dense foliage.
Most notably, this pepper variety shows resistance to cucumber mosaic virus (CMV). This virus is a major threat in temperate regions, including our local climate in New England! Resistance to CMV is somewhat hard to come by, so this as a big bonus.
---
Disease Resistant
Jalapeños
If you like a bit of heat in your cooking, then jalapeños should be a staple in your garden. The thick walls and cylindrical shape are perfect for making jalapeño poppers, hot sauce, or just adding some heat to meals.
Goliath (Best Overall)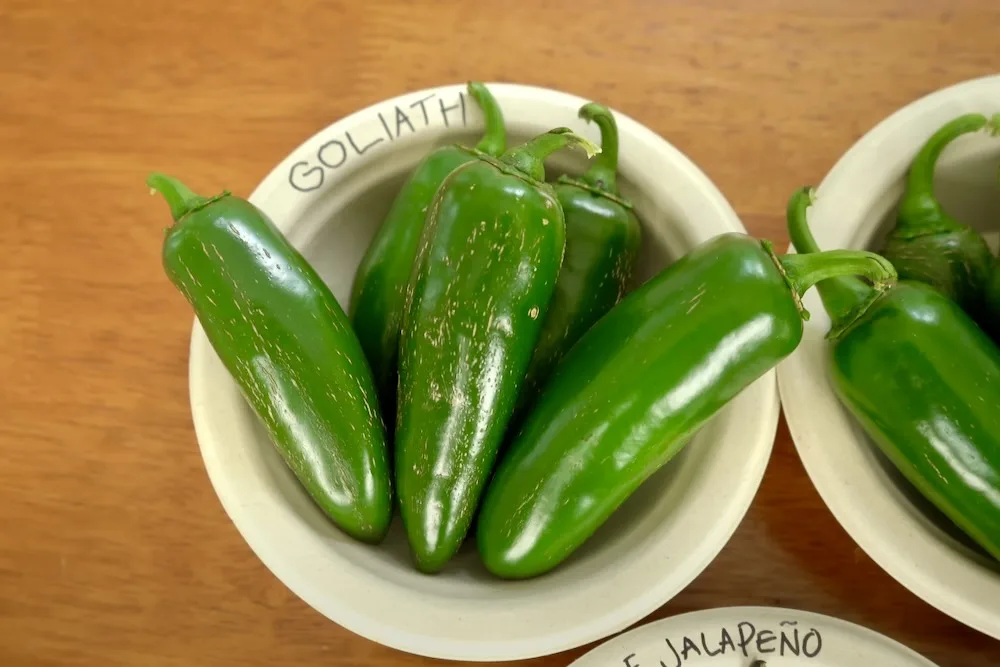 In 2022, we trialed 8 different jalapeño varieties. We tasted them all in a video, and each chose our favorite of the group. My personal favorite in the end was the Goliath jalapeño.
The reasons were plenty: Large plant size, huge pods, impressive yields, and of course, little if any disease. The flavor and heat were also great, so I am hard-pressed to find a better option (at least for our climate).
Jalafuego (Best Flavor and Heat)
Disease resistance: Bacterial Leaf Spot (Race 0-3, 7, 8), potato virus Y (Race 0-2)
Seeds: Botanical Interests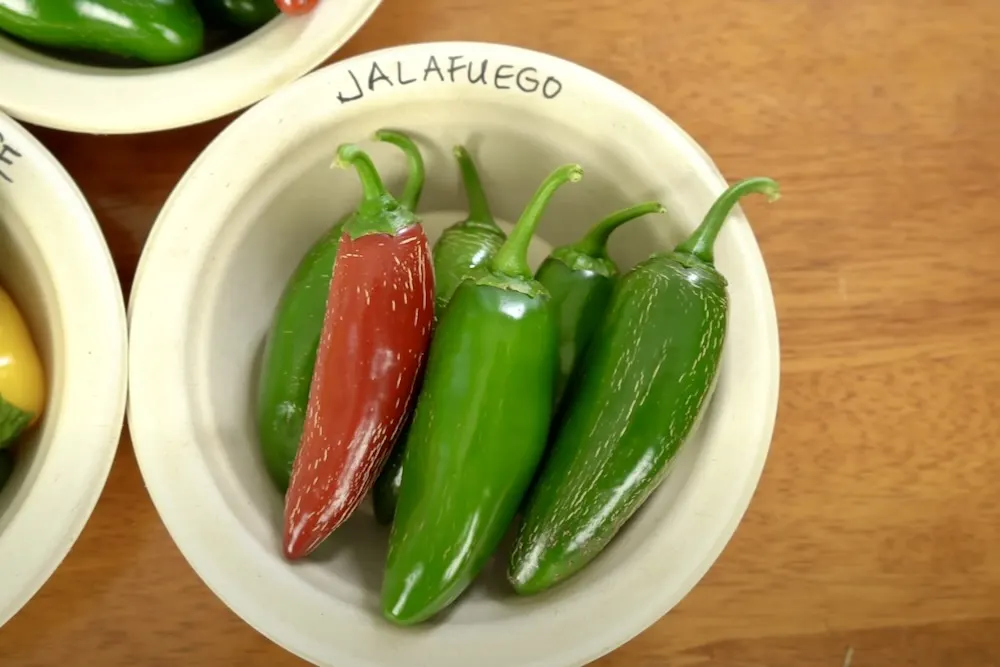 My second favorite jalapeño that we will always grow is the jalafuego. As the name implies this is a spicier jalapeño variety with a Scoville rating around 8,000 SHUs. So, if heat is important to you, this is your best option.
To top it off, the plants had very little pest or disease issues, produced great yields, and had a wonderful flavor.
El Jefe
Disease resistance: Bacterial leaf spot (races 0-3, 7, 8), potato virus Y (races 0-2), tobacco etch virus
Seeds: Johnny Seeds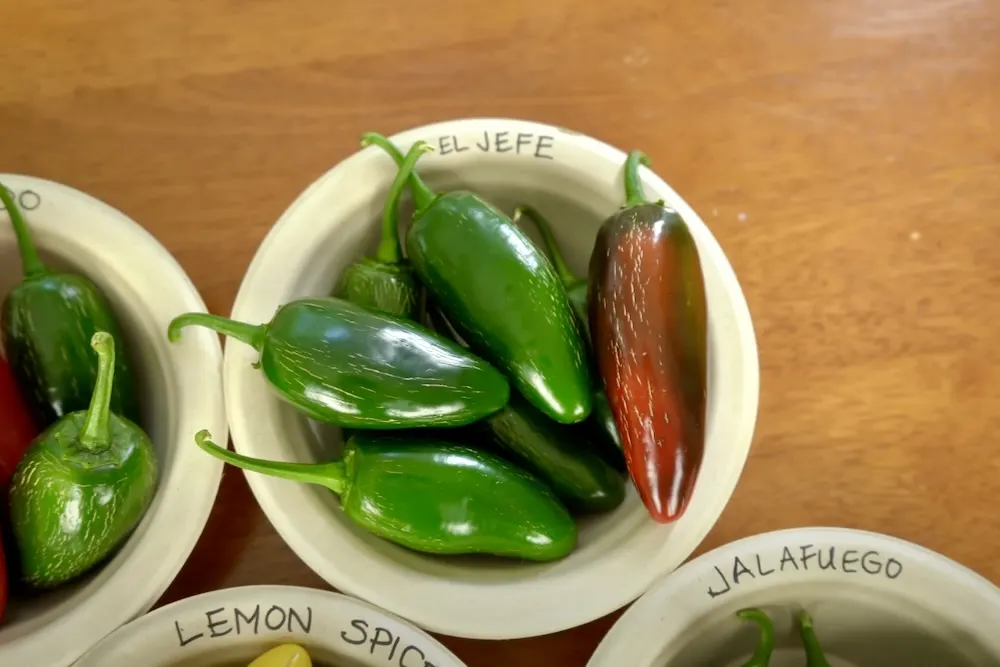 The El Jefe jalapeño is another hybrid variety with great disease resistance. The plants grew to be medium in size, with dense yields.
I also found these to be the *prettiest* jalapeños that we grew, showing some corking as the pods ripened, with a thick, plump shape.
It is worth noting that, out of all the hybrid jalapeños we have grown, El Jefe was one of the most prone to pests. While this could have been circumstantial, the plants were grown side by side with other jalapeños which had less pest pressure.
---
Other Disease Resistant Peppers
If you're looking for more specialized peppers, there are many that offer disease resistance. Again, there are many options out there, but these are a few of our picks.
Jimmy Nardello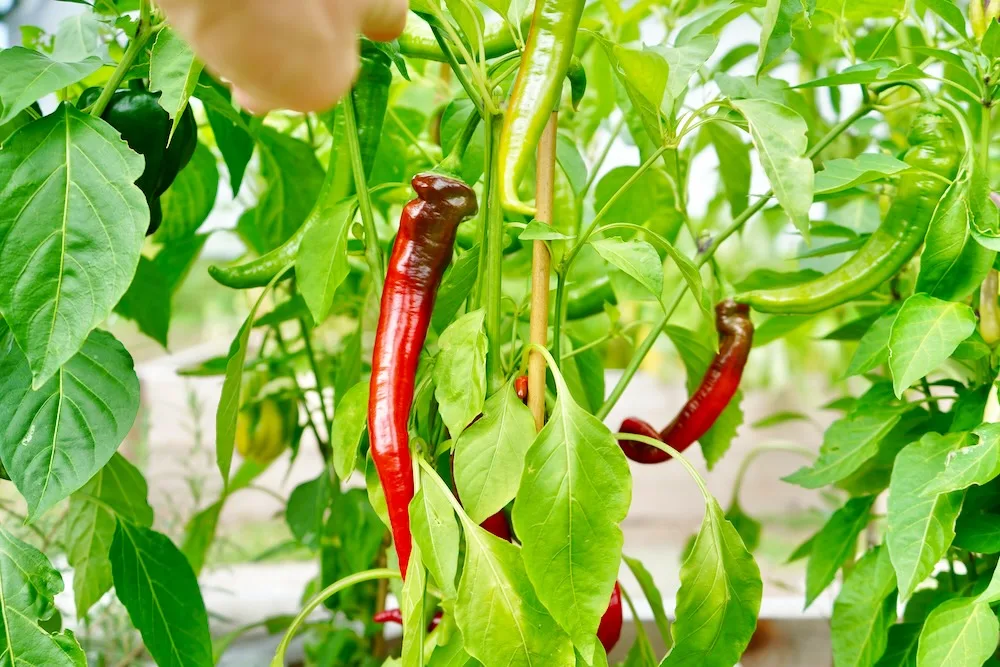 This is one of the few non-hybrid varieties we're including in this article, since we have first-hand experience growing it. While the disease resistance can't be specified, it is widely adapted and seems capable of avoiding many common diseases.
Our Jimmy Nardello plants grew like trees, producing several flushes of healthy fruits throughout the season. To top it off, this variety is an Italian heirloom with a rich history. Read more about the Jimmy Nardello here.
Fireball
Disease resistance: Bacterial leaf spot, tobacco mosaic virus, tobamovirus pathotype O
Seeds: Territorial Seed Co.
If you like stuffed hot peppers, the fireball may be the perfect pepper for you. With a large cherry pepper shape, the Fireball hybrid lives up to its name with a Scoville rating around 5,000 SHUs.
Banana Goddess
Disease resistance: Bacterial leaf spot (races 1-3)
Seeds: Johnny Seeds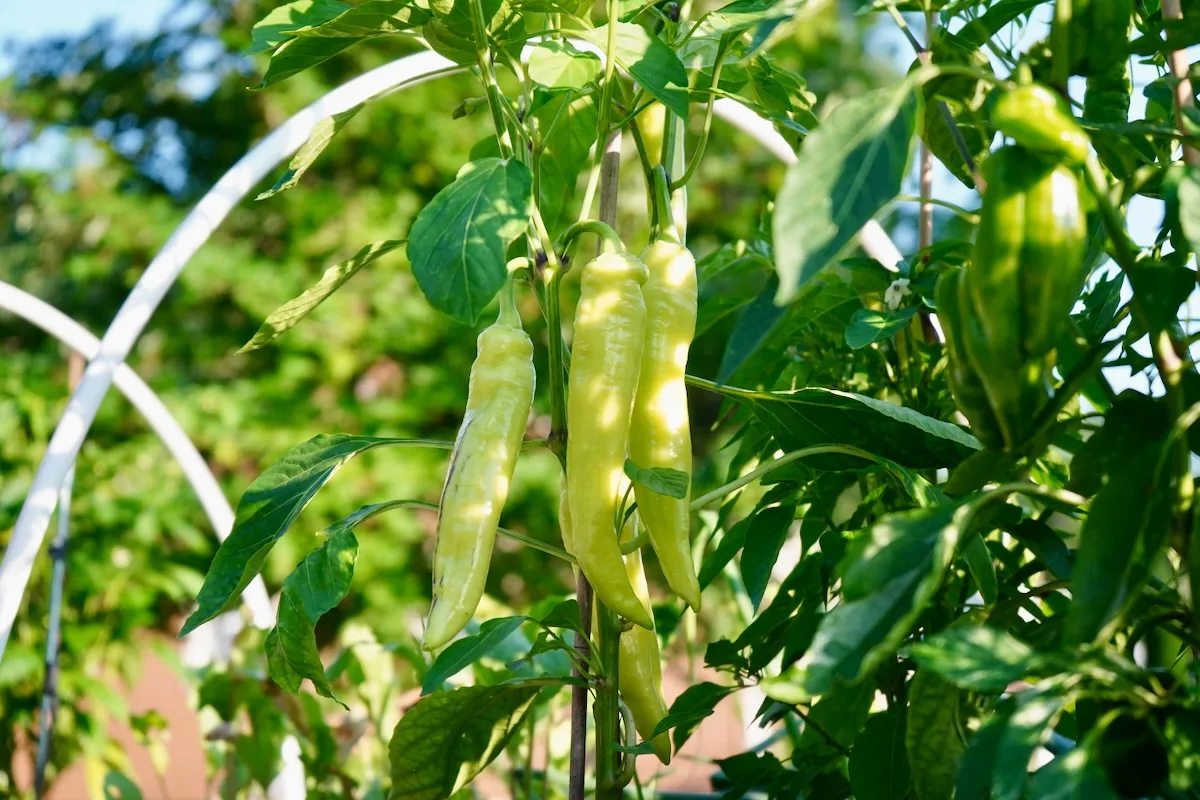 We love making pickled banana peppers, and the Goddess hybrid variety was truly impressive to watch grow. It grew faster than almost any other pepper plant in our garden, and produced huge harvests of massive pods!
While the flavor isn't very rich, they are perfect for making zesty pickles, adding to stir fry, or even stuffing. Even though BLS is the only listed resistance, we had virtually no disease issues with our plants.
Super Habanero
Disease resistance: Cucumber mosaic virus
Seeds: Holmes seed
In our experience, habaneros and other C. chinense types have a general resistance to disease. However, if you want to specifically avoid CMV (and who doesn't), try the super habanero.
This large red habanero has a typical habanero heat and flavor, despite being a hybrid. So, you won't be missing out on the usefulness of red habaneros, just the plant disease.
Nassau Cubanelle
Disease resistance: Bacterial leaf spot (races 1-3, 7, 8)
Seeds: Johnny Seeds
Cubanelle peppers have grown in popularity for their unique shape and size. They're great stuffed, or freshly chopped for salads.
The Nassau variety is a hybrid that has high resistance to several BLS races. Growing sweet peppers can be a challenge, so having some disease resistance is a big leg up from day 1.
---
More Resources
While this list includes some great options, there are countless other pepper varieties with disease resistance. This article from Cornell University rounds up a large number of varieties from the latest seed catalogues.
For a larger catalogue of hybrid peppers, check out Johnny Seeds. They include which disease each hybrid variety is resistant to, and you can even filter by disease resistance.
---
I hope this article inspires you to try some new pepper varieties. Again, avoiding disease is critical. You'll ensure a better harvest, and avoid spreading disease to other plants in your garden. Learn more about pepper plant diseases and issues here.