The aji amarillo is considered a fundamental ingredient in Peruvian cooking. The large, orange chili peppers are an essential component of countless dishes, and are used to make the popular aji amarillo paste.
This article is all about the aji amarillo. I'll cover the origin of the variety, the plant characteristics, how to grow them from seed, their flavor, heat level, and uses in the kitchen. We have grown the aji amarillo for two seasons straight, and I think we will be growing them again with our other chili varieties.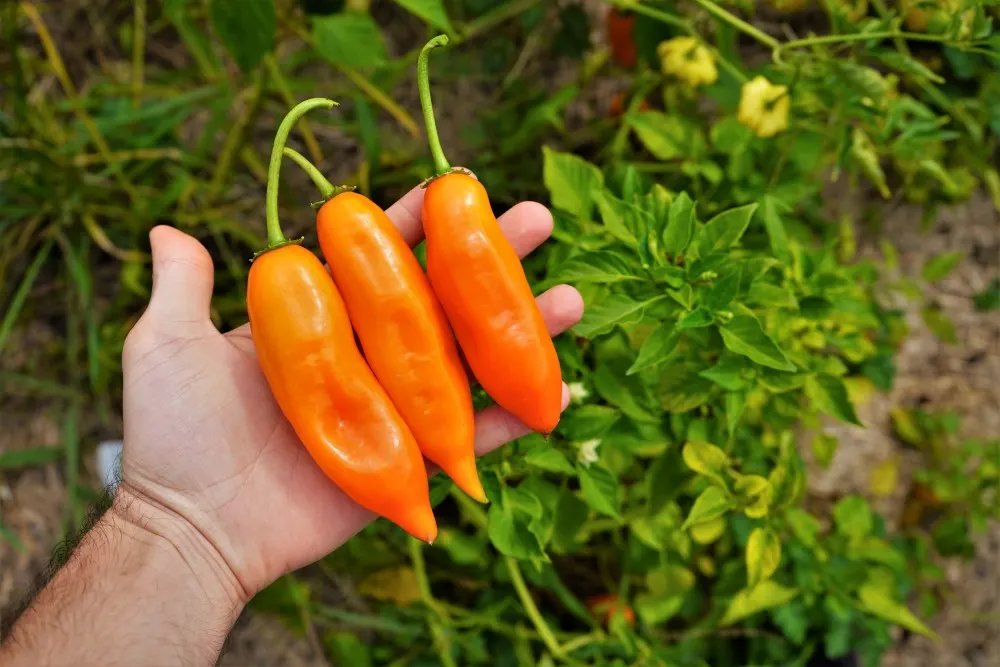 ---
About The Aji Amarillo Pepper
The name 'aji amarillo' translates to 'yellow chili pepper,' though the fruits are actually orange. Perhaps the name comes from the yellowish color that they turn when they are cooked.
Like all Capsicum baccatum pepper varieties, the aji amarillo likely has ancient origins in Peru and Bolivia. The plants and peppers are still widely used in Peru.
Plants
The aji amarillo plant needs a very long growing season, up to 4 months after transplanting before the chilies are ripe! This is nothing new if you are used to growing other C. baccatum varieties.
Get aji amarillo seeds here.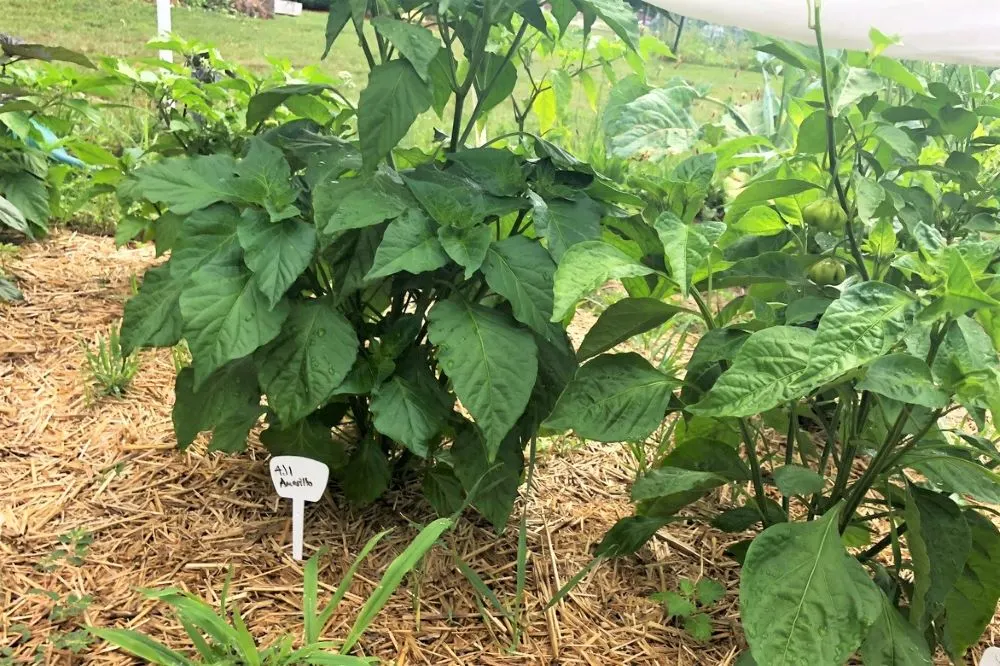 The plants can be big, often growing to well over 5 feet tall in large containers or fertile soil. As the peppers grow, the plants become top heavy, so staking early on is definitely a good idea.
Fruits
The fruits are large, growing to an average length of 5-6 inches, and 1.25 inches wide. This makes the aji amarillo one of the biggest baccatum varieties that we have grown – really impressive pods!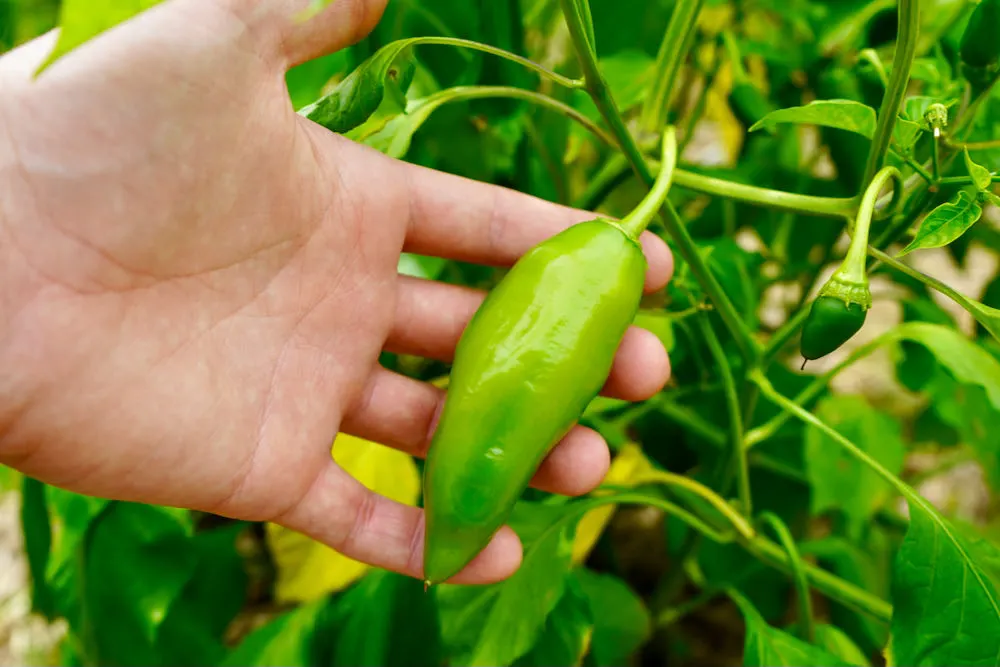 Our plants have had medium yields, with our shorter growing season being the main issue. We have seen some other growers produce bumper crops of ripe ajis amarillos in warmer climates!
---
Heat
The aji amarillo is a hot pepper, but it is on the milder side. In my personal experience, it is no hotter than a jalapeño or serrano pepper. However, there are widespread claims that the aji amarillo lands between 30,000 – 50,000 SHUs on the Scoville scale.
This seems high to me, but I have not found any official measurement of the pepper's heat. If I were to estimate, I would peg the aji amarillo at around 10,000 SHUs. This is a significant gap between other claims online, but we have personally tasted them fresh and compared with other common hot peppers.
Either way, the aji amarillo has a gentle, even burn that is not overwhelming. Even when eaten fresh, they are easy to handle for most (as long as you like spicy food).
---
Flavor
This is where the aji amarillo really starts to shine. The peppers are so delightful to eat, from the satisfying crunch of the fruits, to the sweet and fruity flavor. They have a flavor unlike most other peppers I have tried, reminding me of a rich, tropical fruit.
Flavor notes:
Fruity
Sweet
Slightly tart
Tropical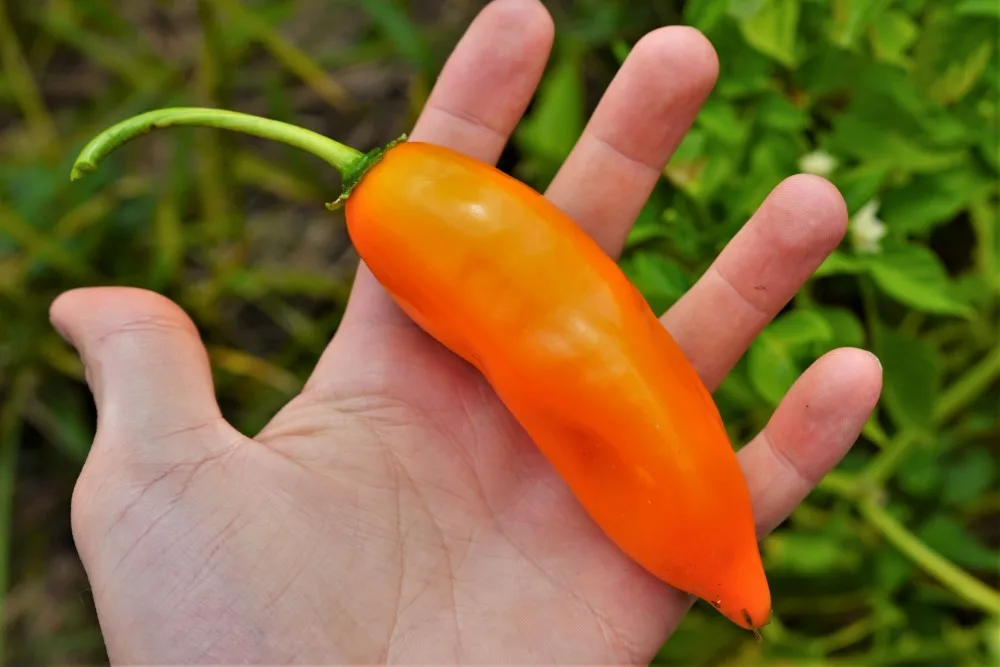 When turned into a paste, the flavor is a great blend of sweet and savory, with a velvety-smooth, rich texture. They are perfect for making sauces, smearing on tacos, adding to soup or stew, and of course making traditional Peruvian foods.
---
Aji Amarillo Recipes and Uses
If you have your hands on some fresh aji amarillos, I highly recommend using them to cook something native to Peru. There, they have been used for centuries to craft delicious sauces that will blow your mind.
Aji amarillo dishes:
Aji amarillo paste –

The

essential ingredient for countless recipes. It is basically just blended up aij amarillo peppers with a dash of water or oil to get the right texture. Easy to make, or can buy it online.
Huancaina sauce – A creamy, rich sauce used for potatoes (most common is papa a la huancaina), pasta, and other starchy dishes. Learn how to make it here.
Aji huacatay – Another creamy sauce used on chicken and other meats. Delicious and full of unique flavors.
Tamales – Aji amarillo is used to make simple, delicious tamales, often combined with fish and butter.
Causa rellena – This is basically a potato casserole with layers of lemony mashed potatoes, tuna fish, and aji amarillo paste. Learn how to make it in this video.
Olluco con carne – Traditional dish made with fresh olluco tubers, meat, and peppers, served over rice. Make some here.
If you don't want to cook, but still want to get the most out of your fresh ajies amarillos, there are many other methods to preserve or store them.
Storage methods:
Make powder – I can't tell you how tasty aji amarillo powder is. We dehydrated most of our peppers this year, and I use it almost daily to add a dash of spice and flavor to my meals. It is easy to dry peppers, learn how to here.
Make hot sauce – If you are going to make paste, why not take it a step further and try your hand at hot sauce? I love experimenting with hot sauce, and aji amarillos are a great pepper to add unique flavor and heat. Here is a simple hot sauce recipe that works with ajies amarillos.
Freeze – Frozen aji amarillo peppers can be used later for making paste, cooking, or making hot sauce. Learn how to freeze peppers here.
Above all, make sure you don't let your aji amarillos go to waste! If you live in the US, these peppers are very hard to come by fresh, so make your harvests count.
Ready to grow your own aji amarillo plant? Start with our complete guide to growing pepper plants from seed to harvest.
---
I hope you enjoyed learning about the aji amarillo and plan to grow your own. If you like jalapeño-level heat, but want a new flavor, definitely give this plant a shot.