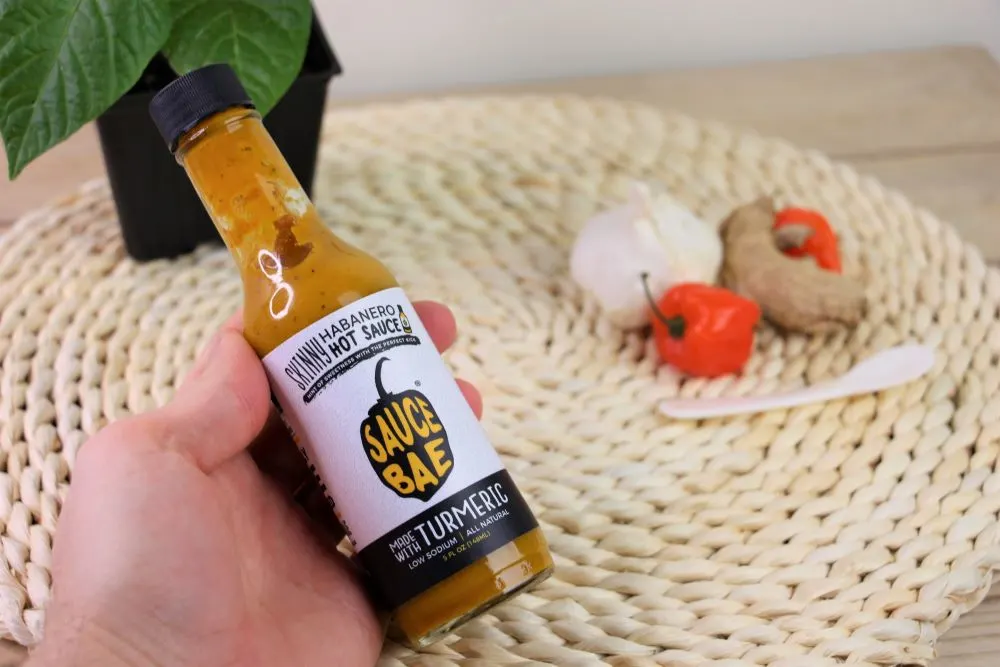 Sauce Bae hot sauce was born from a desire to eat clean and healthy. The founder of the company was diagnosed with Ulcerative Colitis and turned to a healthy lifestyle. Sauce Bae Skinny Habanero hot sauce is truly all-natural and specifically highlights one ingredient: Turmeric. Known for its anti-inflammatory properties, turmeric is definitely on-trend in the healthy living scene. It is also a powerful antioxidant, which may protect your body's cells against 'free radicals.'
This is certainly an intriguing back story for a hot sauce brand. From there, Sauce Bae ended up on Season 9 of Hot Ones on YouTube, gaining some serious attention from the Spice Lords. With a trendy, modern look and name, we had to give it a try. We also can't wait to try the forthcoming 'Hotter Habanero' flavor! In this article we'll share our full review of Sauce Bae's flagship hot sauce.
---
---
Sauce Bae Hot Sauce Review
Though turmeric is a primary focus on the packaging, the most obvious flavors are pineapple and cumin. The turmeric is a nice, healthy ingredient that adds a dark yellow color, but its flavor is mild.
Flavor
Slightly sweet with a smooth-as-silk habanero burn
Pineapple curry aroma (sort of smells like the Last Dab)
Black pepper and ginger undertones
How To Use It
Add to Indian food to level up the flavor
Use it to spice up a unique cocktail
Drizzle it on Hawaiian pizza
Add it to chicken or fish tacos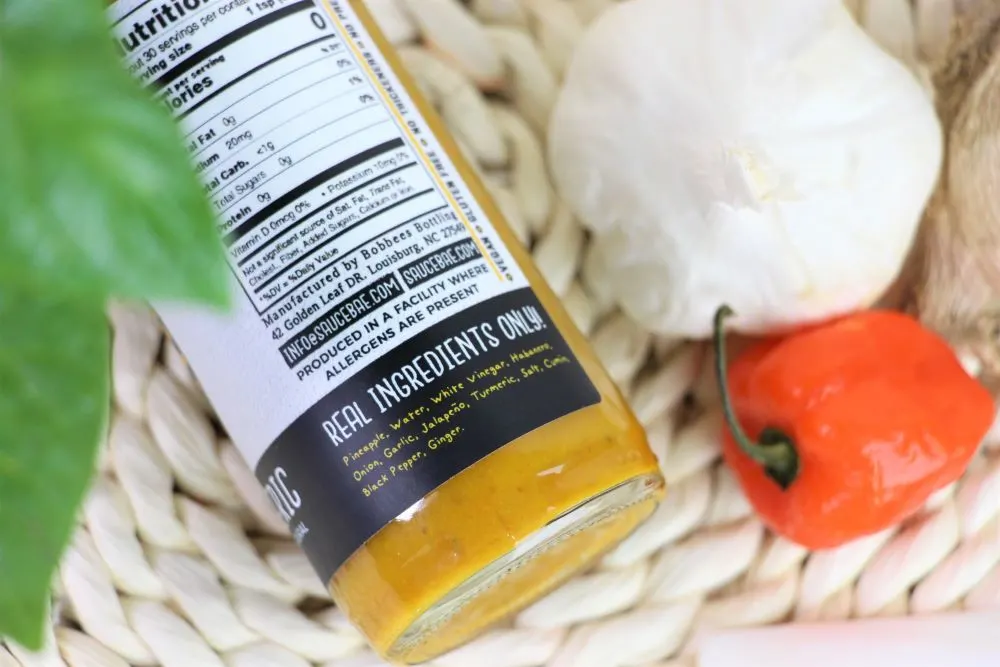 One of the biggest problems with pineapple is its overwhelming flavor. However, despite being the first ingredient in Sauce Bae, the pineapple flavor doesn't overpower this sauce. The onion and garlic blend together seamlessly and the cumin is a pleasant, primary flavor. Habanero and jalapenos offer a respectable burn, building slowly as opposed to smacking you in the face (like some other sauces).
---
Sauce Bae Hot Sauce Scoville Rating
The heat of Sauce Bae is very well-balanced. While some may consider this hot sauce to be lacking in the heat department, I think it has a respectable burn. It has a steady, predictable heat that builds as you eat more of it. Thankfully, this means you can add heaps of Sauce Bae to your food without overdoing it on the spiciness.
Simply put, Sauce Bae Skinny Habanero hot sauce comes in at 2,500 SHUs on the Scoville scale. This places it on par with Tabasco or Cholula. The combination of habaneros and jalapenos are what give Sauce Bae its distinctive heat. However, the peppers are not too high up on the list, hence the relatively low Scoville rating. We like having a variety of sauces to choose from, both in flavor and heat level, and this fills a void in our increasingly spicy hot sauce collection!
---
Sauce Bae Hot Sauce Consistency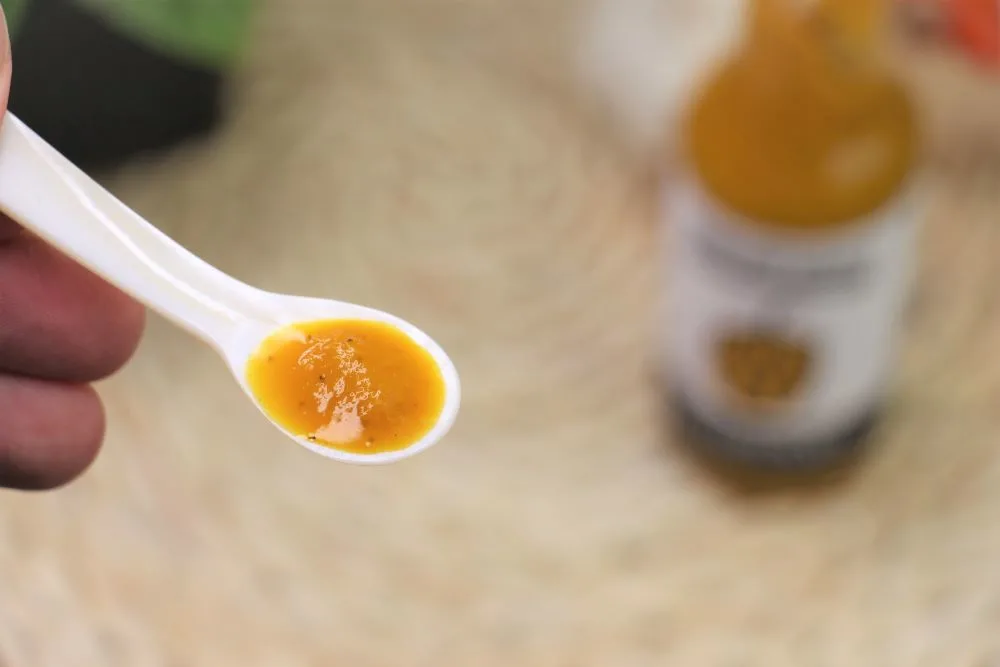 Sauce Bae promotes its all natural recipe, and it certainly shows both in texture and appearance. The sauce is slightly chunky, pouring in gobs rather than in a smooth stream. The low-sugar recipe is likely what makes Sauce Bae hot sauce less syrupy than others. There's nothing wrong with this, and the natural sugars of pineapple give just enough sweetness for the sauce to be addicting.
---
Sauce Bae Hot Sauce Price
All natural recipes usually demand higher prices, and this is the case with Sauce Bae. There is nothing all that rare or exotic in the ingredients list, using two of the most readily available peppers on the market (habanero and jalapeno). The price is currently $10 on Heatonist, and varies on Amazon (though it is usually cheaper there with free Prime shipping). This isn't unheard of pricing, but it isn't exactly cheap for a 5oz bottle. Still, we understand why the price can't compare with Frank's – because it's smaller scale, all natural, with no preservatives or thickeners.
---
Sauce Bae Skinny Habanero Hot Sauce Review
I enjoy Sauce Bae for its great flavor and mild heat without being overwhelmingly sweet. It's an excellent everyday sauce that will make any Indian food-lover happy. Delicious, versatile, not too hot and not too expensive. And with a clear reference to the legendary Salt Bae, we knew exactly how to apply it to our food. Kudos, Sauce Bae!
Get your own bottle on Amazon or Heatonist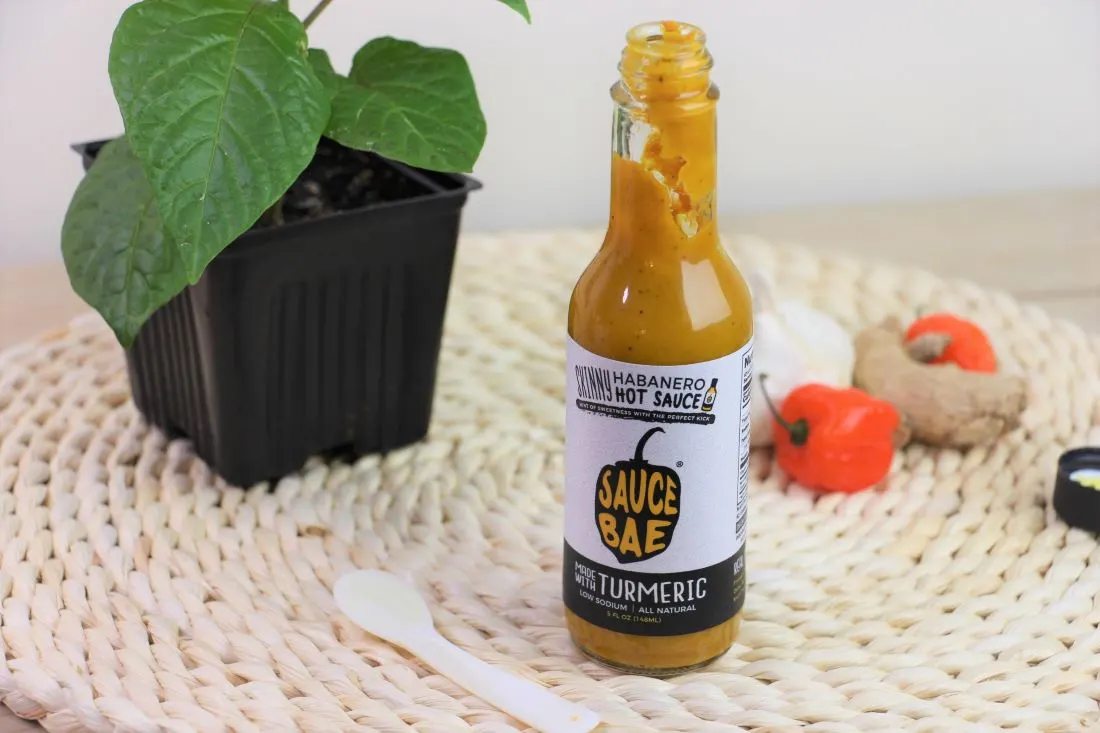 ---