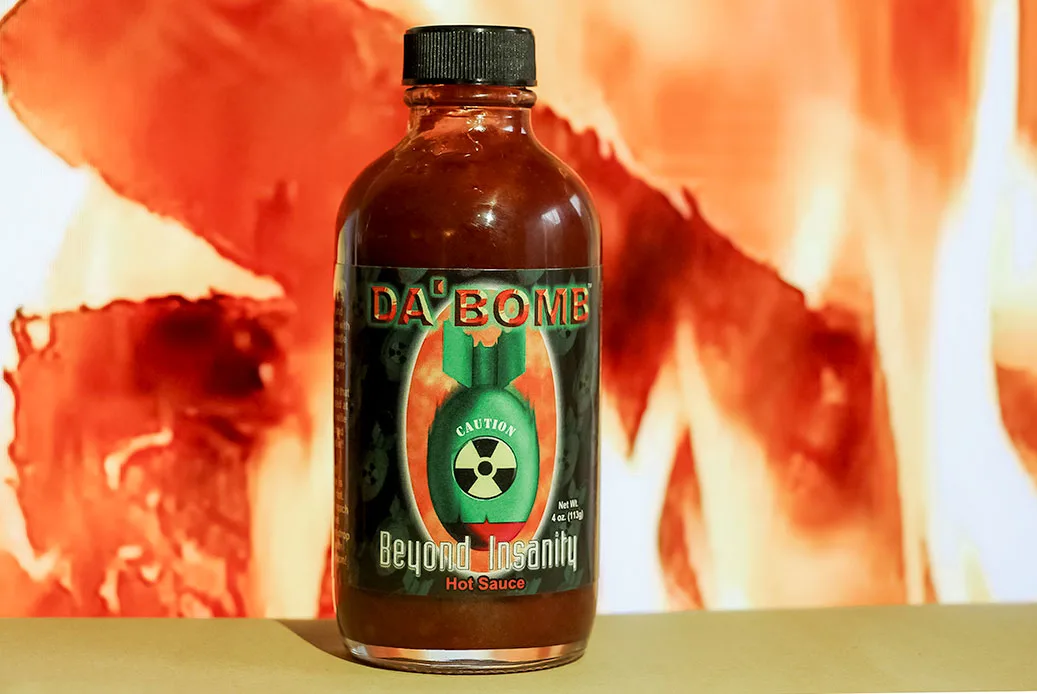 About Da Bomb Beyond Insanity
Da Bomb Beyond Insanity hot sauce is a notorious player in the hot sauce world. It has long held a spot on the Hot Ones show lineup, currently at the #8 spot. Honestly, Hot Ones wouldn't be as great of a show without Da Bomb. It horrifies guests on a regular basis, so naturally, we had to see what it was like here are Pepper Geek.
Read our review of the new 'Da Bomb Evolution' from Hot Ones.
Da Bomb comes to us from a seemingly tiny store in Kansas City called Spicin Foods. We're not sure how such a small manufacturer could make so many people suffer, yet they do.
In this article, we'll give you our thoughts on Da Bomb hot sauce. I hope you enjoy the results of our pain.
---
Is Da Bomb Hot Sauce Any Good?
Despite some of the negative comments that we have seen about this sauce on the internet, it isn't ALL bad. For instance, this sauce would be excellent for making homemade bear repellent. Or, you could use it to seek revenge on your worst enemy and make an insanely hot salsa for their cookout. Other than that, I don't think this sauce will play a part in any great recipes.
How to use it…
If you enjoy painful meals, this will work on almost anything!
Try one drop in a giant pot of chili or soup
Use it to prank your friends or have your own hot sauce challenge
Use it for aversion therapy
The aroma is actually not too bad on Da Bomb Beyond Insanity. It smells very pepper-forward with some citrus notes. But then comes the actual flavor. As soon as it hits your mouth, an explosion of fiery heat hits hard. The flavors are harsh and strange with too much citrus and not enough pepper. What pepper flavor does make it though tastes strange, likely due to the use of pepper extract, or "natural pepper flavor."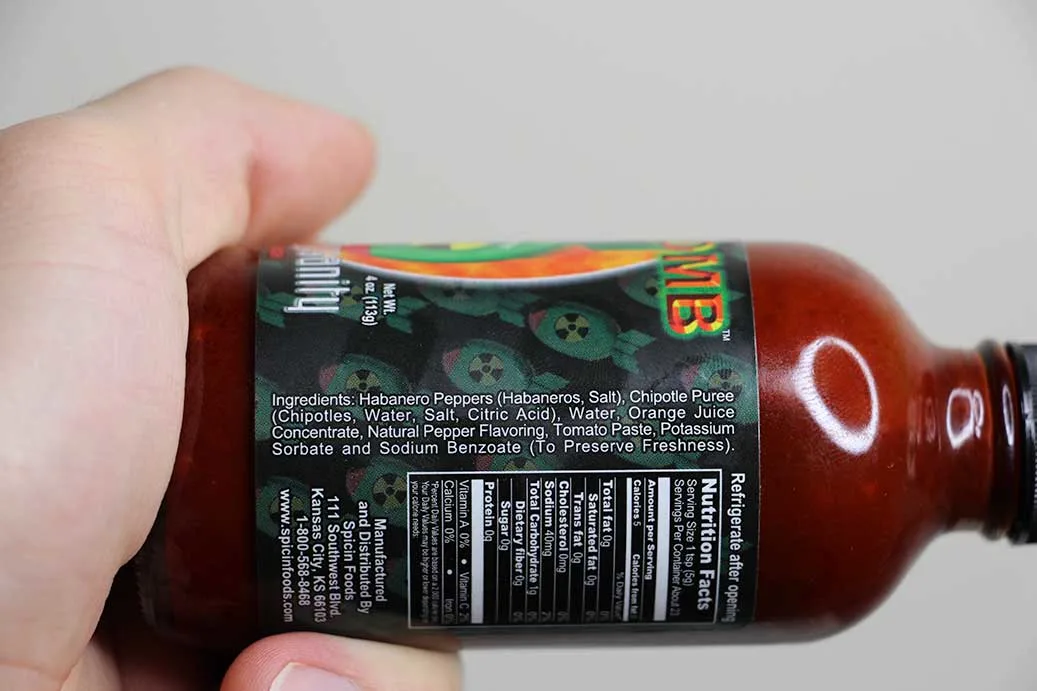 Though the flavor is nothing great, that isn't really the purpose for this sauce. It's meant to be a gag, a challenge, or a prank for friends to play around with. It isn't so hot that you'll fear for death, but you'll definitely be sweating, and that's the whole point.
---
Da Bomb Beyond Insanity Scoville & Spiciness
Da Bomb has made a name for itself as one of the go-to super hot sauces. This stuff hits harder than almost anything we've tried, with a lasting burn. That is kind of the point of this sauce – to get a reaction. We've seen plenty of great reactions from celebrities trying a wing with Da Bomb slathered on thick.
The simple fact is that Da Bomb Beyond Insanity comes in at 135,600 SHUs on the Scoville Scale. However, we feel that the experience feels much hotter than some sauces rated at 1M SHUs or higher. Simply put, this is one of the hottest hot sauces we have reviewed to date. The heat comes more from pepper extract than from actual superhot peppers, but it is still pretty shocking to try.
Tip: Don't eat a lot of this hot sauce. A small dab is plenty to experience the heat. If you want to suffer, try more, but don't say we didn't warn you!
---
Where To Buy Da Bomb Hot Sauce
Da Bomb can be found online at a number of retailers, including Amazon and ebay. We recommend using one of these sources, but be sure to shop around for the cheapest price. We've seen prices for Da Bomb hot sauce range from $10-18 on different sites, so do your research and get the best price.
---
Da Bomb Hot Sauce Consistency
Da Bomb definitely runs on thicker side. This is good because you're probably not going to want much of this stuff. One or two drops is plenty to kick up a pot of stew, and a tiny drop is enough for the tasting experience.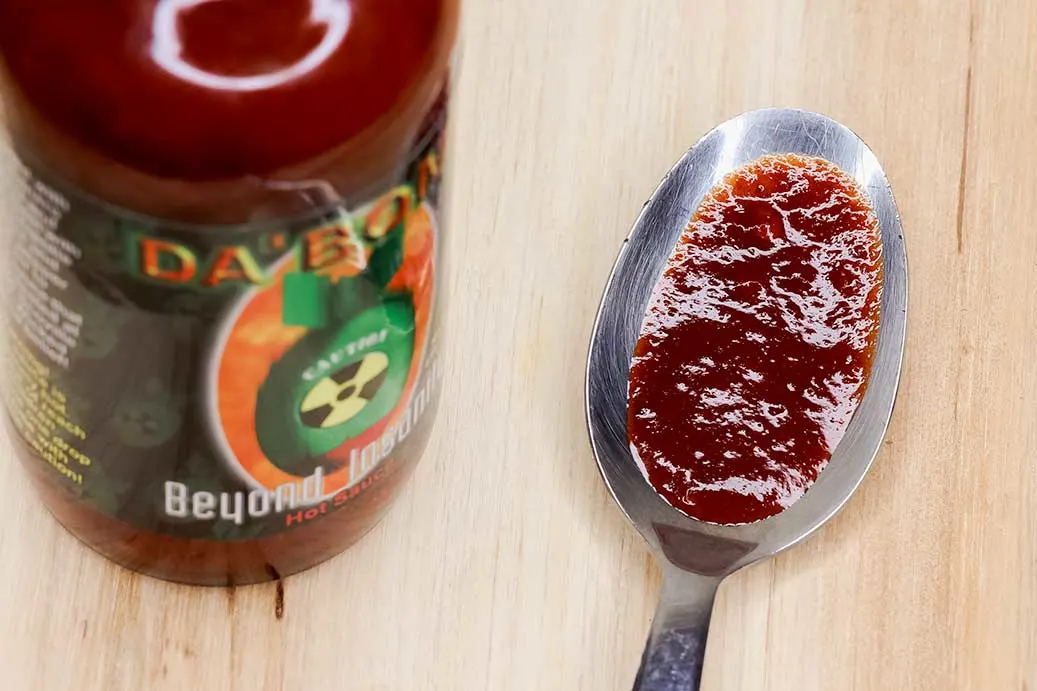 ---
Is Da Bomb Worth It?
Look ,we know this isn't a shining review. We like many other sauces better than Da Bomb. However, we understand its real purpose. We now know first hand why people are reacting the way they do on Hot Ones, and we feel their pain.
If you're a bit insane, slap some Da Bomb Beyond Insanity on a batch of chicken wings and have yourselves an interesting night (and morning) with some friends. Cheers!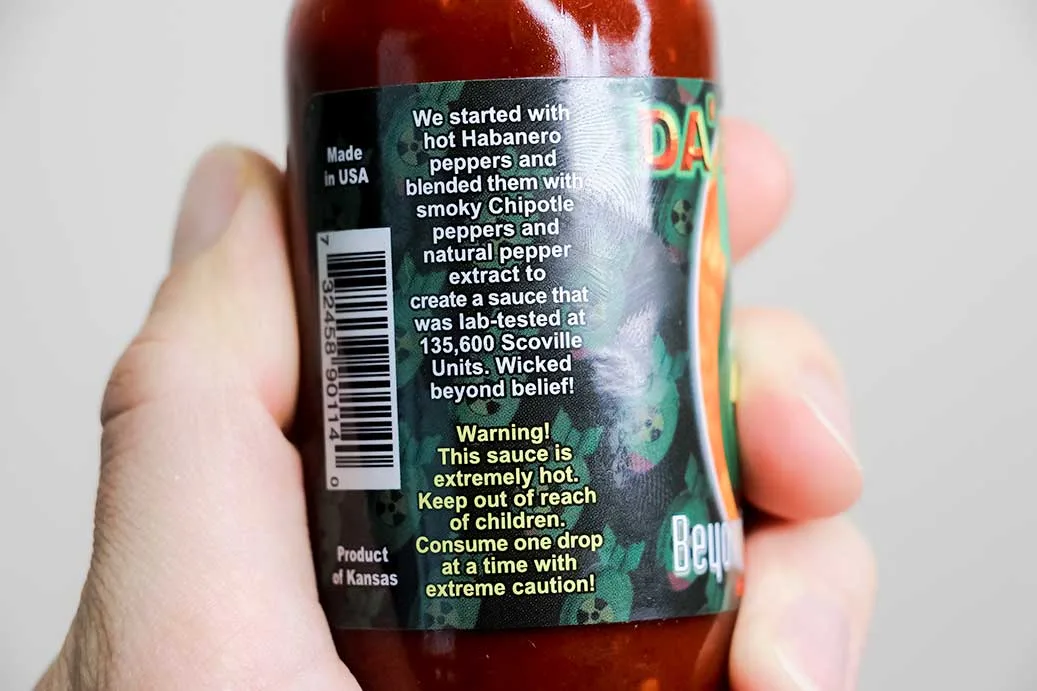 Get your own bottle on Amazon
---