Da Bomb Evolution seeks to take the place of the world's most notorious hot sauce: Da Bomb Beyond Insanity. It has tortured celebrities on Hot Ones for years, always inciting a bewildered reaction.
We have tried the original (twice) and it is truly unbearable. The heat permeates the entire palate, even making its way to your stomach.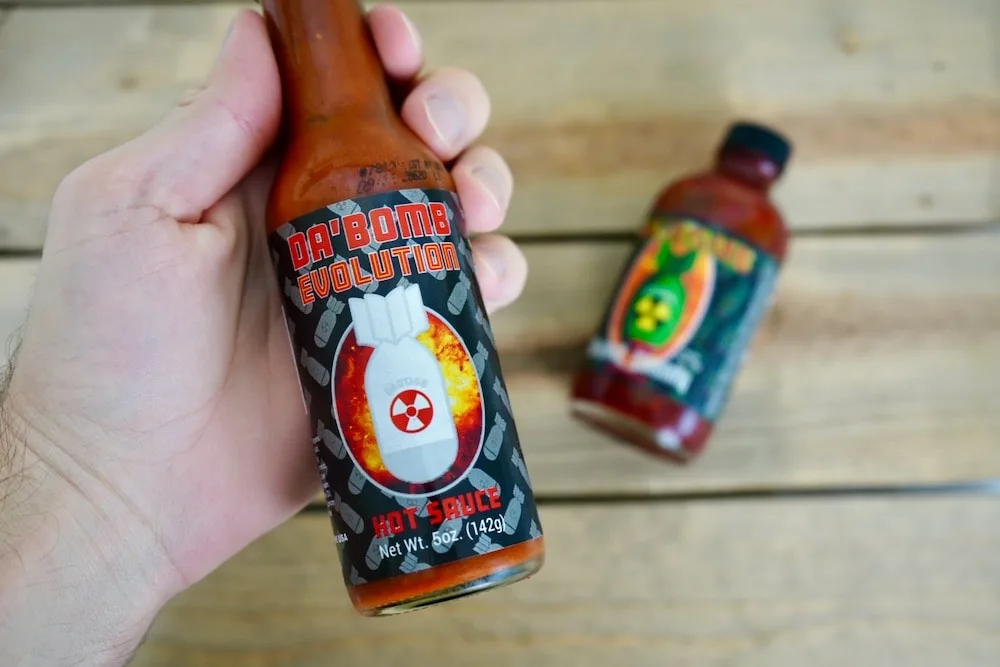 The vicious heat is all thanks to pepper extract. This ingredient is essentially distilled capsaicin, the compound responsible for spiciness. Extract sauces are always more violently hot than all-natural sauces.
Until now (maybe…).
Introducing Da Bomb Evolution, the next generation of Da'Bomb hot sauces. Heatonist and Hot Ones teamed up with the original distributors of Da Bomb to make an all-natural version of the sauce.
---
Watch Us Try BOTH Da Bomb Sauces:
---
---
Da Bomb Evolution Review and Flavor
When I first heard that this sauce was coming, I was excited to see what they had done. Beyond Insanity was not a tasty sauce, nor was it enjoyable to eat, so maybe those things would change with the Evolved form of Da'Bomb.
Unfortunately, most of the characteristics remain. While the ingredients may be all-natural, the sauce doesn't make a drastic improvement in flavor.
Flavor
Savory and peppery
No sweetness
Gritty texture
How to Use It…
Add heat to anything savory
Not a flavor booster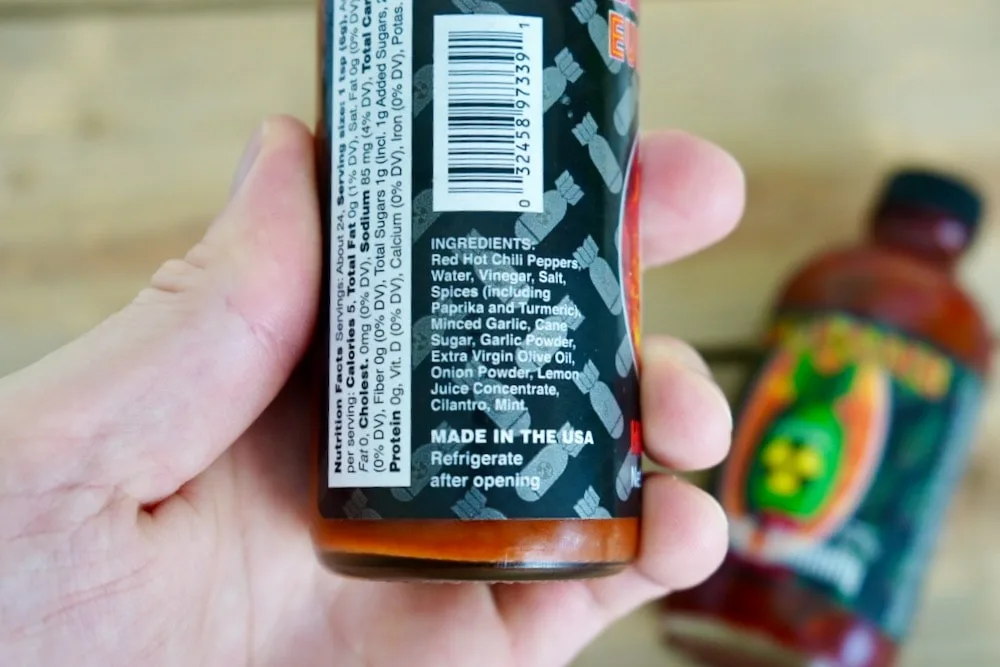 However, I will say that this sauce is more approachable than Da Bomb Beyond Insanity. The flavors are clearly more natural, and the ingredient list doesn't contain anything you couldn't find at the local supermarket.
I only wish the flavors were more punchy and pronounced. A hint of garlic and onion, some peppers and vinegar, and ultimately, heat. As far as spice, this sauce is pretty impressive.
---
Da Bomb Evolution Scoville Rating
While official heat ratings have yet to be revealed, we know that this hot sauce contains 'fiery red super hot scorpion peppers.' We have grown and reviewed scorpion peppers, and they are mean.
Simply put, Da Bomb Evolution hot sauce likely rates around 500,000 SHUs on the Scoville Scale, though official ratings have yet to be announced. Scorpion peppers are among the hottest in the world, but it doesn't feel as hot as the hottest sauces we have tasted.
However, Scoville ratings don't tell the whole story. While the SHU rating may be higher for Evolution, the experience of eating it is not as brutal as Da Bomb Beyond Insanity.
How does it compare to Beyond Insanity?
Da Bomb Beyond Insanity is unquestionably hotter than Da Bomb Evolution. Pepper extract has a heat unlike any natural pepper sauce. The only way to get a similar burn is to eat fresh, superhot peppers like 7 Pot Primos or Moruga Scorpions.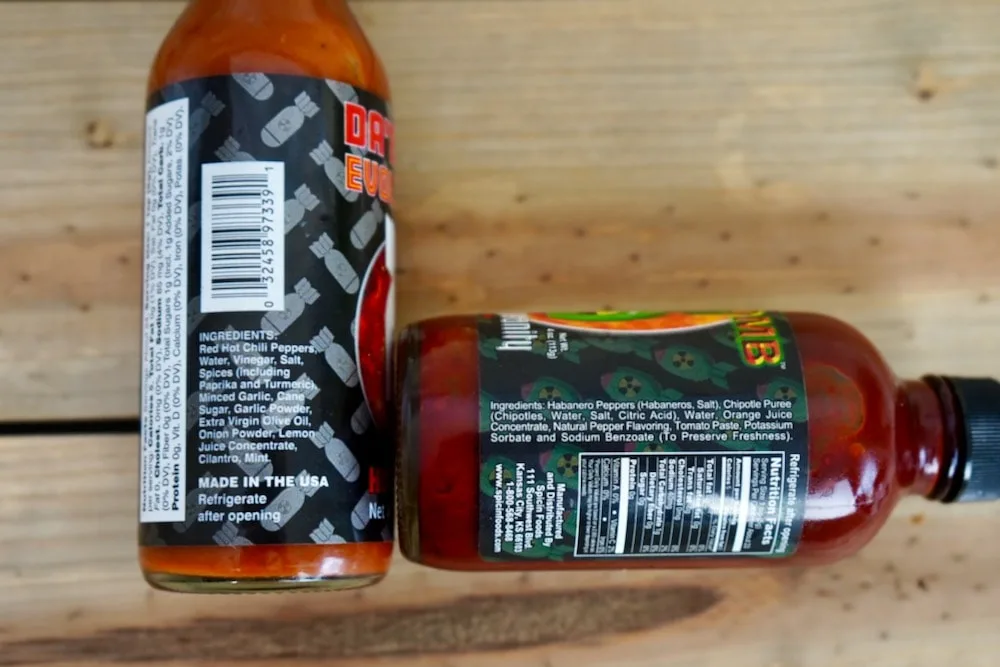 See where some other super hot sauces stack up on the Scoville scale.
---
Da'Bomb Evolution Consistency
Da Bomb Evolution has a medium thickness. We had some trouble with over-pouring, as the sauce seemed to be stuck, but would then come dumping out without warning.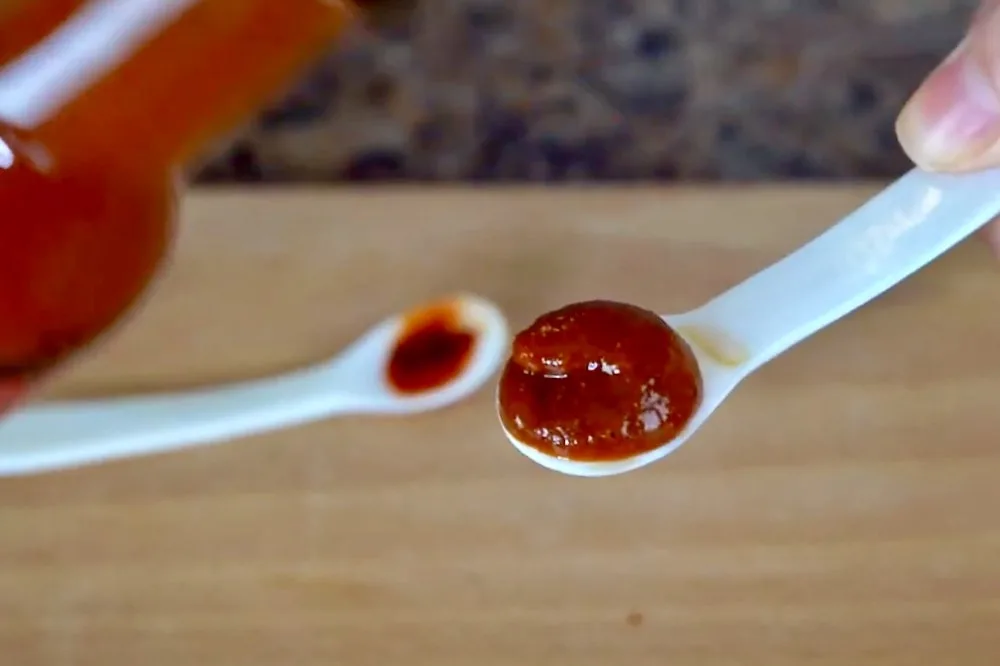 The texture is odd. It seems to be gritty, and you can even see the small granules when poured. We're unsure what ingredient causes this, perhaps the cane sugar or the garlic powder.
The color is also different from the original Da Bomb, with a light-brown hue. Beyond Insanity hot sauce has a diabolical, deep red color, likely thanks to the tomato paste.
---
Where To Buy Da Bomb Evolution
Da Bomb Evolution is a collaboration with Spicin Foods (the original creators of Da'Bomb), but can be bought on Heatonist. It is currently priced at $14 (plus shipping).
This sauce is expensive, but if you enjoy simple, natural, savory sauces, it could be worth it. If you are trying to decide between the old and the new, Evolution is certainly more usable than Beyond Insanity. If you're just looking for pain, Beyond Insanity is still king.
---
Have you tried Da Bomb Evolution hot sauce? Tell us your thoughts in the comments below.
---
---