There's nothing quite like biting into a piece of warm, freshly-baked pita bread — except when you dip it into a delicious roasted red pepper dip! Roasted red pepper dip is a flavorful and savory favorite in our house. It's made with roasted red peppers, garlic, olive oil, and other seasonings to create a smooth, creamy dip that is incredibly addicting.
Perfect for entertaining or as an everyday snack, this roasted red pepper dip is always a huge hit. We serve it with crackers, chips, fresh vegetables, or pita bread for easy snacking.
We're also known to put this dip on our sandwiches or throw a little bit into a pasta dish for extra flavor. If you're hosting a party, this dip pairs well with some other party favorites, like our jalapeño salsa and our chunky guacamole.
Roasted red peppers have a unique flavor that pairs perfectly with garlic and other seasonings. The end result is a zesty dip that will leave your guests (or you) wanting more. You can roast your own red peppers, or buy them already prepared from the store. The process for roasting your own red peppers is similar to roasting jalapeños. While we love the taste of freshly roasted peppers, jarred peppers work just fine!
This recipe uses smoked paprika and roasted garlic for incredible flavor. You can use regular paprika, but we definitely recommend using smoked. It really levels up the taste. The smokiness of the paprika also pairs perfectly with the roasted garlic.
---
Ideas for what to do with roasted red pepper dip:
There are many ways you can use this dip after it is prepared. After making a fresh batch, it will last about 5 days in the fridge if properly sealed and stored. However, we usually eat it up well before then.
Use it as a topping for salads, burgers, sandwiches, pizza, or even tacos!
Serve it as an appetizer with pita chips, crackers, or raw vegetables.
Spread it on toast or crackers for a quick snack (sprinkle with red pepper flakes for a bit more heat).
Add it to pasta dishes for extra flavor and texture.
Drizzle it over roasted vegetables or a baked potato.
Use it alongside hummus (roasted red pepper dip goes very well with hummus on a sandwich)
Use it to add flavor to a breakfast sandwich with egg and avocado.
---
Roasted red pepper dip (easily make it vegan!)
To make this recipe vegan, all you have to do is swap out the parmesan cheese for nutritional yeast. You'll want to use 1 tbsp. of nutritional yeast instead of 2 tbsp. of parmesan cheese. This adds a nice "cheesy" flavor without any dairy.
We love this recipe because it's incredibly easy to make it vegan. We have a few friends that are vegan and nut-free, so this appetizer fits rights in.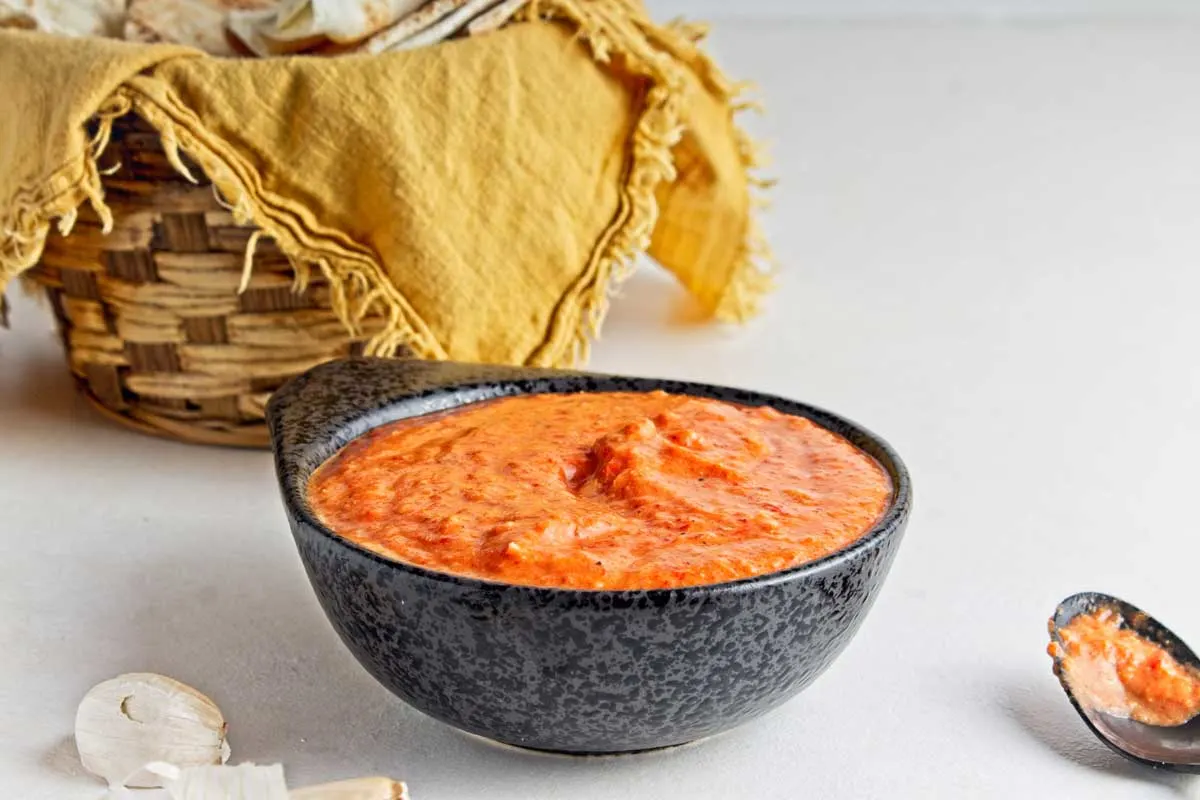 ---
The ingredients
Roasted red peppers. The star of the show. You can use fresh or jarred. We like both, but the process is a little different. If using fresh roasted red peppers, you'll want to add a bit more lemon juice (about a tbsp.)
White beans. This is the "meat" of the dip. Adding protein, texture, and subtle flavor, white beans work best in this recipe. You can use freshly cooked beans, or canned if you prefer (rinsed and drained).
Garlic. Yes, we love garlic. So, we use an entire head of roasted garlic. We truly believe you can never have enough garlic. If you want to use less garlic in this recipe, you can. Just make sure you don't skip roasting it!
Olive olive. This gives the dip a smooth texture and helps to blend all the ingredients.
Lemon juice. This ingredient is definitely not optional. The acidity of the lemon juice helps bring out the other flavors of the dip. It also levels up the flavor with bright, subtle citrusy notes.
Parmesan cheese. The cheese can easily be swapped out for nutritional yeast for a vegan alternative. Parmesan adds a subtle flavor that helps with the very addicting part of this recipe.
Smoked paprika. Try to use smoked paprika as opposed to regular paprika. It adds a ton of flavor and really helps bring this dip together. If you like it spicy, smoked chipotle powder is delicious.
Salt and pepper. As always, you can adjust these levels to taste. Start off with 1/2 tsp of salt and work your way up if you feel it needs more.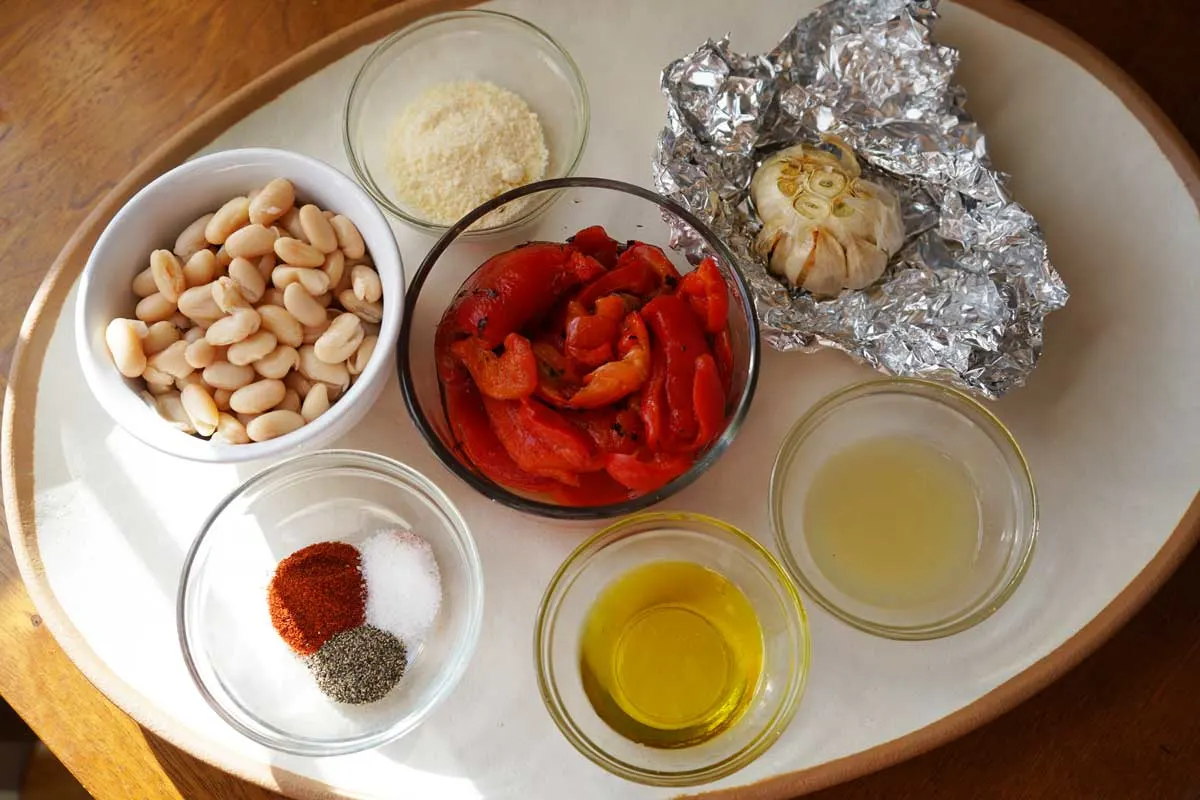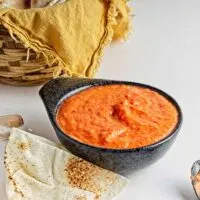 Ingredients
10

oz

roasted red peppers

1 jar, drained with liquid set aside

1

cup

white beans

cooked, drained

1

head

garlic

3

tbsp

olive oil

1

tbsp

lemon juice

2

tbsp

parmesan cheese

or 1 tbsp nutritional yeast (vegan version)

1/2

tsp

smoked paprika

1/2

tsp

salt

start with 1/4 tsp if using roasted red peppers in a jar that already contain salt

1/2 tsp

tsp

ground black pepper
Instructions
Cut top off head of garlic and drizzle with 1 tbsp olive oil. Wrap with foil and bake for 35 minutes or until brown and fragrant.

In a blender/food processor, combine white beans with 3 tbsp reserved liquid from red peppers (or water). Blend until mostly smooth. You may need to scrape the side down a bit.

Add 2 tbsp olive oil and lemon juice. Blend on high until smooth.

Add the parmesan cheese, smoked paprika, salt, and pepper. Blend on high.

Add in roasted red peppers. Pulse until just combined.

Squeeze in the roasted garlic. Pulse a couple times until just broken up and at desired consistency.
Notes
Serve right away or can be stored sealed in the fridge for up to 5 days.

If you are using freshly roasted red peppers, add up to 1 tbsp. more lemon juice.

Start with 1/4 tsp of salt if you are using jarred peppers that already contain salt. Adjust to taste.
Let us know if you try this recipe for roasted red pepper dip, and any modifications you may have made. This recipe is quick to whip up and never lasts long in our fridge. We even use it like hot sauce in some applications. But, we are pepper geeks after all.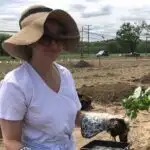 Crystalyn
Crystalyn loves spicy food and getting creative in the kitchen. When she isn't finding new ways to use hot sauce, shes very busy watching cat videos on the internet.