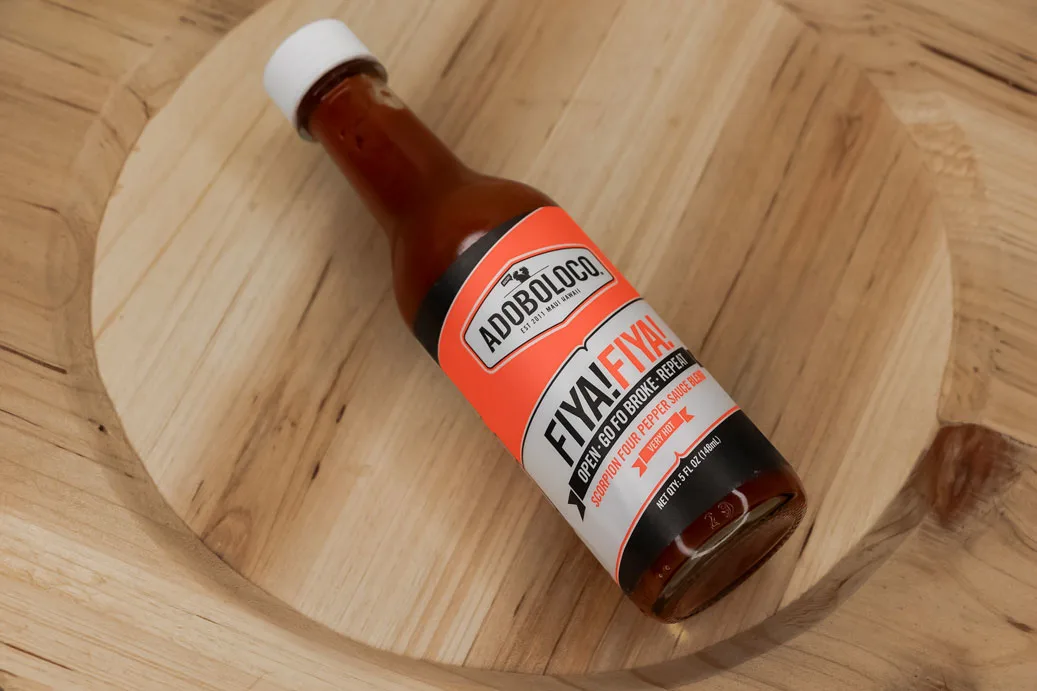 About Fiya! Fiya! Hot Sauce
Fiya! Fiya! hot sauce comes to us from a small family-run business out of Hawaii – Adoboloco. Adoboloco partners with small local farms for fresh ingredients, creating hot sauces that are packed with flavor. Their products are all-natural and crafted with minimal ingredients. You may recognize Fiya! Fiya! from Season 10 of Hot Ones. Fiya! Fiya! comes right after one of our other favorites on the show, Headless Horseradish.
Here, we review Fiya! Fiya in full, with our overall score and rating.
Or, save $10 when you spend $40 or more on Heatonist using our unique referral link here.
---
Is Fiya! Fiya! Any Good?
Fiya! Fiya! is a vinegar-forward sauce that really kicks you in the taste buds for a hot second. After the initial kick, you're left simmering down with the smokey flavor of various chili peppers. You'll definitely feel that "back of the throat" burn for a moment, but it subsides rather quickly. We love the perfect rush of heat and balanced smokey flavor!
Flavor
Vinegar-forward, in a good way.
Initial kick with a smokey finish.
The pepper flavor is quite strong and pleasantly enhanced by the sea salt
How to use it…
Add to a pot of homemade chili
Dab it on pineapple fried rice
Use in your favorite bloody mary recipe
Mix with mayonnaise and a splash of lime juice for homemade spicy mayo
Use it to flavor steak
Spice up a Hawaiian pizza
Tip: This Hawaii-based sauce perfectly compliments the flavors of sweet, juicy pineapple.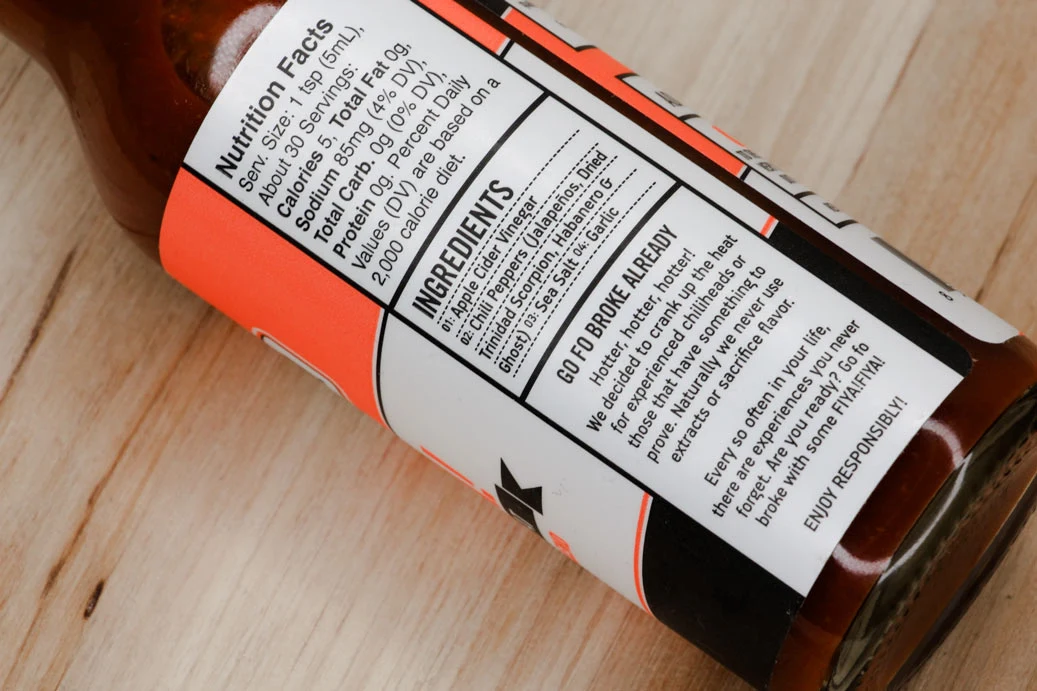 ---
Fiya! Fiya! Scoville & Spiciness
Fiya! Fiya! comes in at 77,000 SHUs on the Scoville Scale. It currently sits as the number 6 sauce on Season 10 of Hot Ones. This sauce definitely packs an initial kick and the apple cider vinegar comes through strong. The burn wears off slowly, allowing the flavor of the peppers to come through nicely.
---
How Much Does Fiya! Fiya! Sauce Cost?
If you're looking to purchase the Fiya! Fiya! sauce, you can now find it on Amazon with free Prime shipping. It's currently $14 a bottle. Also, check out Adoboloco's website to browse their other intriguing flavors. All of their sauces (with the exception of two) are crafted with only 4 ingredients! We love the dedication to simple, pure sauces highlighting the various flavors of spicy pepper varieties.
---
Fiya! Fiya! Consistency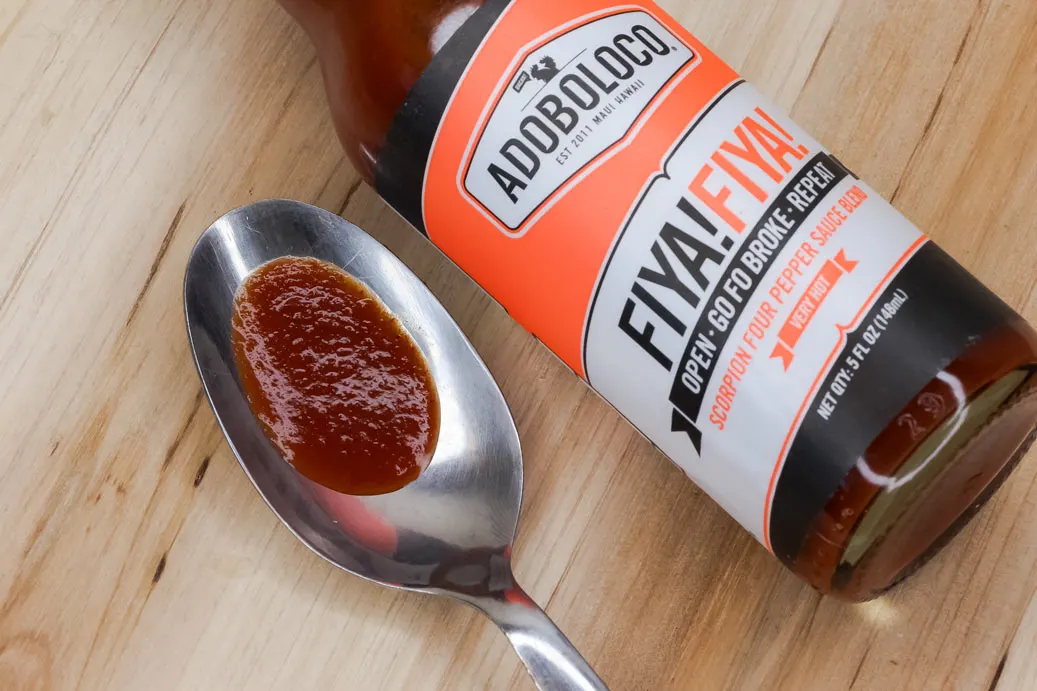 The sauce easily pours from the bottle, making it perfect for dressing up a burrito or dabbing it on a slice of pizza. It's smooth and thin and can be mixed into a bland barbeque sauce to add extra heat and flavor. I like to mix it with mayo and a splash of lime to make a kick-ass spicy sandwich.
---
Is Fiya! Fiya! Worth It?
This sauce definitely won't last long. Whether you're craving a smokey kick, or just looking for the perfect Hawaiian pizza hot sauce, Fiya! Fiya! has you covered. We're excited to try more sauces from Adoboloco!
Get your own bottle on Amazon
---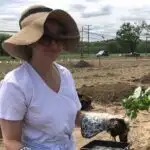 Crystalyn
Crystalyn loves spicy food and getting creative in the kitchen. When she isn't finding new ways to use hot sauce, shes very busy watching cat videos on the internet.