Jalapeños are one of the most common peppers to grow at home, and with good reason. The plants are easy to maintain, have a short growing period, and tend to produce lots of peppers. They are the ideal pepper to grow for a casual gardener who likes a little bit of spiciness in their food.
It's also very common to end up with way too many peppers at the end of a growing season. There are only so many friends that will take all of your extra produce. That is where learning how to make pickled jalapeño peppers comes in handy.
Pickled Jalapeño Peppers (Video):
---
Pickling or canning jalapeños is a quick and easy way for you to turn your fresh peppers into crunchy, satisfying snacks that will last a long time in the refrigerator. There are other methods for preserving jalapeños, like freezing (read our guide to freezing here), but pickling is our favorite.
First, let's learn the basics of pickling. These three methods are the most widely used and are in order from least to most difficult. Pickling is our favorite method for quick, delicious snacks, but depending on what you want to preserve, you may need to can or pressure can your foods.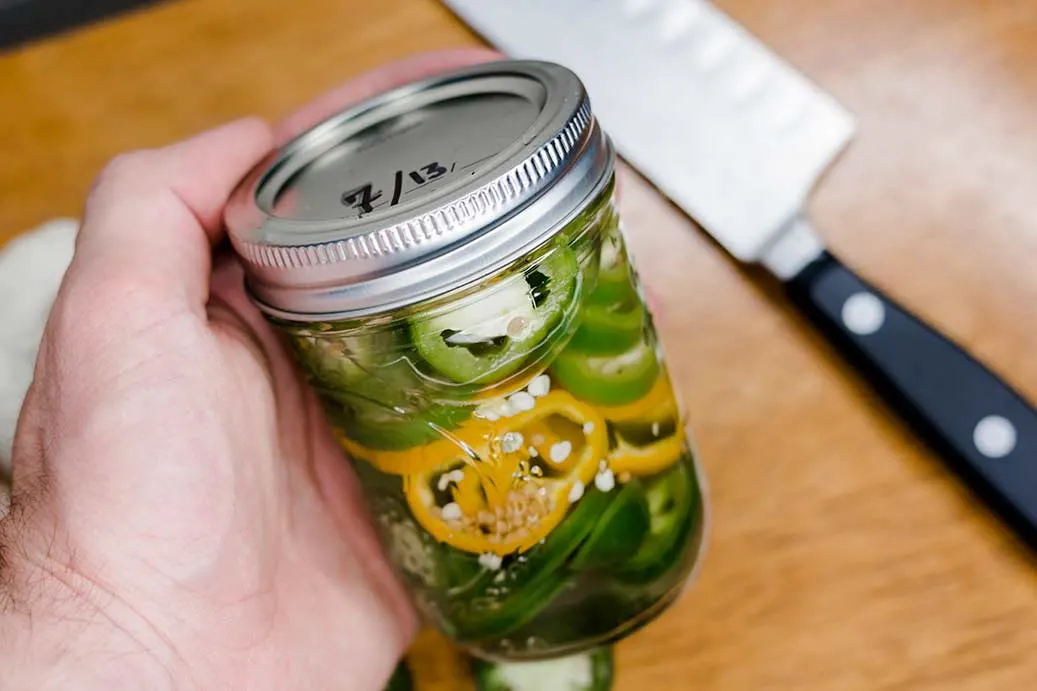 ---
What Are The Pickling Methods?
Depending on how long you need to keep your jalapeños, you have a few options for pickling. Quick pickling and waterbath canning are likely going to be your two options, as pressure canning can be costly. For long-term/shelf stable canning, we always recommend people follow the USDA guide to home canning.
Quick pickling. Uses a hot vinegar brine to ferment fresh foods, producing an acidic environment to preserve. Keeps for 2-4 weeks.
Waterbath canning. Seals food in air-tight jars by boiling them in a large pot of water for a certain amount of time. Keeps for 1+ years.
Pressure canning – Seals produce or meat in air-tight jars by cooking in a pressure cooker to ensure all bacteria are killed. Keeps for 1+ years.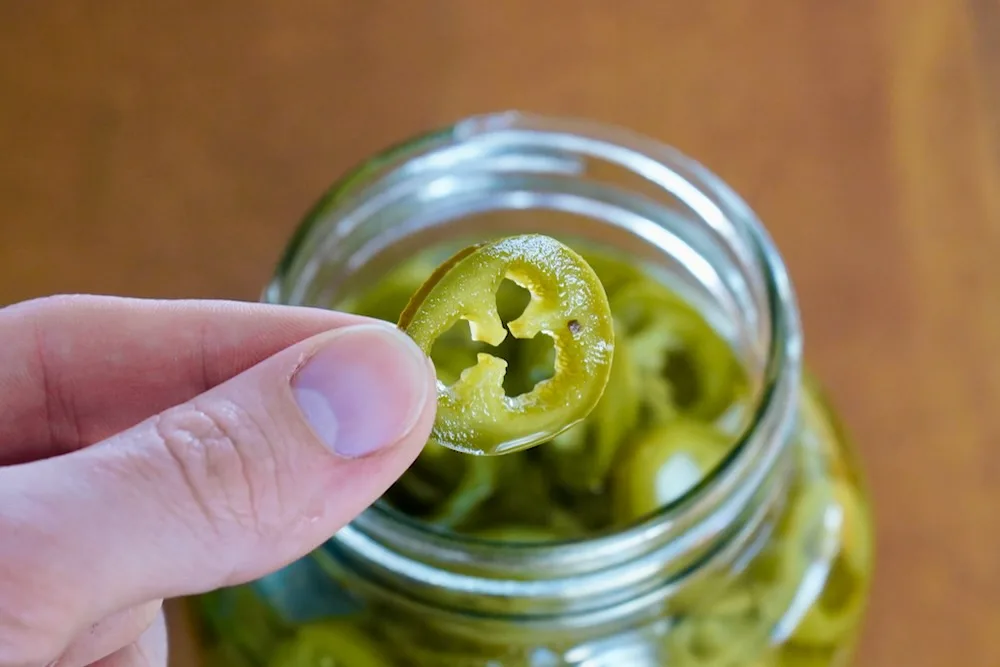 For jalapeño peppers, we prefer the quick pickling method. It provides a long enough refrigerator life to eat all of the peppers over the course of a few weeks. Then again, we are pretty serious pepper lovers, so we can't get enough of them. If you want your peppers to last months or even a year or more, then canning is going to be your best bet.
---
How To Make A Pickle Brine
The method we prefer to use is quick pickling. The benefit is maintaining a crisp, fresh texture by using a hot vinegar brine. This method isn't great for fruits (conflicting flavors), but most vegetables are delicious when pickled this way.
Jalapeños are absolutely scrumptious in a simple, slightly sweetened brine made with common household ingredients. That is why we prefer this method to pickle our jalapeño peppers.
Basic Brine Ingredients
Water

(1 part)

White vinegar (2 parts)
Kosher salt (1 teaspoon per cup of liquid, avoid salt with added ingredients)
Spices
These are the basic ingredients for creating a brine. You can then add more ingredients to your liking. Specific recipes for pickling jalapeños vary from simple to complex.
For example, see our spicy dill refrigerator pickles recipe. This recipe works great for jalapeños, too.
If you follow the basic proportions of the above brine, you can experiment with your favorite spices. Some of our favorite things to add to pickled jalapeños are fresh chopped garlic, whole black peppercorns, mustard seed, apple cider vinegar (instead of white vinegar), and oregano.
Important to know: Quick pickling does not produce a reliable seal on your jars, and therefore pickled jalapeños must be stored in the refrigerator right away. This is a drawback of this method, and it can be a deal breaker if you want to preserve your jalapeños long-term.
---
How to Make Pickled Jalapeños (Recipe)
Our pickled jalapeño pepper recipe is simple and reliable. The peppers come out crunchy, zingy and perfect for a variety of uses.
Ingredients:
10-12 fresh jalapeños
2 cups white vinegar
1 cup water
1 tbsp kosher salt (or sea salt)
1 tbsp sugar (optional)
1 clove garlic, crushed
1 tsp oregano
Steps:
Wash and cut jalapeños. Wash all peppers with cold water. Using a sharp knife, cut peppers into 1/4 inch slices.
Fill jars. Using gloves or tongs, pack the sliced peppers tightly into glass jars (ball jars or similar), leaving 1/2 inch of space at the top of each jar. Ensure jars have been cleaned prior to pickling.
Make brine. Combine vinegar and water in a medium pot. Add salt, sugar, oregano, and crushed garlic. Bring to a boil, stirring occasionally to dissolve salt, then shut off the heat.
Pour brine over peppers. Pour hot brine over pepper slices, ensuring peppers are fully submerged. Allow brine to sit for 5-10 minutes to allow any air bubbles to escape the jars.
Cover and allow to cool. Seal all jars tightly and allow them to cool for at least 1 hour before refrigerating. This cooling process will seal the jars, and provides protection from airborne bacteria.
Enjoy. You can eat quick-pickled jalapeños 1-2 hours after first pouring the brine, and for up to 3-4 weeks thereafter. Always keep refrigerated.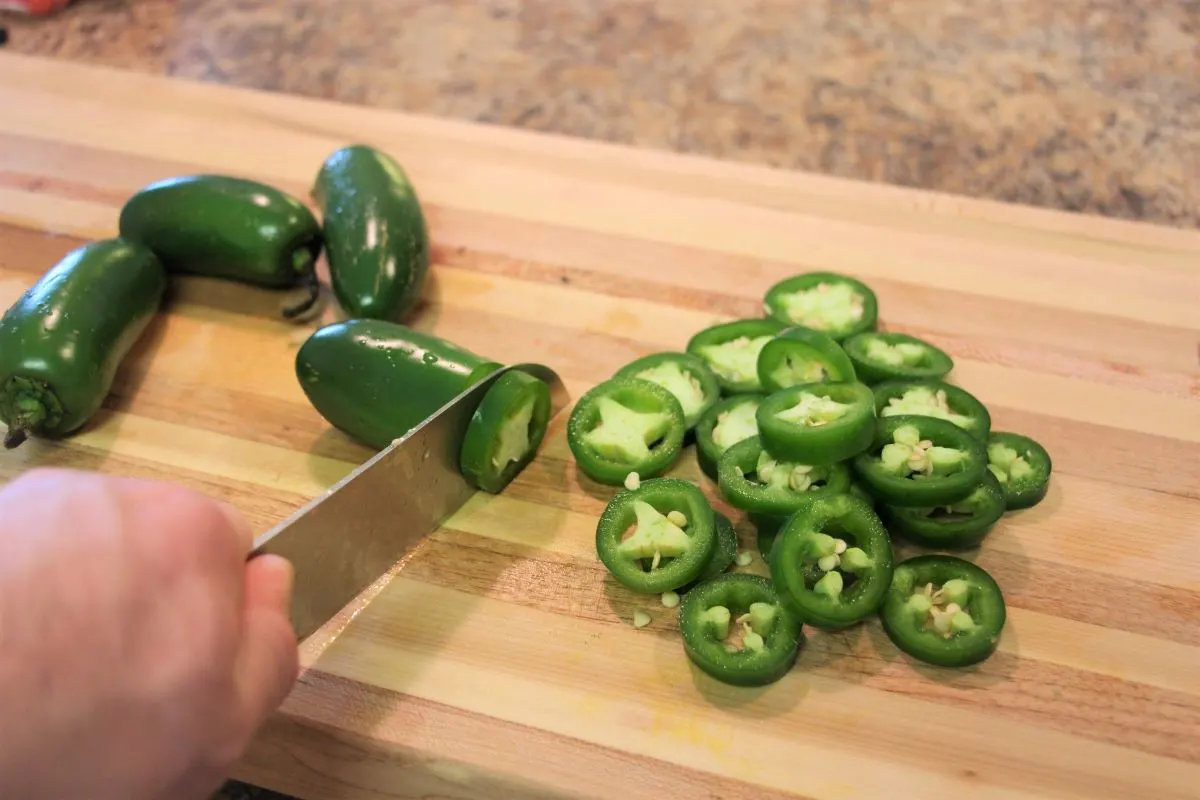 Since the process is so quick, it's easy to try new things, even in the same cooking session. You can even combine jalapeño peppers with other types of vegetables, or other peppers!
Tip: For less crunchy peppers, or to create pickled jalapeños for a relish, boil your peppers with the brine for 6-8 minutes before adding to the jars.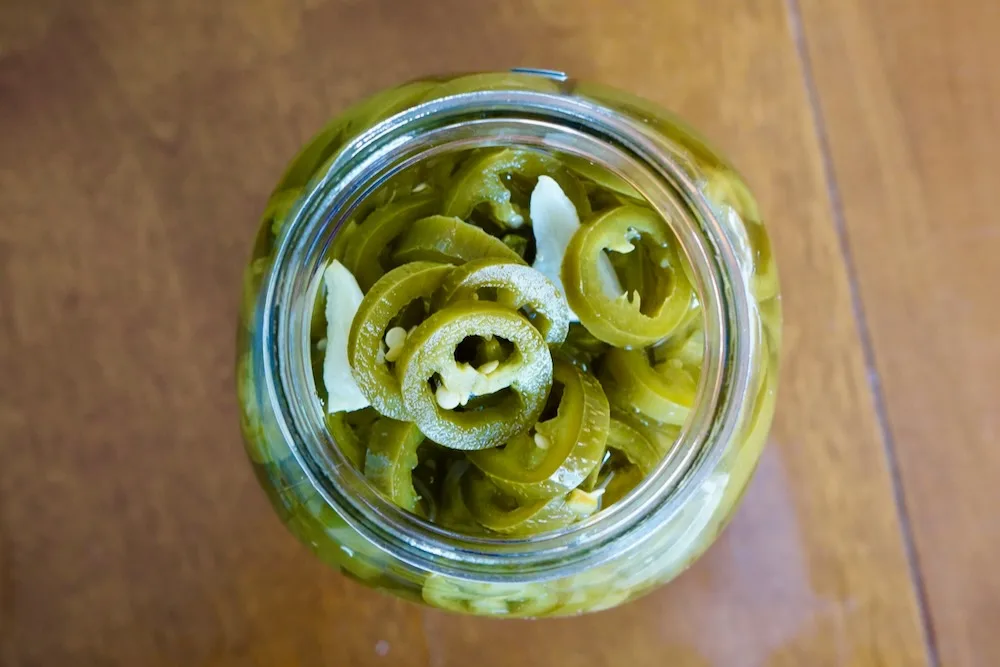 ---
How Long Do Pickled Peppers Last In The Fridge?
While unopened pickled jalapeños can last 1 or more years before being opened, after opening they will still last 1-2 months in the refrigerator. Be sure to visually inspect your peppers before consuming. If you are hesitant for any reason, it is best to not eat them.
---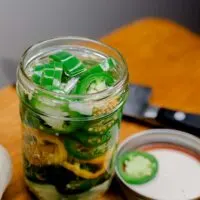 Ingredients
2

cups

white vinegar

1

cup

water

1

tbsp

salt

kosher or sea

1

tbsp

sugar

optional

1

tsp

oregano

dried

1

clove

garlic

crushed

10-12

jalapeño peppers

sliced into 1/4" rounds
Instructions
Pack the sliced jalapeños and garlic tightly into the jar, leaving about 1/2" of head space.

Add the vinegar, water, salt, sugar, and oregano into a medium pot and bring to a boil, stirring occasionally.

Once brine boils, remove from heat and immediately pour the hot brine over the jalapeño slices.

Cover the jar and allow it to cool at room temperature for about 1 hour.

Refrigerate the pickled jalapeños and eat within 1-2 months.
Notes
For more heat, add a slice of habanero or ghost pepper to the bottom of the jar.
Adding sugar is optional, these pickled jalapeños are delicious without sweetener.
For a more complex flavor, try adding black peppercorns, mustard seeds, coriander, or cumin to the brine.
There are many other methods for preserving jalapeños. That's why we compiled our top 5 favorite ways to store jalapeños. From freezing to making hot sauce, there are some other great options for preserving your peppers.
For more of our recipes and ideas for how to use your jalapeño peppers, subscribe to our newsletter. We hope this article helped you learn how to pickle jalapeño peppers at home. Happy Jalapeno Pickling!