Pickles are one of our favorite snacks. Chips, spears, whole, any which way you like them. There's a reason the pickle aisle is so crowded with different brands. But did you know it's really easy to make them yourself?
In this article, we share our simple, spicy (optional) and indisputably delicious recipe for quick refrigerator pickles. Let's get started!
Follow along in video:
---
What Makes Pickles…Pickles?
First, a little background about pickles. The most commonly pickled item is the cucumber, but you can pickle pretty much any vegetable, fruit, or even meat or cheese. The purpose of pickling is to preserve fresh food and give it a longer shelf-life.
If you grow your own veggies, this is an excellent method to keep them stored and from going to waste! The two types of pickling are immersion in vinegar (or another acidic liquid), or immersion in a brine. For quick pickling, we use the best of both worlds.
What Is Brine?
At it's most basic level, a brine is a concentration of salt dissolved in water. When you steep vegetables in it, the salt infuses into the food, keeping it from going bad. That is part of why pickles stay good for so long.
The other reason is an acidic environment. To be on the safe side, we recommend using a quality pH meter to test acidity after making pickles. This is especially important if you plan to use a low concentration of vinegar.
---
Canned Pickles vs. Refrigerator Pickles
Canned pickles have the longest shelf life. But, they take much more time to make. You'll need the right kind of canning jars, brand new lids, and a nice big pot in which to submerge and boil them. This is a good starter pack of jars.
You'll also have to wait 6-8 weeks for the pickling process to complete before eating. If you want to keep pickles at room temperature for a year or more, canning is the proper (and safe) method.
Refrigerator pickles do not undergo boiling and are not sealed for long-term preservation. Despite this, the brine and vinegar solution keep pickles safe to eat for several weeks when kept in the fridge.
The benefit? They are nice and crunchy, and they are ready to eat the same day!
---
What Kind Of Jar To Use For Quick Pickles
Since we aren't boiling the jars as you would for canning, you can use almost any glass jar that has a lid! This is a great opportunity to save those leftover tomato sauce jars, or even your leftover store-bought pickle jars.
The benefit of using ball jars is the properly sealing lids. You can use ball jars, but it isn't necessary for quick pickles, as they are not meant to be long-lasting preserves. Just make sure you use glass.
---
Can I Use This Recipe To Pickle Other Things?
Sure, you can try, but you may need to modify the amount of vinegar & salt. Each food has a different rate of brine absorption. Mushrooms may take on more of the salt and become unappetizing. Carrots, on the other hand, may take longer to develop the right texture.
Pickled peppers and carrots are robust and will maintain the desired crunchiness with our recipe. You can even quick-pickle eggs! Try our recipe for pickled shishito peppers here. It works great for all sorts of peppers (including jalapenos).
---
How To Make Refrigerator Pickles
Now, for the fun part – making quick refrigerator pickles! Use this step by step guide to make your pickles in about 15 minutes.
First, create the brine and bring just to a boil (full recipe below)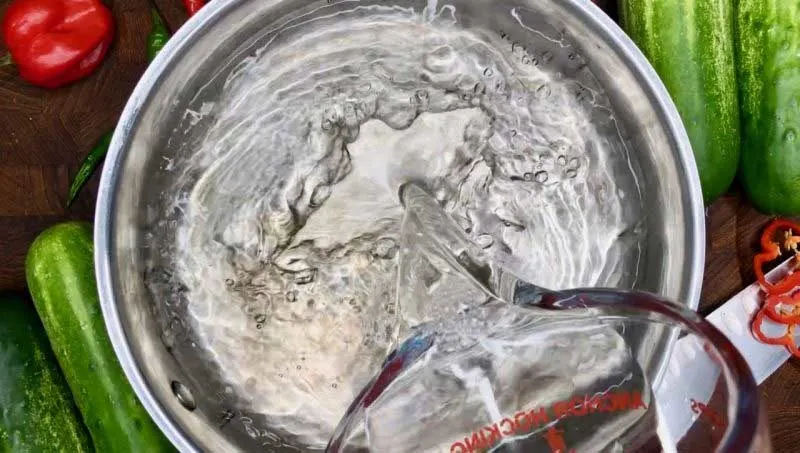 Slice cucumbers and other vegetables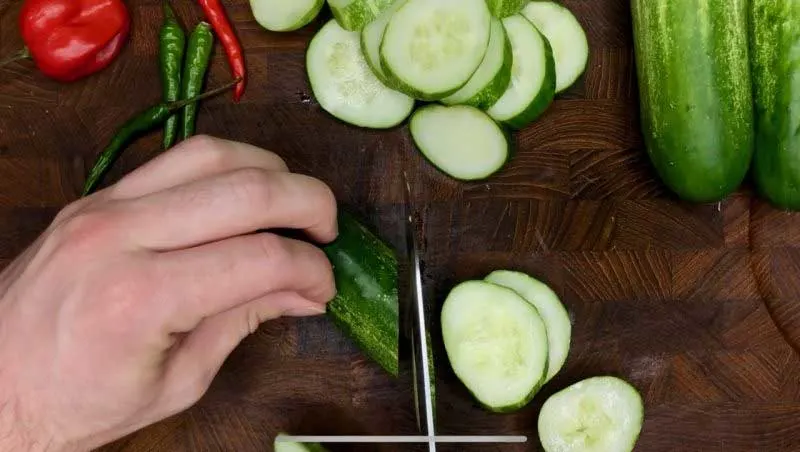 Place sliced cucumbers in a glass jar, leaving some room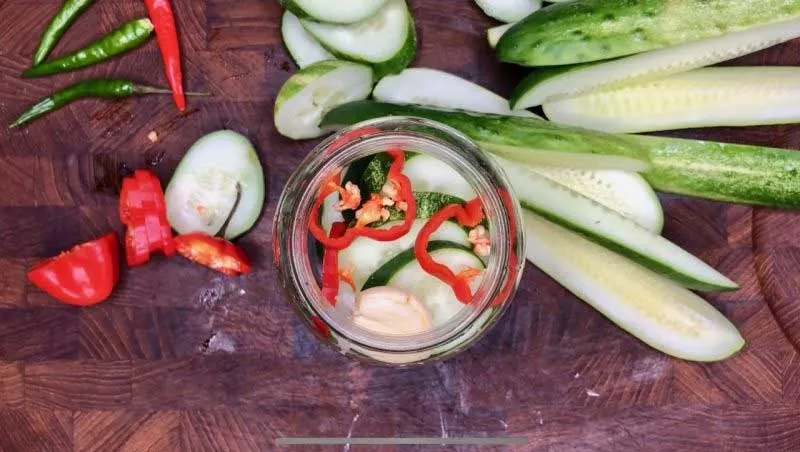 Pour brine into jar until it covers the cucumbers, leaving some room at the top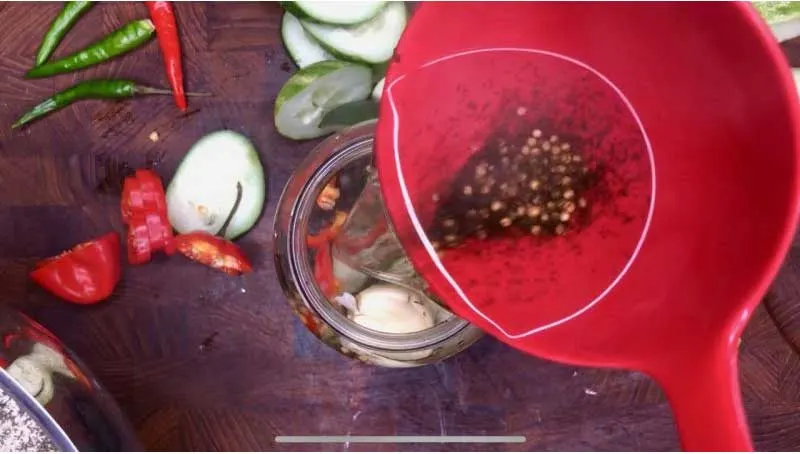 Close lid tight, and shake!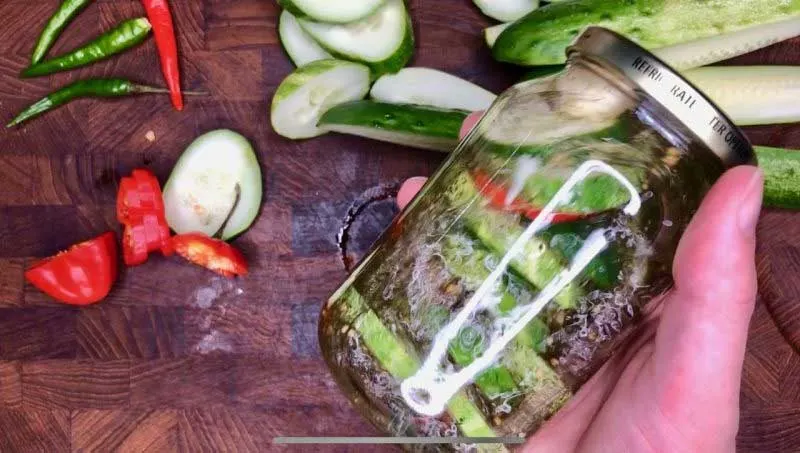 Allow to cool, and enjoy!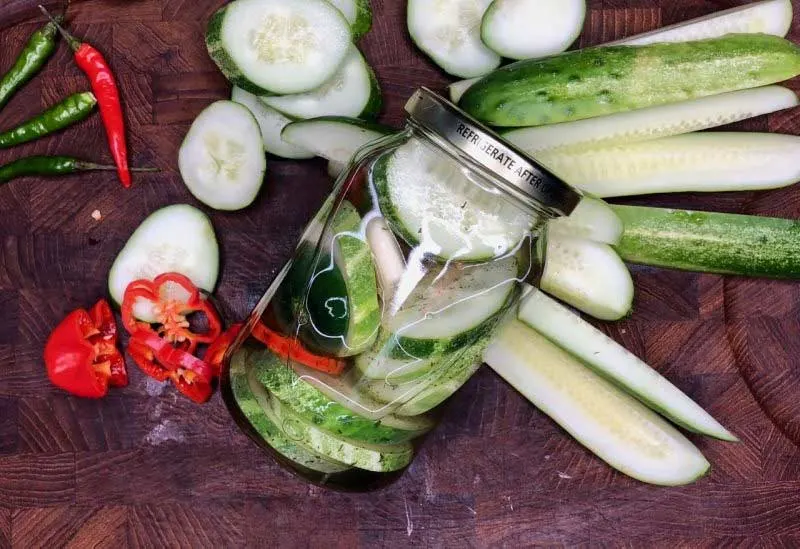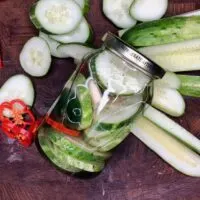 Spicy Dill Refrigerator Pickles
These quick, crunchy dill pickles are a

scrumptious

snack that will keep well in the refrigerator for weeks! But you'll eat them before then, trust us :P.
Print
Pin
Rate
Ingredients
1

cup

white vinegar

1

cup

water

1

tablespoon

kosher salt

2

tablespoons

white sugar

1

teaspoon

mustard seed

1

teaspoon

dried dill

2

Kirby

pickles

1

habanero pepper

(optional)
Instructions
The Brine
In a medium sauce pan, combine vinegar, water, salt, sugar, mustard seed and dried dill. Bring to a boil and shut off heat.
The cucumbers
Slice the Kirby cucumbers into desired shape (use the same shape for each jar you make, spears, chips or other).

Peel the garlic and smash it with the side of a knife (carefully!)

Slice the habanero. If you aren't a fan of too much heat, try a jalapeño instead, or omit this ingredient.

Add the sliced cucumbers, smashed garlic, and habanero pepper to a pint sized glass jar.

Pour the brine over the cucumbers, leaving 1/2 inch room at the top.

Tightly close the jar lid, and shake the brine to evenly coat.
Notes
Store the jar in the refrigerator for 1 week for best flavor, or allow to cool and enjoy right away. These should stay tasty and crisp for several weeks.
Tip: Remove pickles from the jar with a fork to avoid contaminating your pickles with bacteria.
Enjoy!