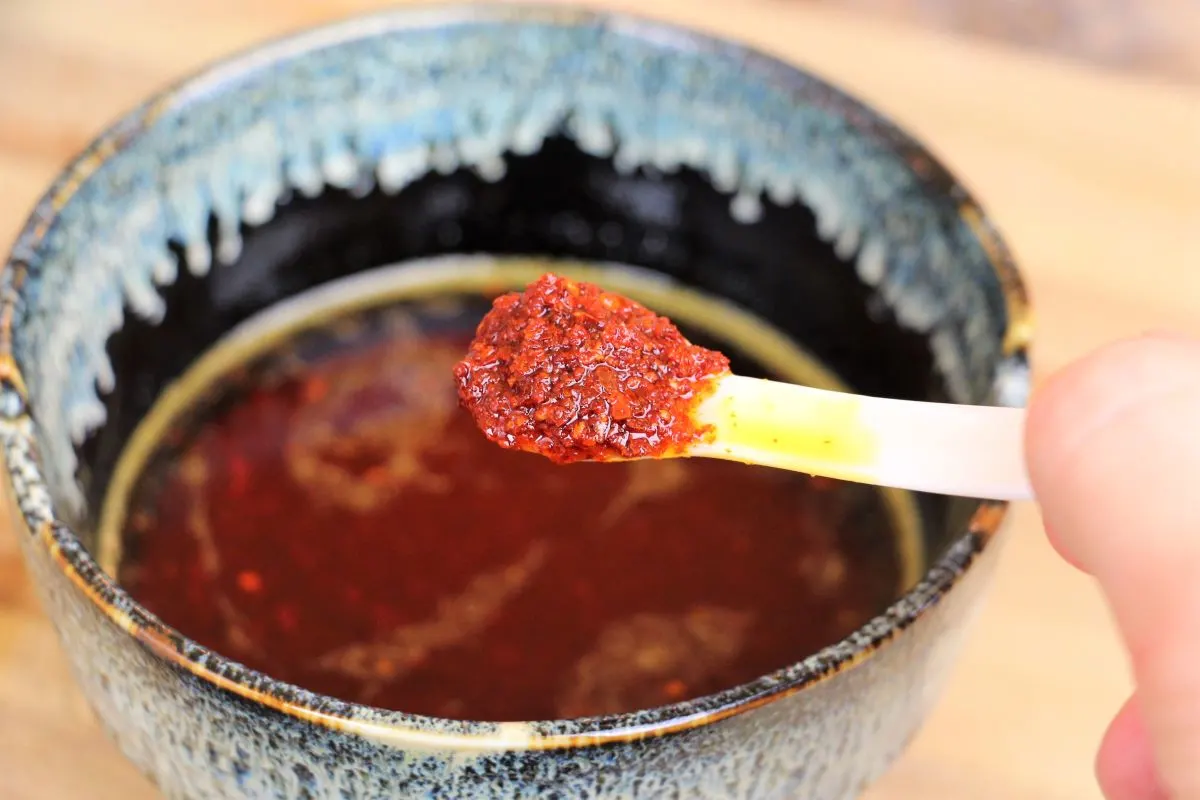 Chili oil is a staple condiment in many Asian cuisines. It is a wonderful way to spice up a bland dish with smooth, flavorful heat. After experimenting with many variations, we're excited to share this authentic homemade chili oil recipe.
Learning how to make chili oil can change how you prepare dishes. Adding a spoonful of fresh hot pepper oil to finish your stir fry or noodle soups can do wonders for your home-cooked meal. This recipe and method are meant to help anyone learn how to safely make homemade chili oil for long term use!
---
What Type Of Oil To Use
The first ingredient that will affect flavor and texture is your oil. Since we will be heating the oil to around 300°F, we want something with a higher smoke point. You should also use an oil that is not too flavorful, and will not compete with the aromatics for overall flavor.
We recommend using vegetable oil when making chili oil at home. It is affordable and has a high enough smoke point for infusing the aromatics. You may also use grapeseed oil or any oil that you prefer to cook with.
Important: Some oils will become thick and cloudy in the refrigerator. Olive oil may do this, and coconut oil will completely solidify.
---
Infusing The Oil (Aromatics)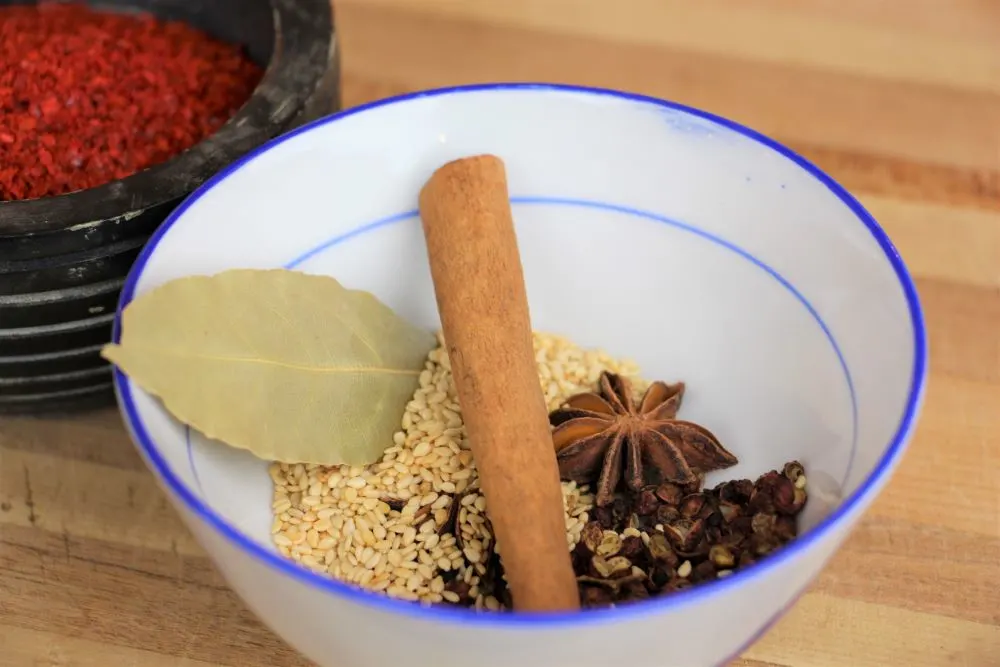 Chili oil varies greatly in different parts of China. Some geographies always include Sichuan peppercorns, while others focus on ginger or sesame seeds. When preparing chili oil at home, there are many options.
Our homemade chili oil recipe uses a blend of all of our favorite flavors, though you can feel free to add in or remove any of the aromatics used.
How it works:
By heating up the oil to a high (but not too high) temperature, we can gently cook the aromatics and release their flavors into the oil. The aromatics are then discarded and the infused oil is then joined with the red chili flakes.
Recommended: Use an accurate instant read thermometer with a high max temperature. A candy thermometer will do, or the ultra-accurate Thermapen.
Common aromatics:
Star Anise
Cinnamon
Bay leaves
Sichuan peppercorns
Toasted sesame seeds
Green onions
Other common aromatics not used in this recipe:
Ginger
Cloves
Chinese 5 spice powder
---
Chili Oil And Botulism
One of the common questions around infusing oil is if chili oil can lead to botulism. Is chili oil botulism likely or a concern?
The most common way that botulism develops is when fresh garlic is introduced to an anaerobic (no oxygen) and low-acid environment. Submerging garlic (or any fresh ingredient) in oil can potentially lead to the development of botulinum toxin.
Learn more about botulism here on the CDC website.
For this reason, we recommend only leaving dried ingredients in your chili oil. Never add water or leave other fresh ingredients in the oil.
Another way to help avoid botulism is to simply eat your chili oil relatively quickly. Though properly made chili oil can typically last several months at refrigerator temperatures, try to use it up within 1 month to be safe.
Note: If your container is bulging after not using the chili oil for a while, it is possible that botulinum toxin has been produced. If it is botulism, the gas released will likely smell foul. To be safe, discard the oil.
Tips To Avoid Botulism in Chili Oil
Never leave fresh garlic in the oil
Never add water or other fresh ingredients to oil
Always use clean silverware when serving chili oil
Use oil within 1 month
Discard if the container is bulging or releases air when opened
---
What Type Of Chili Flakes To Use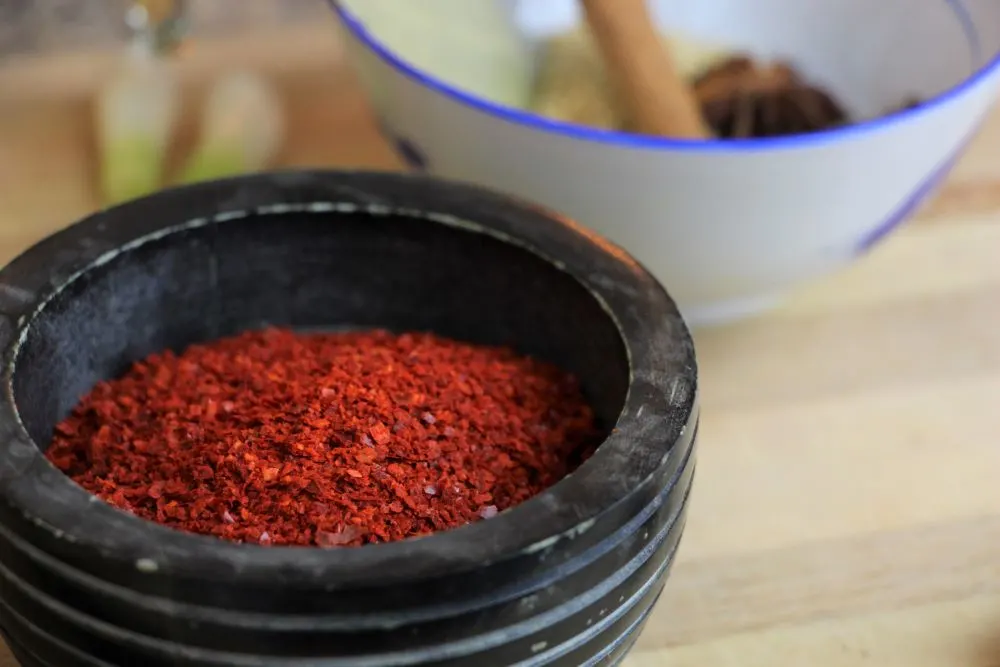 Depending on where the chili flakes are sourced, your chili oil will change in both flavor and heat level. We're looking to create a vibrant, flavorful chili oil with a relatively smooth texture.
Look for coarsely ground red chili flakes with a bright red color. Pepper flakes sourced from China will usually have a brighter color and will have fewer seeds compared to Italian crushed red pepper.
You can get Chinese chili flakes online, or at a local Asian grocery market.
These pepper flakes from Amazon are imported from Sichuan, China.
Note that some chili flakes are spicier than others. If you're looking for a milder chili oil, do some research on the type of pepper used by each brand.
---
How To Make Chili Oil (Steps)
Now for the fun part. With all of our ingredients together, the only thing left is to infuse the oil and combine it with the chili flakes. This recipe is tasty, but feel free to experiment with other aromatics. Be sure not to burn your ingredients by allowing the oil to get too hot!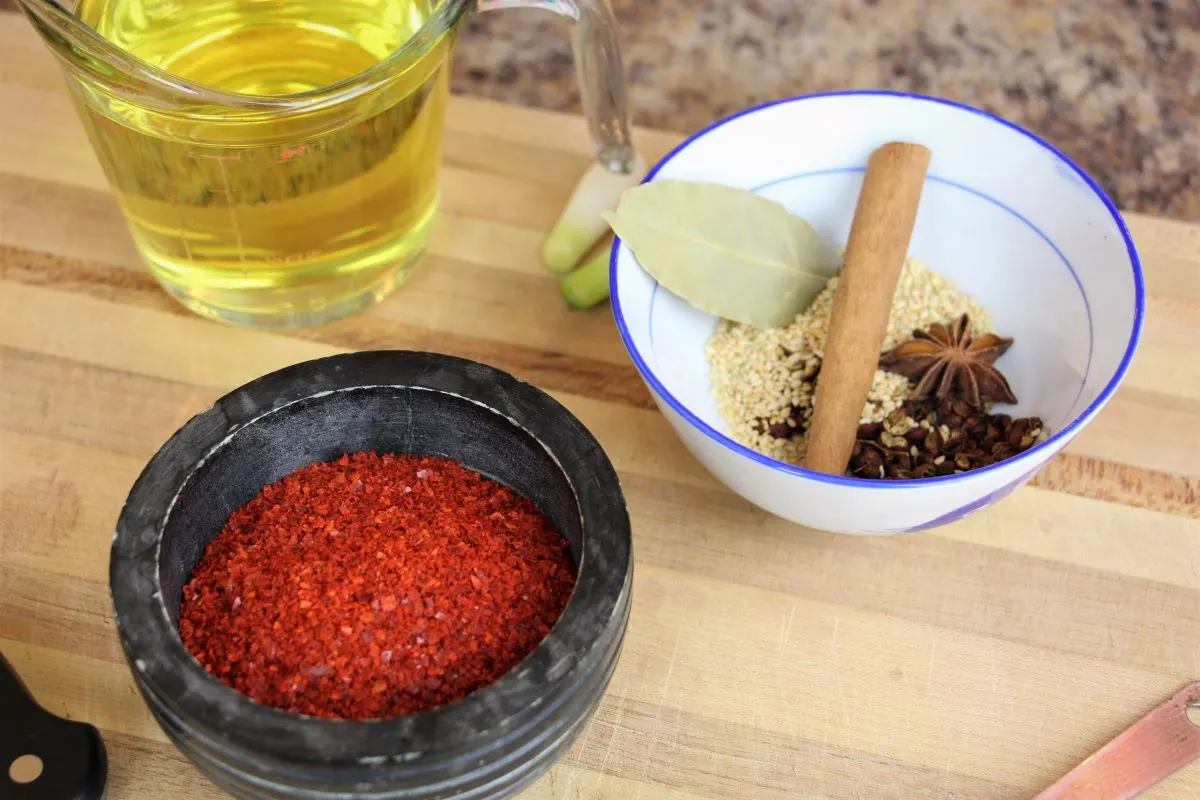 Ingredients
Main Ingredients
1 Cup Vegetable Oil
1/2 Cup Dried Chili Flakes (coarsely ground)
1/2 Tsp Salt (or to taste)
Aromatics
2 Star Anise Pods
1 Tbsp Sichuan Peppercorns
1 Cinnamon Stick
1 Bay Leaf
1 Tbsp Toasted Sesame Seeds
2 Green Onion White Ends
Steps:
1. Prepare The Aromatics
Toasting sesame seeds is simple to do at home. The subtle flavor is a delicious addition to chili oil. Toast the sesame seeds at medium heat in a medium sauce pan for 2-3 minutes, or until the seeds begin to turn light brown. Remove from heat immediately and put the seeds in a small bowl. You'll want to keep an eye on them while they're toasting. The process happens very quickly and you don't want them to burn!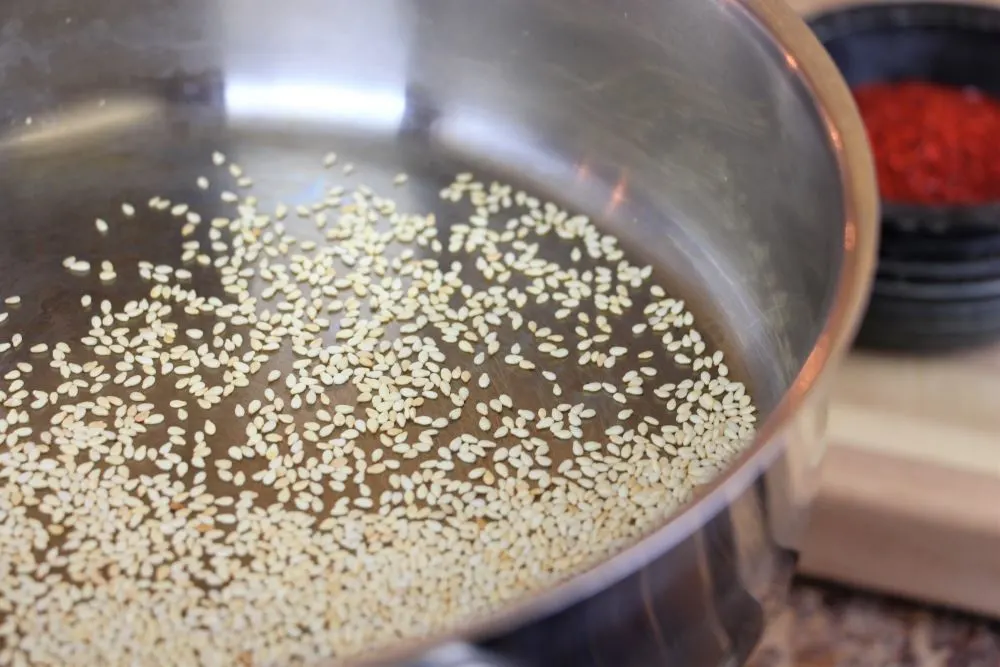 2. Heat The Oil To 300°F
In the same sauce pan, add the oil and reduce the heat to low. Slowly bring the oil to about 300°F, carefully monitoring with a high-temperature food thermometer.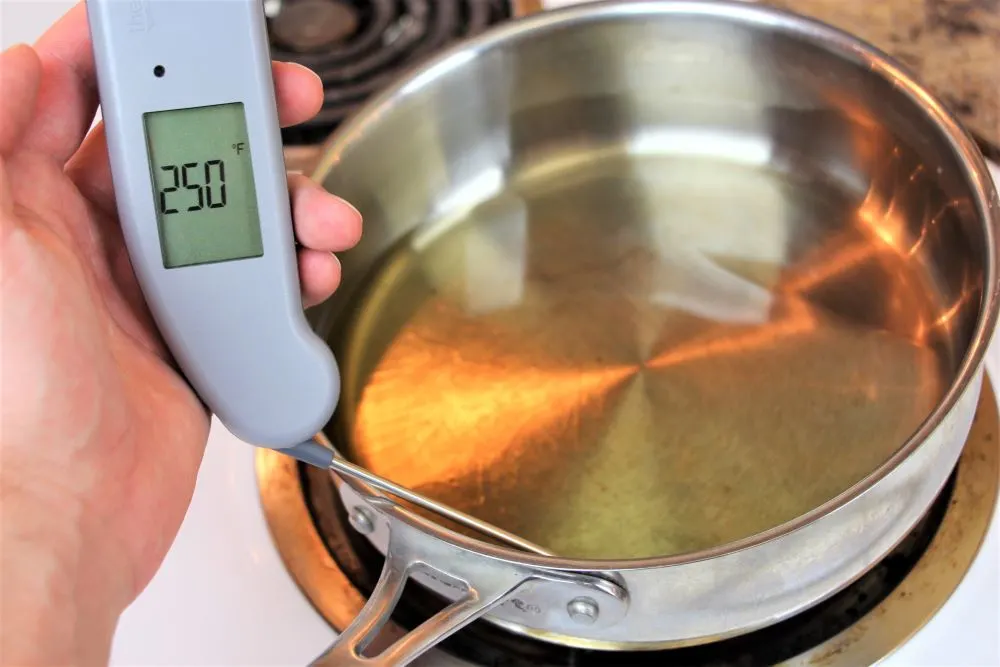 Some recipes recommend slightly lower (around 250°F) while others go all the way up to 380°F+. We found 300°F to work well for infusing.
3. Add The Aromatics
Add the anise, cinnamon, bay leaf and sesame seeds (keep the green onions out for now). Cook for 30 minutes, keeping the temperature between 275 – 325°F. Swirl occasionally.
When there are 5 minutes remaining, add the green onion whites. These will sizzle when added to the oil and begin to cook and become translucent.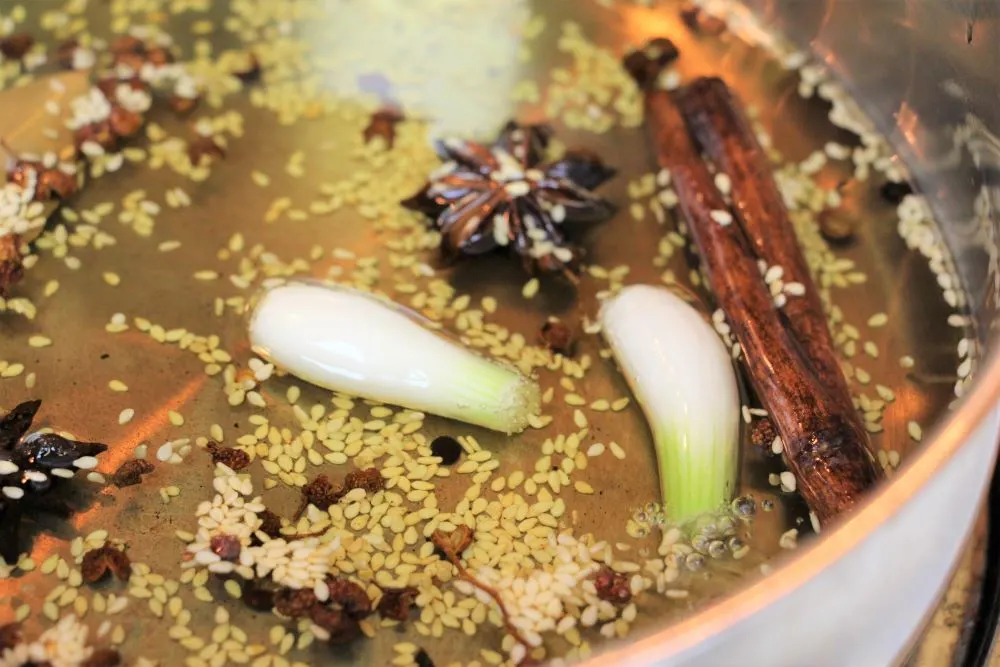 4. Combine Chili Oil & Salt
While the aromatics cook, add the salt to the chili flakes, stirring to combine.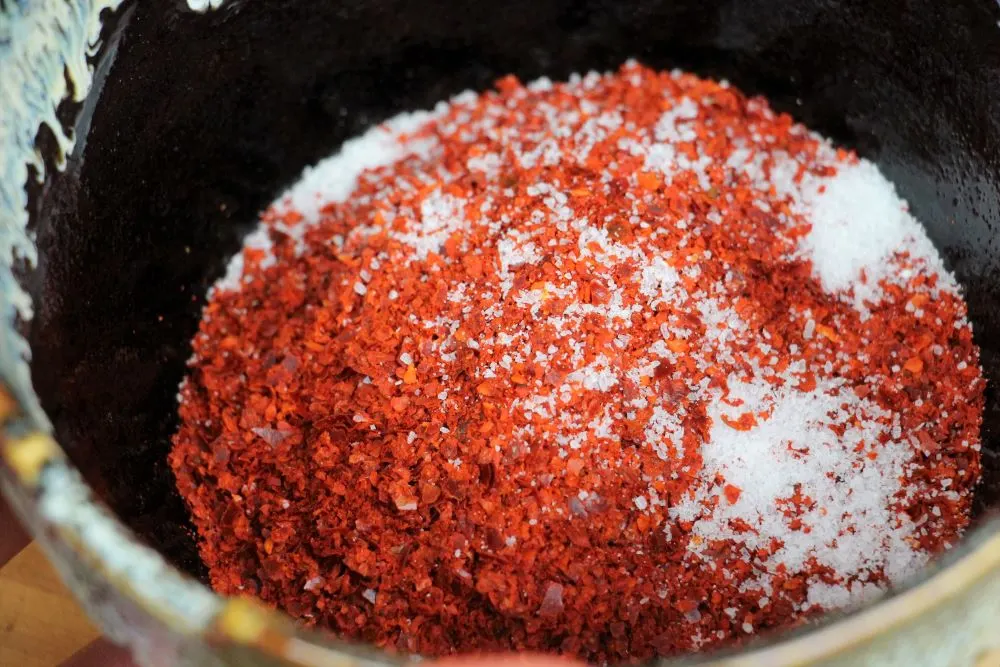 5. Cool Oil To 200°F
Remove the infused oil from heat, allowing to cool to about 200°F. This should only take a few minutes.
6. Strain Aromatics From Oil
Using a fine mesh strainer, strain the oil directly into the chili and salt mixture. Stir thoroughly to combine the chilies and oil.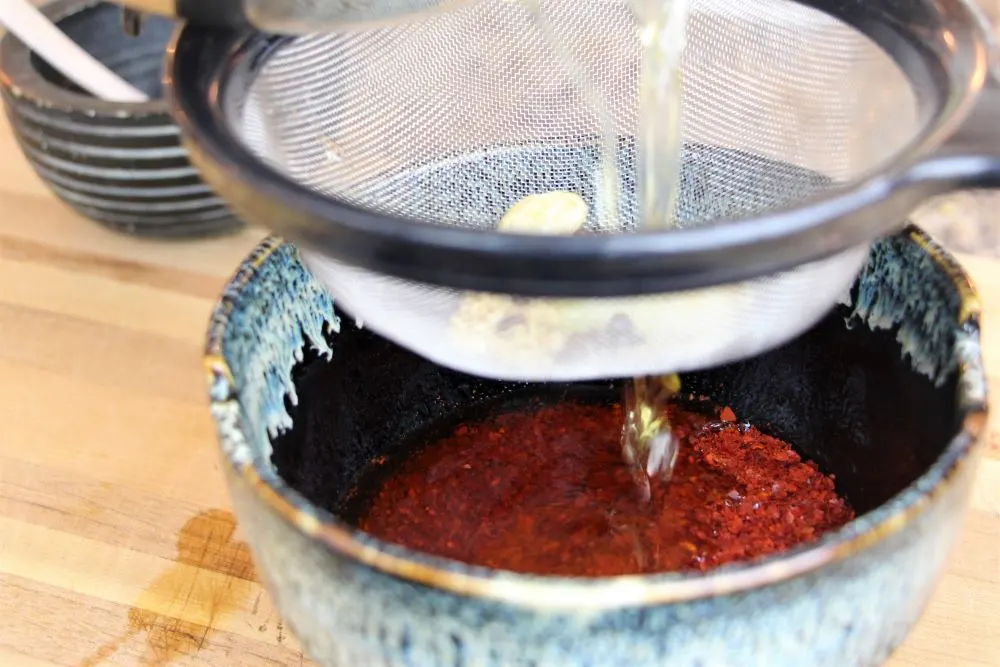 Note: Be sure to use a heat-resistant material bowl when pouring the hot liquid. Some glass containers may not be safe. Ceramic or Pyrex is usually recommended.
8. Store In Refrigerator For Up To 6 Months
Store in an airtight container in the refrigerator for up to 6 months. We like sealable ball jars, but feel free to use whatever serving dish works best for your needs.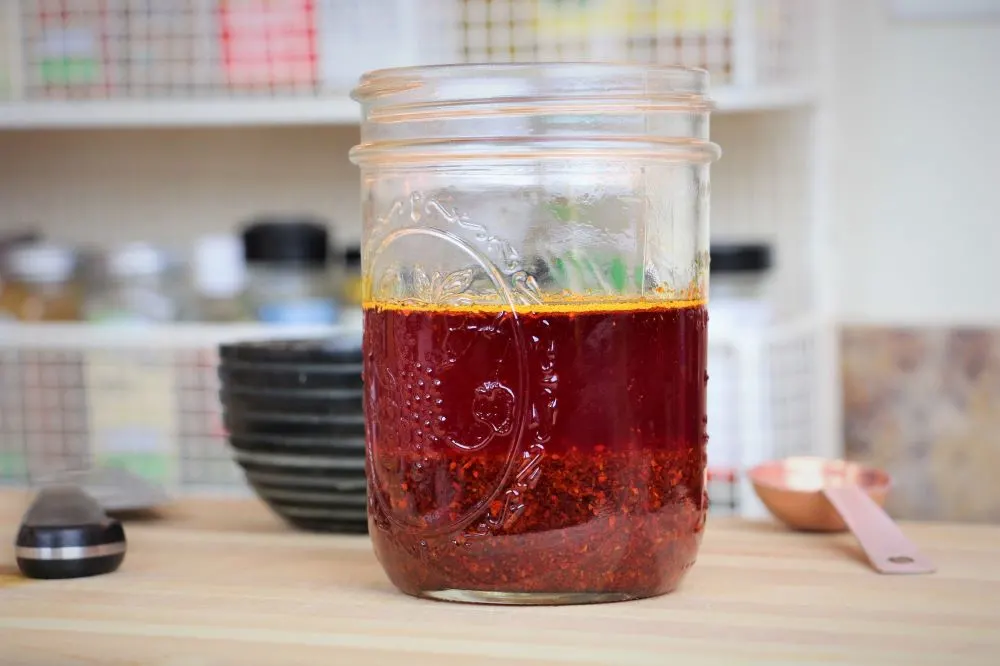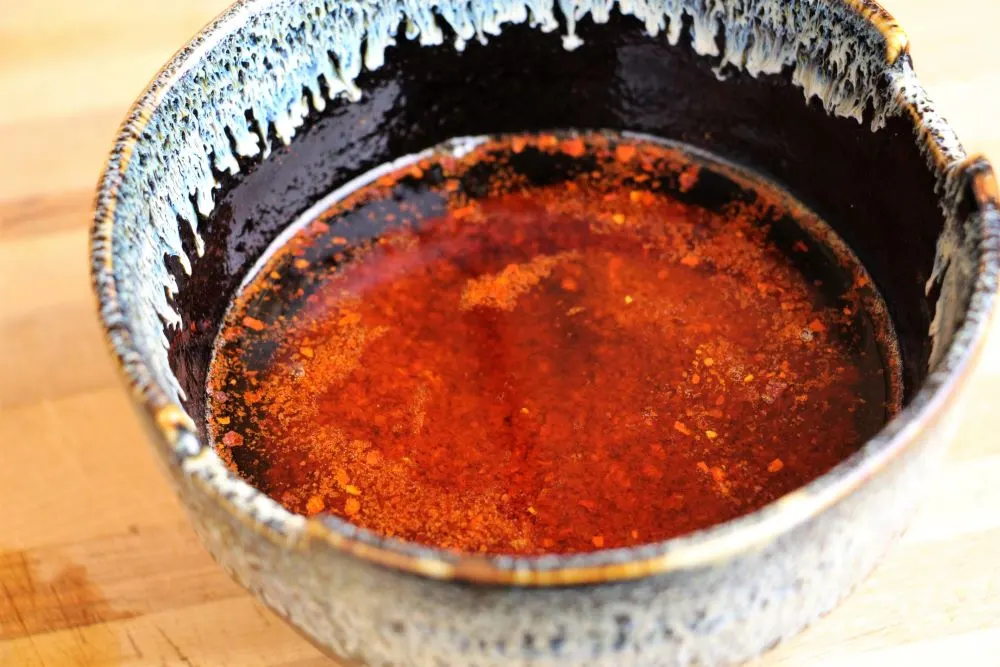 Important:
– Always use clean silverware when spooning out your chili oil. The oil may otherwise become contaminated.
– Always check for mold when using your chili oil.
– Never use fresh garlic or water in your oil. It may lead to the formation of botulism toxin.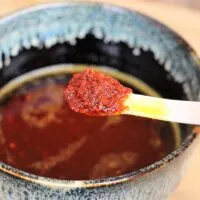 Authentic Chili Oil
Authentic chili oil recipe using sichuan peppercorns and star anise for aromatics.
Print
Pin
Rate
Equipment
Medium Sauce Pan

High-Temp. Food Thermometer

Fine Mesh Strainer
Ingredients
Main Ingredients
1

cup

Vegetable Oil

0.5

cups

Chili Flakes

coarsely ground

0.5

tsp

Salt
Aromatics
2

pods

Star Anise

1

tbsp

Sichuan Peppercorns

1

tbsp

Sesame Seeds

toasted

1

stick

Cinnamon

1

Bay Leaf

2

Green Onions

white ends only
Instructions
Using a medium saucepan, toast the sesame seeds at medium heat for 2-3 minutes, or until they begin to turn light brown. Place in small bowl.

Reduce the heat to low. Using the same sauce pan, add the oil and slowly bring the temperature up to about 300F.

Add the star anise, cinnamon, bay leaf, sesame seeds and sichuan peppercorn. Do not add the green onions yet. Cook the aromatics for 30 minutes, keeping temperature consistently between 275-325F.

When 5 minutes remain, add the green onion.

While the aromatics cook, combine the chili flakes and salt in a heat-safe container (use ceramic if possible). Stir thoroughly.

Remove the infused oil from heat and allow to cool for 5-10 minutes. The temperature should be around 200F.

Strain the oil directly into the chili flakes. Discard aromatic ingredients. Stir thoroughly.

Store in the refrigerator for up to 6 months.
Notes
Adjust salt to taste.
Always use clean silverware to serve chili oil.
---
I hope you enjoy your fresh, homemade chili oil. If this article helped you learn how to make chili oil for the first time, share your thoughts in the comments below! We would love to hear any modifications or suggestions.