ViparSpectra has always been one of our favorite affordable grow light brands. They offer well-built LED lights for a reasonable price.
ViparSpectra also works hard to innovate and continue to improve their products. Their latest innovation focuses on an all new lens design, which helps concentrate light and create a highly uniform coverage area.
Disclaimer: We were sent a complimentary grow light for review purposes.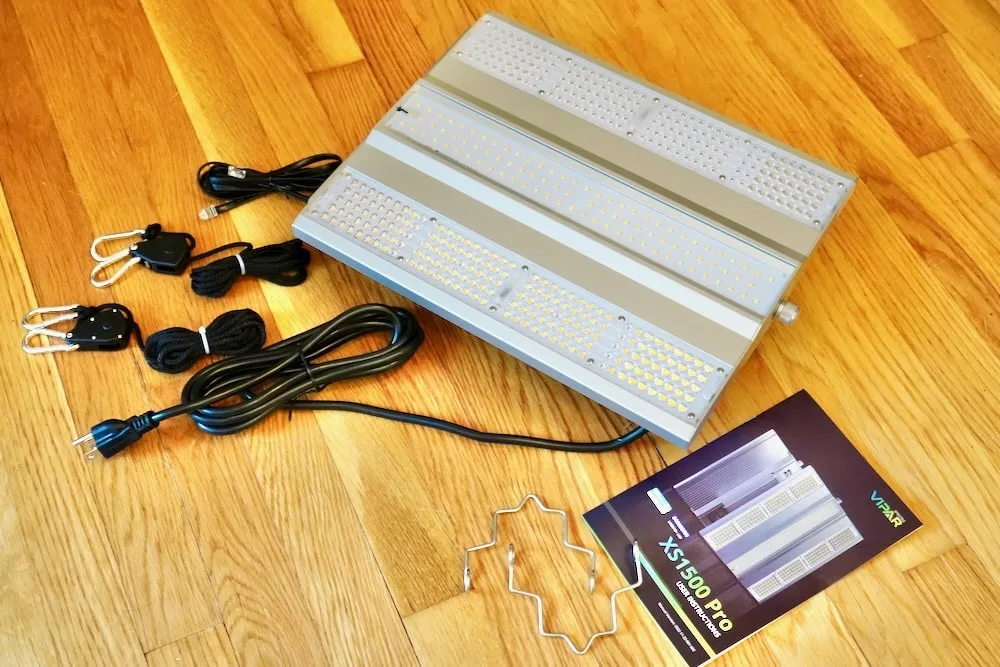 *Save with code: PepperGeekXS
---
What's in the box
The XS1500 Pro comes with everything you need, and not much else. In the box, you'll find these items:
LED light with attached driver unit and power cable
2 ratcheting rope hangers
2 metal hanging brackets
Daisy chain cable
Instruction booklet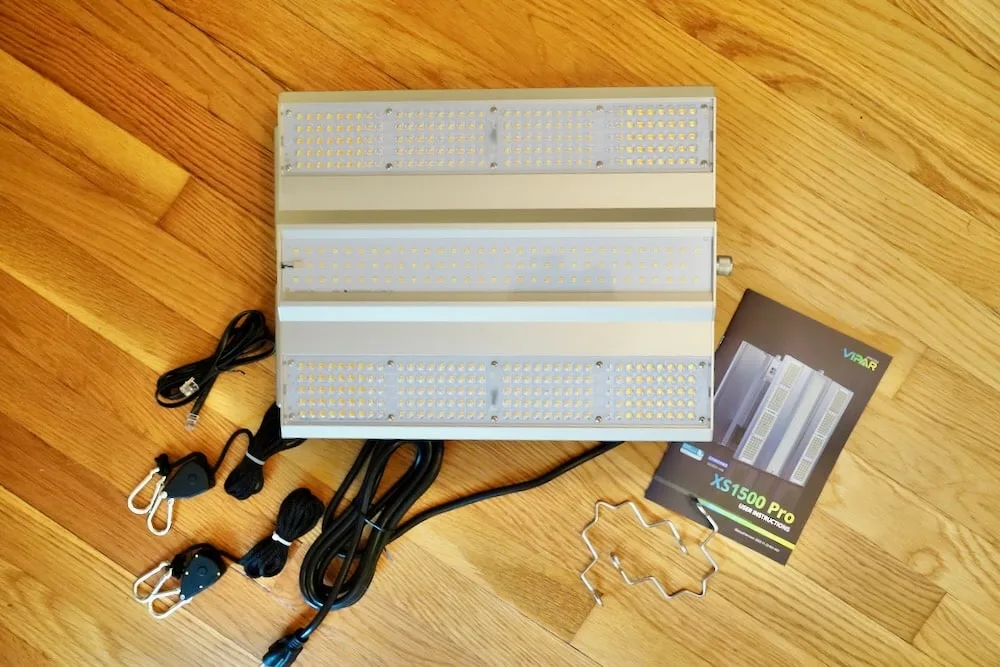 This light is plug and play, ready to use right out of the box. If you are growing peppers indoors in a 2×2′ area, this light has the perfect coverage for vigorous growth.
Hanging the light is also improved, with new shorter brackets that allow the lights to be hung higher. Previously, long cables were included with ViparSpectra's lights, meaning the light had to be at least 8-10″ below the bar it was hung on.
---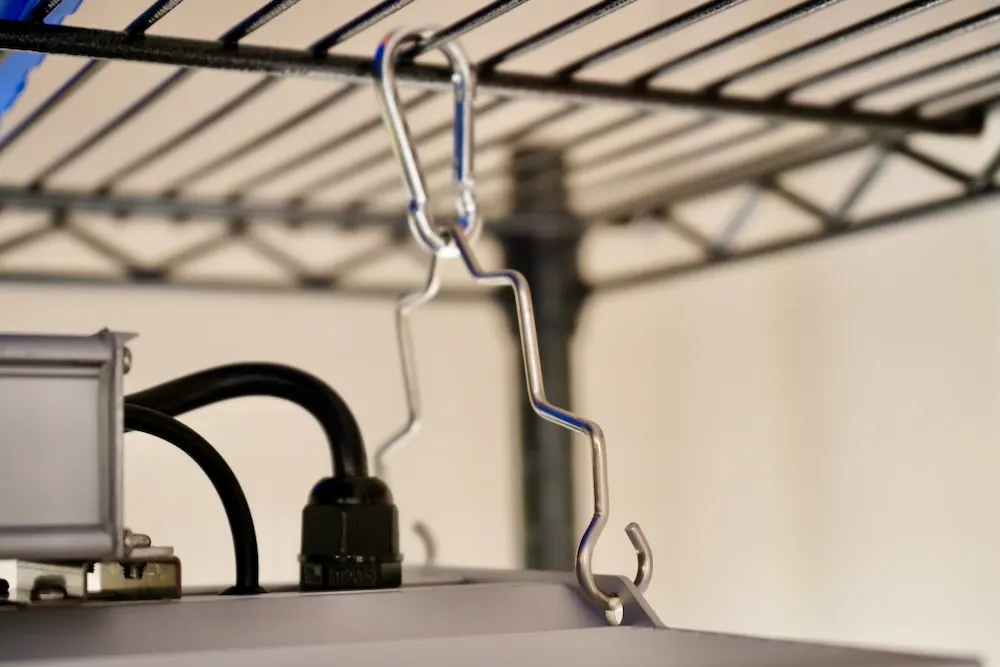 ---
Features
When it comes to features, the XS1500 Pro does not disappoint. I couldn't be more excited about the all-new technology that ViparSpectra has implemented to make their lights even more efficient.
Lens Design Technology
The main feature of the new XS1500 Pro is its uniform light distribution. This is accomplished by using lenses over each of the LED diodes on the panel's surface.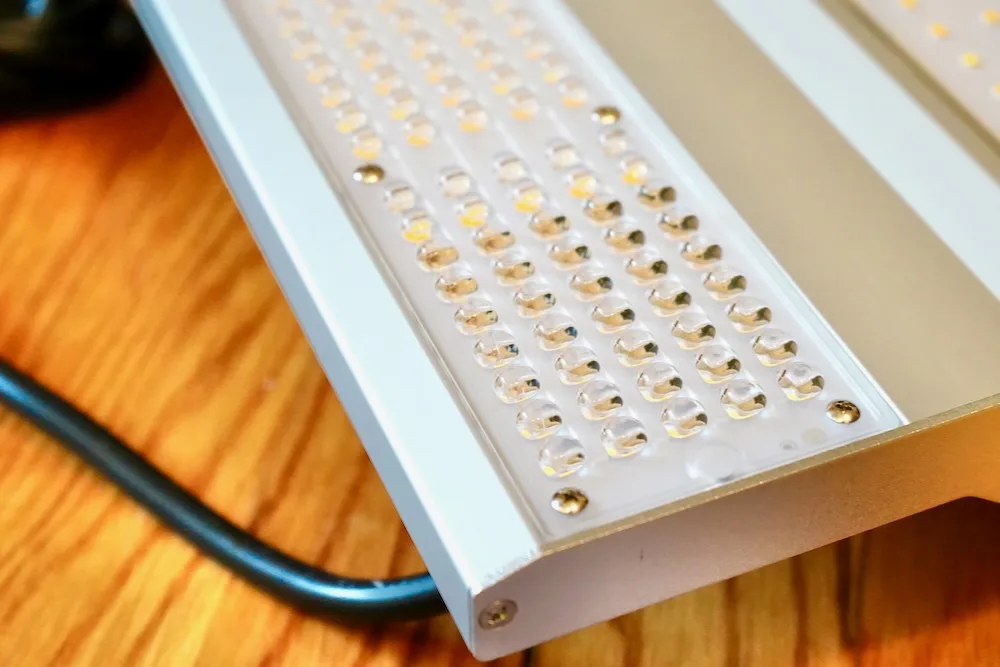 These lenses direct light where it is needed, and prevent photons from being scattered and wasted. This not only means a more uniform PAR distribution, but also less glare when the light is set up in an open room. This is actually a huge bonus for anyone not using a grow tent!
Functionality
Aside from the new lenses, this light also has some other great functionality, and very few drawbacks. Here are some of the features the XS1500 Pro has:
Algorithmically designed. ViparSpectra lets data do the talking. The light distribution and number of different LED types (white, red, IR diodes) were all designed algorithmically for optimal performance.
Dimmer knob. The dimmer knob allows you to control the light's output. ViparSpectra also includes some recommended hanging heights and power levels for different plant stages. One drawback is that the dimmer has set percentages (5%, 25%, 50%, 75%, 100%), instead of allowing for any percentage. The light also cannot be turned off with the dimmer.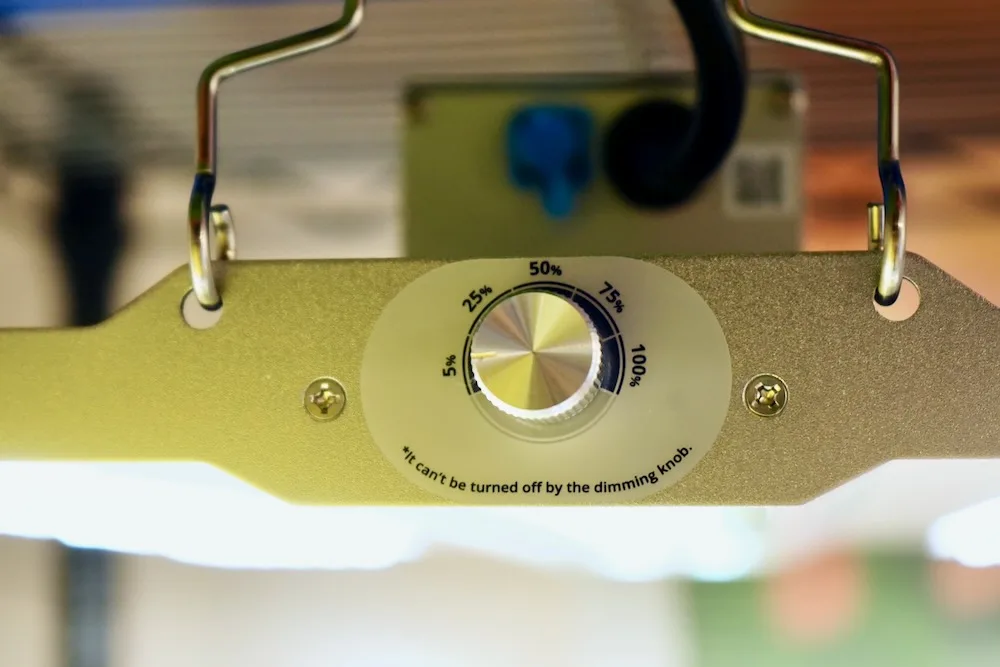 Can be linked with more lights. Daisy chain cables can link multiple ViparSpectra lights together, allowing all of the lights to be dimmed and controlled as one. This would be great for a larger scale indoor setup, or even just a larger, 2×4′ area.
---
Pros and Cons
Like any grow light, this one has its positives and negatives. Here are my thoughts on the benefits and drawbacks of the XS1500 Pro.
Pros:
Uniform light distribution
Less wasted light
Simple brackets make hanging easy
Daisy chain and controller compatible
Less glare than most LEDs
Cons:
Light can't be turned off on the unit itself (must unplug or use an outlet timer)
Not suitable for much larger than 3×3′ area due to the more concentrated light
Overall, I think the lens design of the XS1500 Pro is the future of LED grow lights. Concentrating the PAR output to the grow area and evening out the distribution of photons is just plain logical. This will lead to better growth for all of your pepper seedlings or even full sized plants.
---
*Save with code: PepperGeekXS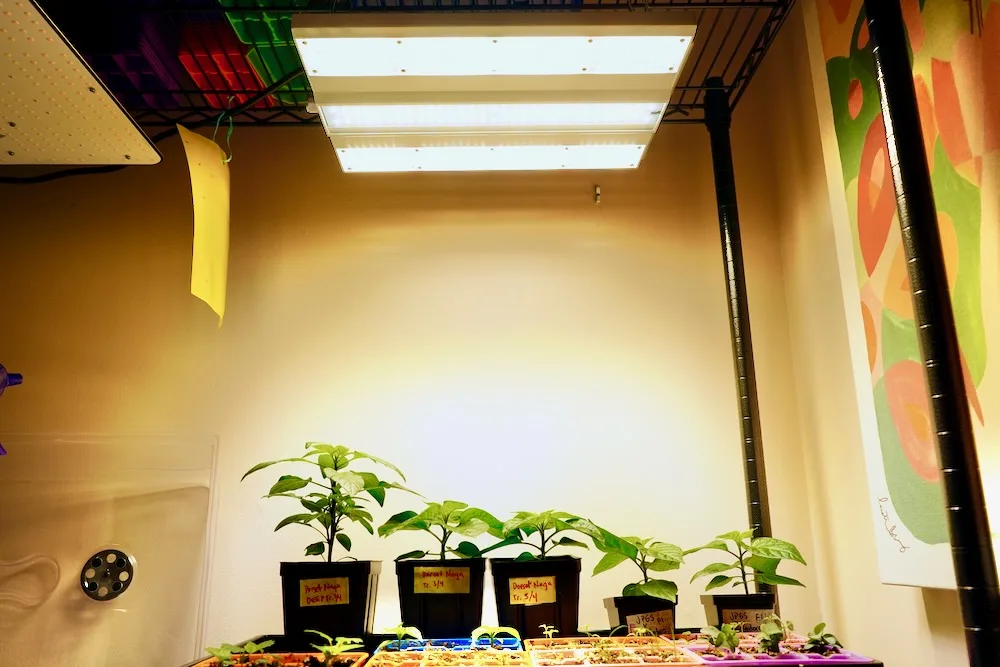 Let me know your thoughts on the new lens design technology from ViparSpectra. The efficiency and even distribution make me want to replace all our lights with the new XS Pro series!