In a world of ever-increasing options, choosing the right LED light can be difficult. The goal is usually to maximize your indoor growing space, provide ample light output, and not break the bank.
Enter the ViparSpectra Pro Series LED lineup. This company has been in the grow light space for a long time, having success with 'blurple' type lights. Now, they have an all new lineup of affordable, user-friendly LED light options to suit most grow setups.
Today, we are excited to be reviewing the ViparSpectra P1500 LED grow light, the mid-range light in the Pro Series LED line. We will cover all the major details, including the build quality, light output, pricing and more. Let's get started!
Read Next: Grow peppers indoors, year round.
Note: Pepper Geek participates in various affiliate programs, meaning links in this article may result in a commission being paid should you make a purchase. ViparSpectra sent us our light for review purposes.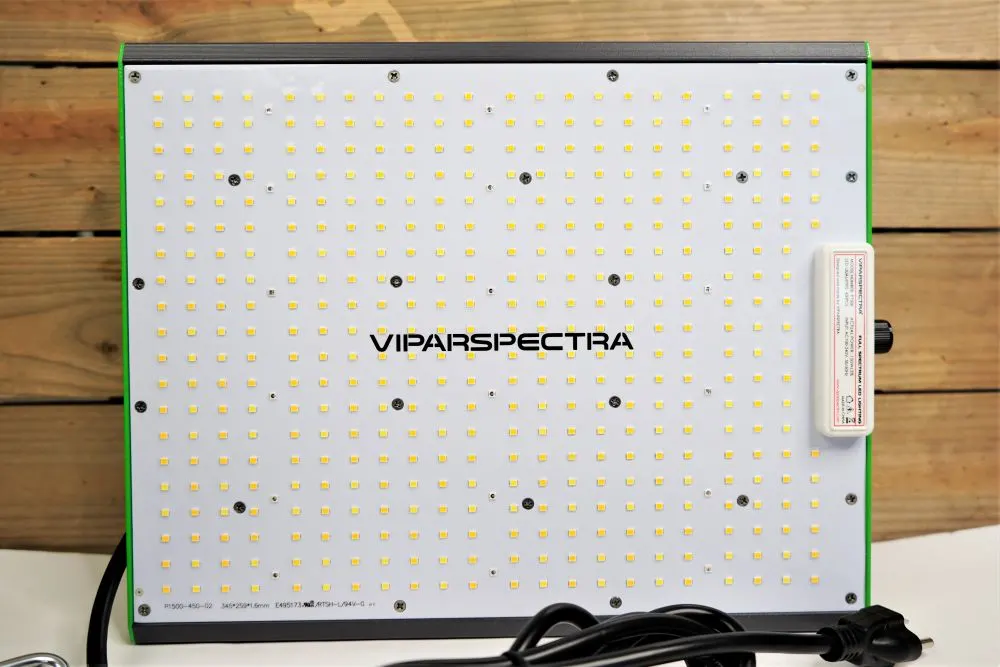 *Save with our unique discount code "PEPPERGEEK" at checkout!
---
What's in the Box?
In the box, you get everything you need to be set up quickly. The LED driver comes pre-attached to the back of the light board. You also get 4 cables for hanging the light, along with 2 ratcheting ropes for easy height adjustment.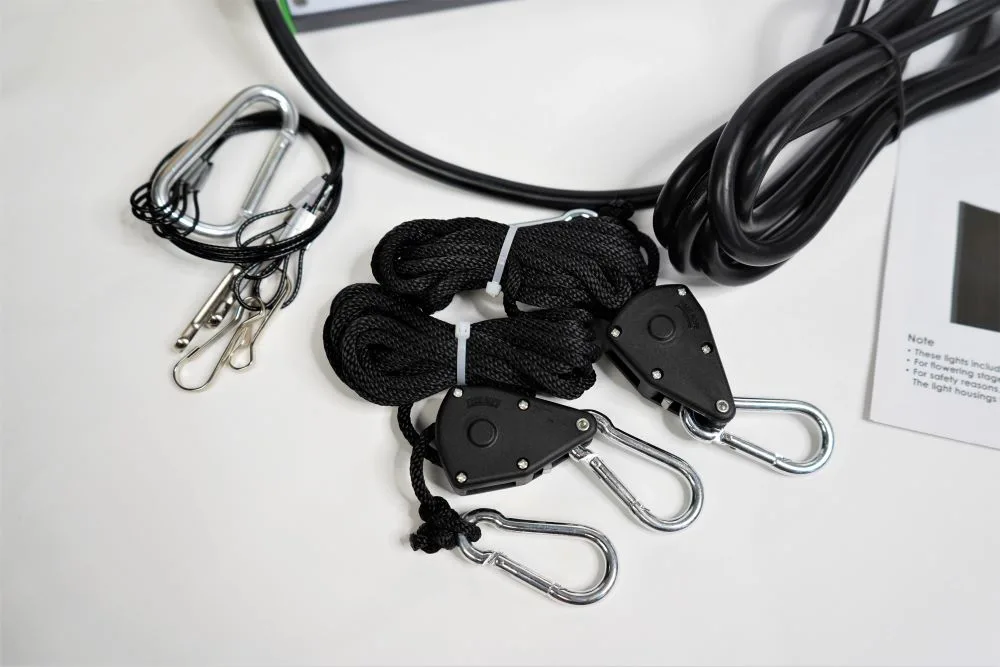 Items included:
LED board
Driver unit (pre-installed)
Power cable (attached to driver)
4 small cables with spring snap hooks
2 ratcheting ropes with spring snap hooks
Instruction manual
The light also comes with a heat sink on the back of the LED panel. This is great for keeping the light cooler while running, but more on this later.
The only thing you will likely need is an outlet timer, as the lights cannot be turned off with a switch. Otherwise, this ViparSpectra light is pretty much ready to hang and plug in, straight out of the box.
---
Specs and Build Quality
Now, for an overview of this particular model, the P1500. The build quality feels extremely solid, and the components seem well put together. Nothing is loose or rattling on or inside of the unit.
Specs:
Width: 13.5″
Depth: 11″
Height: 3″ (w/driver), 1.5″ (w/out driver)
Weight: 6.6 lbs
Dimmer settings: 5% – 100%
Power draw: 150W (at 100%)
Output at 12″: 1,027 umol/s
Made in China
Water resistant LEDs and driver
When creating this line, ViparSpectra seemed to address all the concerns with other quantum LED boards. These include cooling, water resistance, and the ability to dim the light.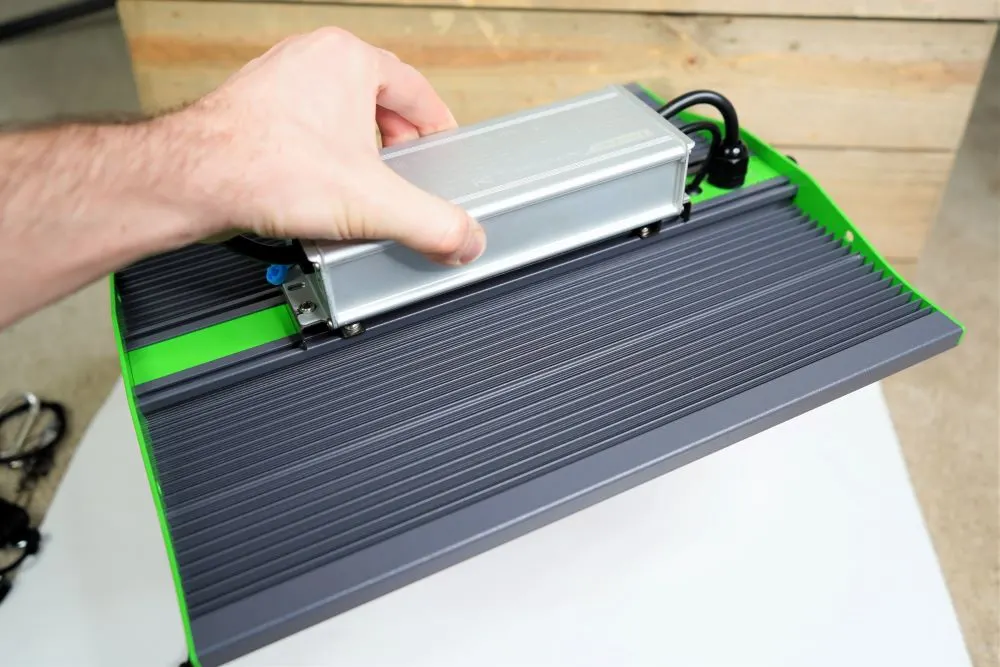 Cooling (Heat Sink)
A heat sink works by effectively increasing the surface area of the LED panel back. This is a purely metal surface which dissipates heat efficiently, leading to cooler running temperatures.
At 6.6 pounds, the heat sink certainly makes this unit much thicker and heavier than other LED boards. However, the end result of having a heat sink makes the added weight worth it.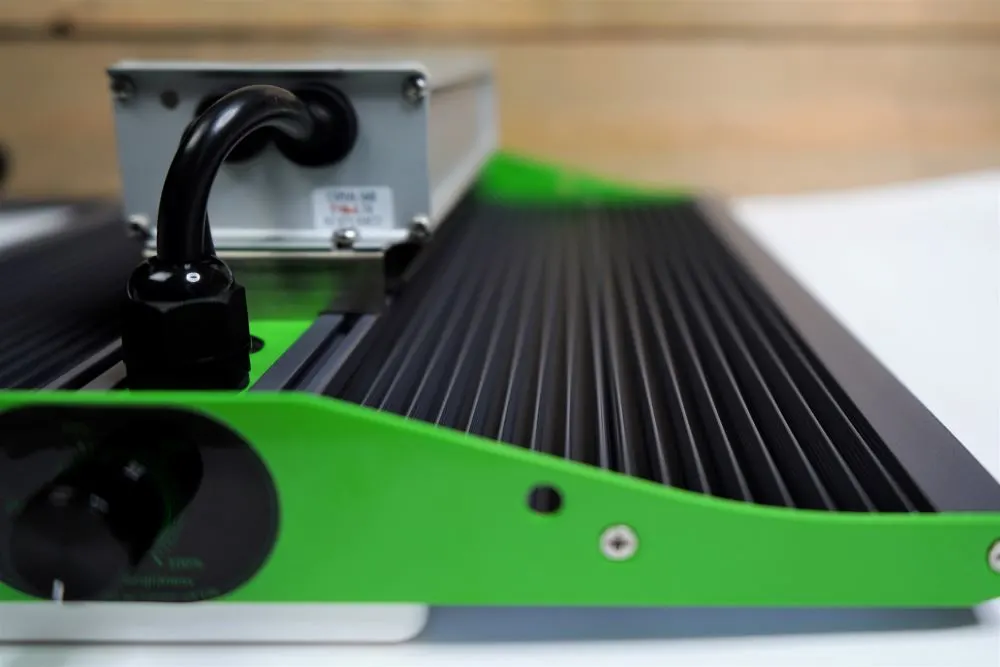 A cool-running LED board helps to prolong the lifespan for your grow lights, allowing them to grow strong plants for longer. The driver is also mounted about 1cm away from the actual LED panel, allowing for airflow to pass through.
Water Resistance
A thin coating of silicone over the LEDs makes all the Pro Series units suitable for damp or wet conditions. We really like this feature, as we no longer have to worry about the light while spritzing or watering the plants.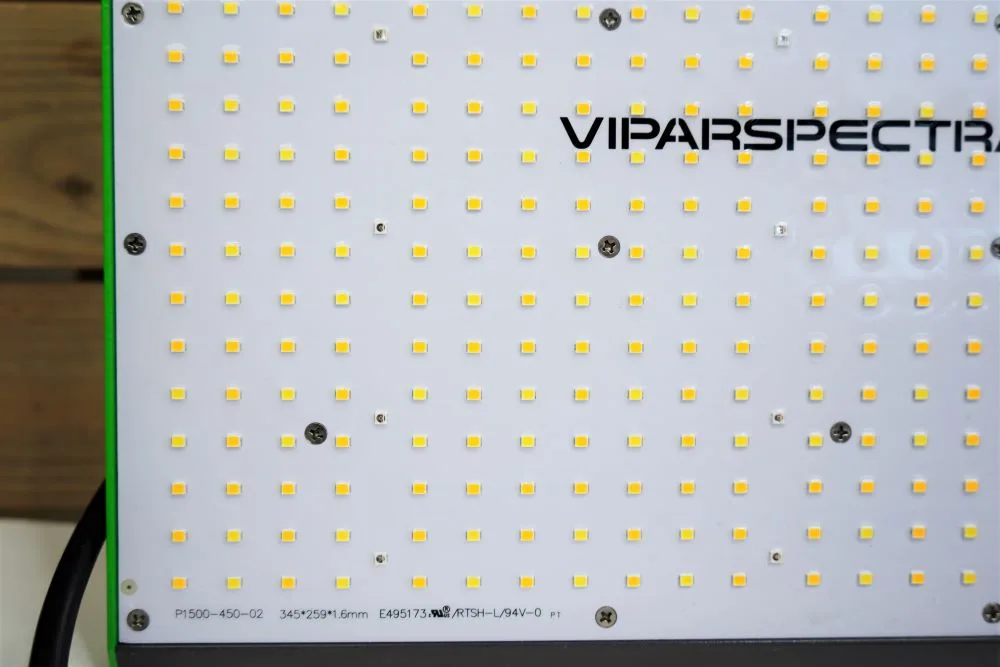 There are also rubberized connections around all the cables, making the driver water resistant as well. This water protection will also help keep the LEDs and other exposed components safe from dust buildup.
Dimmer
The dimmer is one of the best features of this grow light. While adjusting the height can effectively reduce or increase light intensity, having a knob is so convenient!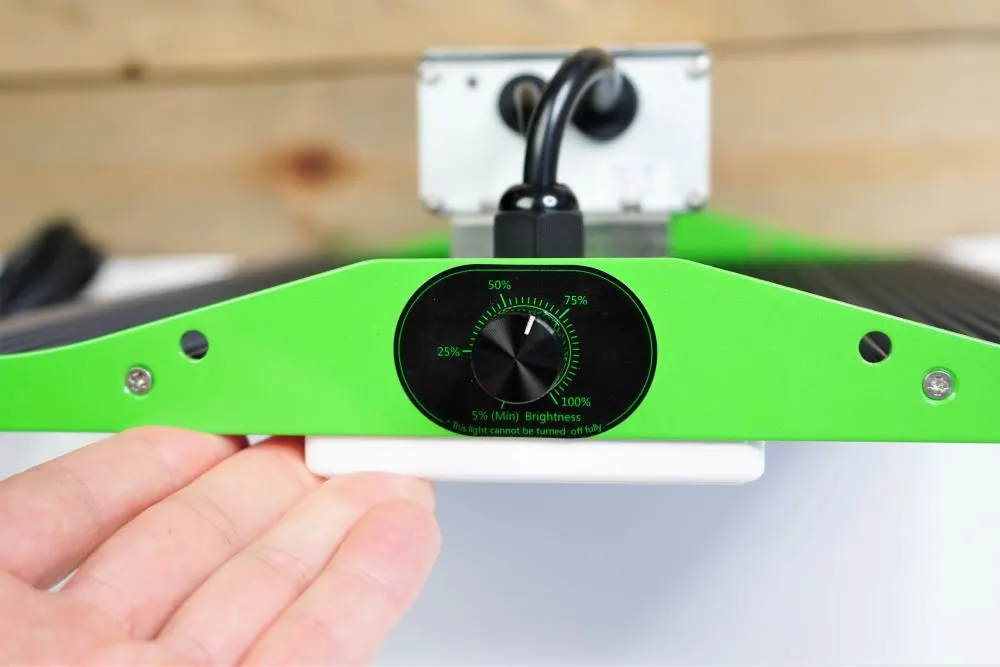 The percentages on ViparSpectra's dimmers correspond closely to the actual power draw as shown in this video review. This means that the percentage you set on the dial will effectively draw that percentage of the total power available. For example, setting the P1500 to 50% will draw around 75W of power.
The dimmer knob has a nice, heavy weight to it, with an overall quality feel. This feature can be very useful for starting young seedlings that may not require full-intensity, or for experimenting with your particular plants.
---
ViparSpectra P1500 Light Output
At full power, this LED consumes just about 150W of power. See the full PPFD light map for a 2'x2′ grow area.
When price is considered, ViparSpectra lights rate among the most efficient LEDs on the market. Increasing your budget can get you a better light output per watt, but only marginally.
These lights are very impressive for such an affordable price point. At 12″, this unit produces over 1,000 umol/s. This is a measurement of PPF, or the usable light output of the light in all directions. In other words, how much usable light does the unit produce?
LED Types
There are several different diode types in this panel. This picture shows all the different color temperatures. On the board, you'll find 3000K warm white LEDs, 5000K cool white LEDs, 660nm deep red LEDs, and 730nm infrared LEDs.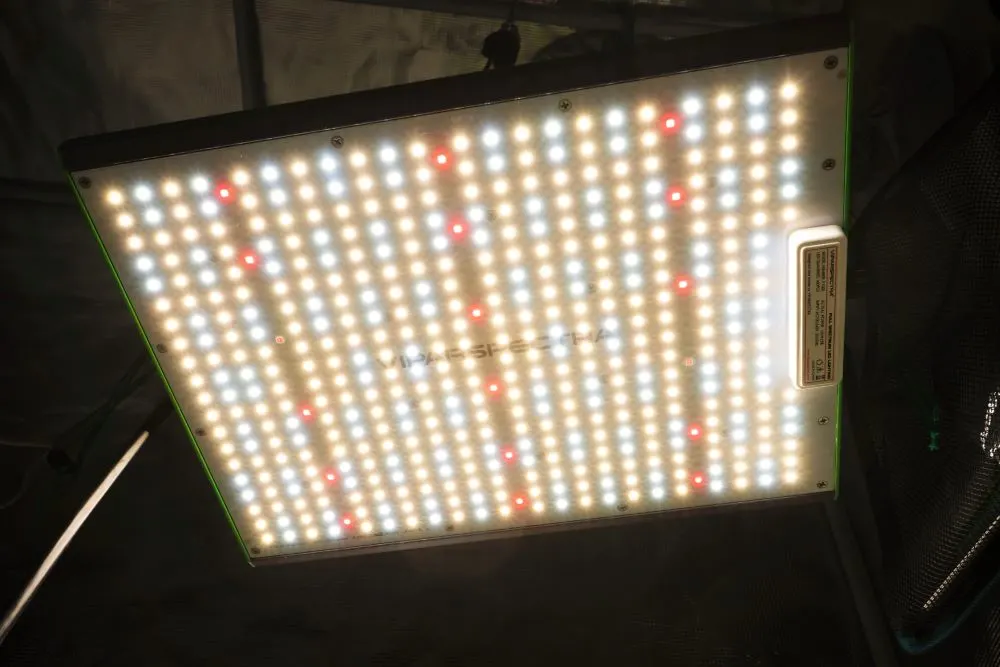 The 3000K and 5000K LEDs provide natural, white light. Both of these color temperatures are important for plant growth. 5000K is great for vegetative growth, while 3000K is more beneficial for flowering stages.
During fruiting for peppers or similar plants, deep red and IR LEDs are important for strong fruit setting. These visibly red lights provide this critical wavelength evenly to your grow area.
The overall look of the light output feels warmer than our 4000K HLG 100 quantum board. It appears more sun-like and natural, and the variance in LED type gives me confidence that this light will provide what the plants need.
Hardware Brands
The diodes on the Pro Series lights use new "SMD LED Technology." These diodes are smaller than traditional LEDs, and they can last a lot longer, too. The brand of the SMD is unknown, while the XS Series lights uses Samsung LEDs.
The driver is made by Sosen, a Chinese company based out of Shenzhen. They are relatively new to the market, beginning as a driver manufacturer in 2011.
While Mean Well is typically among the most highly-regarded brands, Sosen has been making a name for itself in the budget LED market.
ViparSpectra LED Coverage
Given the dimensions of the P1500 (13.5″x11.5″), the suitable grow area is rated at 3'x3′. For a flowering plant, the recommended area is slightly smaller at 2.5'x2.5′. This is average for a grow light of this size.
| Unit | Power | Coverage Area | Where to Buy |
| --- | --- | --- | --- |
| P1000 | 100W | 2.5'x2.5′ | Buy |
| P1500 | 150W | 3'x3′ | Buy |
| P2000 | 200W | 4'x4′ | Buy |
| P2500 | 250W | 4'x4.5′ | Buy |
| P4000 | 400W | 5'x5′ | Buy |
If you are looking to cover a large grow area, the Pro Series lineup includes the larger P2500 (250W) or the largest unit, the P4000 (400W).
All of these 5 units share the same technology and include the same hardware for hanging. The larger the unit, the heavier it becomes, with the P4000 weighing over 20 lbs.
The larger units will cover a larger growing area in a single package. However, it may be easier to buy multiple smaller units depending on your specific space requirements.
---
Overall Thoughts
After experimenting with our new P1500 grow light, we are very impressed with the package. This light is perfect for our annual indoor growing needs.
Pros:
Excellent price for the output
Dimmer
Fully water resistant
Full spectrum sun-like light
Great PPFD and spectrum
Silent
Cons:
Fairly heavy
Hanging hooks too small for some grow tent poles
*Save with our unique discount code "PEPPERGEEK" at checkout!
This 150W light will be perfect for starting our pepper seed trays indoors thanks to the dimmer dial. However, it is also easily capable of growing a full sized pepper plant indoors if we should choose to.
While our HLG 100 V2 is an excellent grow light, this ViparSpectra feels like a step up. The user friendliness is a major improvement, with the only drawback coming in the form of added weight and size.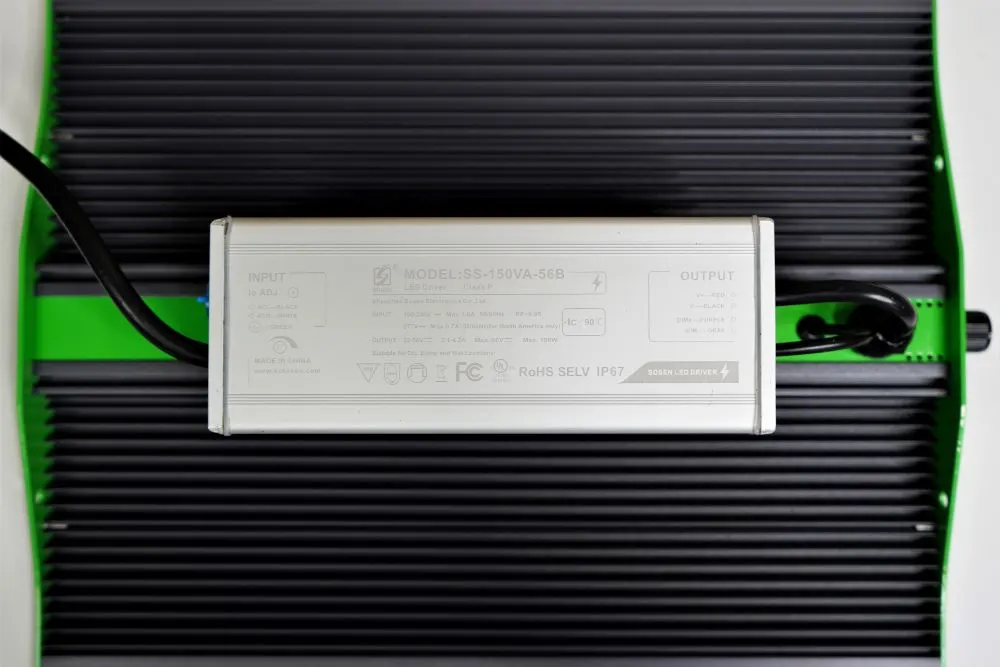 If you are in the market for a starter LED, then I cannot recommend ViparSpectra's Pro Series enough. We will provide ongoing updates on our experience here. We'll be sure to consider long-term reliability and overall performance with growing plants from seed.
Read Next:
---
I hope this article helps you make an informed decision on your grow light purchase. Leave a comment and let us know your thoughts or experience with ViparSpectra lights below.