Grow tents range from high end to cheap and functional. Mars Hydro seems to fall somewhere in the middle, offering a great variety of grow tent sizes.
From small 2'x2′ tents for 1 or 2 plants, to the small-bedroom-sized 8'x8′ tent for large indoor grows. In this article, we will be thoroughly testing and reviewing the 2'x4′ Mars Hydro grow tent.
We are growing peppers in our tent, but this review will assess the grow tent's usability for any plant type. We'll focus on the setup difficulty, grow tent features, structural quality and overall functionality.
Disclaimer: Mars Hydro provided a grow tent for our review. The opinions expressed in this review remain unbiased, as we test many growing products from various companies.
---
Mars Hydro Grow Tent – Items & Setup
Each Mars Hydro comes with all necessary components for setup. It also comes with a hanging basket for inside the tent, some stickers and the instructions.
What is in the box?
Here is a view of everything that is included with a 2x4x6′ Mars Hydro grow tent: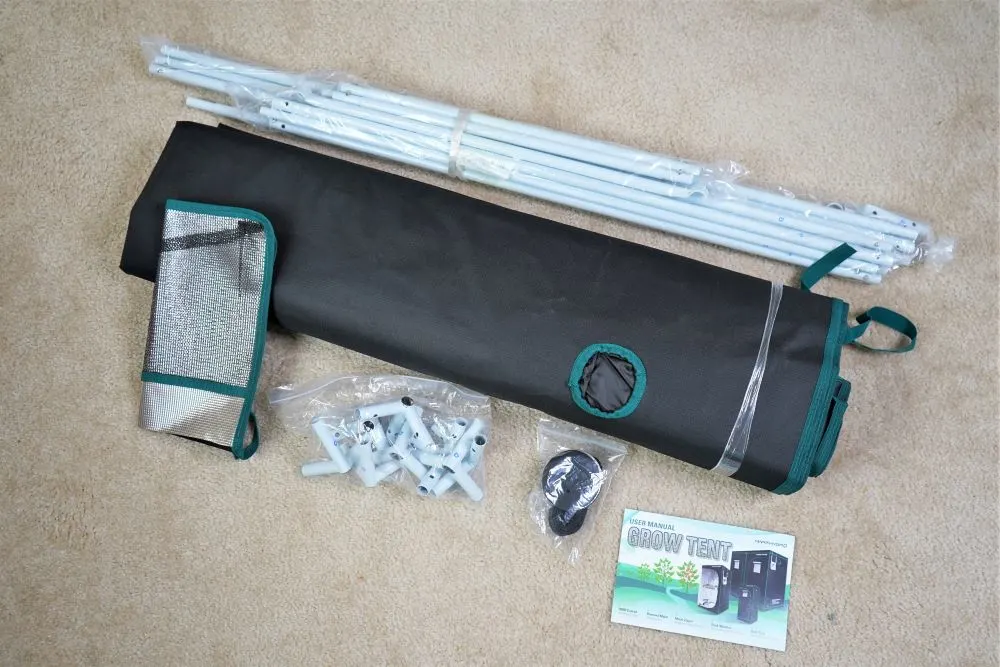 The majority of the material is the mesh fabric shell of the tent. The rest of the items included are the structural metal bars, metal corner pieces, a hanging pouch, and the instruction booklet.
Items Included:
Reflective Mylar tent shell
Fitted reflective liner for floor of tent
Structural metal bars
Metal corner pieces
Hanging pouch
Instruction booklet
Stickers
Instructions & Setup
The instructions are relatively easy to comprehend. Each structural piece is clearly labeled with a letter for easy identification.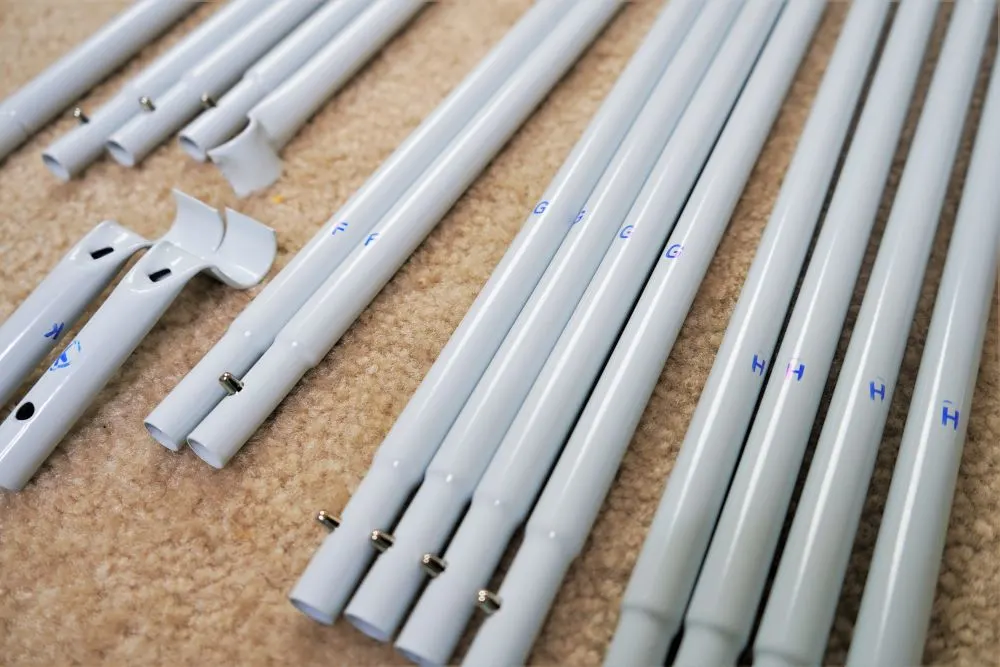 The spring-loaded snap pins make setup super easy. No screwdrivers required to assemble the tent, just a bit of organization. Thankfully, the instructions include visual depictions to help visualize each step.
From unboxing to fully set up, it took around 30 minutes of construction time. I am, however, an experienced Ikea-furniture-builder, so this was a breeze.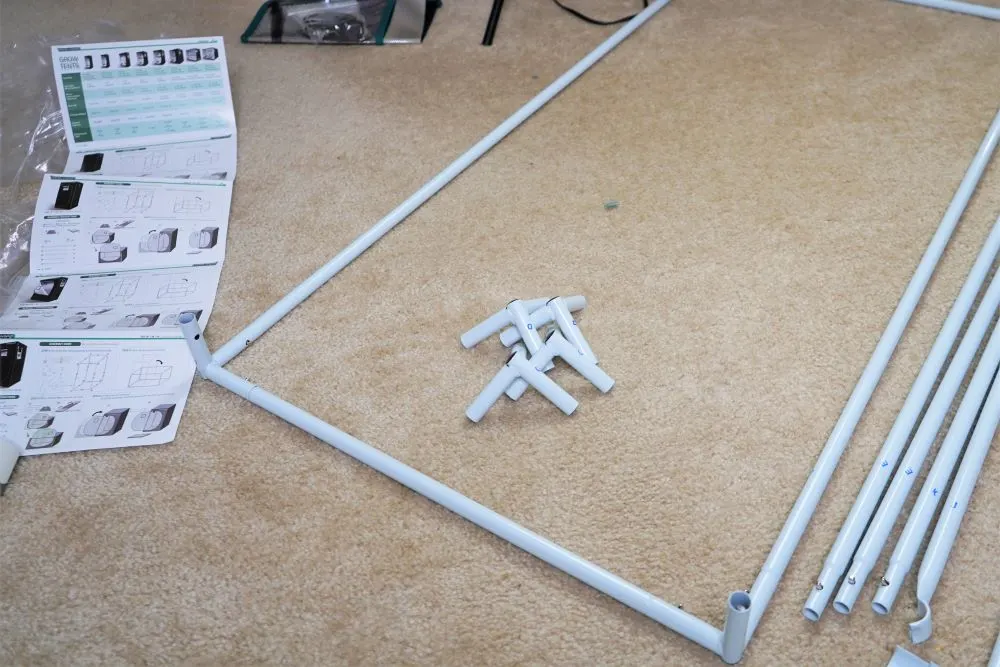 The most difficult part was getting the large, bulky fabric tent shell to fit around the metal cage. The instructions specifically say not to force the tent fabric around the bars, but rather to be gentle to avoid damaging the zipper or ventilation screens.
To help, be sure to fully open the zipper door first. Then insert the top of the tent and fit it into the four corners. Then, you can work the shell onto the other side pretty easily.
With some coercing, our grow tent was finished and we could easily move it to its final location. Since the metal bars are hollow, the assembled tent was fairly lightweight, around 20 lbs.
---
Mars Hydro Grow Tent Features
With the structure set up, you'll find some key features available for your growing needs. From a viewing window to various vents and outlets, this tent has everything we needed to start growing our peppers on day 1.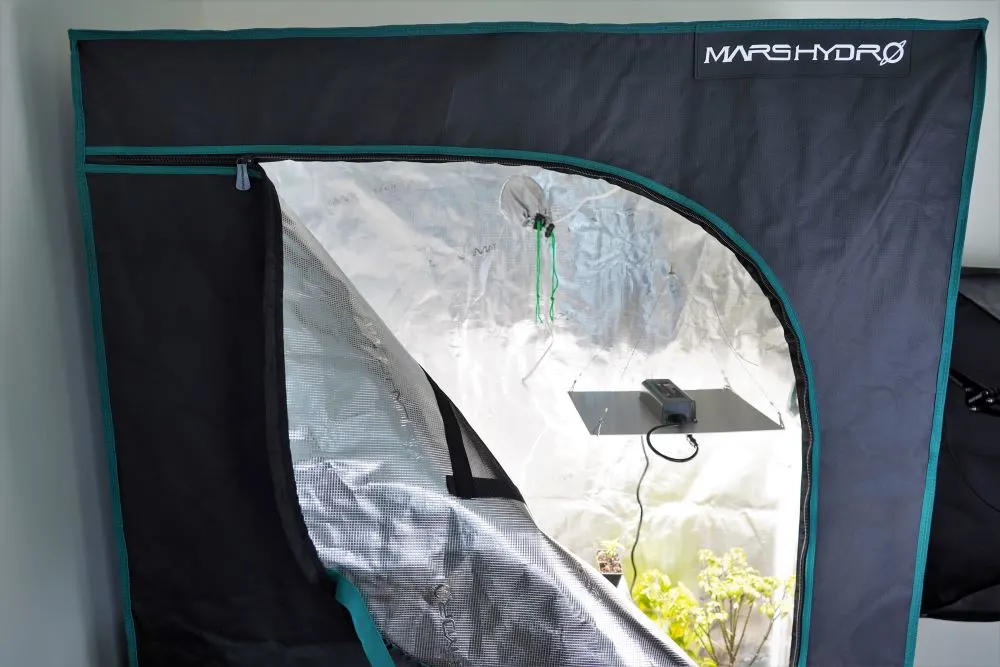 We chose to use our tent for half of its available growing space to start, with the other side devoted to supplies (nutrients, tools, soil, etc.). The tent is almost like a closet space for our growing materials.
The most basic feature that we love about this tent is that it keeps the bright light contained when it is closed. Instead of dealing with blinding light in our office, it is completely shut out by the opaque tent material. It also keeps our hungry can away from our precious greens.
However, when we want a quick peek at the plants, the tent has a Velcro-style viewing window: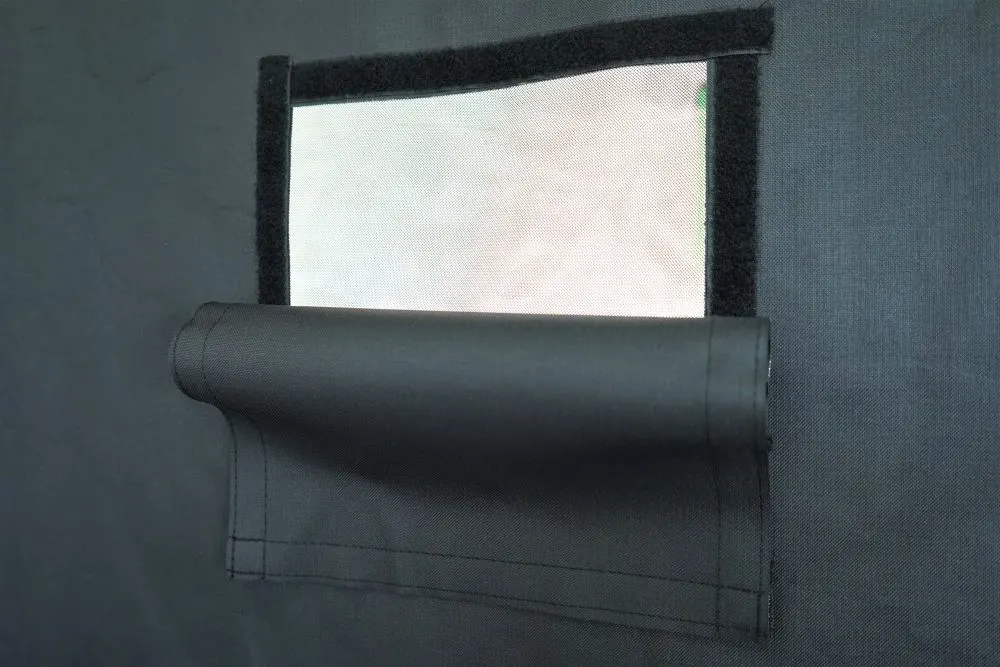 This window can be kept open if desired, or shut to keep out 100% of the light inside. It can also act as an air-outlet for better ventilation.
Speaking of ventilation, there are several outlets on the tent. Two of them are located on the sides, near the top (typically used for a circular fan). A third outlet is located on the ceiling for an optional carbon filter.
As for hanging weight, the tent claims to have a capacity of 110 lbs, however I have not tested this. Our grow light is no issue for the hanging bar.
We also have a circulation fan mounted on the hanging bar. We briefly hung a second light on the other side and the bars had no issue with the added weight. However, since the bar is thin and hollow, I wouldn't recommend using it as a pullup bar.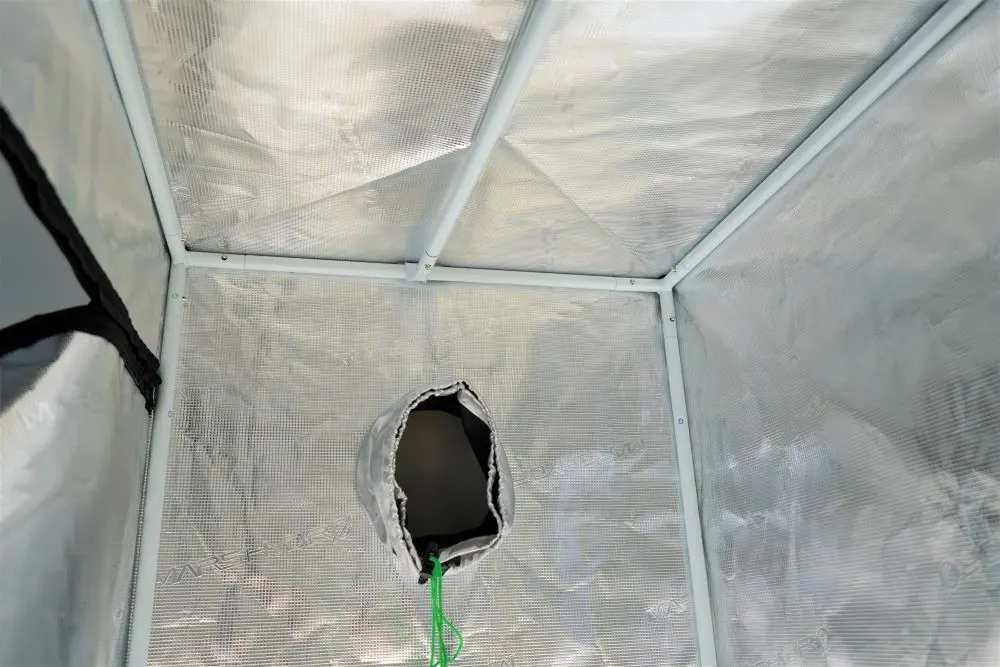 There are several other outlets on the grow tent. Two of them are located along the bottom. These are intended to bring in carbon dioxide-rich air for your plants, with the exhaust at the top.
Finally, there are two small holes for running electric wires out of the grow tent. These are positioned on the back of the tent at about 1/3 and 2/3 of the way up.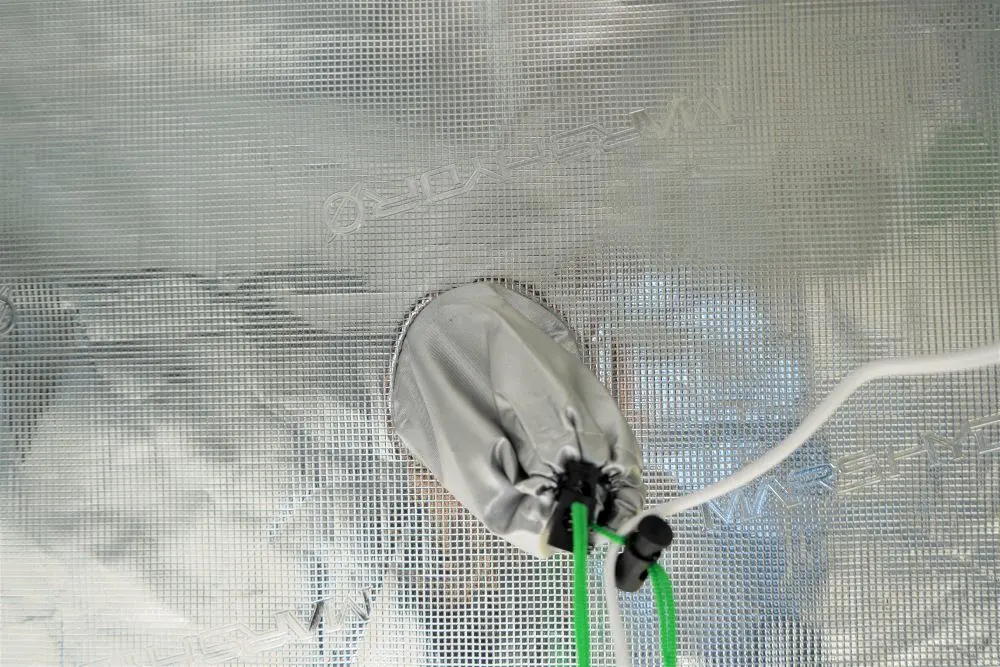 Another more obvious feature is the reflective material covering the interior. This is claimed to reflect additional light onto your plants. It certainly is highly reflective, though we can't be sure how much this actually helps improve usable light for the plants.
Lastly, there is a hanging pouch included for storing small items in the tent. We haven't made much use of this, as it is awkward to access. However, I can see how this could be useful for a spritz bottle, small nutrients, or similar items. It can also be hung on the exterior.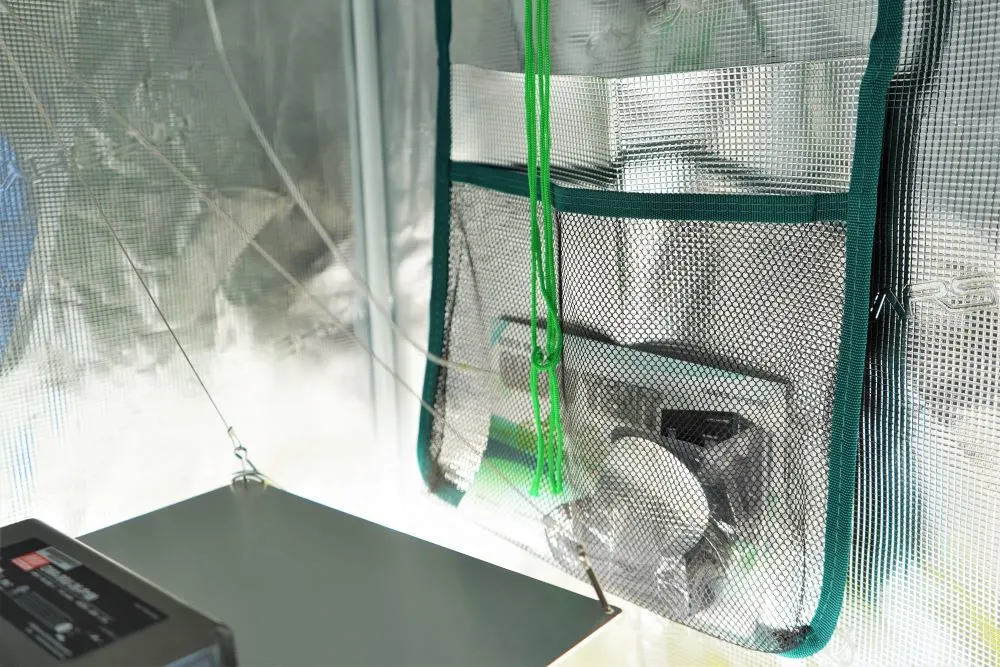 I will say, even though it isn't that useful, it is a nice touch that it is also made with reflective material.
---
Mars Hydro Grow Tent Quality
So, with the basic features covered, how is the quality of the grow tent?
I wasn't expecting exceptional construction, given the price point. As mentioned, the structural bars are hollow, making for a more flimsy design. The benefit of them being hollow is a much lighter frame for easy mobility. I only wish that the hanging cross bars were more solidly built.
The zippers are by far the most often used item on the grow tent, and they feel solid. There are two massive zipper handles that can open from the bottom or the top, whichever you prefer.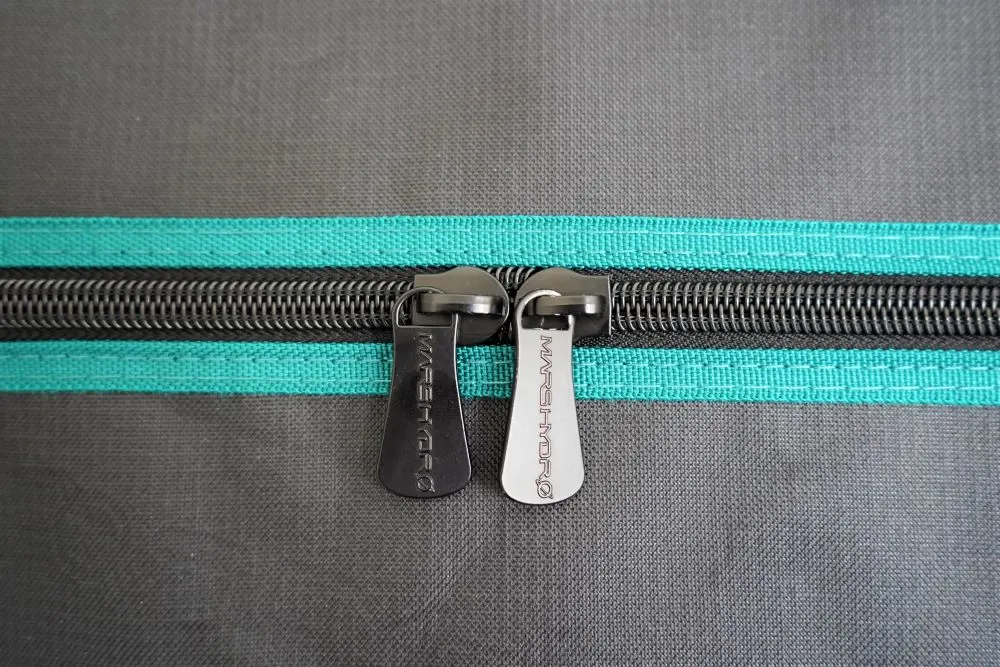 The tent's fabric material is made of Mylar, blocking out almost all light and odors. This means that all of your grow light output will be contained, and any odors produced inside the tent can be pumped out via exhaust tubing.
The plastic feel of the tent does feel cheap, but it is also quite thick. I feel confident that this tent will hold up for several years of daily use.
Overall, the quality is decent. It isn't incredible, but it does feel good enough for the intended daily use of the tent. We open the zippers a few times a day, and they still feel brand new a few months in.
---
Is It Worth It?
So, is the Mars Hydro grow tent worth the money? For just above $100, this practical tent is definitely worth it. There are drawbacks, but the benefits outweigh them in my opinion. If you're looking for an entry-level grow tent, Mars Hydro is a great option.
Pros:
Affordable
Versatile design with many outlets
Viewing window
Robust zippers
Cons:
Hollow structural tubing
Plastic material feels cheap
Cross-bars should be solid, not hollow (weight capacity for lights, fans, etc.)
My only complaint with this grow tent has been the flimsy cross-bars for hanging lights and other accessories. They haven't been an issue for us, but pulling on them with your hand easily causes them to bow. This doesn't instill much confidence in their weight capacity.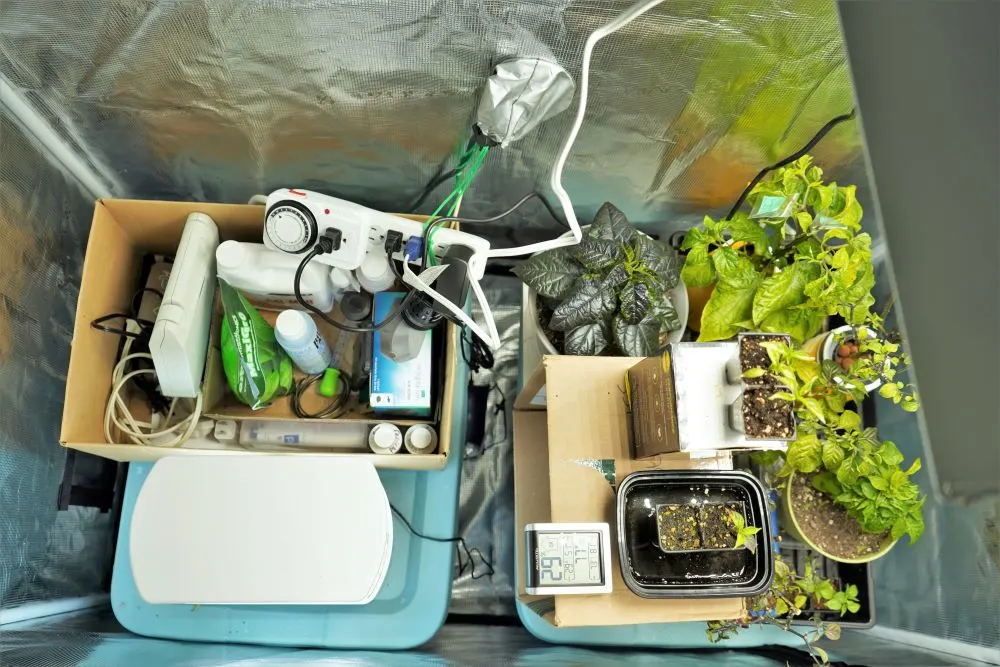 If you are planning to grow a few plants with just 1 or 2 lights, this grow tent will work great for you! Just don't go overloading it with heavy hanging items.
Where to Buy?
You can get the Mars Hydro 2×4′ tent on their website here. They have the best pricing available, and shipping is fast, discreet and free.
---
I hope this Mars Hydro grow tent review helps you decide on your indoor gardening setup. We are very pleased with our grow tent thus far, and will continue to update here as time goes on. Stay tuned!