Growing plants indoors has continued to rise in popularity, especially in recent years. With it, the industry of grow lights has been booming. LED companies are all racing to provide quiet, efficient and user-friendly lighting options for indoor growers.
We recently reviewed the ViparSpectra P1500 LED for growing our peppers indoors from seed. It was a solid and affordable light with a lot of great features and upgrades over our now-outdated HLG100 V2.
In this article, we'll share our in-depth review of the all new ViparSpectra XS1000 LED grow light. There are similarities between this and the Pro Series, but some key differences to know about. Let's get started!
**Save with code "PepperGeek"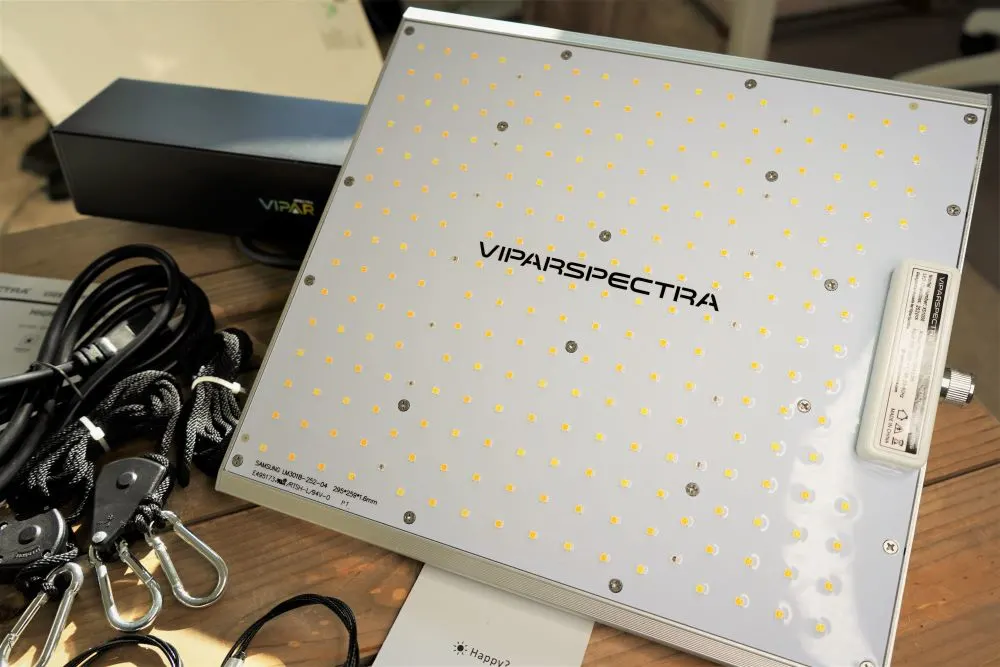 ---
Overview of the XS Series
The XS series is the latest in ViparSpectra's growing lineup of LED grow lights. These lights boast hardware from some of the most recognizable and respected brand names. As a result, they are priced slightly above the Pro Series models.
The lights range from 100W to almost 500W of power to fit the needs of any grow setup (see all models here). The XS1000 is the newest of the bunch, and the lowest powered version of the series, making it a great entry point.
However, this small light is no slouch. It comes packed with useful features like a dimmer knob, water resistance, name brand LEDs and driver unit, and a powerful output for both vegetative and blooming growth.
---
What's In The Box?
I appreciated the simplicity of the packaging for all ViparSpectra grow lights. They come with exactly what you need to get set up, and nothing more. So, what exactly do you get in the box when you buy an XS1000?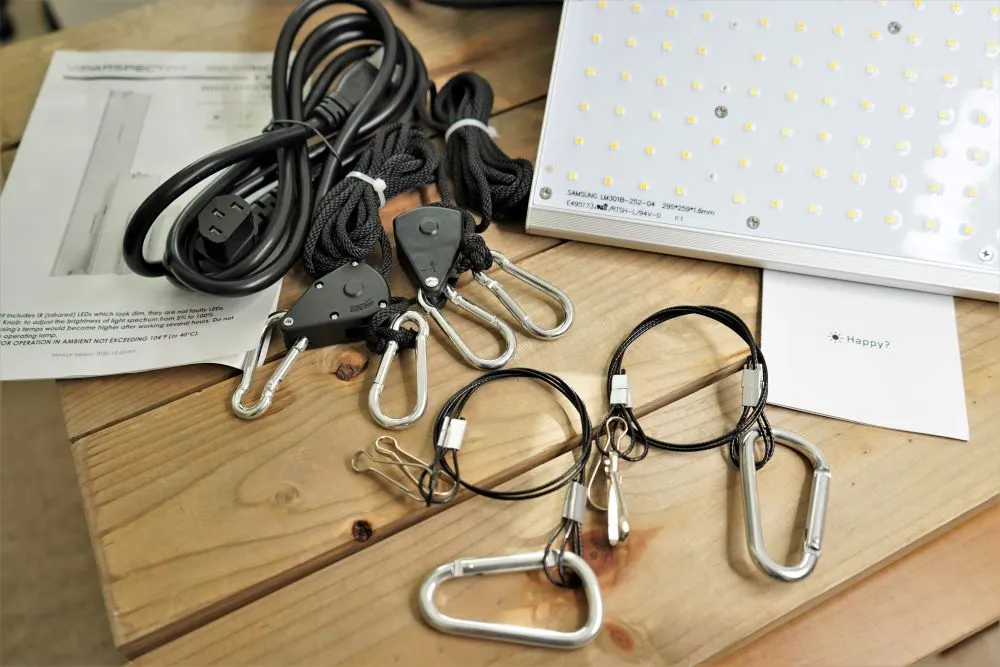 Included:
LED panel
Driver (attached)
4 hanging cables with hooks
2 ratcheting hanging ropes with hooks
Power cable
Instruction manual and satisfaction card
One drawback is the size of the hanging hooks included. They are slightly too small to fit over our 5/8″ grow tent hanging poles, which seems to be a standard size. It would be nice to have larger and higher quality carabiner clips for secure hanging.
Other than this, the accessories are perfect for almost any setup. The ratcheting ropes are easy to figure out and work great for easily moving the lights up and down when necessary.
The power cable is another difference from the Pro Series in that it comes in two pieces. The power cable must be plugged into the driver before plugging it into your wall outlet, but this is no big deal. It may even open the option to daisy-chain multiple lights (though we have not tested this).
---
Specs and Features
The hardware used on an LED light build makes a huge difference in the efficiency, effectiveness and longevity of the light. In the case of the XS1000, we were impressed by the setup.
Hardware
XLG series Mean Well driver
Samsung LM301B diodes
Water resistant coating
Dimmer knob
Heat sink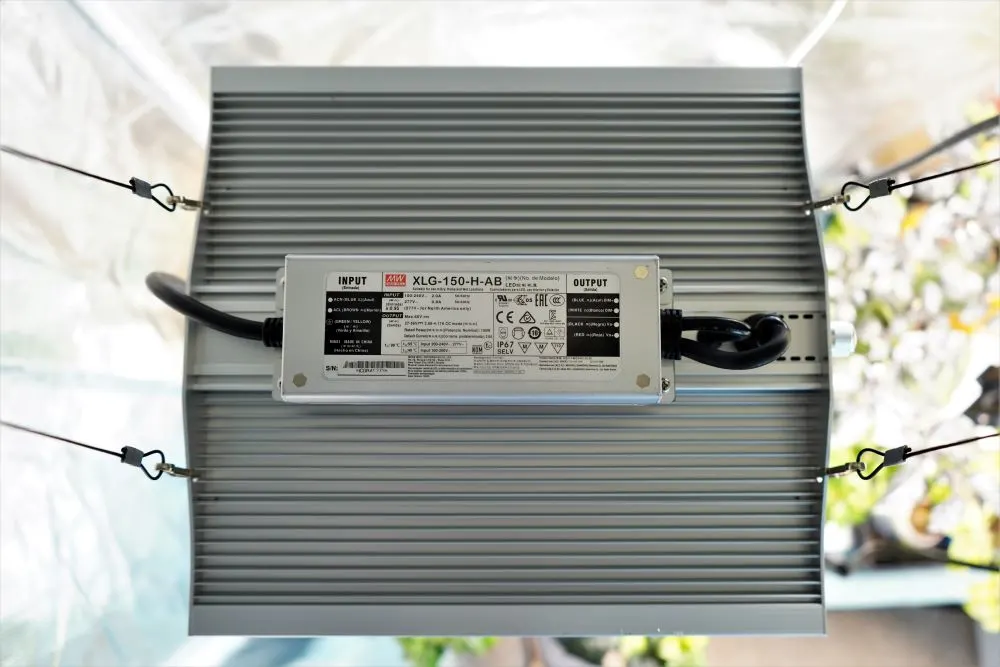 These brands (Samsung and Mean Well) are among the most highly-respected in the LED industry, making them desirable on any grow light. The setup is similar to our HLG 100, but the package offers more usability with a dimmer, heat sink, and water resistant silicon coating.
Specs
Power: 120W max
Weight: ~5 lbs
Coverage: 2.5'x2.5′
3000K warm white LEDs
5000K white LEDs
660nm deep red LEDs
730nm infrared LEDs
This power rating combined with the full-spectrum wavelengths make this light a great all-around option. Whether you are starting seeds or growing plants through to fruiting, this light can handle a small space well.
The weight is the only potential drawback, but it comes for good reason. Much of the added heft comes from the built in heat sink to dissipate warmth while the light is on. This cools the diodes, effectively prolonging their lifespan.
Heat Sink for Heat Dissipation
When light is produced, so to is heat. The Mean Well driver does run cooler than some other drivers, but it still gets warm to the touch. That is where a heat sink can help.
By increasing the surface area of the back of the LED panel, the heat generated has more opportunities to dissipate away from the light before reaching the actual diodes. This keeps them cooler, effectively prolonging their lifespan.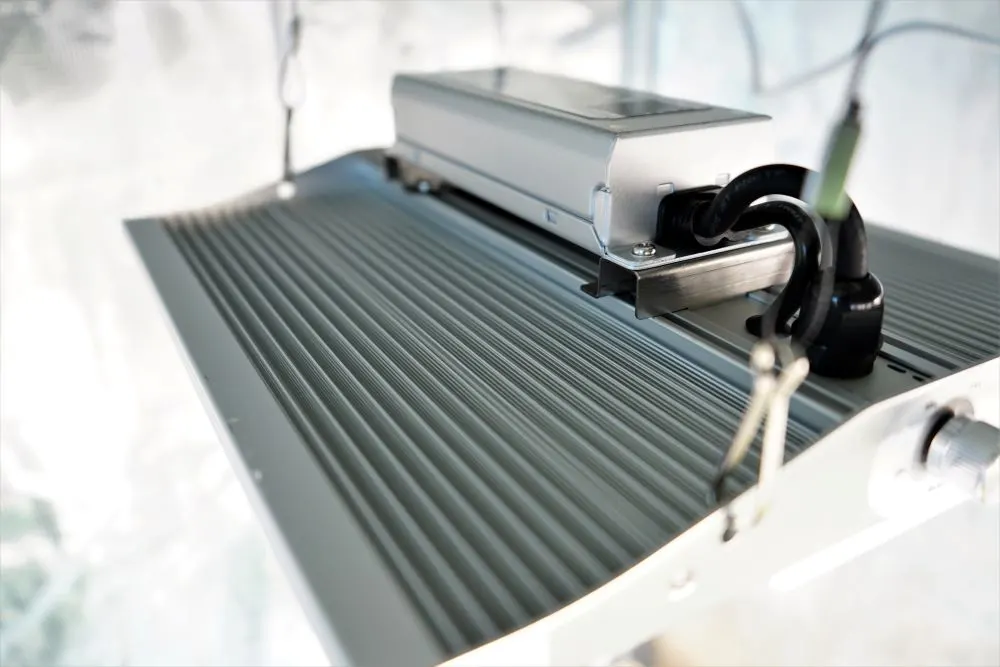 This feature is included on the Pro Series as well, so it is by no means exclusive to the XS1000 light. However, it is still a bonus over many other lights on the market.
Dimmer Dial and 'Off' Switch
Having a dimmer switch is a great convenience, especially when you are growing in a confined space. Given that this light is small, I assume many of its buyers will be working in a smaller space.
So, instead of raising or lowering the light to achieve more intensity, you can simply use the dimmer knob to provide more or less output.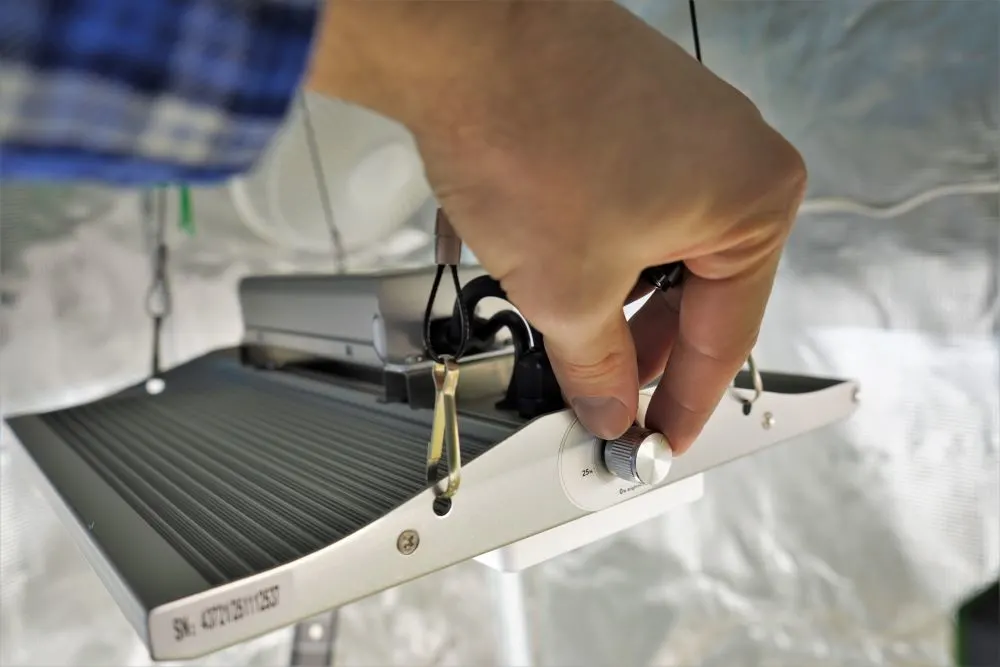 I was also pleased to find that, when the dimmer knob is set to 0, the light actually turns off! This is not the case with the Pro Series models (they only go down to 5%). Though this is not a major change, it is certainly a nice-to-have feature in case you would like to manually turn your lights on and off.
Water Resistance
As with the Pro Series, all XS Series lights from ViparSpectra come with a fully water resistant build. This includes the surface of the LED panel, which is covered in a silicon coating, and the driver.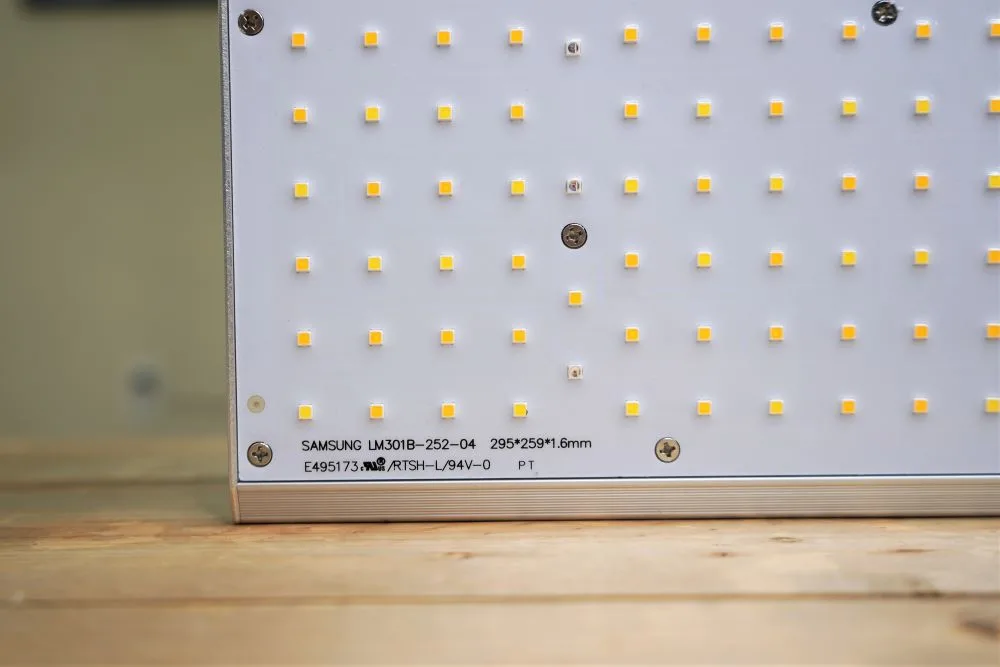 Over time, this feature has become more and more important to us. With extremely low humidity in the winter months, we often spritz water or run a humidifier within the grow tent. We have heard horror stories of non-water resistant lights going dark while spraying plants – not with these lights.
---
Overall Thoughts
After about a month of using the XS1000 to grow our pepper seedlings, they are looking great. The dimmer has been helpful to easily adjust when any signs of light stress appeared, and we could easily increase intensity as the plants grew stronger.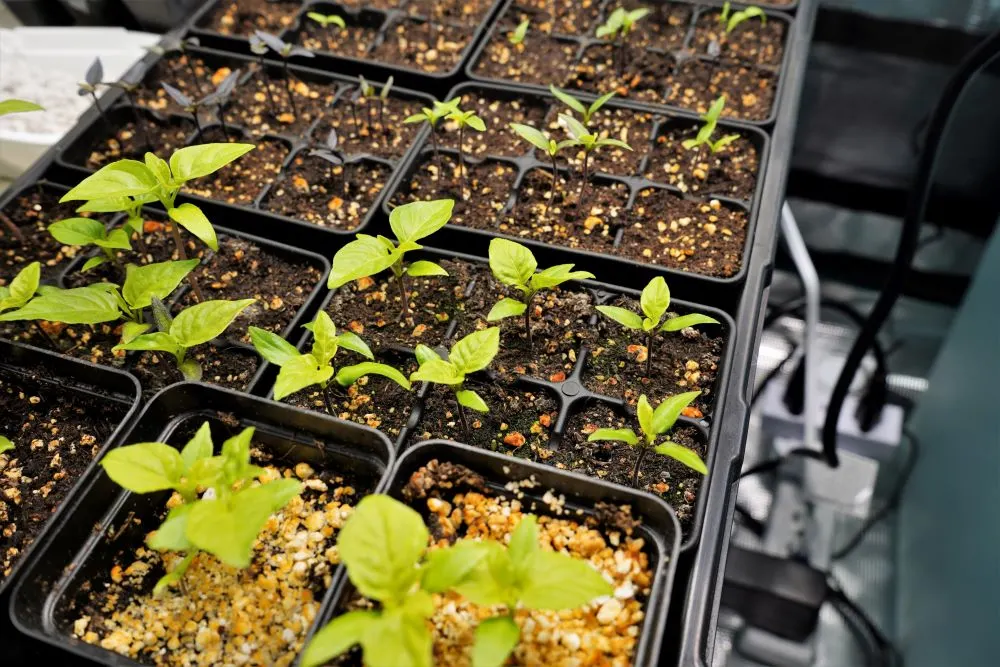 Pros:
Mean Well driver
Samsung LEDs
Competitively priced
Off switch and dimmer knob
Water resistant
Silent
Cons:
Slightly heavy due to heat sink
Driver cannot easily be removed
Slightly more expensive than Pro Series
**Save w/code "PepperGeek"
If you are deciding between the Pro Series and the XS series from ViparSpectra, I think your choice will depend on your needs and budget. XS lights offer better name brand hardware along with an 'off' switch. However, Pro Series lights are cheaper and still offer great output and efficiency.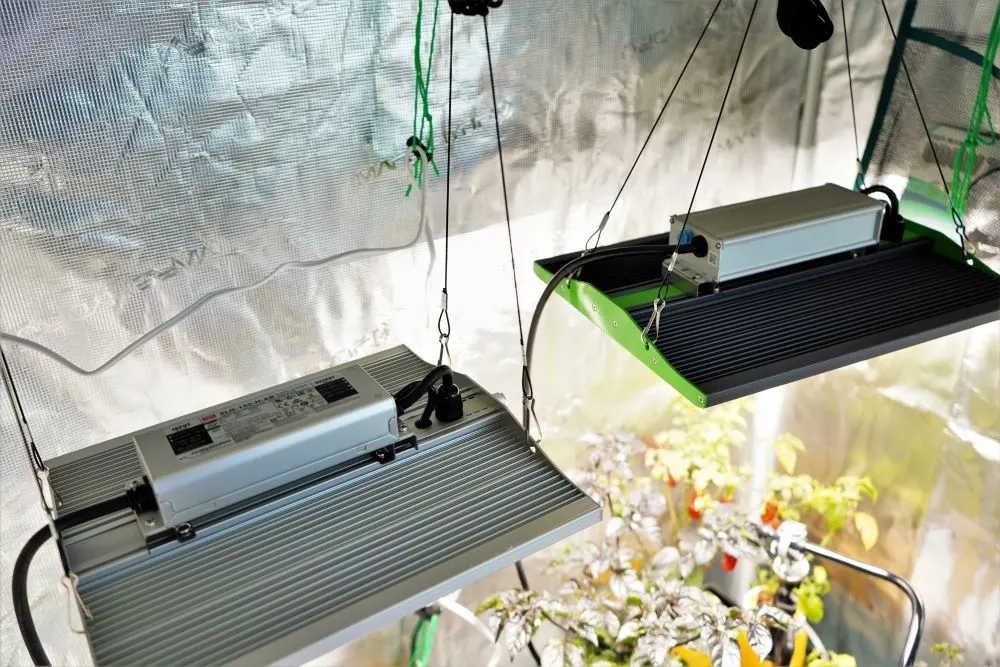 In any case, the ViparSpectra XS1000 is another impressive LED light for growing plants indoors. Our peppers are doing wonderfully under these two grow lights and we will update this review as time passes and the lights age.