If you are growing your pepper plants in pots, you want to give the plants enough room to grow. Pepper plants need quite a lot of space to grow to maturity and produce lots of peppers. The best container size for pepper plants will vary based on which variety you are growing.
In general, the larger the pepper variety, the large the pot should be. For example, a bell pepper plant requires more space to grow to maturity than a jalapeno pepper plant.
In this article, we'll help you pick the right sized container for pepper plants. We'll also share some of our favorite planters for sale online.
Pepper Geek participates in various affiliate programs, meaning links contained in this article may provide us a commission should you make a purchase on the linked website.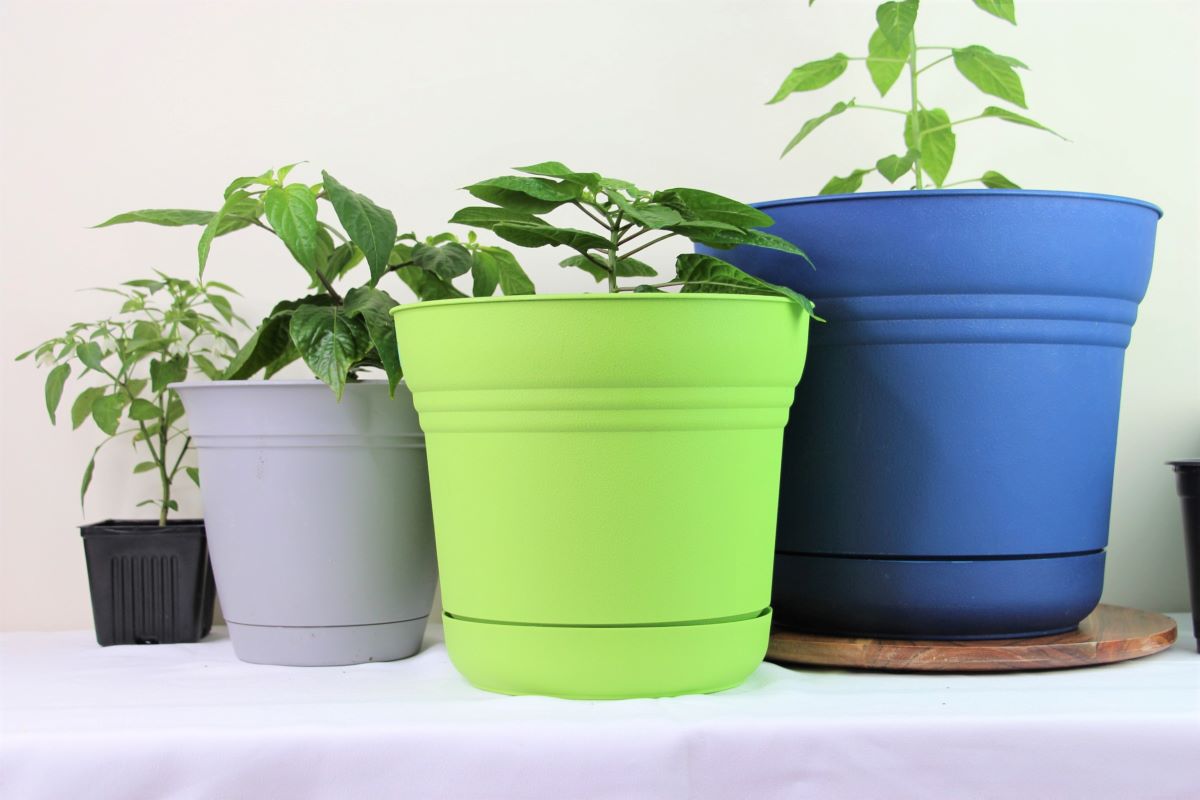 In This Article:
Best pots to buy for pepper plants
---
What Size Pot Is Best For Pepper Plants?
While the perfect planter does not exist for all peppers, there is an ideal range of soil volume. Generally speaking, pepper plants need between 3-5 gallons of growing medium to produce at maximum yield. However, note that this varies based on the type of pepper.
For smaller varieties of pepper, like habanero or ghost peppers, your pots should be at least 3 gallons to produce peppers. For larger varieties like bell peppers and poblanos, aim for a pot with 5 gallons or more.
Some pepper varieties can make use of 10 or even 15 gallons of soil medium. However, this large size container is usually unrealistic for the home gardener.
3+ gallons/11 litres (small peppers):
Carolina Reaper peppers
Scotch Bonnet peppers
Most other super-spicy varieties
4-5 gallons/15-19 litres (medium sized peppers):
5+ gallons/19+ litres (large sized peppers):
Bell peppers
Poblano peppers
Any other large pepper variety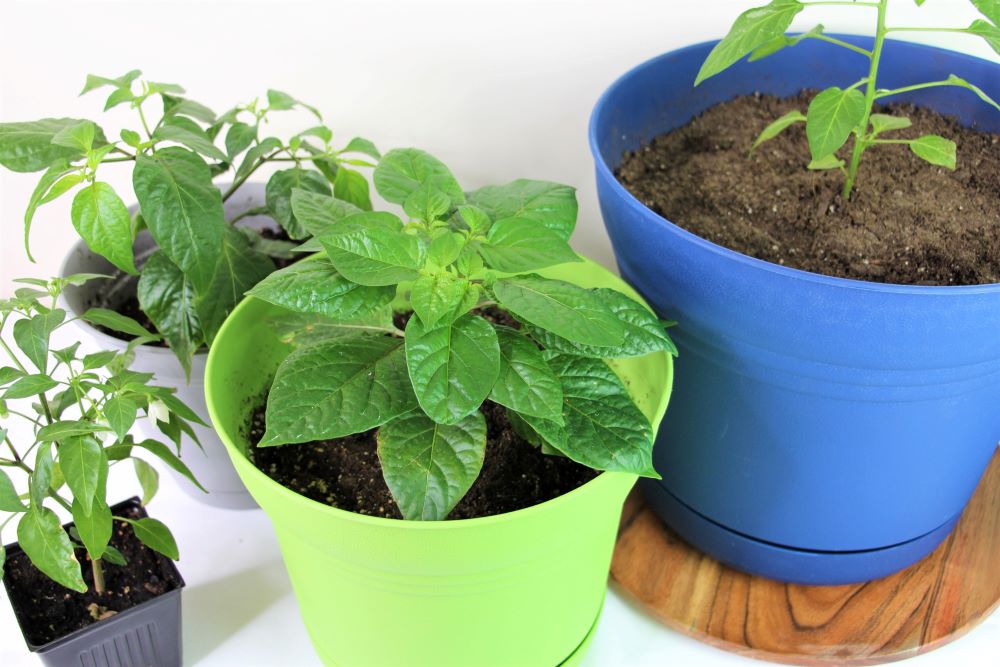 Keep in mind that these are meant to be minimum container sizes for happy, healthy pepper plants. If you want to achieve larger harvests, grow in an even larger container to allow your pepper plants to grow to their maximum size.
Also, you can grow these varieties in smaller pots and still produce peppers. However, you will end up with smaller harvests, smaller peppers and potentially stunted plant growth.
---
For the pepper gardener looking for the cheapest point of entry, look no further than the 5 gallon bucket. These are usually between $3-4 and can work well as a pepper plant container. Just be sure to drill some holes in the bottom for adequate water drainage.
While 5 gallon buckets are not the most aesthetically pleasing to put in your yard, you simply can't beat the price.
---
If you want to keep your potted pepper plants attractive, we love these Saturn planters from Amazon. They are made of thick, sturdy plastic and can be reused season after season. They also come with a drainage pan for watering.
These plant containers are great for their variety of sizes. We recommend at least the 10″ pots, and ideally 12″ or 14″ for much better yields.
These pots also come in a great variety of colors, perfect for color coding your plants, or simply making your garden more quirky and fun.
---
One of the growing trends for gardeners are plant grow bags. They are highly effective for faster plant growth thanks to their breathable walls. They are also collapsible and easily stored after the growing season. They are also very affordable if you need many pots.
While some are woven fabric, others are felt, offering better stability of temperature and a longer lasting build. One of the greatest benefits of this design is that drainage should always be excellent. Just make sure you place the planters in a spot where water can escape.
They also come in a variety of sizes. These 5 gallon sized grow bags on Amazon are perfect for pepper plants.
Hop on the trend wagon and try out fabric planter grow bags in your garden this year! Let us know your experience and
---
Want to add a unique touch to your yard or garden this year? Check out these beautiful wheelbarrow planter pots from Wayfair!
Many of these are meant to serve as an attractive spot to put your planter pots. You could nestle 2 or 3 Saturn pots in this wooden wheelbarrow planter for a rustic look. You'll definitely be getting some compliments on your garden if you go with something like this.
Wayfair also has a great selection of more traditional, higher-end planter pots. See the full selection here.
---
If you're looking to add a modern touch to your garden space or backyard, try the Tierra Verde planter pots. They are made from durable recycled tires and are modern and elegant.
Though they are usually used for planting flowers and decorative plants, there is no reason a pepper plant couldn't grow well! They come in a wide variety of sizes and colors, and many are plenty large to accommodate a pepper plant or two!
These pots are also self-watering, with a built-in water reservoir to help avoid over and under-watering. We love the practicality and the green mission of this brand – highly recommended.
---
If you want a modern look to your outdoor garden, you'll probably find what you're looking for on AllModern.com.
Though these pots may be aesthetically pleasing, many of them do not come with drainage holes. For peppers, it is important not to over-water, so be sure your pot of choice has drainage before planting. You can easily drill your own drainage holes, so this shouldn't be a deal breaker.
For fancy, upscale planters like these, we recommend using a cheap nursery pot and place it into your planter box, out of sight. Just check that the nursery pot will fit comfortably in your planter beforehand.
---
Related:
---
I hope this article helps you understand what the best sized container for pepper plants is. Good luck with growing your peppers in pots this year. I hope you end up with lots of fresh produce from your garden!
---