Each year, we start our pepper plant seeds indoors in small pots. Many popular garden plants require early seed starting to give the plants a long enough grow period to produce fruits. These include tomatoes, peppers, melons and many more. If they are not properly transplanted into larger pots, your plants may become root bound.
Root bound plants will show you signs that they are in this state. Some plants are okay with being root bound, while most garden plants do not like it. In this article, we'll cover how to identify and fix a root bound plant.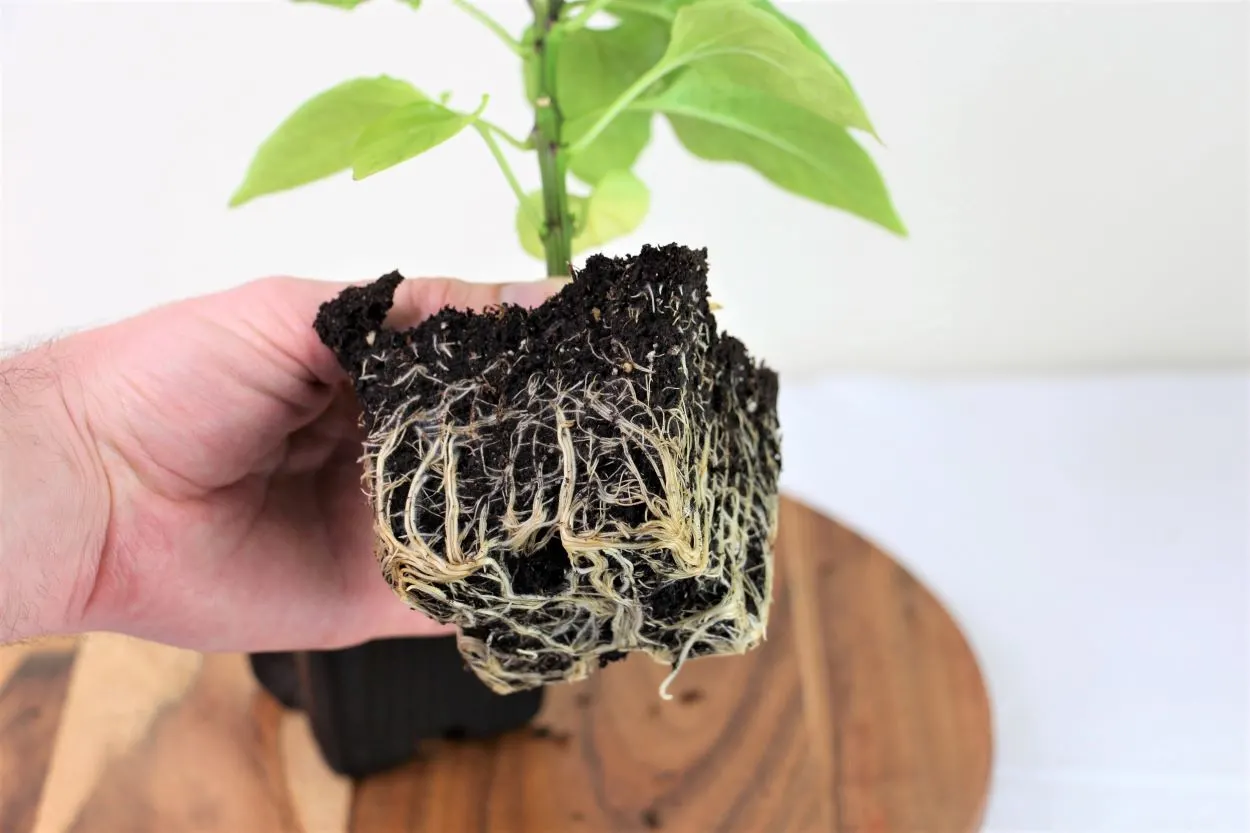 In This Article:
Root Bound Plants (Video):
---
What Does 'Root Bound' Mean?
Let's start by defining a root bound plant. When a plant is root bound, it's root system has out-grown the pot in which it is planted, causing the root system to become entangled.
When a plant becomes root bound, it loses the ability to expand its root system and will often become stunted in size. If you buy garden plants from a nursery in late spring, there is a good possibility that they will be root bound.
Annual plants like tomatoes and peppers require a large container to grow to a mature and healthy size. To avoid these plants becoming root bound, be sure to transplant them at the right time. Perennial plants may become root bound each year, but most healthy plants can handle a root pruning every couple of years to encourage new growth.
---
Symptoms Of A Root Bound Plant
Root bound plants will show several signs of the condition. Having a root bound plant is almost always manageable and can be resolved easily. The first step however is identifying it to begin with. Here are a few common symptoms that a plant has become root bound.
Stunted Growth
The most obvious sign that your plant has become root bound is a slowing or stopping of growth. The size of your planter pot will determine how large any given plant will grow. This is due to the fact that the root system will eventually reach the walls of your pot, inhibiting the roots from expanding further.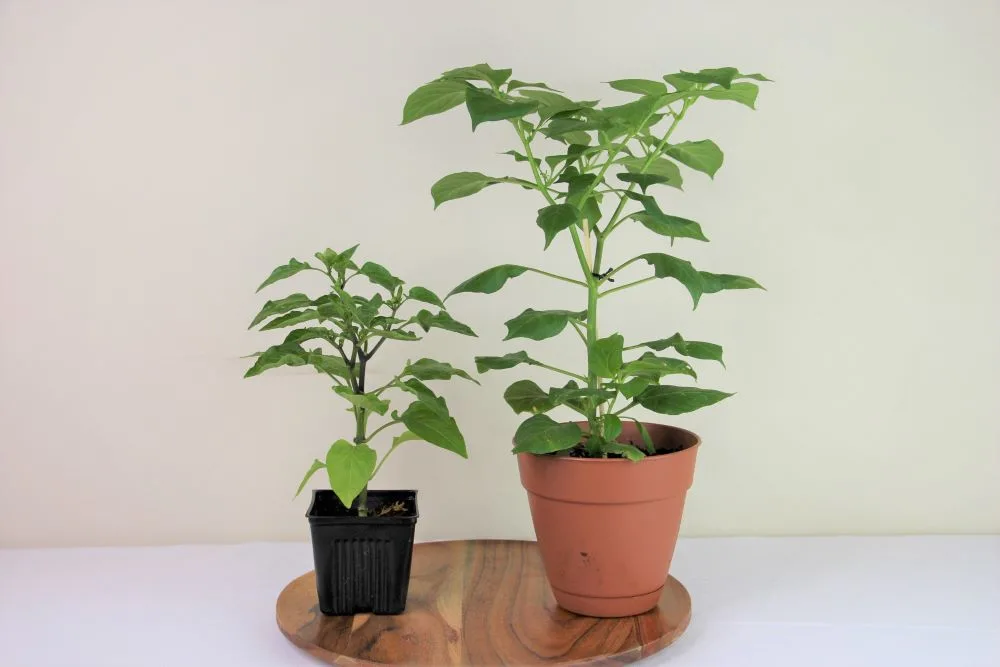 Once your plant's root system (or root ball) has reached the limits of the pot, the foliage of the plant will slow its growth rate. This is because there are fewer roots to absorb the oxygen and plant nutrients from the soil.
Many plants, including peppers, will take this as a sign to begin producing seeds, and so flowers will begin to form. The plant 'thinks' that it has reached its maximum size, and so it will move on to the next stage of growth, which is reproduction.
Make sure your plant ends up in an adequately large pot. Each type of plant requires a different amount of soil to grow. Some plants, like succulents and cacti, can happily grow in just a few ounces of soil.
On the other hand, peppers and tomatoes are happiest with at least 5 gallons of soil per potted plant. Be sure to do some research and transplant your plants into a large enough pot.
We love our 10″ and 12″ Saturn planter pots. Get some on Amazon here.
Visible Roots Above Soil Surface
Another sign of a more severely root bound plant are visible roots above the surface of the soil. This indicates that the plant's roots have reached the sides and bottom of your pot and have continued to grow back up to the surface. At this stage, your plant is in serious need of attention, whether it is a transplant or a root pruning.
Curled or Disfigured Leaves
Another possible symptom of a root bound plant is a curling of new leafy growth. Curling leaves can be caused by a number of other factors, so this is not necessarily caused by a root bound plant. However, if your plants have been in the same sized pot for a while, the leaves may begin to curl.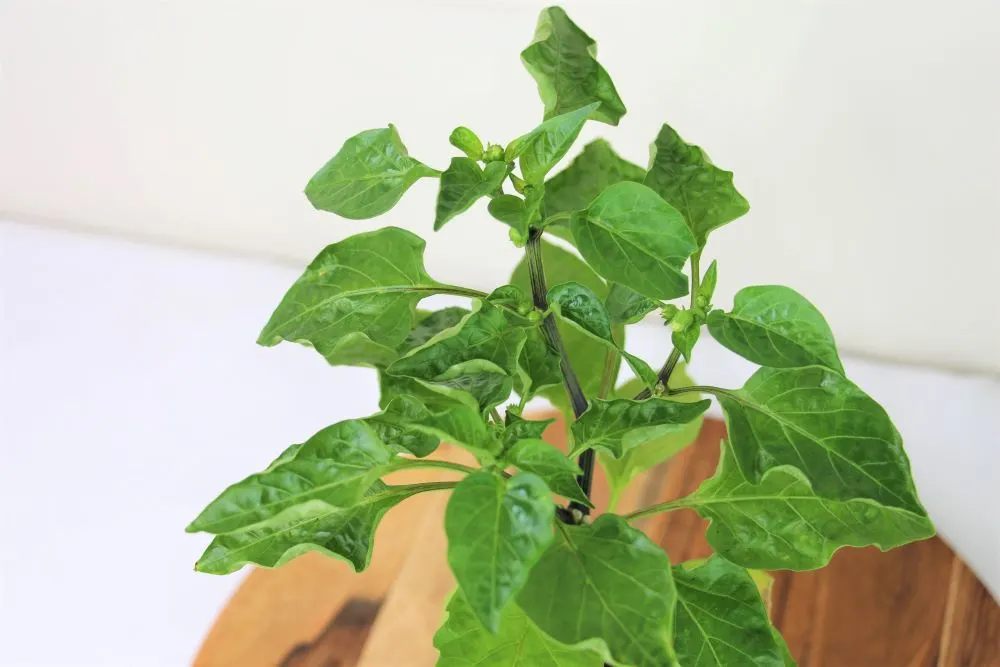 If your plant is root bound, the newer leafy growth may appear to be curled or abnormal in shape. This is likely caused by a stressed root system trying to deliver nutrients to the new growth.
Next, if you have a suspicion that your plant is root bound, you can perform a simple check to confirm. If your plant is root bound, then it is time to consider taking some action to keep it healthy.
---
How To Check Your Root System
If you are fairly sure that your plants are root bound, you can simply check beneath the surface. When you are transplanting peppers or tomatoes, you can simultaneously do a quick check on the root ball to see if it is root bound. Or if you are just curious, you can check on your plants without transplanting.
Note: If you are working with a large pot, be sure you are outdoors to avoid messy soil spills.
Directions:
Gently hold the base of the plant stem, just above the soil
Squeeze the pot a few times to loosen the root ball from the pot
Turn the plant sideways or upside down and wiggle it free from the pot

If the plant is not root bound, be careful! You don't want your delicate root system to be ripped up from the soil while it is still growing feeder roots

Check the bottom of the plant for overlapping and intertwined roots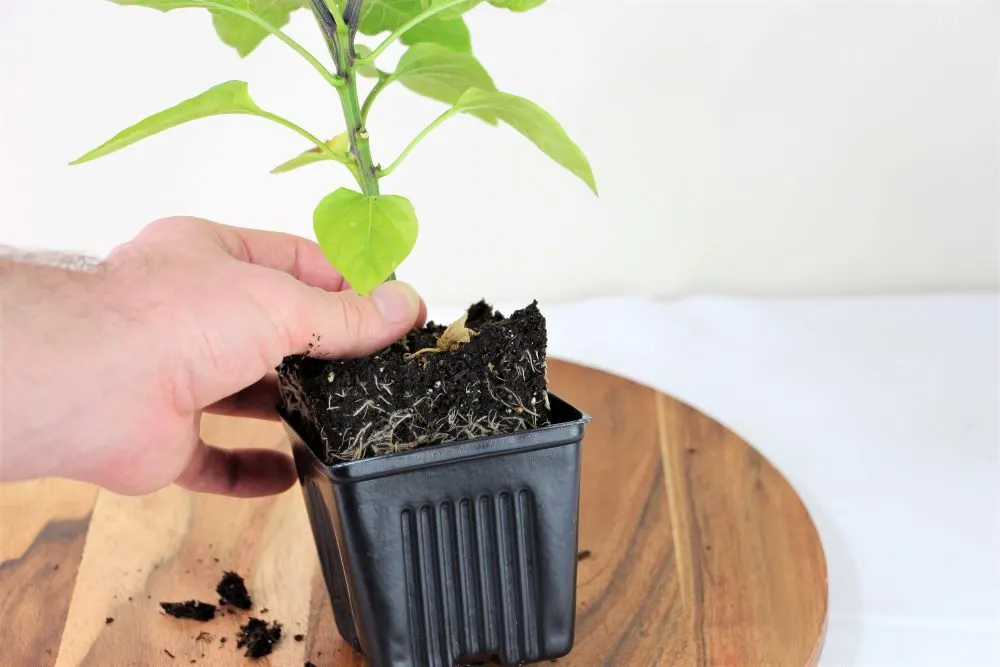 If the plant is root bound, you will see intertwined roots all around the root ball. The roots will likely be more dense toward the bottom of the pot, forming a tight cluster.
If you determine that you have a root bound plant, it is time to transplant to a larger pot or into the ground!
---
Transplanting A Root Bound Plant
Transplanting is simply the process of moving a potted plant into a large pot. We do this to save space when starting seeds and to avoid fungal issues early in the growing season. A root bound plant is a plant that waited too long to transplant. This doesn't mean that your plant can't still be remedied!
Here are a few steps to take when transplanting a root bound plant.
Gently loosen the roots with your hands (wear gloves)

Use a rolling motion, then pull away more stubborn root 'clusters'

It is okay if some roots 'snap' in the process

Pour soil

around

the root ball in the new pot – this allows the soil to naturally fill in between the broken up root system
Water thoroughly after transplanting
For a more thorough guide to transplanting, read our article about it here.
---
Root Pruning Potted Plants
If transplanting up to a larger pot is not an option, you may want to consider root pruning your plant. Root pruning, in tandem with normal stem pruning, may help potted perennial plants produce healthier growth.
Ideally you should root prune your plants in the late winter or early spring when it is still a bit chilly. The basic process may seem harsh, but if your plants are healthy, they can most likely handle it.
The basic process can be seen in action in this adorable video on YouTube.
Here are the general steps for root pruning your potted plants. Be sure to do a bit more research for the specific variety of plant that you are root pruning!
Gently loosen and remove your plant ball from its pot
Using a sharp knife, slice away about 0.5-1 inches of the roots from the edge of the plant on all 4 sides (this will give the plant a square shape looking down from above)
Loosely comb out excess old soil from the root ball using your hands

This helps expose the remaining roots and removes old soil

Re-plant the root ball in fresh soil, adding more soil around the plant
Water thoroughly
Root pruning is optional, but can help a plant grow healthy new growth when springtime rolls around. Only perform this if you are sure that your plant is over-crowded and you are not willing to move it to a larger pot!
---
I hope this article helped you identify and manage any root bound plants that you may have. Remember that it doesn't have to mean the end of a plant. Good luck and feel free to share any questions or advice in the comments.