The diversity of different pepper varieties is staggering. From sweet to spicy, small to large, and virtually any color (except blue).
Since we are passionate about peppers, we decided to showcase a mind-blowing assortment of different types of pepper plants, along with pictures of each. For those of you who like to grow peppers, you can likely find them on one of our favorite pepper seed sellers.
---
1. Paradeisfruchtiger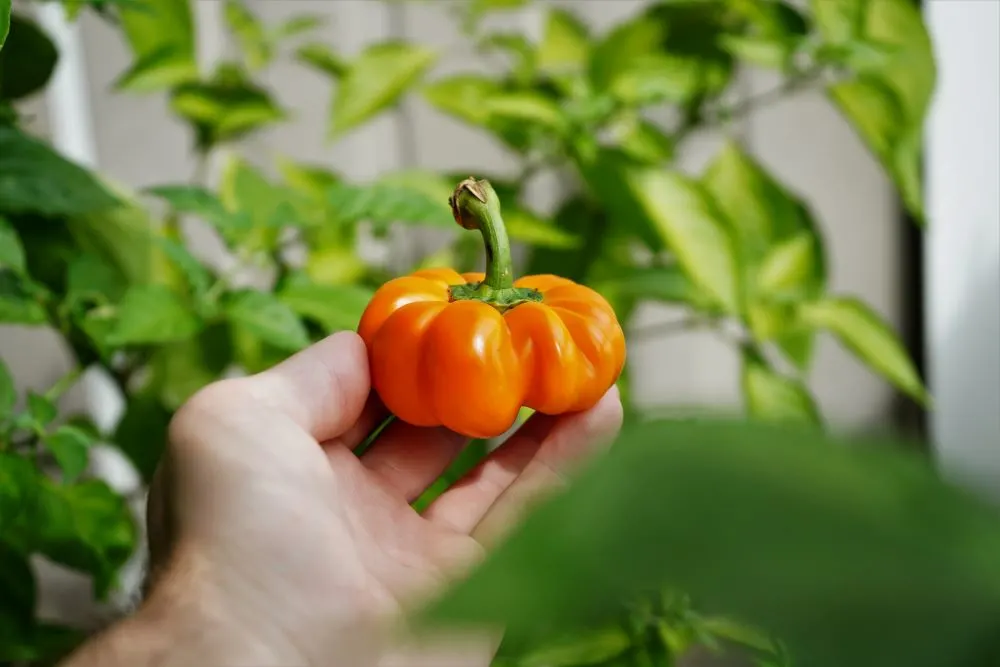 The paradeisfruchtiger gelber is a pumpkin-shaped sweet pepper that ripens from green to orange. These are perfect for October meals, and can even be carved into chili Jack-o-lanterns!
2. MOA Scotch Bonnet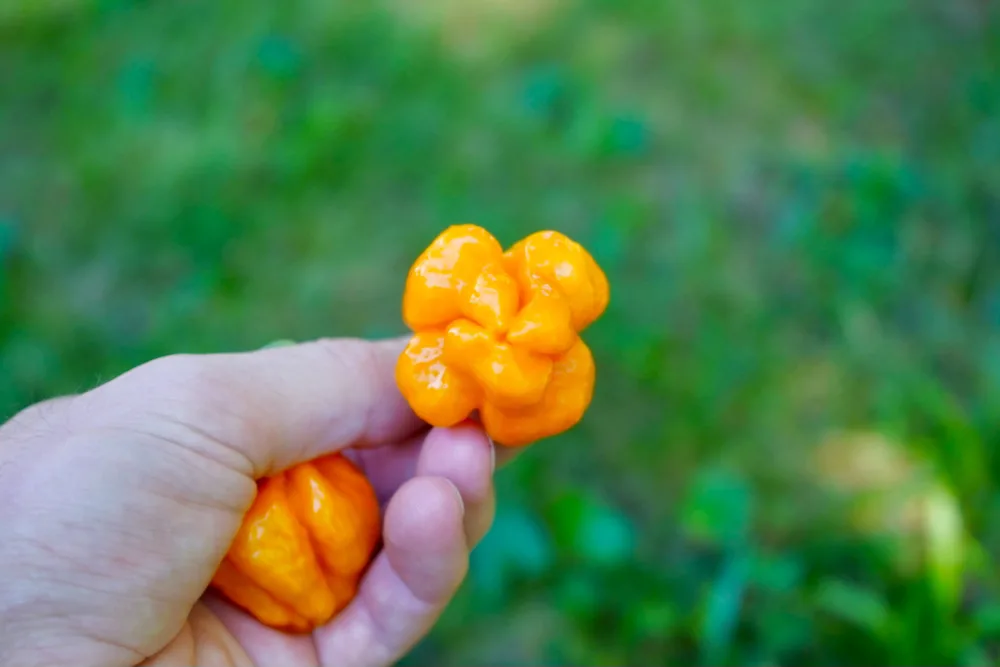 The MOA scotch bonnet is one of my personal favorite pepper varieties. This hot variety from the Caribbean has a distinct lemony flavor and is perfect for making homemade hot sauce.
3. Black Pearl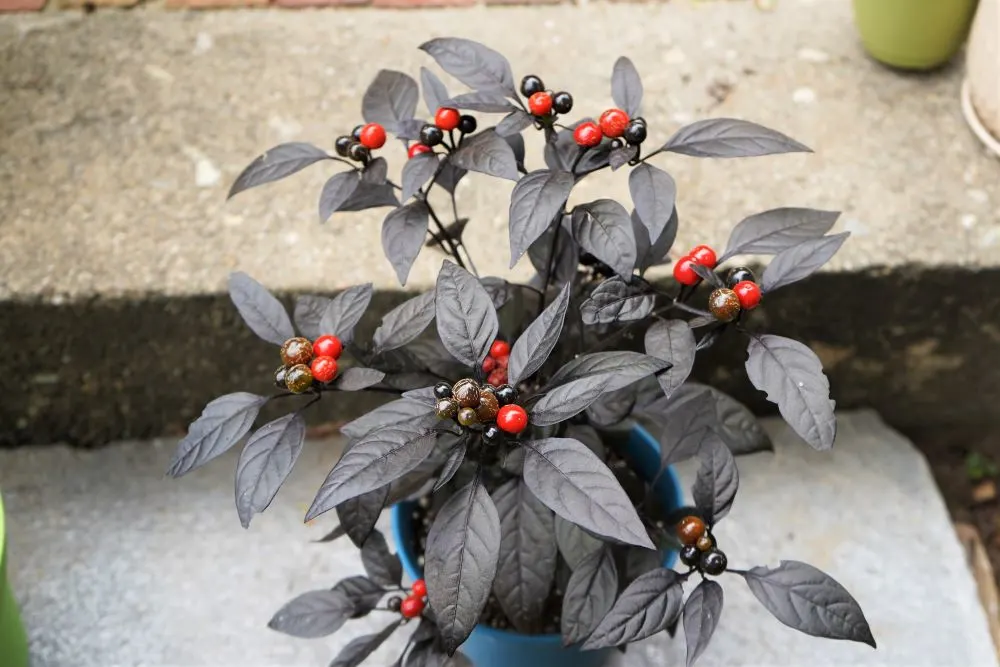 Named for its small, berry-shaped, black fruits, the black pearl variety is an ornamental beauty. The dark peppers ripen to a rich red, adding amazing contrast against the jet-black foliage.
4. Joe's Long Cayenne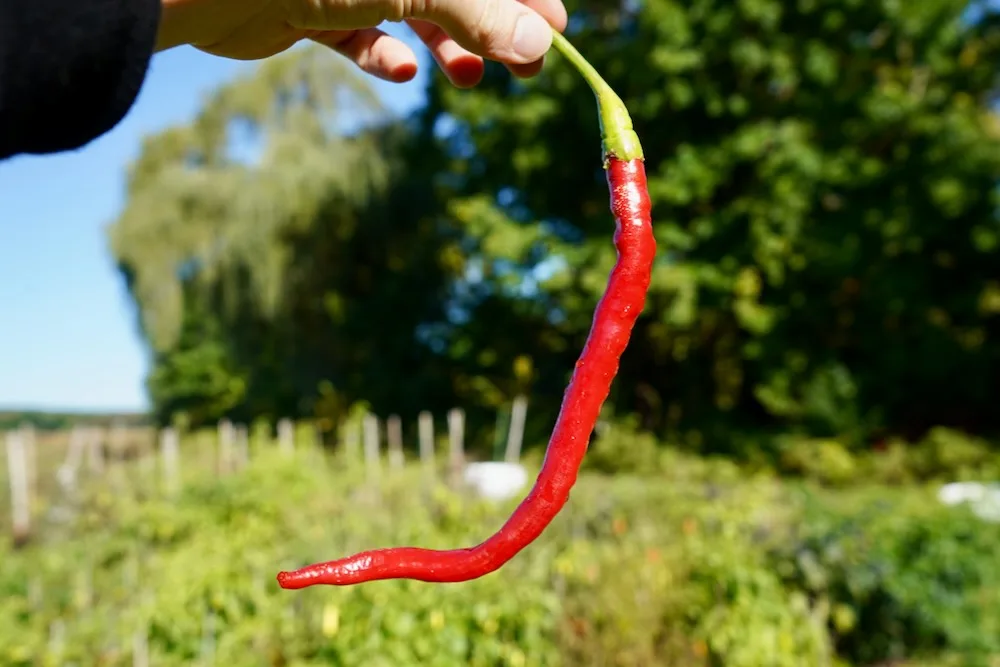 Even within the sub-category of cayenne peppers, there is tons of diversity! The "Joe's long" cayenne grows to an average length of 12″ and has a medium heat level. These are perfect for making Louisiana style hot sauce.
5. Mustard Habanero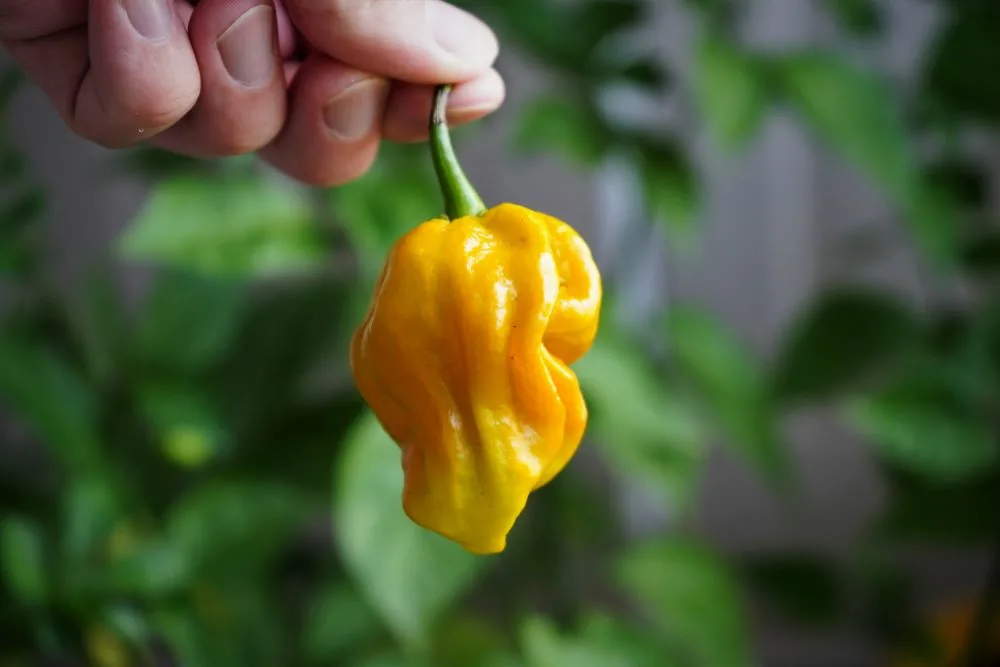 Again, there isn't just one type of habanero. The "mustard" habanero is extra-large, and has lots of folds and creases. They are also extra-hot compared to the habaneros you'll find at the grocery store 🥵.
6. Mattapeño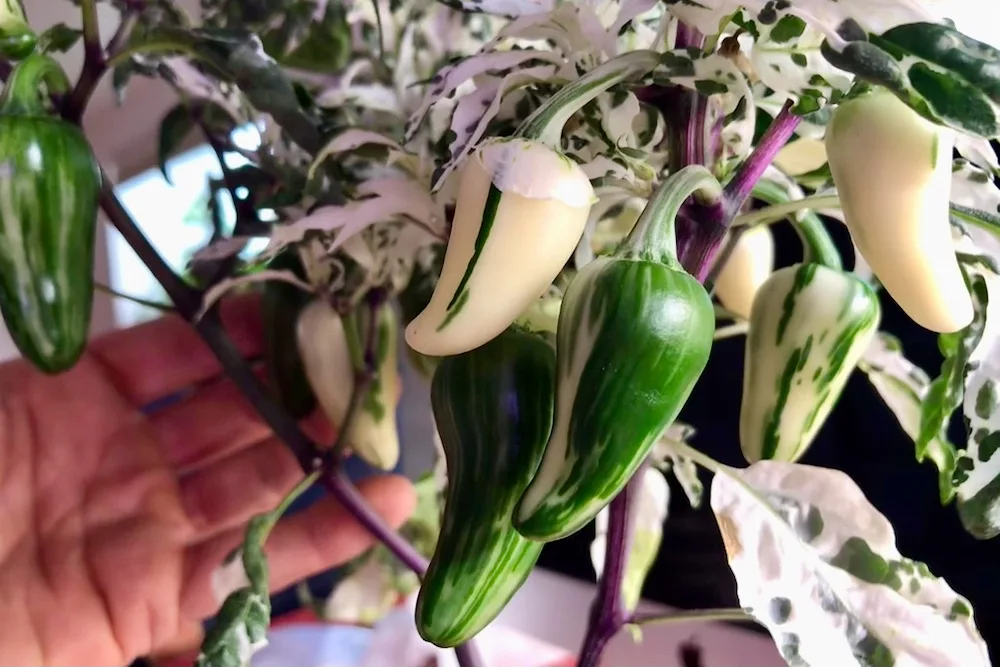 The Mattapeño has quickly become a legend in the pepper growing community. Discovered in a large commercial greenhouse setting, this variegated jalapeño variety is basically a work of art.
7. Chinese 5 Color Pepper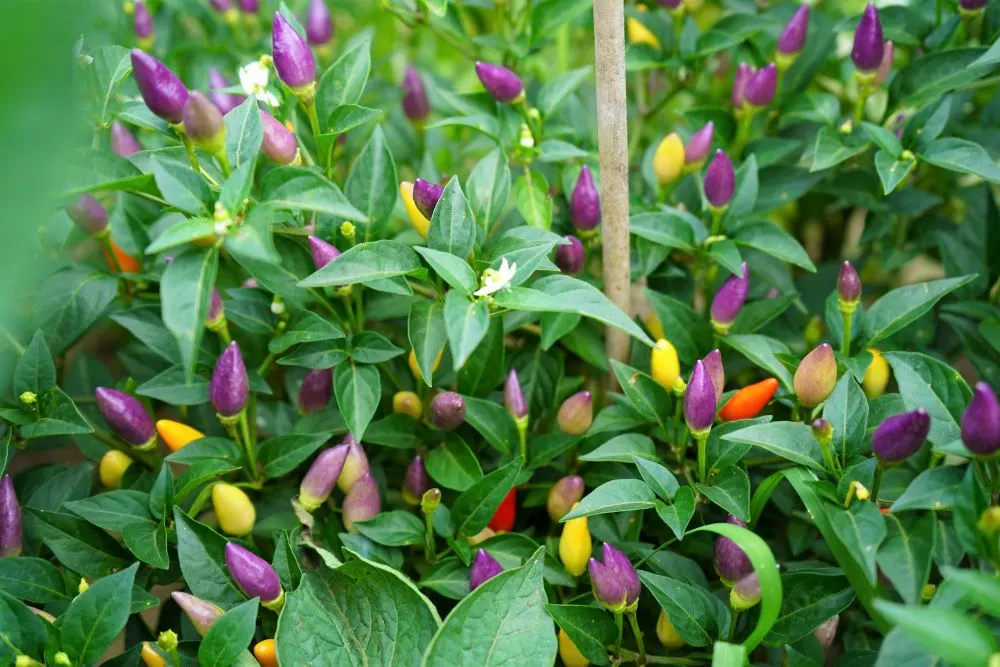 Chinese 5 color peppers ripen through 5 different color stages. Yellows, whites, purples, oranges and reds simultaneously display on the plants, making for quite a show in the garden.
8. Hatch Green Chile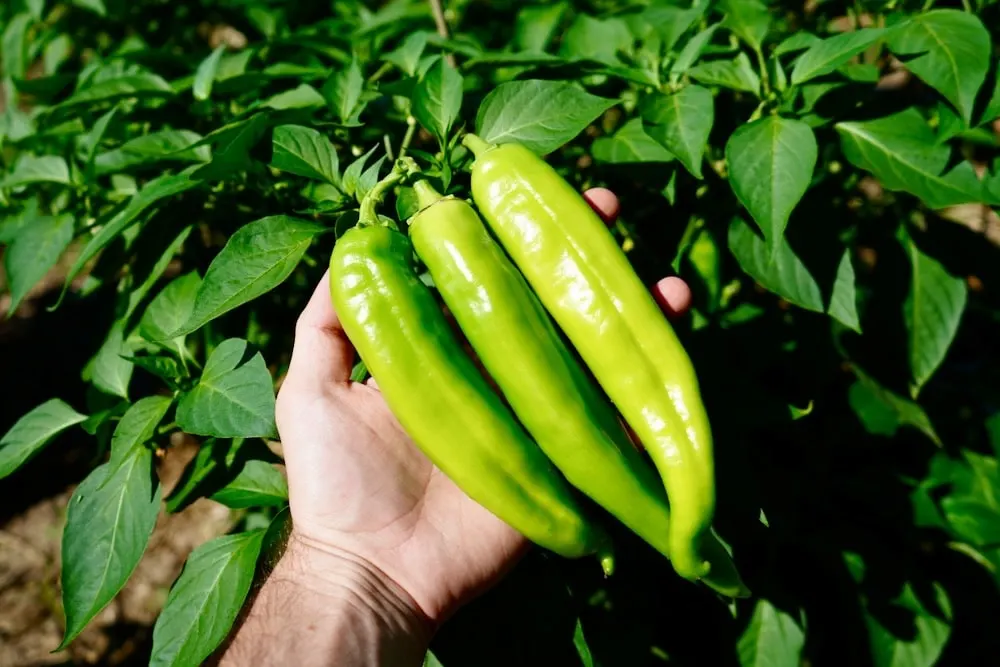 The Hatch chile is a cultural phenomenon in New Mexico, but I think they should be loved worldwide. These huge, productive chile plants are rock stars in the garden, especially in dry climates. Plus, the peppers are delicious when roasted and peeled.
9. Yellow Nagabrains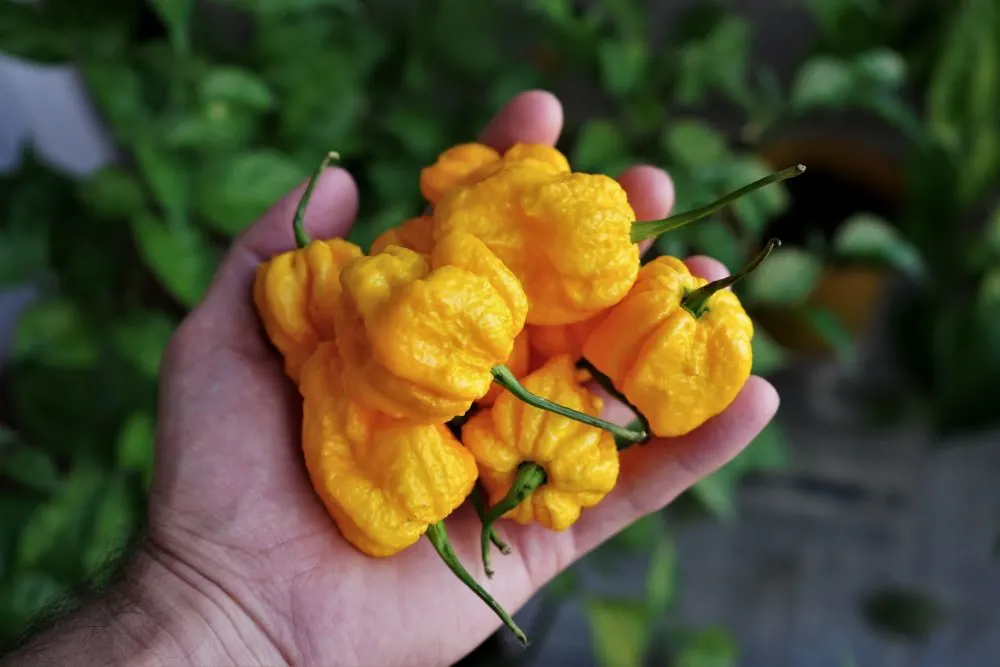 This was the first yellow superhot we grew and loved. The rich yellow color is beautiful, and the powerful, citrusy aroma makes it a perfect pepper for making super spicy hot sauce.
10. Candy Cane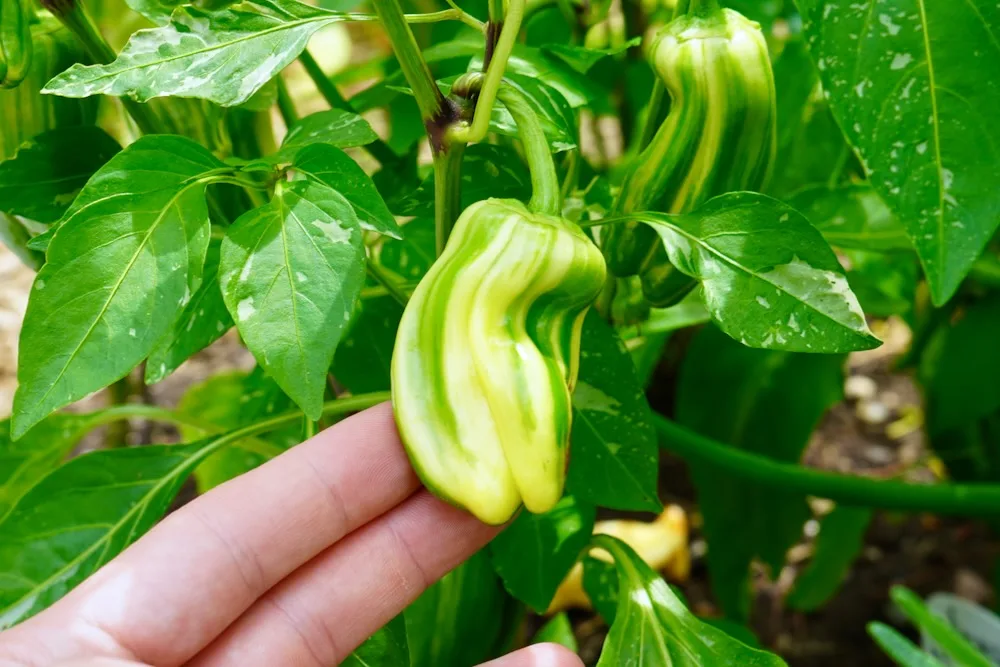 The candy cane pepper is a newer hybrid variety that has striped skin. The foliage is also variegated (with green and white splotches). Eventually, these sweet peppers ripen to a solid red color.
11. Purple Reaper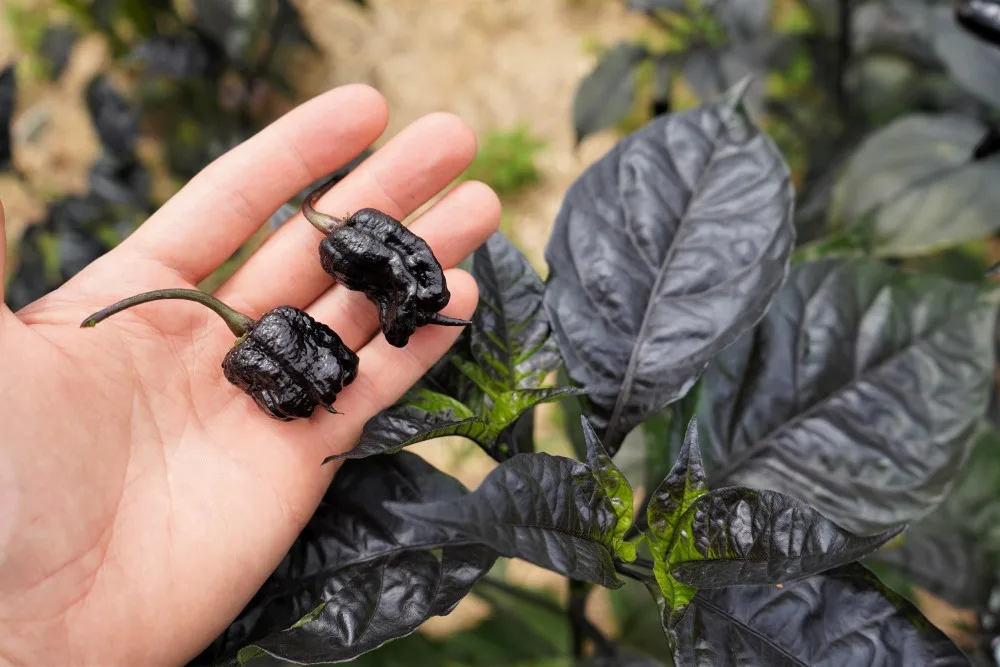 The infamous Carolina reaper has a purple cousin. This entire plant is dark, from the jet black leaves to the deep purple unripe fruits. And yes, they're seriously spicy!
12. Aji Amarillo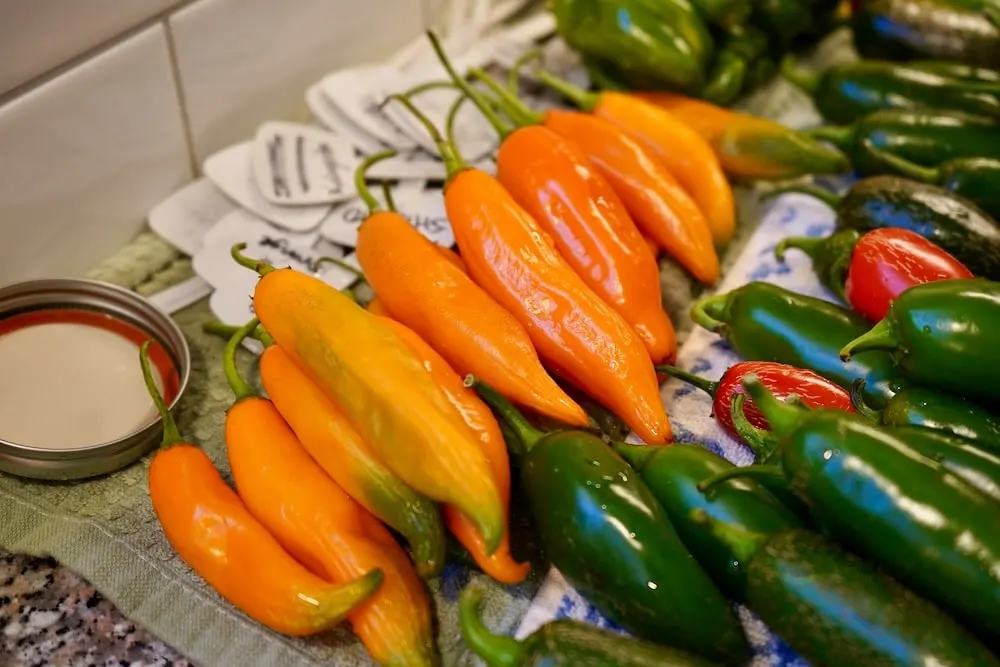 The aji amarillo (AKA yellow chili) is a bright and colorful pepper hailing from Peru. They are considered an essential kitchen ingredient in Peruvian cuisine, and are commonly used to make a spicy paste. The fruity flavor is common amongst C. baccatum species peppers.
13. Jimmy Nardello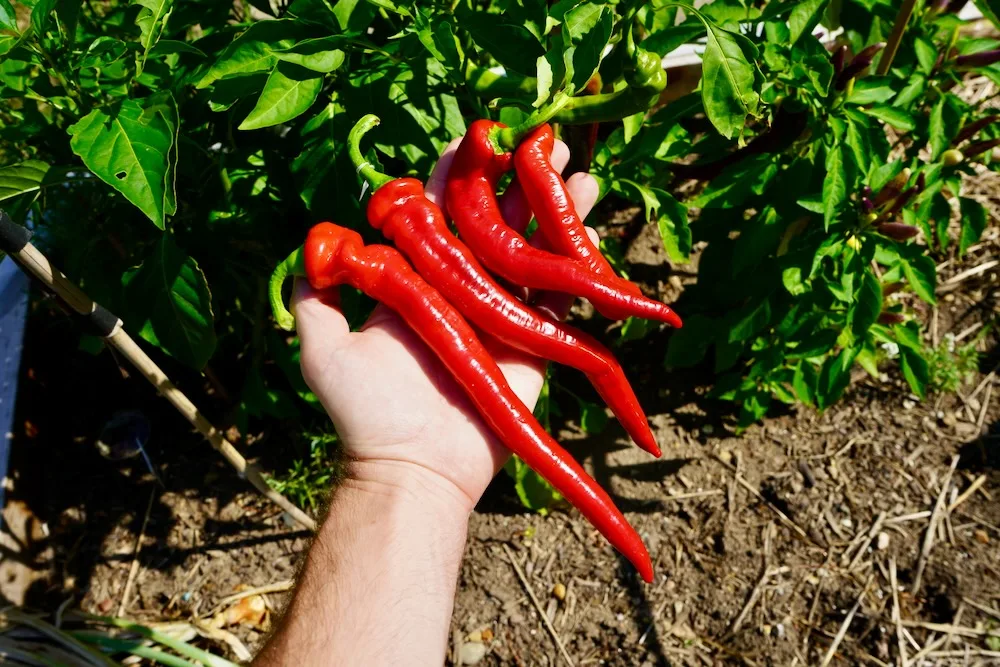 The Jimmy nardello pepper is a long, sweet variety with origins in Italy. While moving to the United States, the Nardiello family brought seeds for this heirloom with them. The peppers are sweet and delicious, great for frying or eating fresh in salads.
14. Sugar Rush Stripey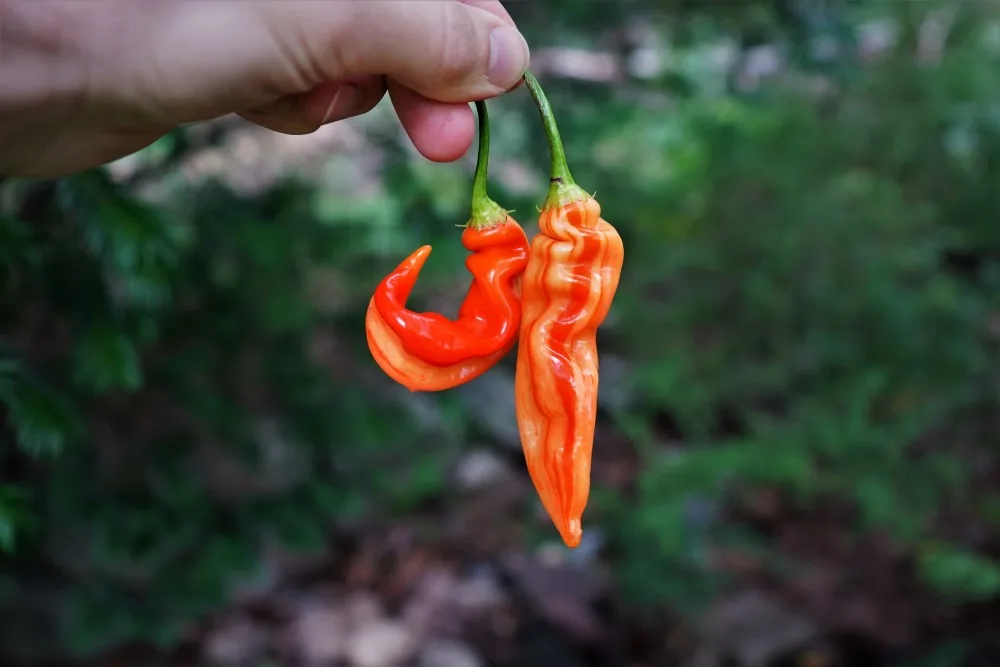 Perhaps the most amazing pepper on this list, the sugar rush stripey is a true beauty. These C. baccatum chilies ripen with orange and deep red streaks of color. Learn more about the stripey here.
15. Olive Nagabrains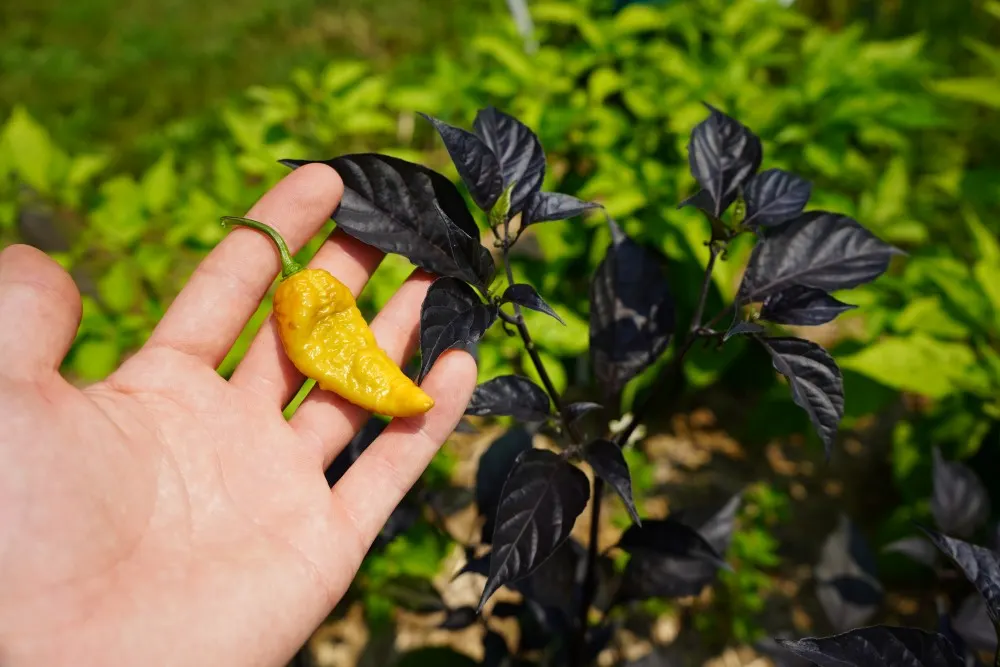 If you're looking for a true oddity, this is it. The "olive nagabrains" was a one-off crossbreed that we grew from an independent plant breeder. The plant has jet black foliage, with wrinkly fruits that ripen to a gorgeous olive color.
16. Aji Fantasy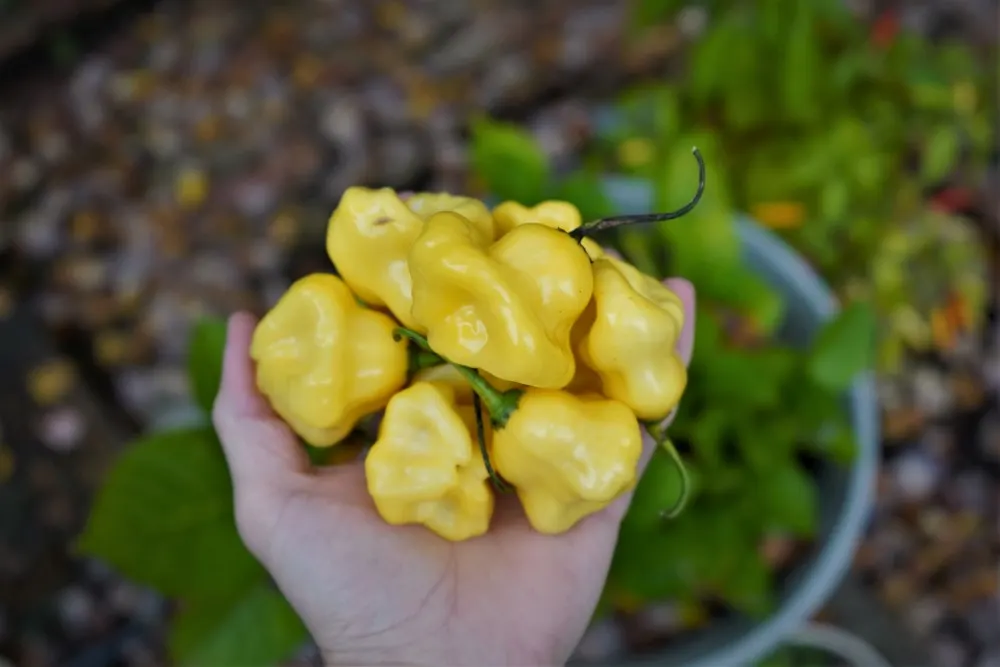 Another C. baccatum variety with a bizarre, crown-like shape, the aji fantasy pepper is a marvel. These medium-spicy peppers are crunchy and fruity, and are incredibly productive in the garden.
17. Buena Mulata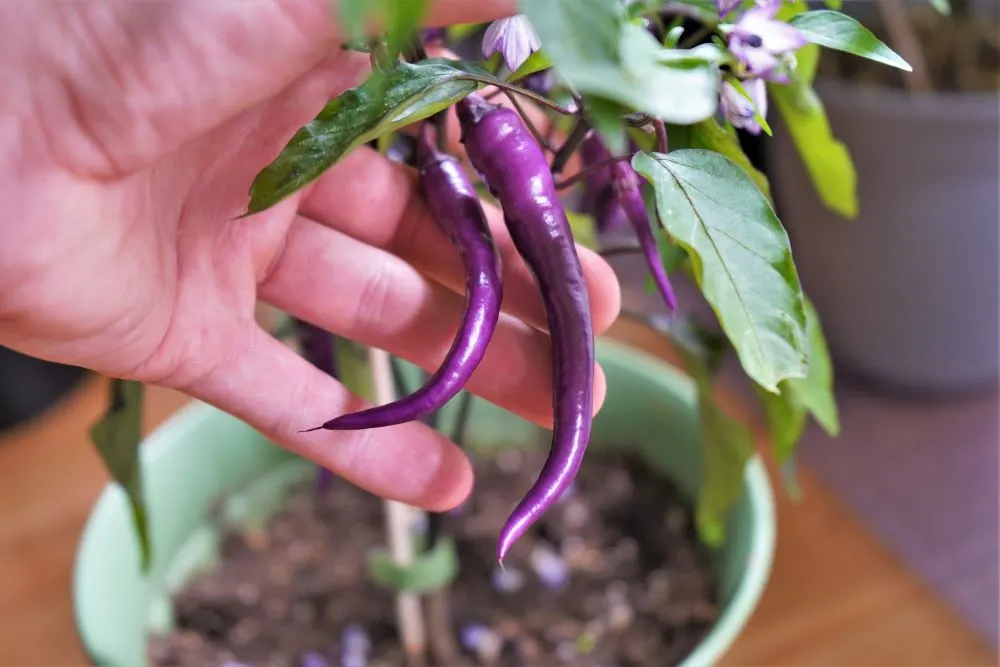 One of the many purple peppers within the C. annuum species, the buena mulata is essentially a violet cayenne pepper. These plants are pretty to look at, but fell short on flavor (in our opinion). Still gorgeous!
18. Purple Beauty Bell Pepper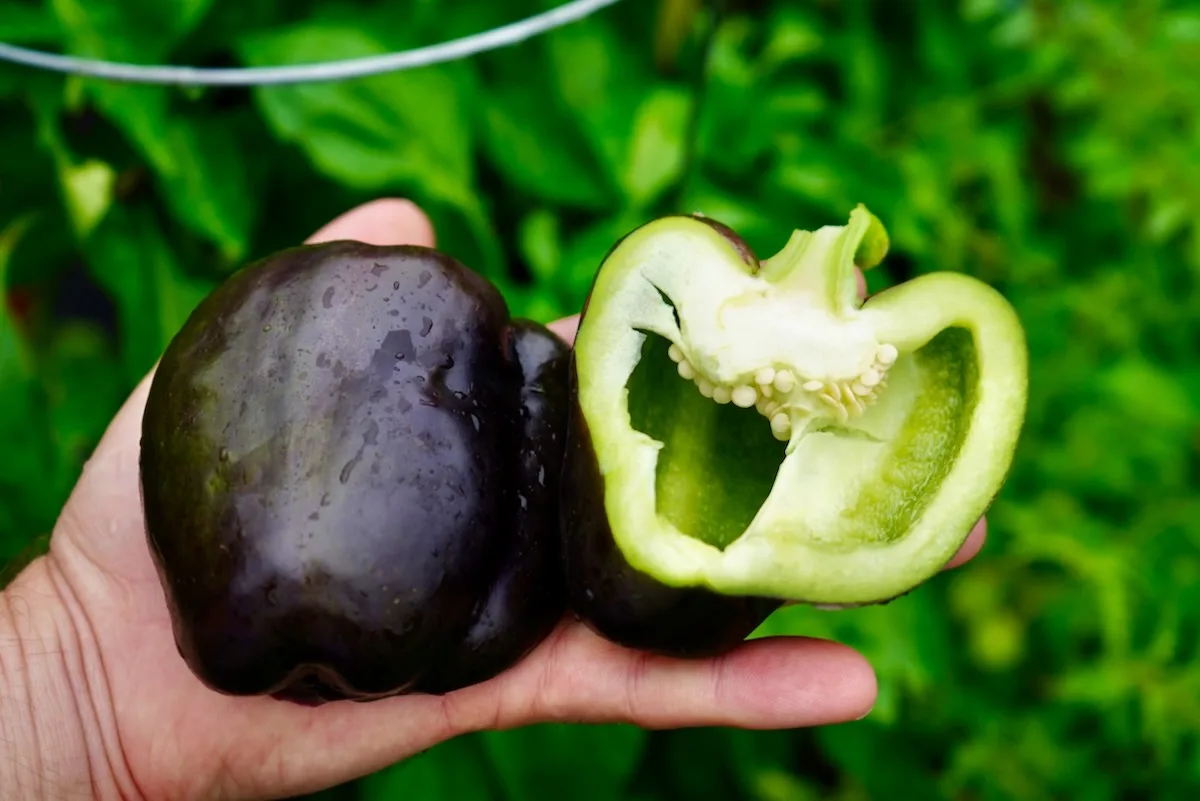 The purple beauty pepper is a gorgeous lilac-colored variant of the bell pepper. These violet peppers grow on compact plants and can be harvested while purple, or after they have ripened to ruby red.
19. Jay's Peach Ghost Scorpion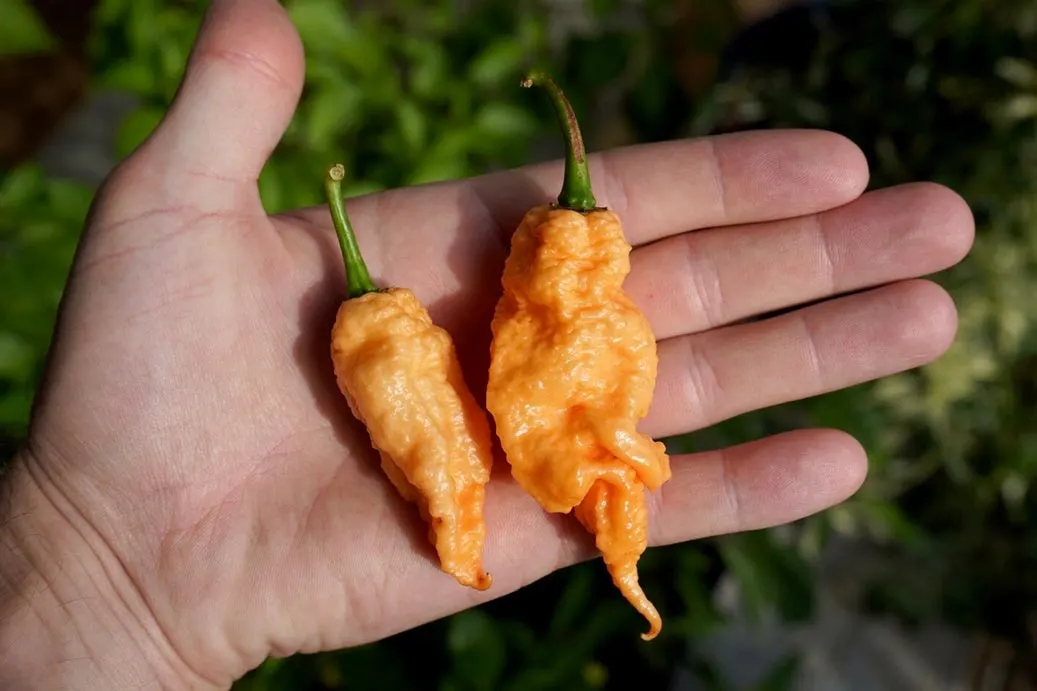 One of the most eccentric superhots we have grown, the Jay's peach ghost scorpion is sight to behold. With a wrinkly texture and a spiked tail, these peppers look wicked (and they are fiercely spicy).
20. Bell Peppers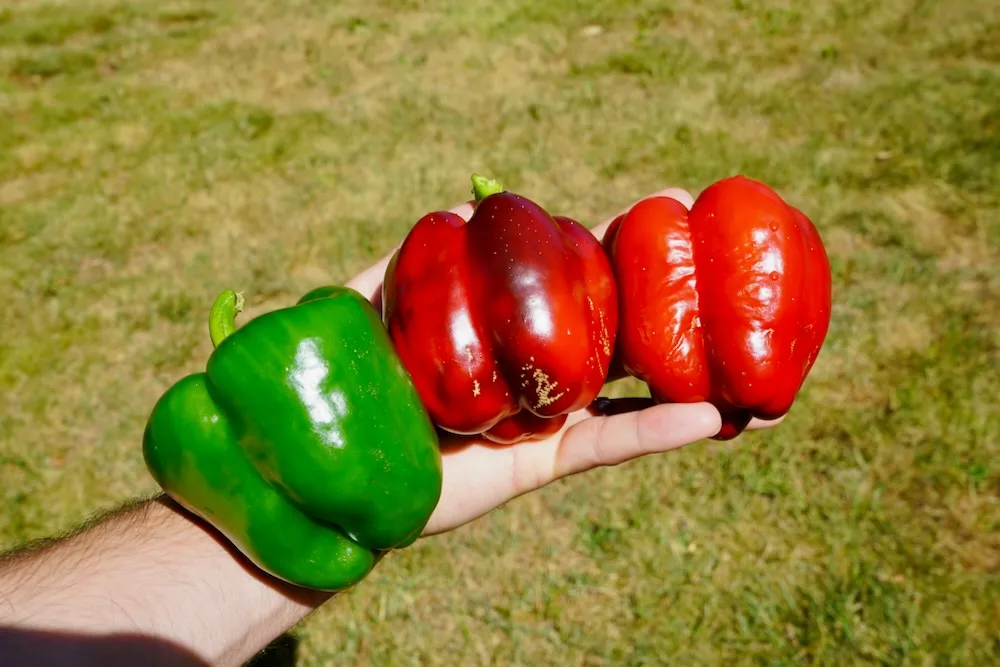 While we are all familiar with them at supermarkets, bell peppers are impressive peppers. With the heaviest weighing well over a pound, these veggies are amazing to watch grow in the garden.
21. Brazilian Starfish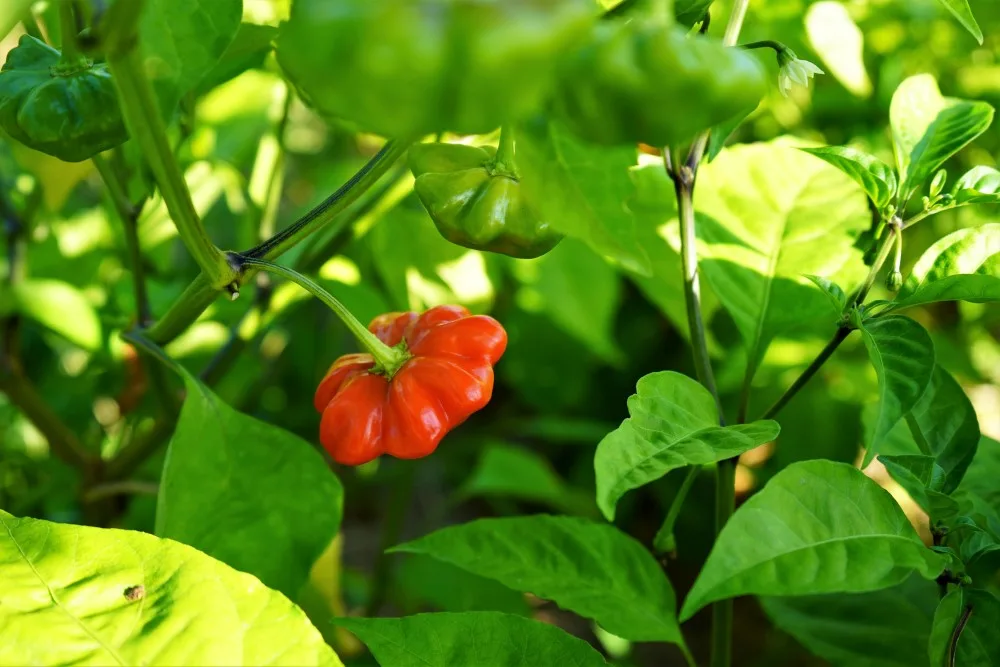 The Brazilian starfish pepper has a gorgeous shape, somewhat like a starfish (or perhaps an alien spaceship?). Though the flavor is lackluster, they were worth growing for their appearance alone!
22. Snow White SLP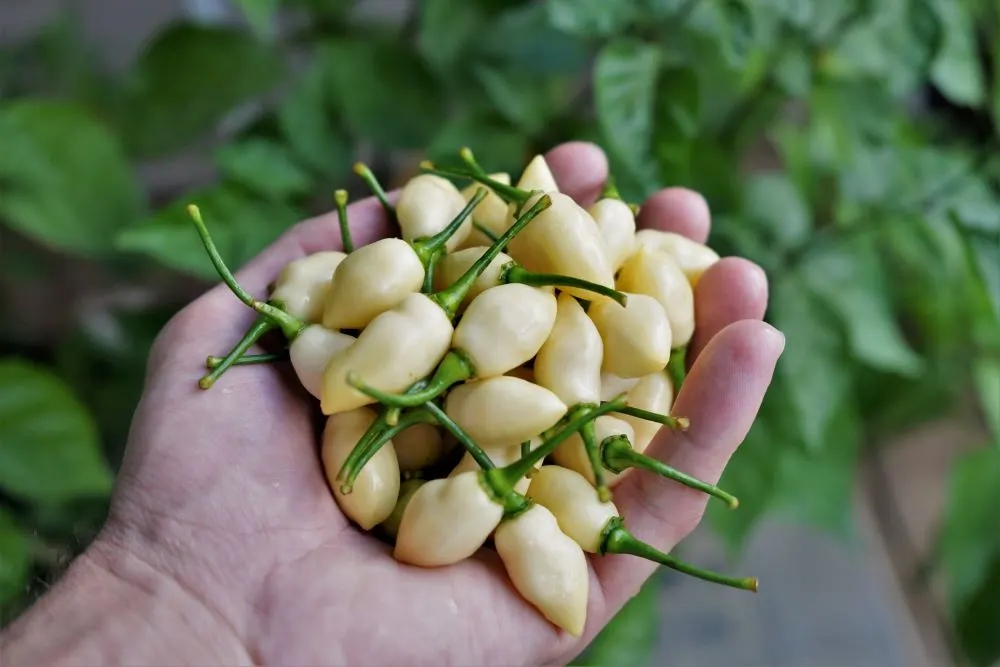 The snow white SLP pepper is a creation from Semillas la Palma. These small (~1 inch) peppers pack a powerful punch of heat and are filled with flowery, pungent flavor.
23. 7 Pot Primo Orange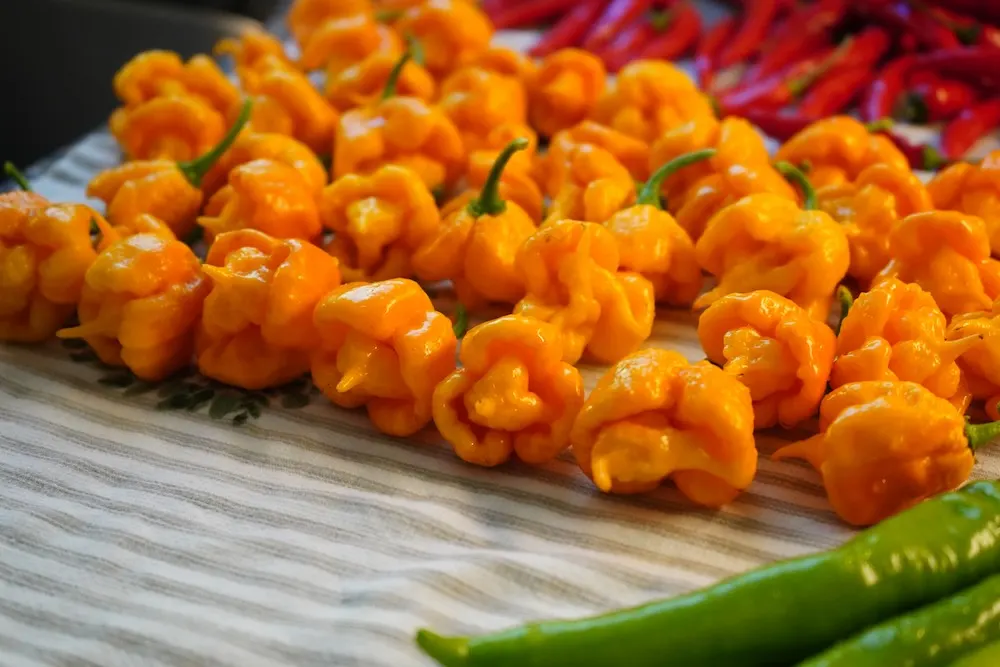 Though I still believe these are more yellow than orange, the 7 pot primo orange variety is one of my all-time favorite hot peppers. This superhot has a slightly floral and lemon-like flavor, and packs impressive heat – perfect for hot sauce making!
24. Fish Pepper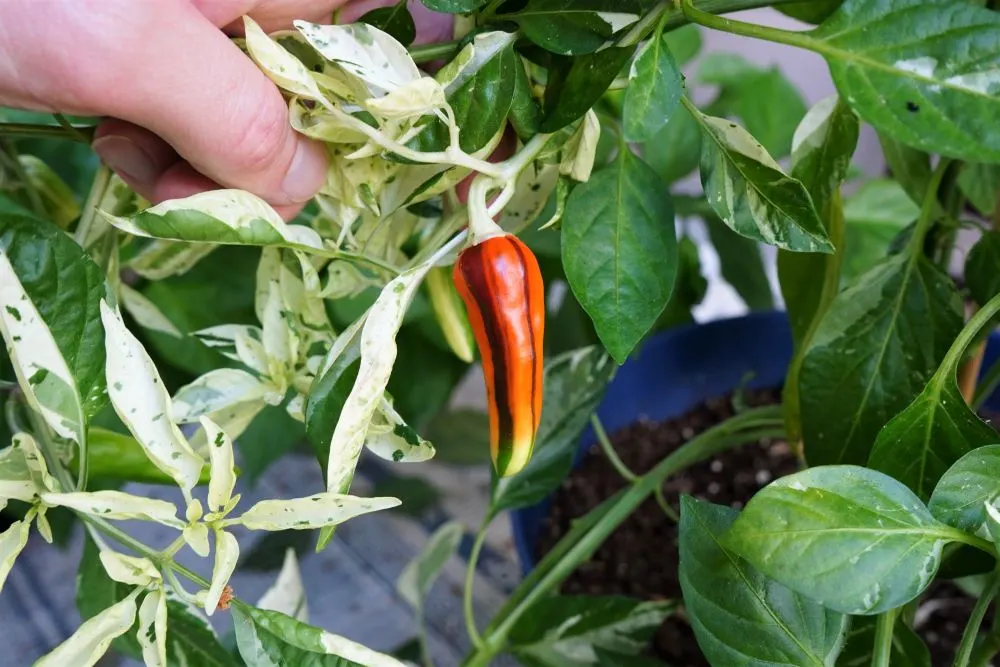 One of our very first ornamentals, the fish pepper is an heirloom saved by Horace Pippin. This rare seed collector helped save us many beautiful varieties that are still popular to this day! The fish pepper puts on a gorgeous display of stripes and colors, along with variegated foliage.
25. Aji Charapita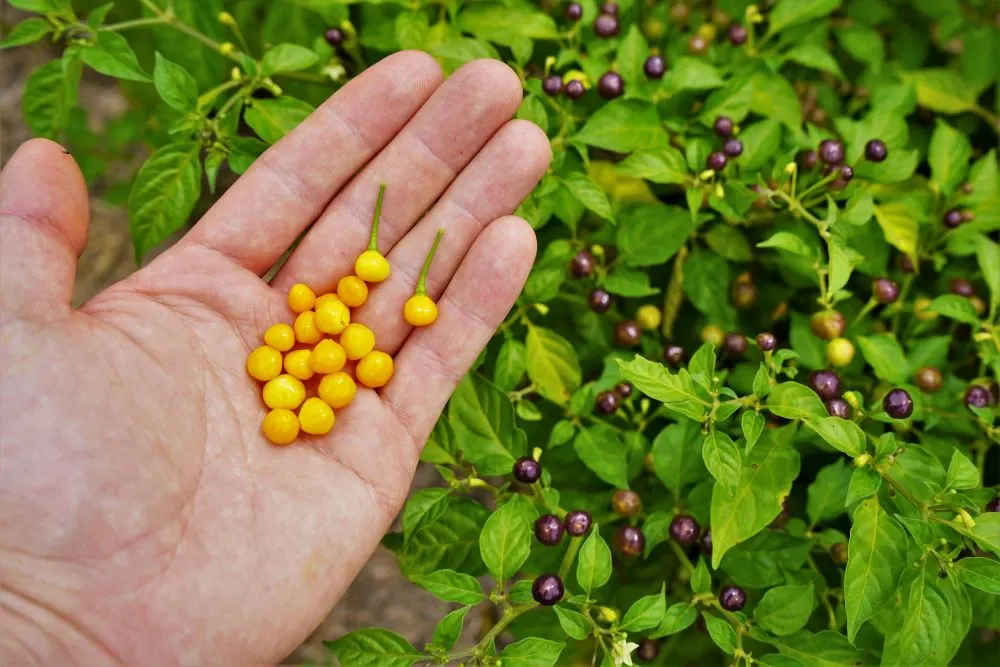 Only the size of a pea, the aji charapita looks innocent. However, these tiny berries pack a punch! They are commonly used in Peru as an addition to soups and other meals.
26. Trinidad Moruga Scorpion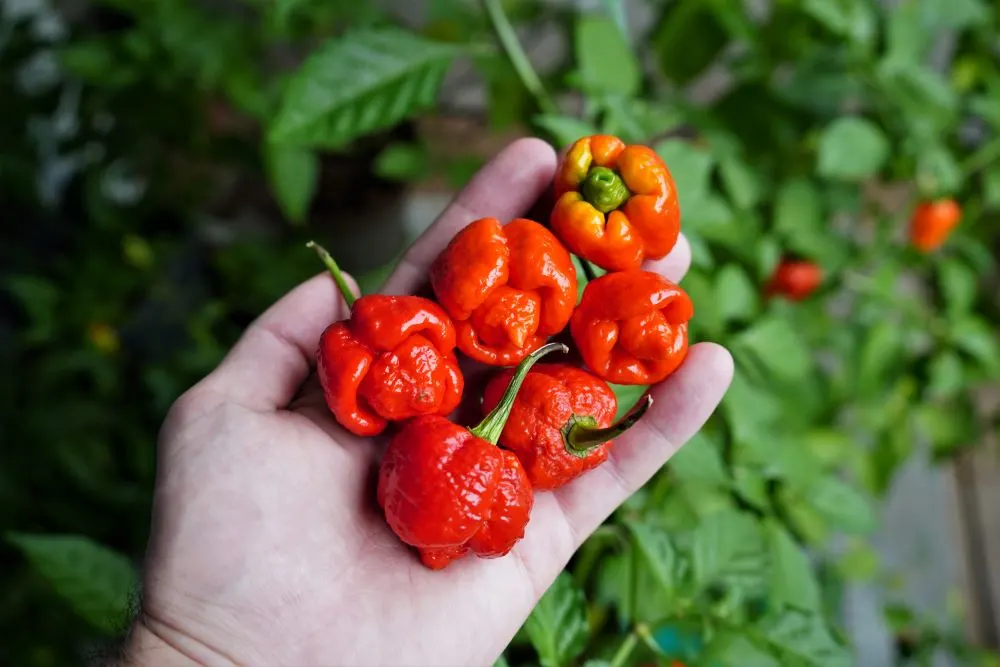 Once considered the world's hottest pepper, the Trinidad moruga scorpion is a landrace pepper variety from Trinidad and Tobago. The wrinkly skin and evil-looking stingers are a hint at the power of these chilies.
27. Thay Pumpkin Yellow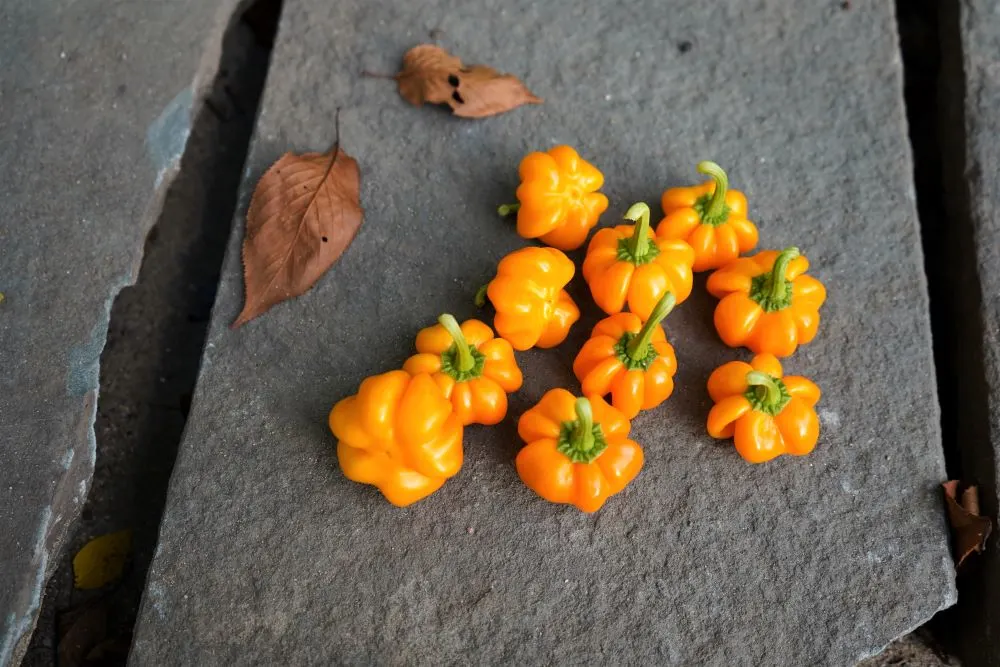 The thay pumpkin yellow resembles a miniature pumpkin. Perfect for carving in October, these adorable peppers are both ornamental and practical. They have medium heat level, and a sweet flavor similar to a yellow bell.
28. Death Spiral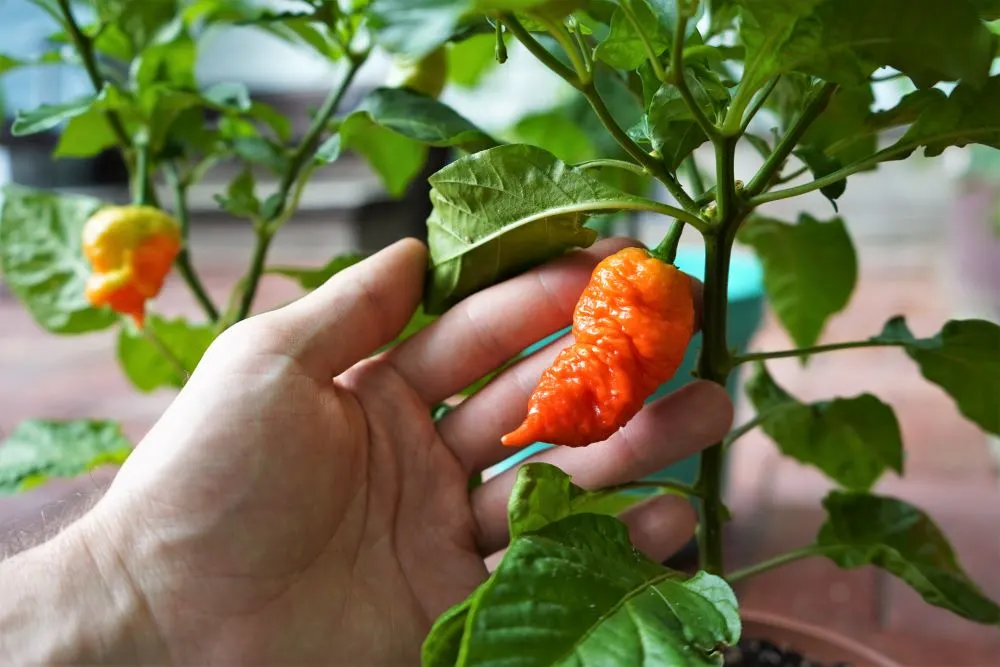 The names of newer pepper varieties seem to be getting more and more sinister. "Death spiral" gives you a good idea of how you might feel if you were to eat one of these peppers whole.
29. Pimenta Da Neyde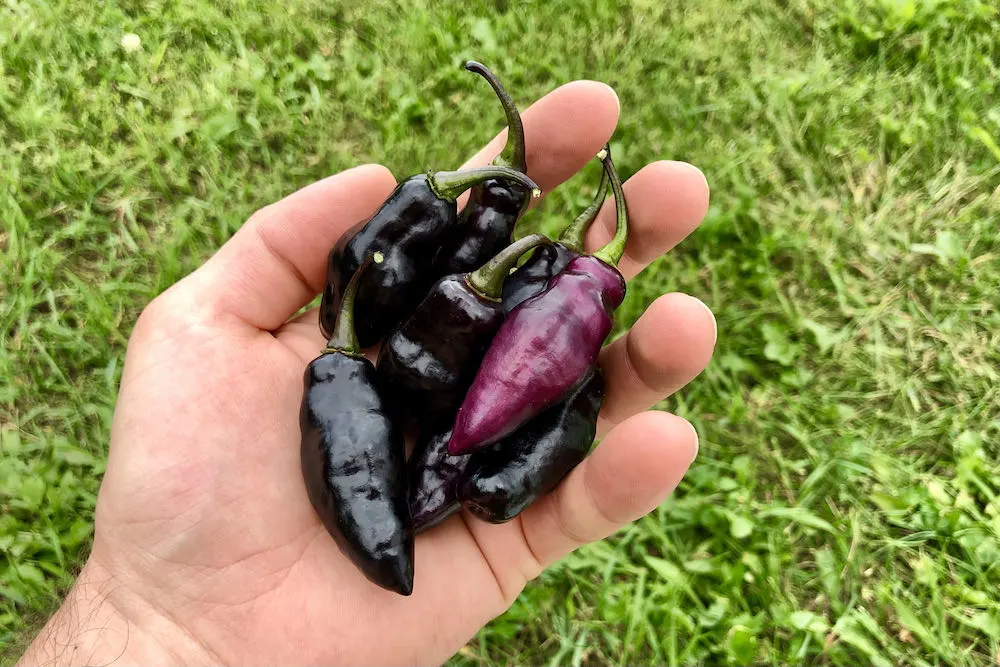 The pimenta da neyde is a miracle pepper, accepted as one of the world's natural crosses between the C. annuum and C. chinense species. These deep purple (basically black) peppers are rich in anthocyanins, hence their violet appearance.
30. Black Panther Orange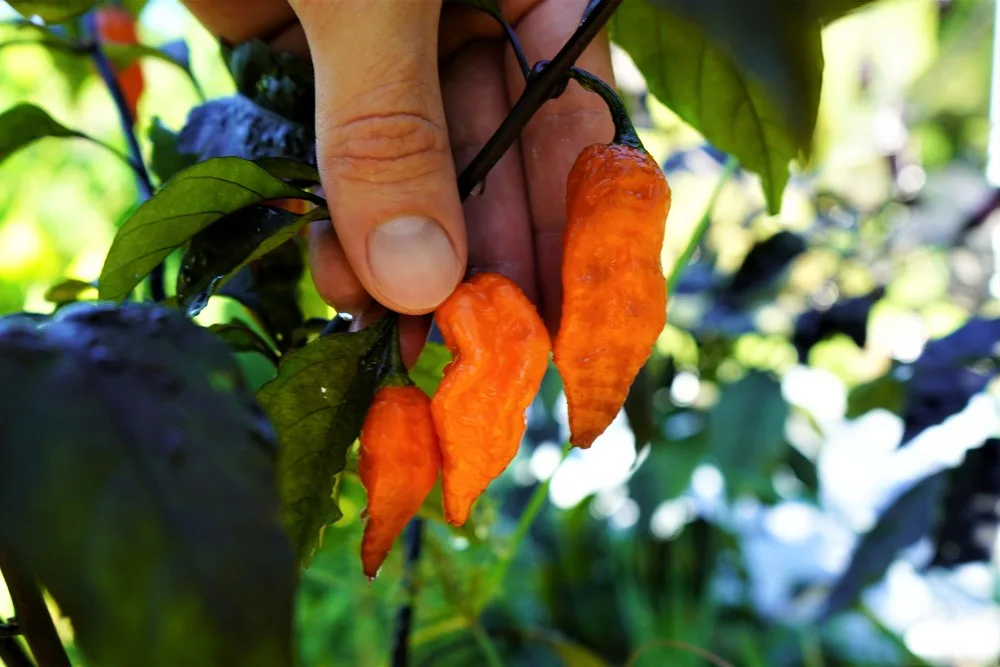 With the help of the pimenta da neyde, many new crossbreeds have been created. One of them is the black panther pepper, with dark leaves and peppers that ripen from black to orange.
31. Lesya
This heart-shaped sweet pepper is similar in flavor to bell peppers. In my opinion, there are few peppers more gorgeous than the lesya!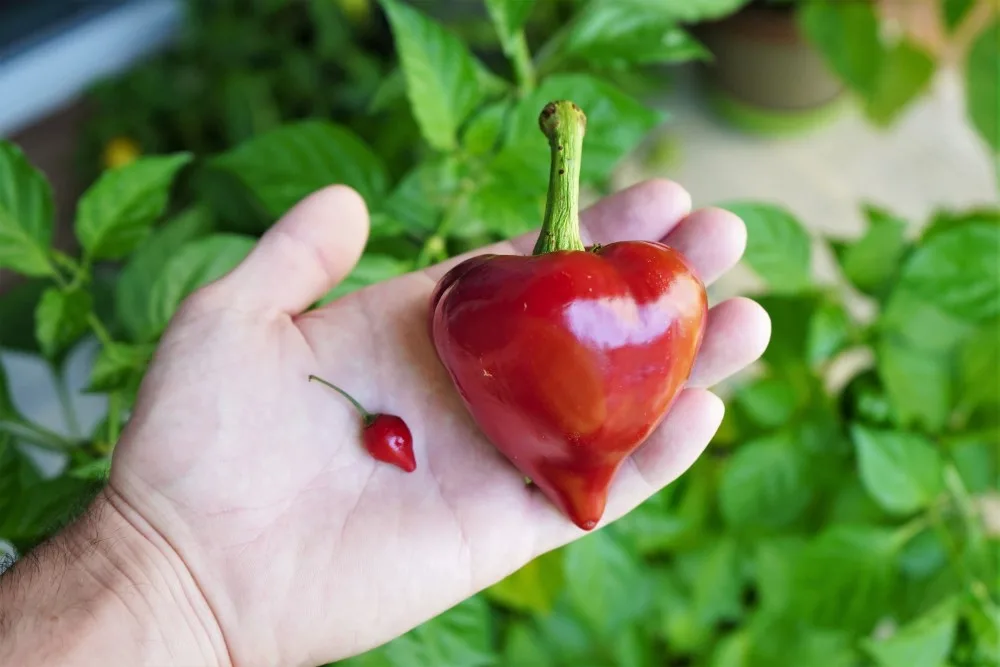 I hope you enjoyed this list of 31 incredible pepper varieties. There are countless more, and you can browse some more of the peppers we have grown here.